Before you can start the fun of installing your new kitchen cabinets, you have to decide what to do with the old ones. Many people aren't sure what to do with old kitchen cabinets or feel torn between finding a way to make use of them and simply throwing them away. To help make your decisions easier, let's break down a few ways you can move out the old to make room for the new.
Donate Them
If they're in good shape, you can donate kitchen cabinets to a local nonprofit organization, such as Habitat For Humanity or Goodwill. Habitat For Humanity's ReStores are specifically geared toward reselling salvaged furniture, home goods, appliances and building materials, so they will typically take your old cabinets off your hands. Both Habitat For Humanity and Goodwill will also give you a tax receipt for the amount they estimate your items will be. Then another member of your community can use your cabinets for a project of their own when they stop in and find them!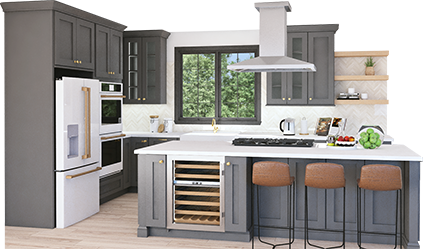 Get your FREE 3D kitchen design today!
Start Now
Sell Them
Even if you're tired of your current kitchen cabinets, someone else might love them. If you post your cabinets on Craigslist or even on Facebook, you will probably wind up with quite a few offers. There are plenty of people who would love to use your old cabinets for DIY projects or even just for the salvaged wood. Plus, selling used kitchen cabinets can make you a bit of money to go toward your renovation.
To sell used kitchen cabinets, a good tip is to make it clear that the buyer is responsible for pickup. After you take the cabinets out, it's a nice courtesy to wrap them tightly in furniture movers wrap, which is like a larger version of regular plastic wrap. After that, hauling them away is in their hands!
Recycle/Upcycle Them
Aside from donating and selling them, another way to recycle kitchen cabinets is to upcycle them. Upcycling is the process of taking an old piece of furniture or an appliance and making it new again, often by giving it a new purpose along with a new coat of paint.
There are tons of things you can repurpose old kitchen cabinets for. For example, hanging wall cabinets can be turned into a mudroom storage bench — the shelf sections could become each person's designated shoe cubby. Cabinets could also become a console table for extra storage in a hallway or bedroom. You could even move them into the basement or garage to become a workspace and a place to store holiday decorations, yard work equipment and more. Some people even turn old kitchen cabinets into desks and playsets for their kids! If you're crafty and in need of storage elsewhere in your home, upcycling kitchen cabinets could be just the project you're looking for.
Throw Them Away
If your old cabinets aren't in good enough shape to donate, sell or upcycle, the easiest thing to do is simply dispose of them. If you have a large enough vehicle, you can take the cabinets to a nearby landfill. If not, you will likely have to pay a waste removal company to come and haul your cabinets away for you. They've served their purpose well, but it's time to make room for your beautiful new cabinets!
Find Your New Kitchen Cabinets At Lily Ann Cabinets
Now that you have the perfect idea of what to do with old kitchen cabinets, you can confidently move forward with finding new ones. Lily Ann Cabinets has one of the widest online selections of RTA kitchen cabinets, so you're sure to find a beautiful new set for an amazing price. Request a free sample to see our styles up close, or take advantage of our free kitchen design tool to see a 3D rendering of what your dream space might look like.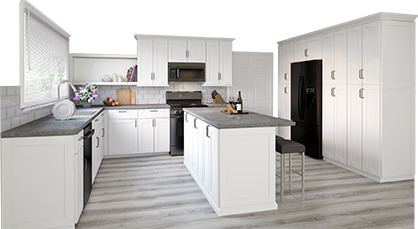 3D Kitchen Visualizer Tool
Bring your dream kitchen to life with our free kitchen visualizer!
Design Now