Do you have an idea of what you want your home to look like but you're not sure what style your vision falls under? Here is a list of several classic interior design styles that are sure to help you nail your vision and give you inspiration for your home.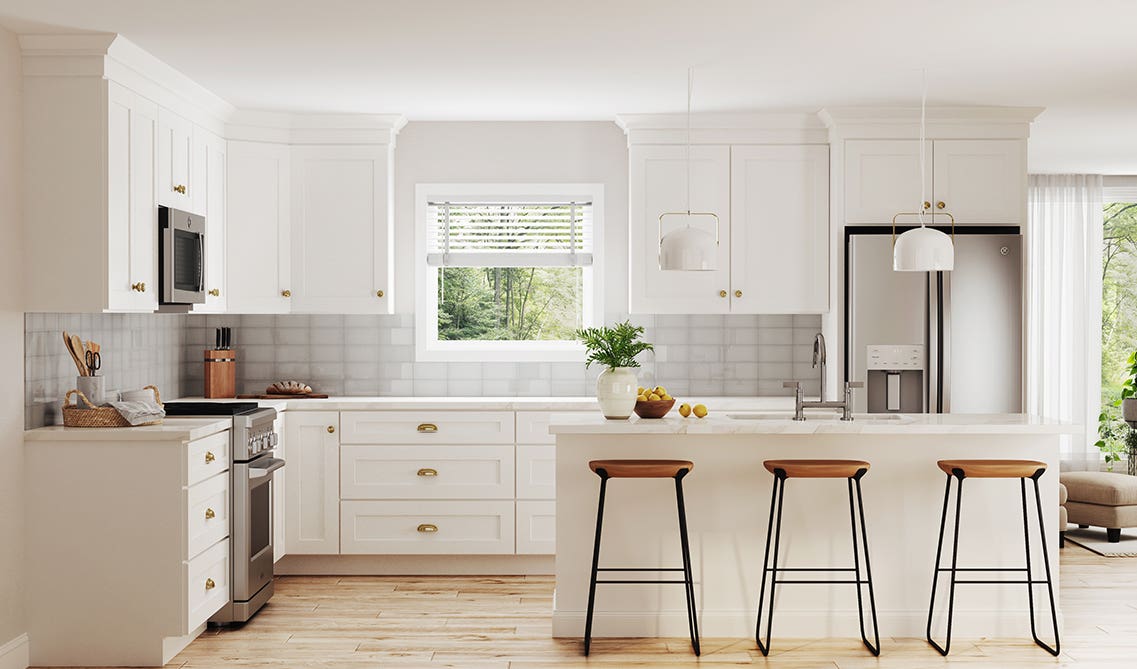 Lily Ann Cabinets
Minimalist
Because of its simplistic feel, minimalism has become a popular design trend. Minimalism is a basic and refined style that is known for its uncluttered and clean look. The style helps to create a sense of serenity and calm while still maintaining a classic appearance. 
When creating a minimalistic aesthetic for your home try to focus on a cohesive color scheme that features creams, whites, and grays which are characteristic of the style. For example, in your living room try to match your pillows in color and mix up the textures to create a dynamic yet cohesive look.

Because minimalism is very simple it focuses heavily on functionality and quality. Search for high-quality furniture and decor that will both last long while also adding to your home's design scheme.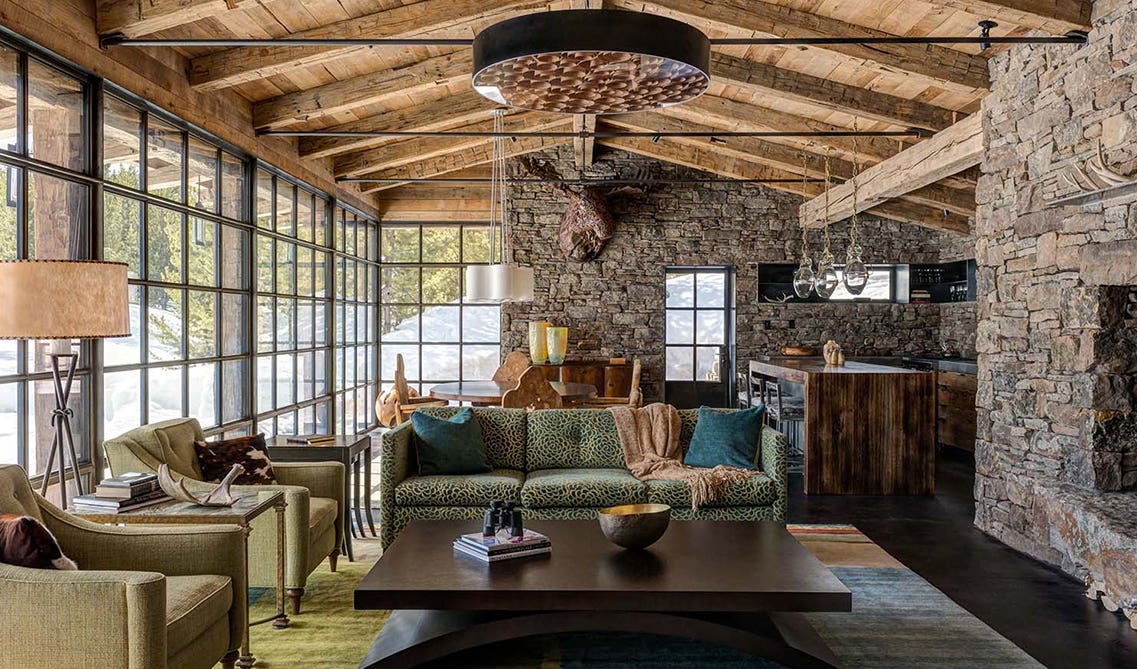 Homedit
Rustic
The draw of a rustic design style is its ability to bring the outdoors in. With the use of natural materials and earth-toned colors, a rustic look is sure to make your home appear relaxed and comfortable. 
Using natural materials like wood or stone is what makes a rustic space unique. These materials make the home appear raw which is part of the style's draw. Try incorporating a dark wooden dining table or a stone fireplace into your home to fully embrace the rustic aesthetic. 

Utilizing the correct colors is key when creating a rustic space. Attempt to maintain a color palette of earth tones such as brown, beige, green, and muted reds. This will help bring out the natural colors of any exposed wood or stone you may have. You can do this by adding simple wall decor or throwing pillows to your space. 
Decorist
Shabby Chic
The shabby chic style is known for its vintage, relaxed feel. It incorporates light and airy colors and fabrics together with more rustic elements creating a truly unique look for any home. The aesthetic is also sustainable with its frequent use of upcycled materials and furniture making it all the more interesting. 
Using light and pastel colors is a must for anyone hoping to create a shabby chic look in

their home. Cream, white, light pink, light purple, and light green are all great choices for your shabby chic space. You can also incorporate delicate floral patterns, lace, or chiffon that fall under this color scheme to add some more dimension and character to your home.
The decor is very important to the shabby chic design. Unlike minimalism, the shabby chic look requires a bit of clutter to truly make it look complete. Try to upcycle things like decorative bird cages, headboards, or ladders for a vintage look. You can also incorporate long and delicate curtains to bring out the whimsical and vintage appeal of the aesthetic.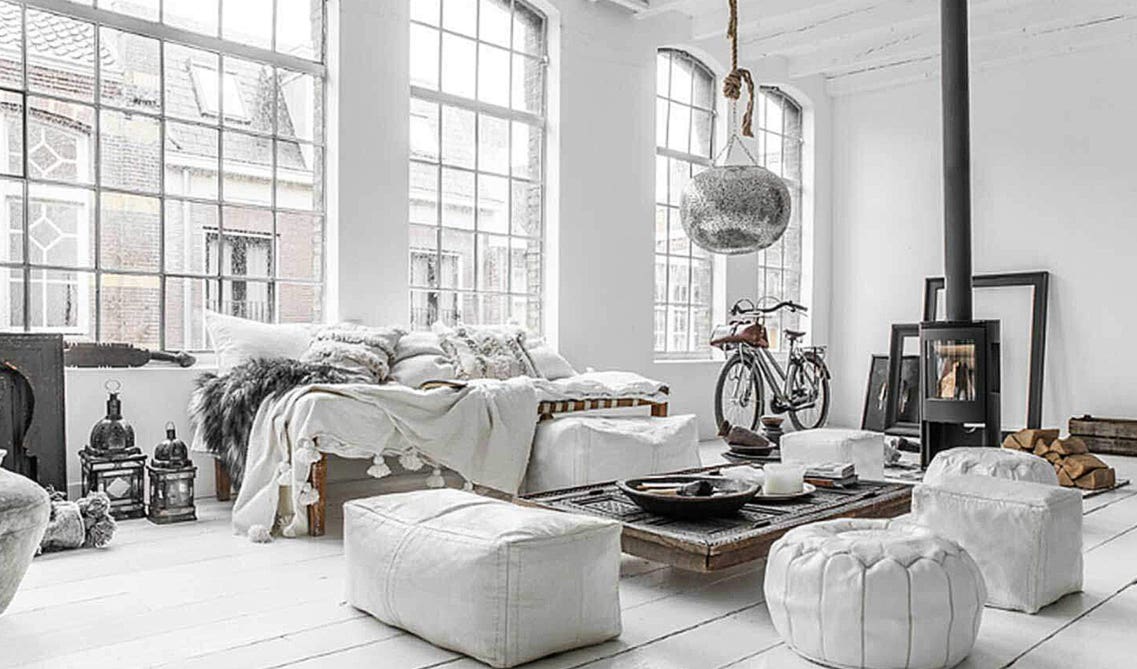 DeCombo
Scandinavian
Scandinavian design is a minimalistic style that is a part of the school of modernism. Much like minimalism, its focus is mainly on simplicity and functionality. Yet, unlike minimalism, it uses colorful and wooden elements. 
Textiles are a large part of the Scandinavian style. Therefore, finding chunky knit

blankets or a variety of unique and comfortable throw pillows is a great way of creating a Scandinavian look. Make sure to keep these textiles simple so they can function with your space and maintain the style's overall look. 

While using neutral colors is a large part of Scandinavian design, you can also add pops of bright colors to make sure your space feels both functional and dynamic. Try pairing a largely black, white, and gray-colored room with a splash of yellow or pink to make it interesting.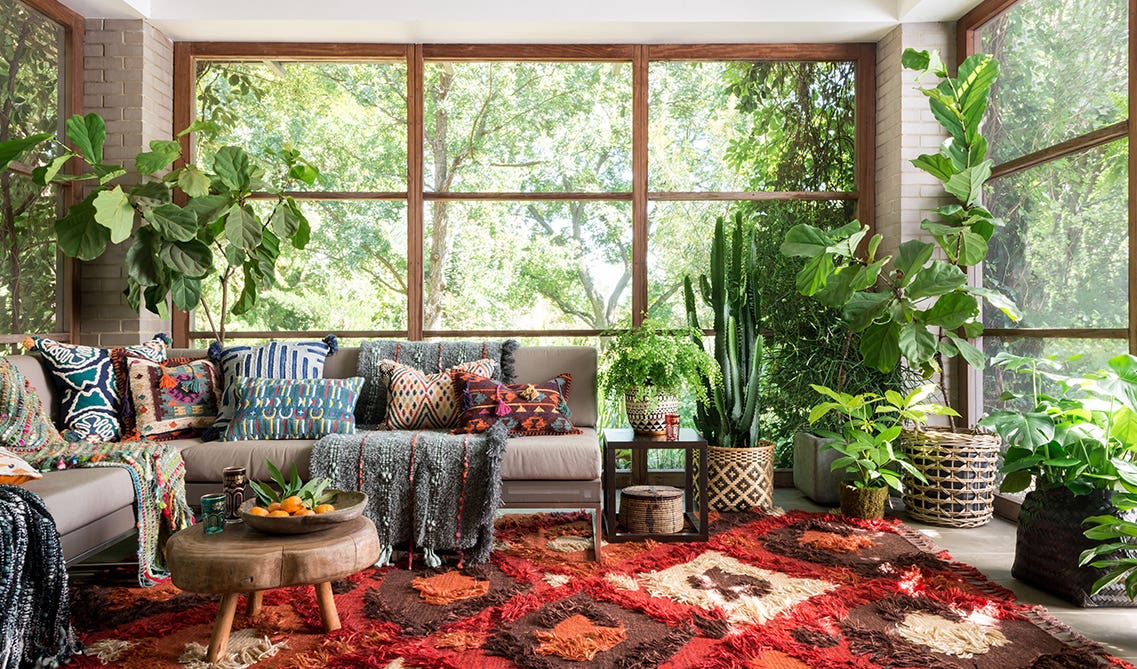 Elle Decor
Bohemian
Bohemian style is a pattern and colored-filled aesthetic that is a great choice for anyone looking to add character to their home. The style focuses on pattern mixing, metallics, botanicals, and color making it versatile and easily customizable.
Pattern mixing can seem easy but it requires a bit of a trained eye to understand what looks good together. To make sure your space appears both cohesive and diverse in the pattern make sure to match your colors. You don't have to match them completely but try to keep their hues or undertones cohesive. Darker colors like burgundy and deep purple often work well together and would look great paired. 

Using plants in any space is a great way to add life to your home. This is especially important in the bohemian style. Use unique vases, pots, hanging pots, or plant stands to both show off your flora as well as accessorize. Feel free to mix and match shapes and styles but try to maintain a cohesive color palette especially when it comes to metals.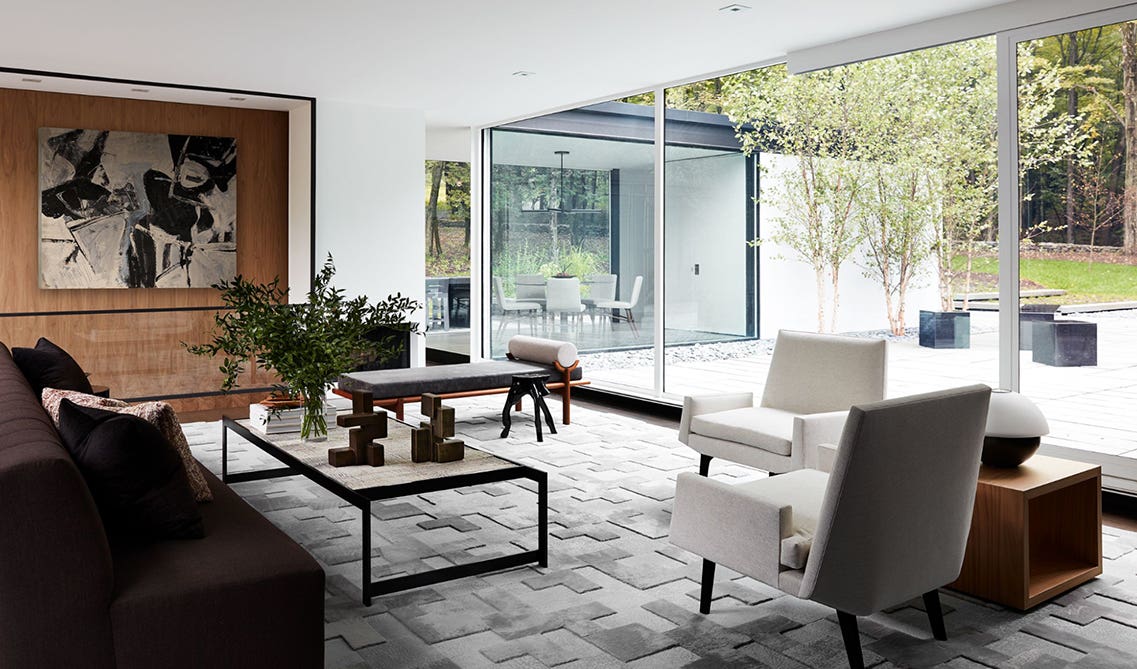 Elle Decor
Mid-Century Modern
Mid-century modern is easily recognizable and is making a strong comeback in the design world. It has a vintage appeal that incorporates unique-looking furniture and distinct 70s colors. 
To the mid-century modern style, colors are incredibly important. Incorporating both the bright colors of the 50s and the more muted, earth-toned colors of the 60s and 70s requires careful attention. Try to mix colors like dark oranges, browns, and greens with bright colors like lime green, bright yellow, and turquoise. This can be done easily through textiles and furniture.

Mid-century modern furniture is important and is what will truly bring a vintage element to your space. Try to find couches that are seated low to the floor or chairs that are made from plastic or acrylic. When you find your vintage pieces you can also mix them with modern recreations that compliment them in style or even just in color.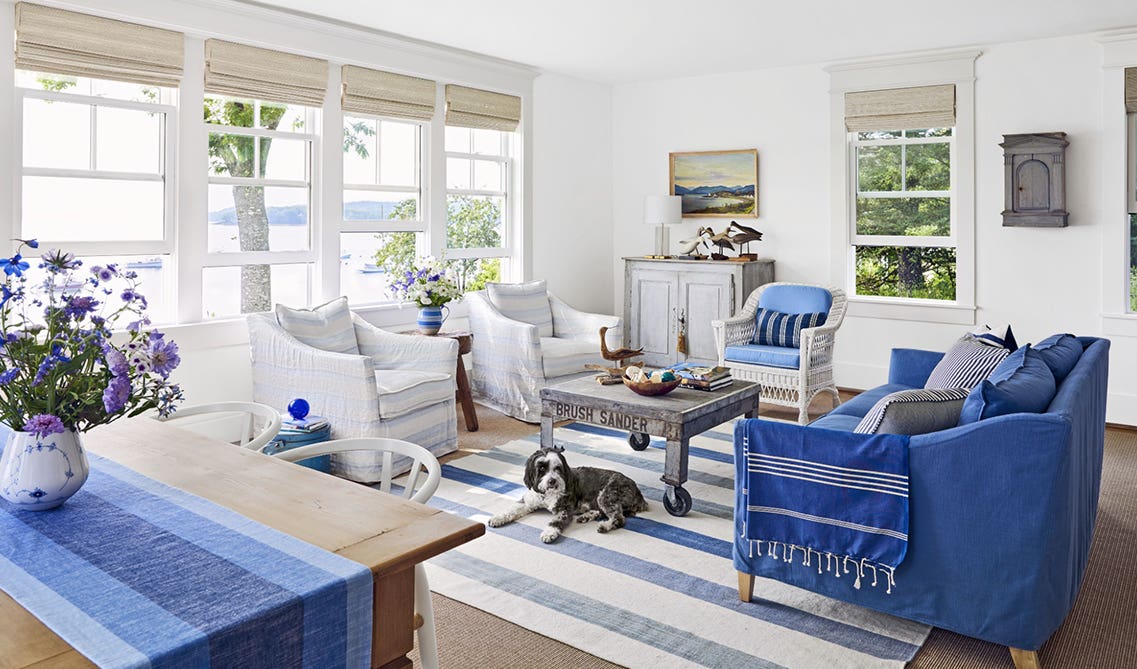 Country Living
Coastal
If you're looking for a style that feels light, calming, and beachy then the coastal look may be the right choice for you. Coastal design is carefree and relaxed and relies on neutral color palettes and cohesive decorative elements.
Coastal design can vary so it is important to make sure you understand which style you want to incorporate into your space. American coastal is a very recognizable style that is known for its light and airy colors and elements of the ocean. If you want to take a more tropical approach then you can try brighter and more bold colors and decorations that feature palm leaves or tropical motifs. If you are looking to create a home that has Greek, Spanish, or Italian influences then try to use more earth-toned colors like terracotta. 

When creating a coastal-style home of any kind it is always important to utilize natural elements. These items can include seashells, clay pots, or palm leaves depending on the look you are trying to create. Feel free to use decorative elements often but make sure they still adhere to your specific color palette. This will make your space appear both harmonious and unique.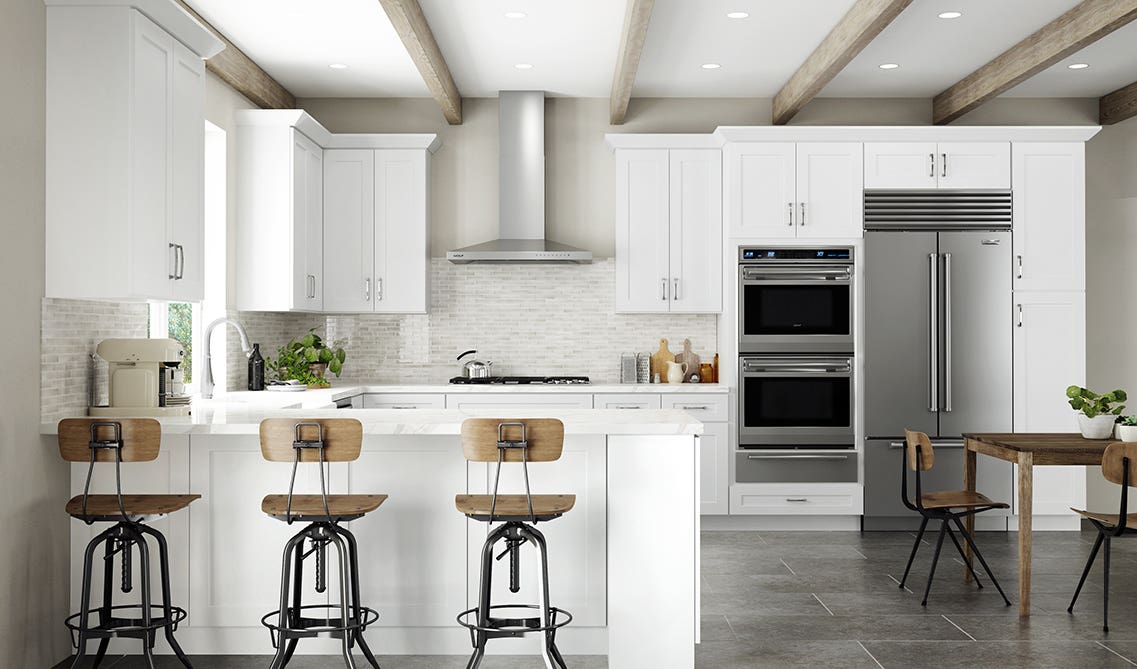 Lily Ann Cabinets
Industrial
Industrial design is a very simple style that relies heavily on the use of metals and dark colors. The style often uses raw and natural materials that can make your space appear modern and stylistically interesting. 
Wooden beams, exposed pipes, and brick are key to the

industrial style

. While these may only be available depending on your home's structure, you can also incorporate them by using bookshelves or coffee tables that use both wood and metal piping. You can also try adding

faux exposed brick

to your home to mimic this look.  

Much like the shabby chic or mid-century design styles, industrial also requires vintage elements. Using vintage glassware in your kitchen or a vintage wooden coffee table is a great way to add an antique look to your space. 
Picking a design style can be difficult and requires a lot of help. Make the process easier with the help of Lily Ann Cabinets. Check out Lily Ann Cabinets for all of your cabinet, hardware, and home inspiration needs!