Designing a small kitchen can be a challenge, but with clever strategies, you can create an illusion of space and make the small kitchen layout feel bigger than it actually is. By incorporating smart design ideas, you can maximize functionality, optimize storage, and enhance the overall aesthetic.
In this blog post, we will explore various clever design ideas that can transform your small kitchen layout into a spacious and inviting space.
1. Utilize Floating Shelves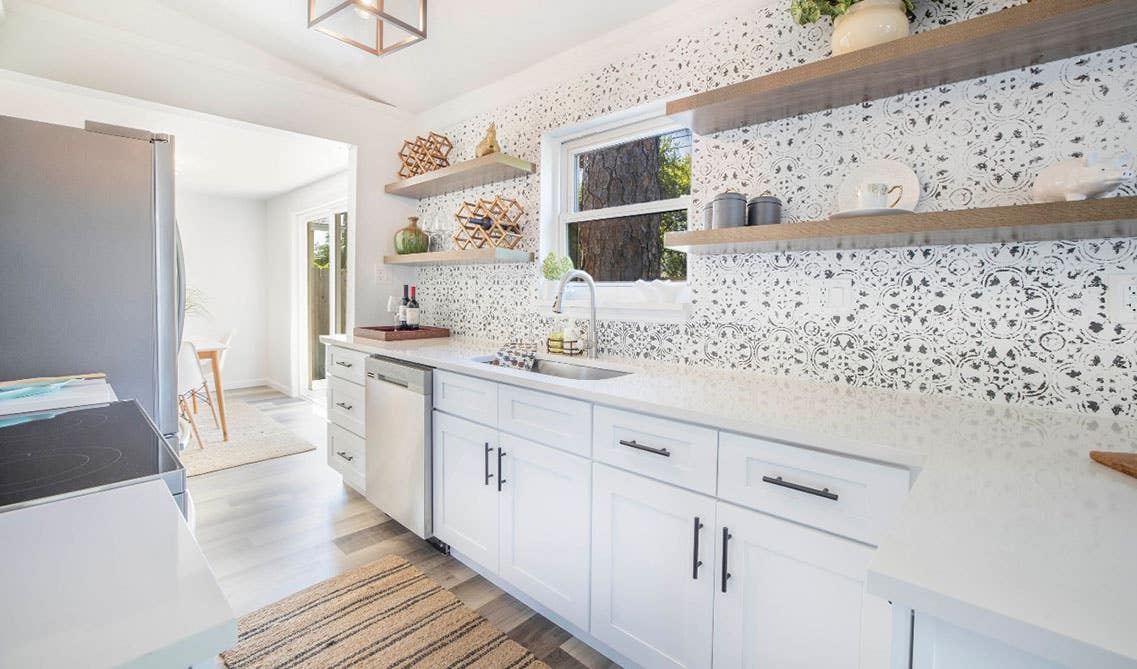 A great and easy way to make a small kitchen layout feel bigger is to add floating shelves. 
Mount

floating shelves

closer to the ceiling rather than at eye level or lower. This draws the eye upward and creates a vertical element, making the kitchen seem taller and more expansive. 

Avoid cluttering the shelves with too many items and keep the display minimal and well-organized. This will prevent the shelves from looking overwhelming and help maintain a sense of openness.
2. Two-tone Cabinetry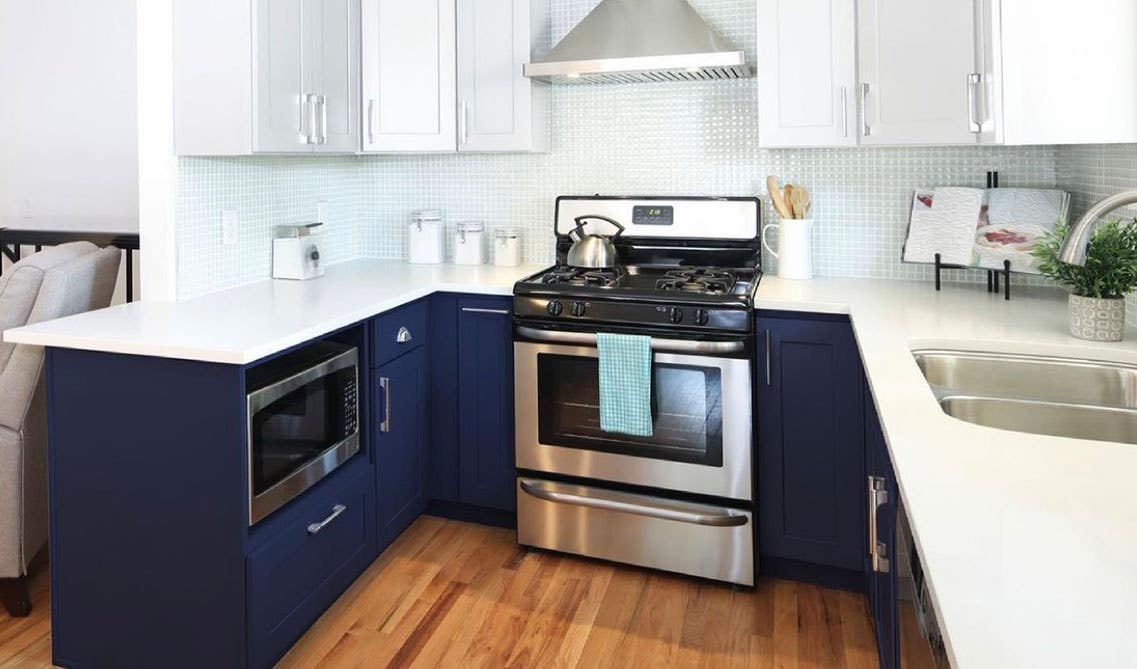 If you have a small kitchen layout, one way to make the space feel bigger is to have the upper cabinets in light colors. This will create an open and airy look. Light hues reflect more light and make the kitchen space feel larger.
Consider using white or grey shakers for the upper section. Additionally, by using darker colors for the lower cabinets, you visually ground the space. The contrast between the light upper cabinets and the darker lower cabinets helps create a sense of depth and adds visual interest. You can use Lily Ann Cabinets Navy blue or espresso shaker. 
3. Keep Your Space Clutter Free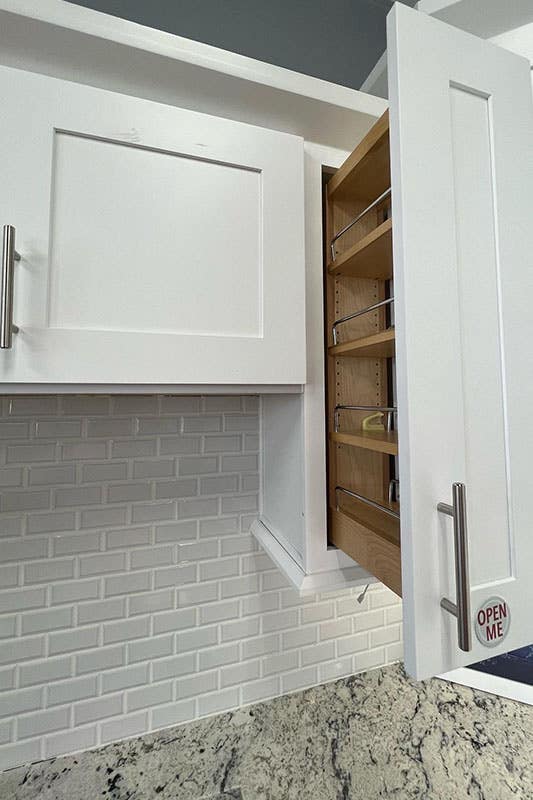 Looking for a small kitchen layout idea? By keeping your kitchen clutter free with inserts and organizers, you can completely change the look of your space.
Lily Ann cabinets offer many options that will fit your everyday needs. From pot and pan roll out shelves, to spice racks, there are endless options to choose from. Easily create a more airy space by getting rid of the clutter in your home.
4. Use White Cabinets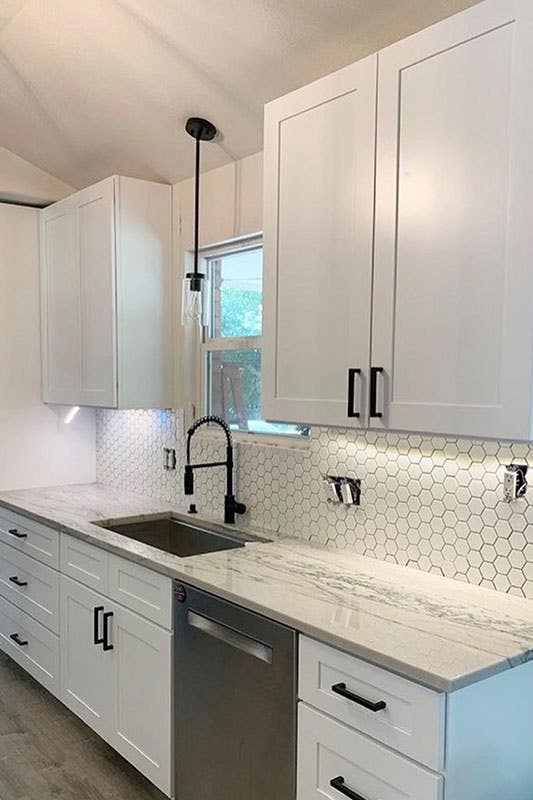 A simple small kitchen layout design idea is to use white cabinetry. White creates a crisp and clean look, making the kitchen feel brighter and more spacious. Using white cabinetry in a small kitchen layout can be an excellent way to create a sense of openness and make the space feel bigger.
Balance the white cabinets with other elements in the kitchen, such as flooring, wall color, and accessories. By combining white cabinets with appropriate lighting, reflective surfaces, and a thoughtful color scheme, you can create a small kitchen that feels bright, spacious, and inviting.
5. Mix Open Shelving & Cabinetry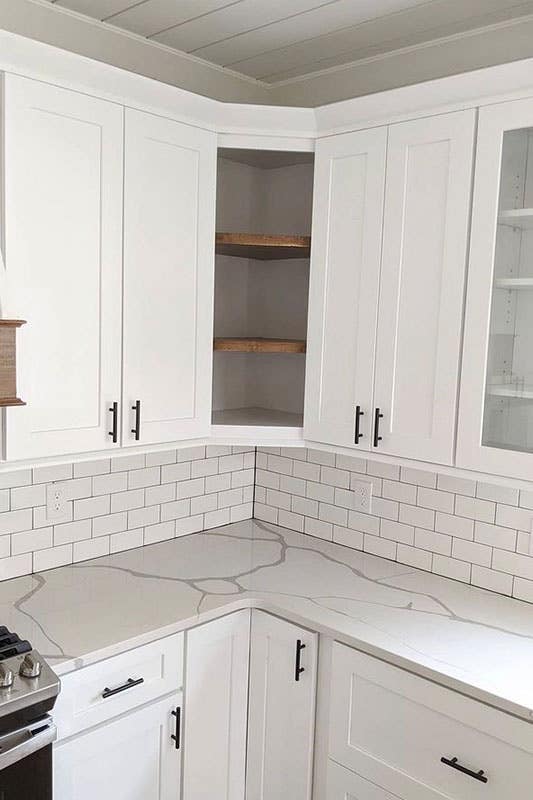 Mixing open shelving and cabinetry in a small kitchen layout can create a visually appealing and functional space that feels bigger. 
The open shelves provide an opportunity to add personality to your kitchen while creating a sense of openness. 

Closed cabinets help maintain a clean and organized look by tucking away clutter. 
By combining the openness of open shelving with the functionality of cabinetry, you can create a small kitchen layout that feels spacious, stylish, and efficient. Remember to strike a balance between display and storage needs while maintaining a cohesive design throughout the space.
6. Glass Cabinet Doors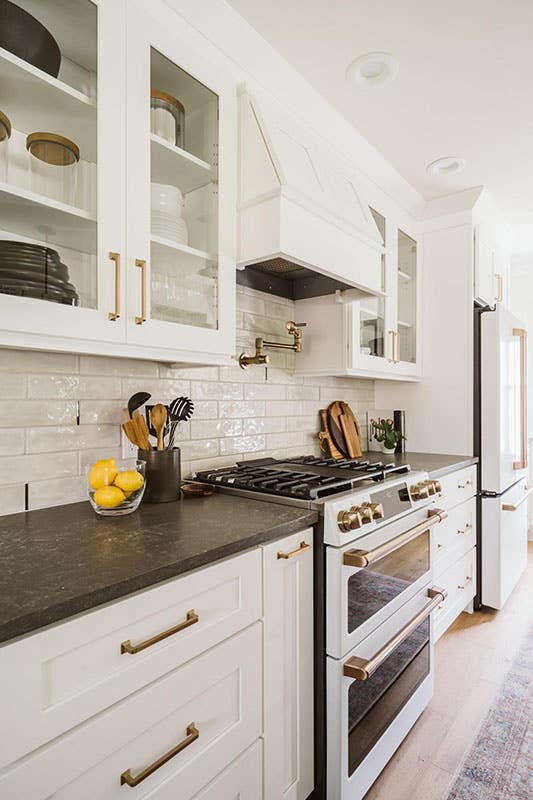 Replace the doors of your upper cabinets with glass doors. This will open up the visual space, making the kitchen feel larger. Glass doors also reflect light, brightening the area and giving an airy feel. Use the glass cabinets to display attractive and well-organized items. Arrange stylish dishware, glassware, or decorative pieces neatly inside the cabinets.
This not only adds a decorative element but also adds depth and interest to the space. By using glass cabinet doors in your small kitchen, you can create a feeling of openness, depth, and light. The transparency of the glass allows the eye to travel beyond the cabinets, making the kitchen appear more spacious.
7. Keep It Minimal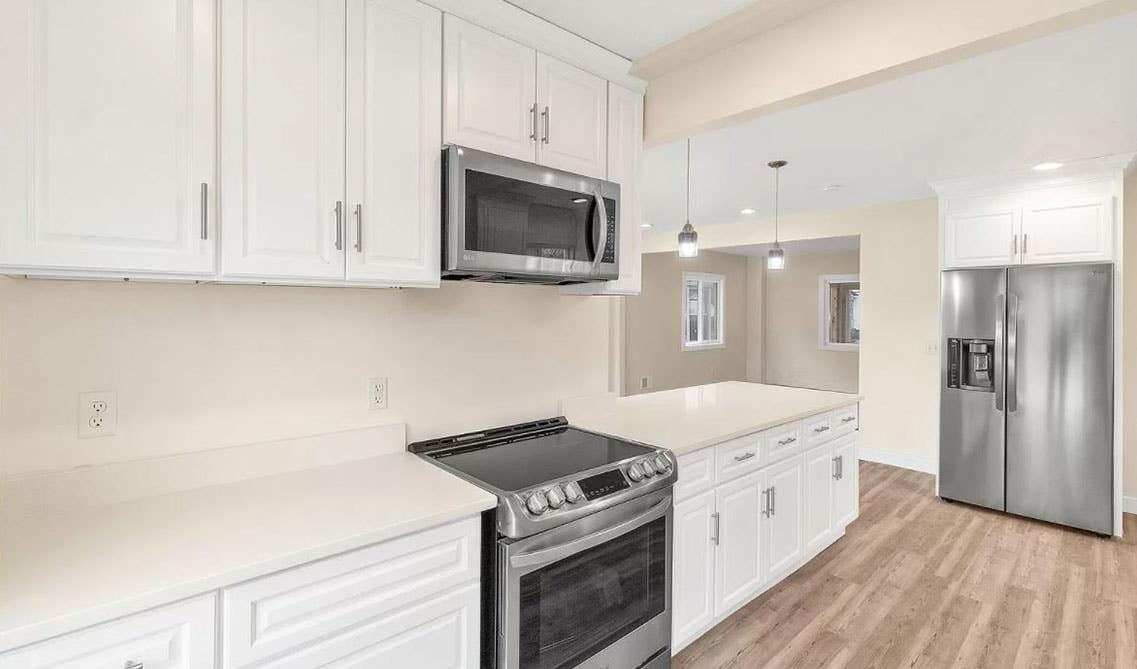 Keeping a small kitchen layout minimal is essential to create a sense of openness and make the space feel bigger. By keeping the kitchen minimal, you can highlight key design elements that contribute to the sense of space and openness. Keeping the kitchen minimal also allows natural and artificial light to fill the space more effectively. Light is essential in making a small kitchen feel bigger, as it reflects off surfaces and creates a bright and airy atmosphere.
8. Install Hidden Storage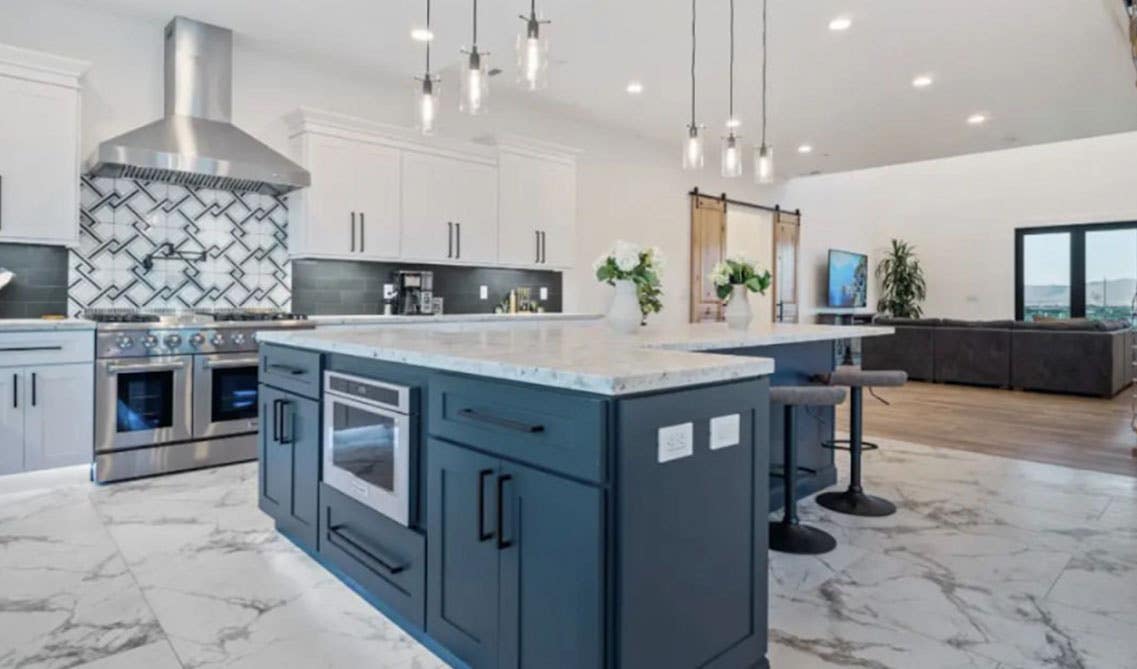 Installing hidden storage in a small kitchen layout is crucial to maximize space, maintain a clean and uncluttered appearance, and make the kitchen feel bigger.
Hidden storage allows for better visual flow in the kitchen. When storage solutions are seamlessly integrated into the overall design, it improves visual continuity and prevents interruptions in the eye's movement. This flow contributes to a sense of spaciousness and makes the kitchen feel more open and cohesive.
If you are planning to buy new kitchen cabinets for your home, you've come to the right place! Lily Ann Cabinets award winning professionals will help with everything you need to know about purchasing kitchen cabinets. From finding the right style and size to choosing materials and finishes, they will provide you with all the information you need to make the best kitchen remodel decisions for your home. 
FAQ's
1. What is the best way to lay out a small kitchen?

The One Wall Kitchen is found in smaller kitchens, this simple layout is efficient when working with space.
2. What kitchen layout is popular in small homes?

The most popular and common kitchen layout is an L shape is one of the most common layouts for kitchens.
3. What color cabinets go best in a small kitchen?

White is a perfect choice for a small kitchen, it makes the space feel brighter and more spacious.
4. Where should a microwave be placed in a small kitchen?

A microwave can be placed above your oven, built-in with cabinetry. This allows you to have more countertop space for you to work with.