Here we'll explore what many homeowners wonder as they remodel: Should bathroom and kitchen cabinets match?
In short, there's no hard and fast rule. However, there are three important things to consider when choosing whether or not kitchen and bathroom cabinets should coordinate.
1. Proximity
How close are the bathroom and kitchen? If your bathroom is just steps away from the kitchen, it may be a good idea to opt for matching kitchen and bathroom cabinets to enhance the overall flow of the space. Or, if you aren't sold on matching cabinetry, try matching the colors or finishes of the two spaces. Using complementary colors can be a great way to tie the styles of the kitchen and bathroom together.
As a general rule of thumb, if the bathroom is within a short walking distance or eyesight of the kitchen, there should be some matching element so that the kitchen and bathroom don't feel like two starkly different spaces.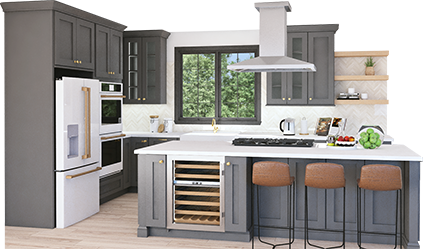 Get your FREE 3D kitchen design today!
Start Now
2. Bathroom Size
If you have dark cabinets in your kitchen and a small bathroom, matching cabinetry may not be the best option for your home. Small spaces tend to feel stuffy when fitted with dark color palettes, so in this case, you may want to consider other ways to make your kitchen and bathroom flow.
One way to accomplish a nice flow is to choose the same cabinet style for your bathroom, but in a lighter color or finish than in your kitchen. This way, the styles of the kitchen and bathroom cabinets remain complementary without making your bathroom feel smaller.
3. Functionality
Sometimes, it's just not practical to install your favorite dark hickory cabinets in the kid's bathroom. (Let's be honest, they'd be covered in toothpaste within a day!) As much as we'd like to think otherwise, the most important purpose of the home is to be functional for the family.
For a kids' bathroom that guests will never even see, you may want to opt for practicality over looks. Even if the kid-friendly cabinets don't match the kitchen, don't worry. Choose what feels right for your home and family. If your cabinets don't match, other elements like style, finish and color palette can still create flow between your kitchen and bathroom.
Find The Perfect Kitchen And Bathroom Cabinets At Lily Ann
Our kitchen design experts can help you find the perfect kitchen and bathroom cabinets to complete your home. Need help visualizing the results? Use our free kitchen design tool to receive a 3D rendering. Get started today!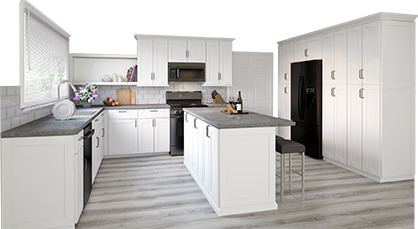 3D Kitchen Visualizer Tool
Bring your dream kitchen to life with our free kitchen visualizer!
Design Now