Want a new kitchen in weeks rather than months? It's possible. And it starts with understanding what you're up against.
There are two main obstacles that could get in the way of completing your kitchen remodeling project:
The construction itself can seem to take forever

It can take years to save enough money to start in the first place
But these challenges don't have to hold you back.
With RTA cabinets, solid planning, and a few other hacks, you can expedite the process. Follow these tips.
Streamline Your Construction Time
Remodeling projects are notorious for delays. And admittedly, some of them are beyond your control. For example, sometimes you uncover damage you didn't know was there.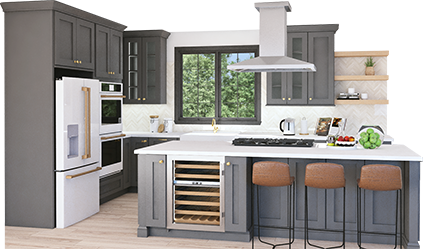 Get your FREE 3D kitchen design today!
Start Now
But even if the unexpected happens, you can minimize setbacks. If you've followed this advice upfront, you'll be better prepared to adapt and lose as little time as possible.
1. Gather all your materials and permits before you start
Don't even start demolition until you have everything, from your RTA kitchen cabinets to your light fixtures, faucets and hardware — and the paperwork you need to make your remodel legit.
There's nothing more frustrating than getting stuck because you don't have the next item you need to install, or because you find out you need to change your plans to get a permit. Once you gain momentum, you want to be able to keep going at full speed.
2. Invest in time-saving tools
Everything goes faster with the right equipment. For example, consider a stud finder that can find multiple studs and pipes at the same time. You may also find a laser level helps you hang your RTA cabinets faster. Assess your tools upfront, and make sure you have everything you need.
3. Share the whole schedule with the whole team
This is especially important if you have a contractor doing some of the work and you're doing some of it yourself or with help from other DIYers. Plan out and share the whole timeline because some steps are dependent on others. Plus, you don't want to get in each other's way.
4. Choose doable designs you love
Look for solutions that will be fairly practical to implement. Avoid choices that require any rare materials or complex custom work.
That being said, don't settle for anything you don't love. Otherwise it may be hard to stick to the next tip.
5. Stick to the plan
From the layout of your space to your sink faucet to your choice of RTA cabinets, only make decisions you're sure you can commit to. Changing your mind mid-project can cause a domino effect that results in major setbacks.
Save Money On Materials
You may be thinking, "That's all well and good, but what if what's slowing me down is a lack of funds?"
Good news: With these money-saving tips, you may be able to afford your new kitchen sooner than you think.
1. Look for budget materials on Craigslist
You may be able to find items like tile or flooring for significantly less than you'd pay through traditional sources. Plus, you might find something unique that you wouldn't otherwise have discovered.
2. Paint the floor instead of replacing it
If you have wood floors and can't afford professional refinishing or all new flooring, paint can be a more affordable solution. Consider a grey color; it's neutral enough to match most decor, and it won't show every little speck of dirt.
3. Go with RTA cabinets
Save money on labor by doing some of the work yourself. Lily Ann RTA kitchen cabinets are simple to install, yet you won't be compromising on quality. We even offer easy RTA cabinet financing and a price match guarantee.
Bonus: Our RTA cabinets usually arrive within one to two weeks, and rush shipping may be available if you're really in a hurry.
Ready to start your kitchen remodel? Shop our RTA cabinets now.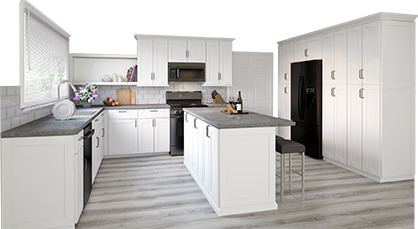 3D Kitchen Visualizer Tool
Bring your dream kitchen to life with our free kitchen visualizer!
Design Now