The three most important factors to consider before starting your kitchen remodel are layout, style, and cost. Remodeling a kitchen is a comprehensive project with many moving pieces and parts. It's a job that requires careful planning and consideration well in advance of the first cabinet being installed. If you're thinking about remodeling your kitchen, this article details those most critical factors to consider and how you can ensure a successful project.
Confirming the Layout of Your New Kitchen
Before you can identify the cost of your kitchen remodel, you must confirm the layout of your new kitchen. If you hire a contractor and leave the final design open-ended, unforeseen expenses could incur during the project. Typically, the best way you can minimize your remodeling cost is by maintaining the current layout of your kitchen. In this scenario, your dishwasher, range, and refrigerator would stay in the same locations they are currently. Your old cabinets would then come out, and new cabinets would be installed in their place. This strategy provides an updated look in your kitchen without having to move walls, islands, plumbing or appliances. If you are changing the layout and configuration of your current kitchen, however, be sure to get estimates from carpenters, plumbers, and electricians for the cost of potentially moving walls, water lines, and outlets well before your project begins.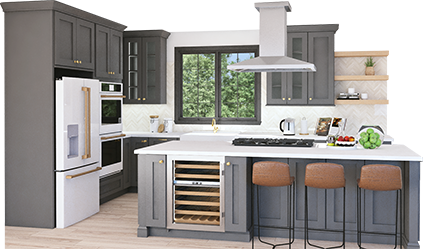 Get your FREE 3D kitchen design today!
Start Now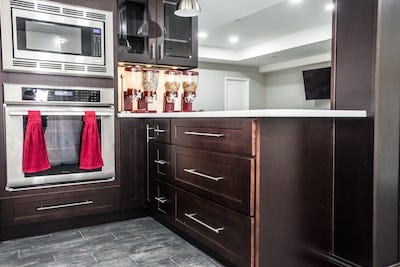 Selecting the Right Cabinet Style for Your Kitchen
There are some factors to consider when selecting the kitchen cabinets style for your remodeling project. Specifically, you want to make sure that the new cabinets are a complement to the other elements you plan to include in your kitchen. From white to maple, grey, birch, and many other options, there is any number of cabinet color styles to select. But you will want to make sure that the style you ultimately choose blends well with the rest of your kitchen. Questions to consider asking during the planning phase of your remodeling project include: Does the style of your new cabinets match your appliances? Will your flooring be a good match for the cabinets? Do the countertops, walls or theme throughout the kitchen complement the new cabinets you are selecting? Once you can confirm that your new cabinets mesh well with the rest of your kitchen, you can then begin to finalize your budget.
Identifying the True Cost of the Kitchen Remodel
Remodeling a kitchen often requires a significant financial investment. A typical project includes purchasing new cabinets, installing new countertops, plumbing fixtures, and sometimes new flooring and painting throughout the kitchen. But often, there are ways to save throughout this process if you're planning carefully. The first step in a remodeling project is to price your kitchen ideas out into a confirmed remodeling budget. This budget would detail what to include and what to omit from the plans in the spirit of saving money. Then, contact a realtor for an estimate of how much your home might be worth after the kitchen remodel once the final cost is confirmed. There is a chance you might make your money back in equity, or have it returned with profit when your home is sold. Combining the construction cost with the estimated sales price after selling your home will give you an idea of exactly how much money your kitchen remodel will be ultimately worth.
Free Kitchen Design Support at Lily Ann Cabinets
Lily Ann Cabinets is here to help with your kitchen remodel. Our team of experts will walk you through the cabinet purchasing process and answer whatever questions you may have. We can also assist with our free kitchen design tool that will generate drawings of your new kitchen that you can use as a guide for purchasing or installing cabinets. Contact us today for a free kitchen design and let us help get your remodeling project started.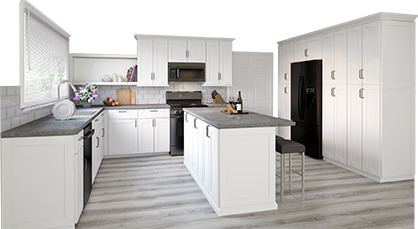 3D Kitchen Visualizer Tool
Bring your dream kitchen to life with our free kitchen visualizer!
Design Now