A successful kitchen remodeling project begins with establishing a timeline for the construction schedule. This timeline will allow you to organize the decision-making process and prioritize the choices you will need to make. Those decisions range from defining what aspects of your kitchen you plan to remodel, to what style of cabinets you will be installing, and more.
While the extent of a remodeling project could vary, this article looks at the total removal of the old kitchen and installation of a new one. Those steps and the six-week kitchen remodel timeline are as follows:
A Step-by-Step Kitchen Remodeling Timeline
Define your project scope
Generate a 3D kitchen design
Order construction materials and fixtures
Select and order appliances
Rough carpentry phase
Install new flooring
Install new cabinets
Fabricate and install countertops
Paint and clean the kitchen
Defining your project scope
Time Estimate: 1 week
Defining the project scope is the first step in any kitchen remodel. To make sure you have enough time for the planning process, allow yourself at least one week. During this time, you will confirm which aspects of your kitchen will be updated. You are also acquiring a 3D kitchen design rendering which will be used to lay out the room and order your cabinets. This planning phase of your kitchen remodel is when you are confirming prices for flooring, countertops, cabinets, and fixtures while developing a comprehensive cost of the project.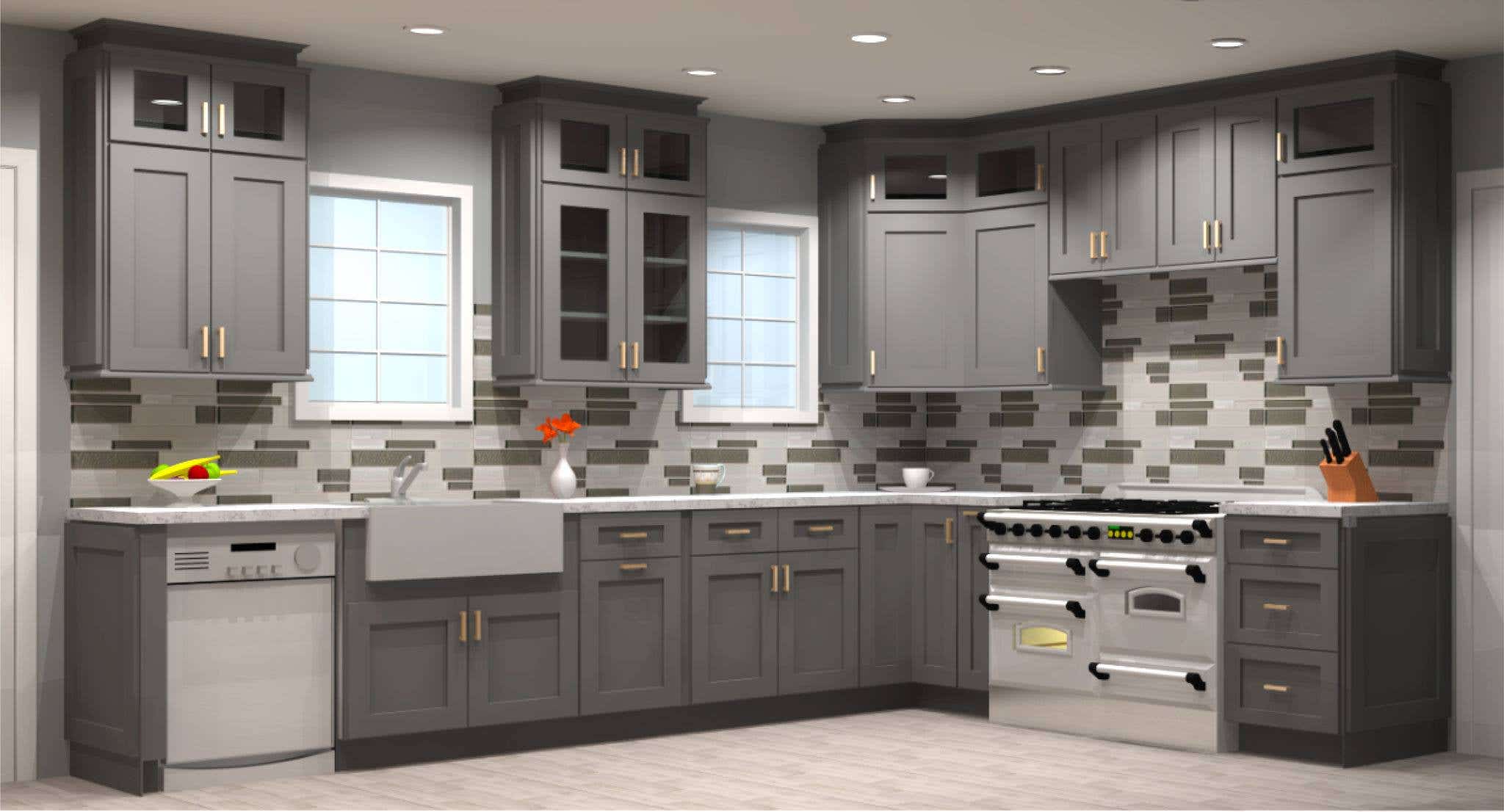 Sample 3D kitchen design from Lily Ann Cabinets.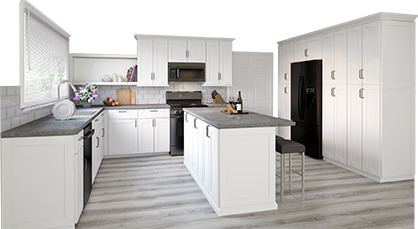 3D Kitchen Visualizer Tool
Bring your dream kitchen to life with our free kitchen visualizer!
Design Now
Ordering materials, fixtures, and appliances
Time Estimate: 2 weeks
While leveraging the 3D kitchen design rendering, the second step in the remodeling process is ordering materials, fixtures, and appliances. During the ordering process, it's best to allow for two weeks. During this two-week period, you'll be selecting the flooring, cabinets, countertops, plumbing fixtures, appliances, and light fixtures for your remodeled kitchen. During the ordering phase, it's essential to acquire samples of flooring, cabinets, and countertops to make sure that they all will go well together.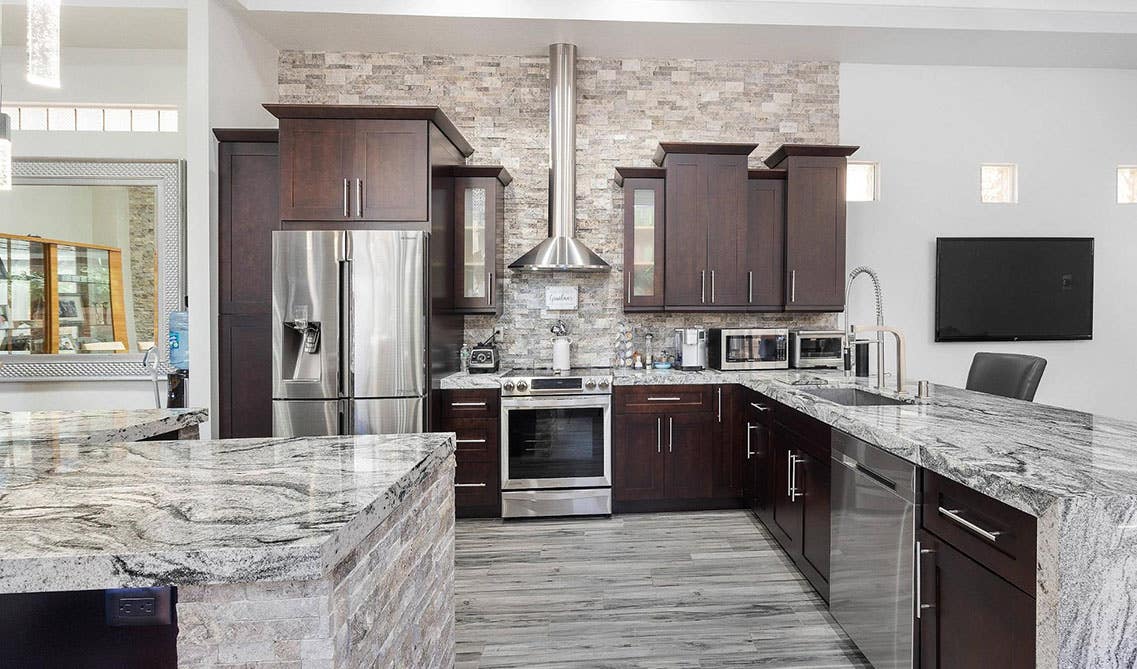 Rough Construction
Time Estimate: 1.5 weeks
The rough construction phase involves removing the old kitchen cabinets and countertops and demolishing the kitchen to prepare for the new remodel. We've budgeted one and a half weeks for this process to account for going all the way down to the stud with the demo.
If you are only replacing cabinets and countertops, while keeping all of your plumbing and electrical in the same location, this process could be closer to one week. But following a full demo, you can also account for rough mechanicals (plumbing, electrical, and HVAC), installing drywall and priming the walls, and then installing flooring. At that point, you're ready to finish carpentry and painting.
Finish Carpentry and Painting
Time Estimate: 1.5 weeks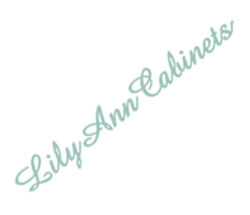 Once the flooring is installed, and priming of the walls is complete, the next phase includes installing kitchen cabinets. When working with Lily Ann Cabinets during the planning phase, you would have generated a 3D rendering of what your new kitchen will look like. You would use this tool to install cabinets during a period of time that would last 3-4 days.
Once the base cabinets are installed, you can measure for your countertop and install them. The measuring and fabrication process will take about 1-2 days for a countertop, especially if you are installing granite. After the countertop is complete, you can secure your kitchen sink and plumbing fixtures in about three days. At that point, you'll finish off the electrical fixtures, switches, and outlets. After that, you'll spend one day putting the finished paint coat on the walls and trim before cleaning the kitchen and wrapping up the project.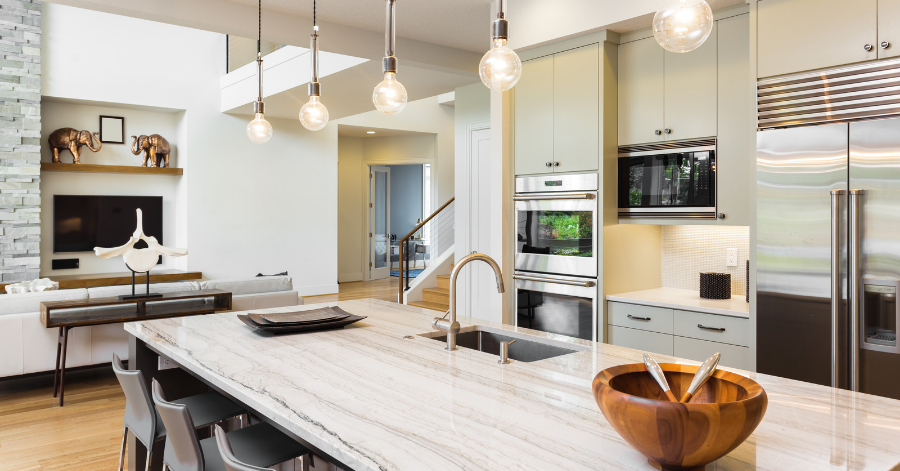 Ordering RTA Cabinets for Your Kitchen Remodel
One of the best ways to save time and money on your kitchen remodeling project is by ordering RTA cabinets from Lily Ann Cabinets. Our ready-to-assemble cabinets do not require a carpenter to assemble and install, saving money by doing this part of the project yourself. Lily Ann Cabinets will also walk you through the process with their free kitchen design tool and help you select from many styles of high-quality cabinets. Contact our cabinet experts today to learn more.