When it comes to renovating your kitchen, there are countless moving parts. And this tends to lead to some inadvertent kitchen design mistakes. But by following a few key kitchen design tips and using the help of our kitchen design services, you'll wind up with the kitchen design of your dreams. The following are a few common kitchen design mistakes and tips on how to avoid them in the first place.
1. Skipping Cabinet Organizers
Many people just opt for cabinets, forgetting about in-cabinet storage solutions. But you're getting new cabinetry for a reason. Make your kitchen design work for you, not against you, by opting for smart storage solutions.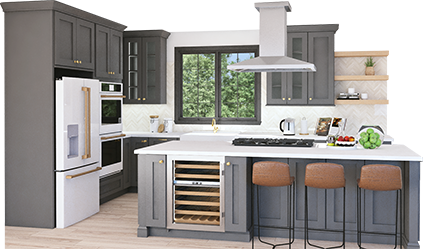 Get your FREE 3D kitchen design today!
Start Now
Cabinet inserts and organizers can help you get the most out of your new cabinets. These solutions help to increase both your storage space and overall efficiency. Plus, you'll save money by getting them in your initial cabinet order instead of adding them on later.
2. Choosing Appliances Last
This is an incredibly common kitchen design mistake due to the fact that most people think that picking out appliances is the last step of a kitchen renovation. But this could wind up being an extremely costly blunder.
Whether you're completely changing the layout of your kitchen or simply altering cabinet layout slightly, you need to make sure that you pick out your appliances first. It's much easier to choose cabinetry and countertops to fit around appliances. The other way around? Not so much.
3. Creating Cabinet Collisions
Another common and pretty unfortunate mistake that homeowners make when renovating their kitchen is inadvertently causing cabinet collisions. If two cabinet doors can't both be opened at the same time, something has gone awry.
Take the time when designing your kitchen to measure multiple times. It helps to visualize opening every cabinet and appliance door at the same time. Would any of them come into contact with each other? If you're unsure, measure again.
4. Not Accounting for the Trash
Your kitchen is complete. Then, you look around and come to the dreaded realization that you didn't account for the trash can and now there's no place to put it! Unfortunately, this is an all-too-familiar scenario when it comes to kitchen renovations.
We know – thinking about where the trash is going to go in your new kitchen design is not super exciting. But by taking some time to actually plan out a place for it, you'll save yourself some major headaches (and unpleasant smells). Consider built-in storage with separate bins for your trash and recycling. That way it can all be conveniently nearby yet remain tucked away and out of sight.
5. Skimping On Outlets
In this day and age, everything (and we mean everything) plugs into a wall. From your beloved KitchenAid mixer to your workhorse toaster, your kitchen uses a lot of small appliances. And then there are all our other gadgets. What if you want to play music from your phone while you cook, but the battery is low? Where will you plug in the charger? Bottom line: The kitchen is not the place to skimp on outlets. Load up and place them in strategic areas throughout your kitchen.
6. Not Considering A Work Triangle
The three busiest and most used spots in your kitchen are your sink, your stove and your refrigerator. These three spots make up your work triangle and should almost always be laid out in this shape. This helps to create an efficient workflow in the overall kitchen design. Remember that the pathways between these focal points should remain unobstructed and the points should be pretty close to each other.
Get Your Dream Kitchen Design With Help From Lily Ann Cabinets
When you work with Lily Ann Cabinets, we'll help to make sure not a single kitchen design detail is forgotten. We'll guide you through the entire painless process to help create the kitchen you've always dreamt about. Use our kitchen design services to get started. Have a question or need more information? Contact us today!