Sticking with timeless textures and neutrals is a great option for many homeowners, but if you're looking for something with a bit more pizzazz, staying up-to-date on the latest kitchen cabinet trends is a must. There are plenty of other finishings that can make your kitchen feel current and unique, but cabinets generally take up the bulk of your kitchen space and act as an important focal point. Without further ado, let's check out some of the latest cabinet trends, colors and more.
Simple Cabinet Styles
In 2019, simple kitchen cabinets reign supreme. But simplicity can have a few different meanings. It can mean choosing cabinets with no line or framework at all. Or it can mean choosing cabinets with a single interior frame and simple lines, like our white Shaker cabinets. It can even mean choosing cabinets with a beadboard-like style, but with the board lines extending the full height of the cabinet for high-impact simplicity. If you want to be in line with current kitchen cabinet trends, picking clean, minimal lines is the way to go.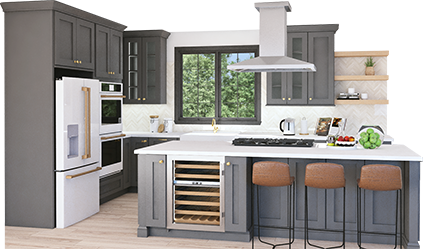 Get your FREE 3D kitchen design today!
Start Now
Cabinet Walls
No, we didn't get our words confused. Rather than base and hanging wall cabinets, many trendy kitchen cabinets are built into the wall and extend from floor to ceiling. They function almost like an extended butler's pantry, maximizing your storage space on the inside while providing a chic, clean look on the outside. Worried about the loss of counter space? Don't worry: this style usually accommodates a wall of regular cabinets with a countertop and actually gives you more room for a larger kitchen island. You'll have plenty of meal prep and cleanup space!
Concealed Or Matching Range Hoods
2019 kitchen trends are shifting away from previous years that called for ornate range hoods as a major focal point. Instead, conceal the range hood as though it were another part of the wall. You can also choose a range hood that matches your cabinets, which is an option available at Lily Ann.
Two-Tone Cabinets
Looking for kitchen cabinet color trends? Some of them are still going strong in 2019. Two-tone cabinets are still being used as a great way to create visual interest in kitchens. Also known as tuxedo cabinets, you achieve the look by choosing a darker color for the base cabinets and a lighter color for the hanging wall cabinets. For example, you could have a warm gray color below and white cabinets above. Play with this look for a truly unique, trendy space!
Innovative Storage Solutions
Beyond cabinet color trends and styles, the most important thing about your cabinets is that they keep your cookware and utensils organized and ready to go. The possibilities for how you could organize your cabinets are almost endless! You could add roll-out trash bins to stow away garbage and recycling, peg boards for plate and bowl storage in your drawers, and a pull-out spice rack in your thin corner cabinet. Anything to enhance the functionality of your kitchen will not only make the space more usable for you but also more appealing to potential buyers if you're remodeling to sell your home.
Get The Latest Kitchen Cabinet Trends In Your Home With Lily Ann Cabinets
With our great selection of wholesale RTA cabinets, it's easy to bring the hottest trends of 2019 into your home without breaking the bank. Find great cabinet stain and paint colors, the perfect hardware and amazing storage solutions to truly bring your kitchen into today's world — and keep it looking great for tomorrow. Get started today!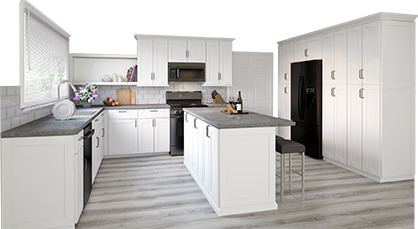 3D Kitchen Visualizer Tool
Bring your dream kitchen to life with our free kitchen visualizer!
Design Now