Doing a DIY kitchen remodel is hard, but installing your new kitchen cabinets doesn't need to be. While there are plenty of challenges you may come across while you're putting together your cabinets, there are also several easy ways to avoid them. Here's how to handle some of the most daunting parts of your kitchen cabinet install.
Hanging The Wall Cabinets
You should always install your upper kitchen cabinets before your base cabinets; you'll need easy access to the wall to secure them.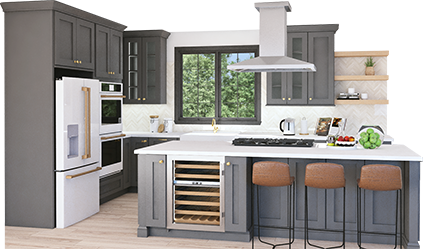 Get your FREE 3D kitchen design today!
Start Now
You'll also want to install a ledger board: a temporary wooden ledge to help you keep your kitchen cabinets straight and hold some of their weight as you screw them in place.
Even when you do have direct access to the wall and a ledger board installed, it's crucial that you have another person to help you. It's almost impossible to hold up the cabinet, keep it level, and screw it into place all by yourself — if you try it, you might wind up with a busted cabinet, or worse, a busted back.
A good rule of thumb when installing kitchen cabinets: if you think you need help, ask for it! It's much better to have someone assist you than to spend twice the time reinstalling your cabinets because you made a mistake.
Keeping The Wall Cabinets Flush
As stated above, the challenge of making sure your hanging kitchen cabinets are level and flush (or "plumb") with the wall is also much easier to deal with when another person is helping you.
If your wall is perfectly flat and straight, you're golden! If not, you'll need to use some wooden shims (thin pieces of wood that can be wedged between the cabinet and the wall to fill gaps). Align your shims with the studs and drill through the cabinet back and shim and into the stud.
Once the first cabinet is in place, position and level the next one, and clamp it to the first before you position any additional shims and do your next round of drilling.
When done, of any parts of a shim are exposed, you can score it with a utility knife and snap off the visible section.
Keeping Your Base Cabinets Level
One of the trickiest parts of the installation process is making all your kitchen cabinets level. One challenge you may encounter, especially if you live in an older home, is uneven flooring. For base cabinets, an easy solution is to install them from the highest ground point and work your way to the lowest. That way, you can keep an eye on your measurements and have a much easier time adjusting them to ensure your countertops will be perfectly level when they're ready to be installed.
When installing your kitchen cabinets, proper planning before you start is always the best means to overcome a challenge. As long as you take your time, and ask for professional help when you need it, you'll be well on your way to getting the beautiful kitchen you deserve.
Ready to get started? Browse and order your new RTA kitchen cabinets today.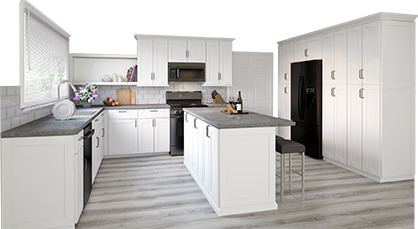 3D Kitchen Visualizer Tool
Bring your dream kitchen to life with our free kitchen visualizer!
Design Now