Put down the wood glue! Before you bring home your new kitchen cabinets, you need to take measurements of your space to make sure they're the right fit — literally. While kitchen cabinet measuring seems like a time-consuming process, you'll ultimately save yourself time down the line when you choose appropriately sized cabinets and install them in the right places. We'll show you how to measure for kitchen cabinets so you can create the ultimate blueprint for your space.
Measure Your Old Cabinets
An easy way to figure out the appropriate dimensions for your new cabinets is to measure the old ones. You don't have to stay with these exact dimensions, especially if you're completely reconfiguring your space, but they're good guidelines to refer to as you shop for your new cabinets. Keep in mind that you generally want to leave 18-20 inches of free space between the bottom of your hanging cabinets and your base cabinets — you don't want your countertop appliances to be short on room! Remember to take the thickness of your countertops into account as well.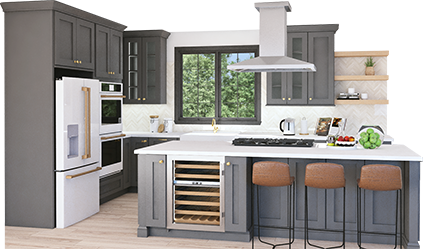 Get your FREE 3D kitchen design today!
Start Now
Create Your Blueprint
Take horizontal measurements of each of your kitchen's walls, noting windows and the position of water lines, gas lines, outlets and any other obstructions (like vents) as you go. Afterward, take vertical measurements from floor to ceiling. We recommend testing each corner of the room and perhaps the center to make sure floor-to-ceiling height remains consistent throughout. This is because older homes sometimes have height differences or have become warped over time.
Finally, once you've taken all of these measurements, you can draw a blueprint of your space. Use inch measurements rather than feet, and remember to account for the length of windows and doorways as well. You can use a sketch with measurements added in, or you can create your blueprint to scale. We recommend using graph paper for either!
Mark the Locations of Appliances, Utilities & Obstructions
Once you've added measurements to your blueprint, it's time to mark down the locations of everything that powers your kitchen: the outlets where you plug in appliances, the gas lines that power your stove, the water lines that keep your fridge cold and any other obstructions. You can also add in the measurements of your appliances as well to give you a better visual of how you can add your cabinets around them.
Thinking of adding a kitchen island into the mix? Now would be the time to account for those measurements as well! Be sure to leave at least 36 inches (3 feet) of clearance space on all sides so you can comfortably move past it and open any appliances you're planning to incorporate. Simple as that!
Choose Your Cabinets
Now that you know how to measure kitchen cabinets, you can actually pick out your new additions! But don't worry if you find a cabinet style that doesn't quite accommodate the dimensions you need — at Lily Ann Cabinets, you can choose from a number of cabinet modifications, including everything from base cabinet reduction to cutting out a door panel for glass inserts.
Additionally, if you need help putting together your blueprint, you can always use our free 3D kitchen design tool or contact our experts for tips and advice. We can show you how to measure for kitchen cabinets in your space, and help you with kitchen cabinet measuring to prepare for installation.
Feel ready to dive in? View all of our high-quality RTA kitchen cabinets today.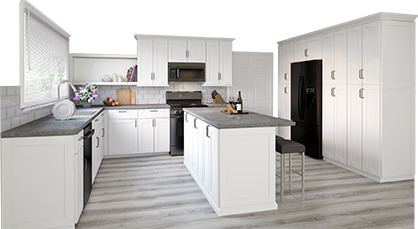 3D Kitchen Visualizer Tool
Bring your dream kitchen to life with our free kitchen visualizer!
Design Now