Design Experts
At Lily Ann Cabinets, each and every one of our experienced designers are award winning designers. With over 300 years of combined experience, our professional designers are to create a space that is custom to you and your needs. On a big ticket item you should always get an expert's opinion. We do this service for FREE because we know our quality and product will win you over. We trust that after you get a design you'll fall in love with our cabinetry. Along with a free 3D design you can easily get free cabinetry samples for you to physically touch and see the quality of our cabinets.
The Designing Process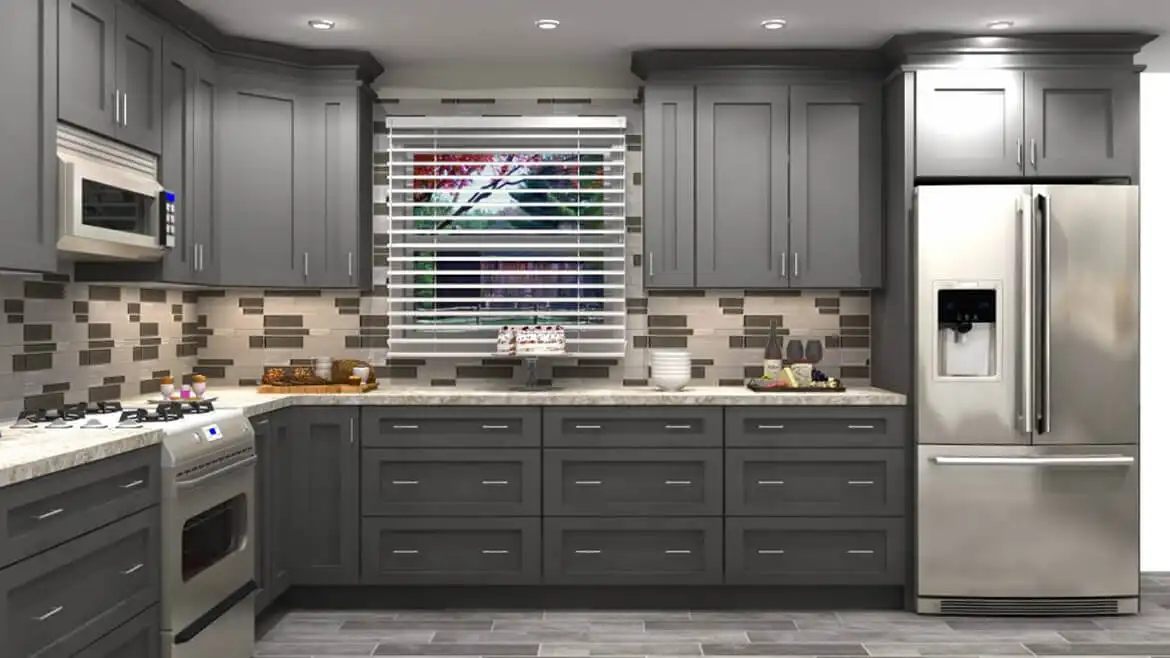 In 2023, our designers will use advanced computer software and 3D modeling programs to create a new design layout. These tools can help our designers create an accurate virtual model of your desired space, allowing them to experiment with different design ideas and kitchen layouts before committing to any one plan. This design will be a virtual version of your new space before any physical construction takes place. This can help clients visualize the area and make any necessary changes before construction begins.
Watch this video to see how easy it is to get a free 3D design:
Measurements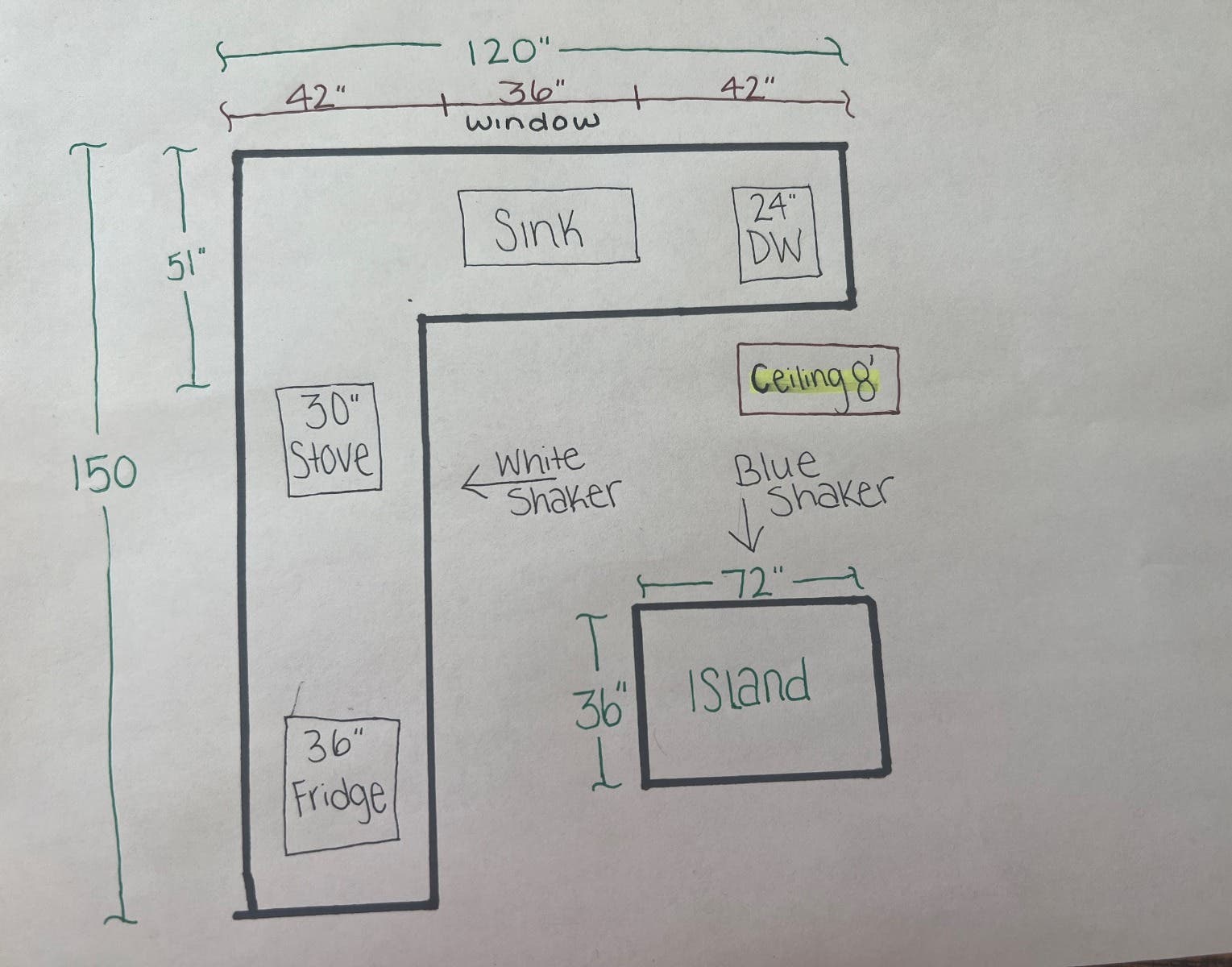 To start the design process, our professional designers will need the measurements of your space. We will need your wall measurements, ceiling height, appliance measurements, and the measurements of any windows in your space. If you are worried about measuring your kitchen yourself or have any questions along the way, you can video chat with our professional designers at any time and do it together! Since this is the case for many people, we have also created one of a kind measuring system called Lily Tape to help you measure your kitchen as well! Just get in contact with one of our designers and we'd be happy to send you some Lily Tape or help you through the process.
If you are worried about being slightly off in your measurements, do not fret! Our professional designers know things like this may happen and will account for some filler pieces in your design! That way if you are a little off on your measurements, you can cut the filler pieces to size and still have a seamless kitchen with a custom look.
Return Time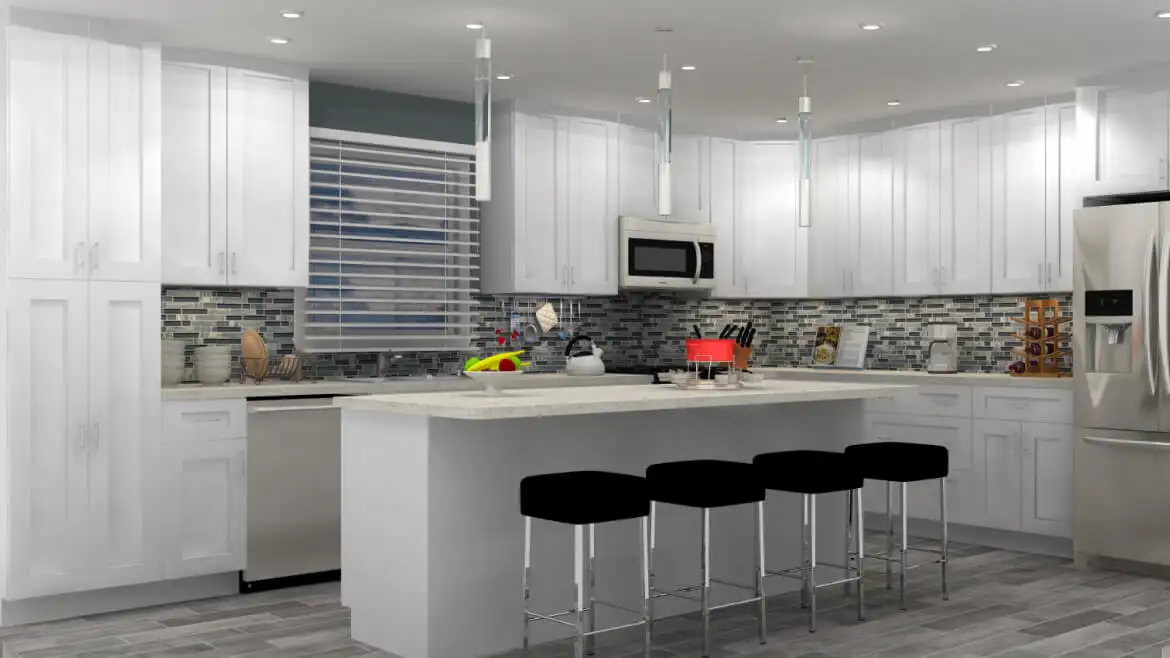 Our return times on 3D designs are around 24 business hours. Please note that your design will also come with an itemized quote, so you can see exactly how much your new kitchen will cost you. You can also call, video chat, or email with your designer during this wait time if you have any questions. Once you receive your design, you can let your professional designer know if you have any changes. Once you are happy with your free 3D design, you can purchase your new premium cabinetry!
PRO TIP : Use furniture base molding around an island to make it appear more custom!
New Lily Ann Live Feature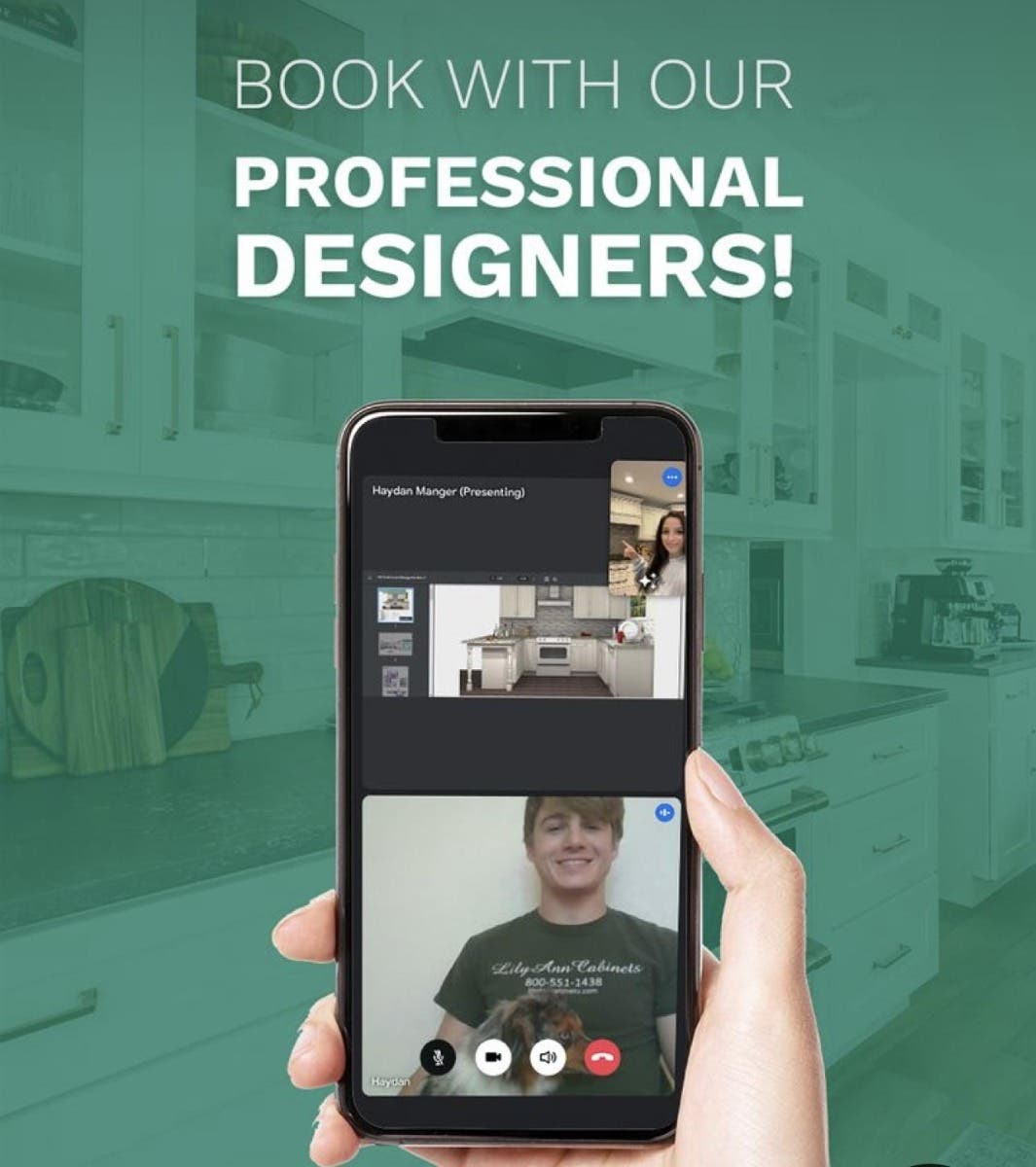 Recently, Lily Ann Cabinets has taken their designing to the next level! For customers near our Adrian, MI, Temperance, MI, or Largo, FL showrooms you are able to meet with a professional designer in person and see all of our cabinetry for yourself. Now, we offer the ability to meet virtually with our professional designers and see our showroom if you are not in our local area! This way you are still getting the same one on one time you would get from walking into a showroom, but you are able to do it from the comfort of your home.
Design Packets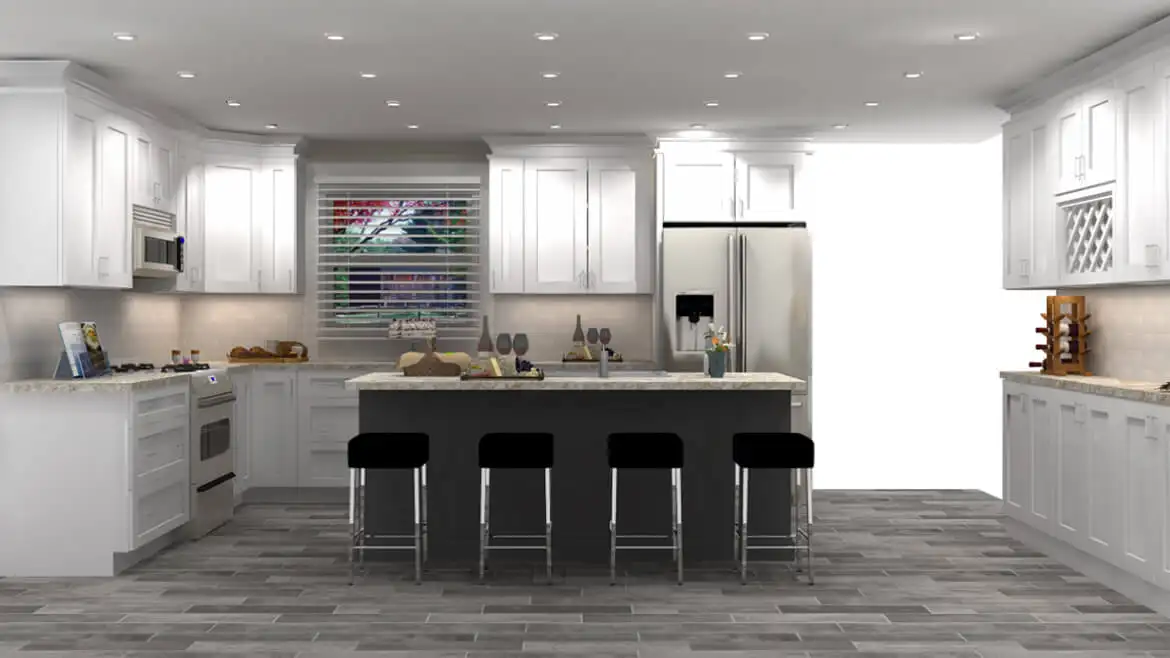 Once you have submitted all of your information, our designers will create a space custom for you. Please remember that our designers have years of experience and can help answer any of your cabinetry or design questions. They have been working with kitchens for years and love what they do. Visualizing your space can be hard if you've never done it, that's why our professionals are here to assist you every step of the way. If you know exactly what you are looking to do in your space, let your designer know and they can create the visual for you. If you do not know what you want, let your designer know and they can create a space for you and give you options to choose from! After you give our designs the information they need to create your new space, you will receive your design packet and quote. This packet is full of information about your layout, and shows other things you can add to your space such as organizers.
Customizations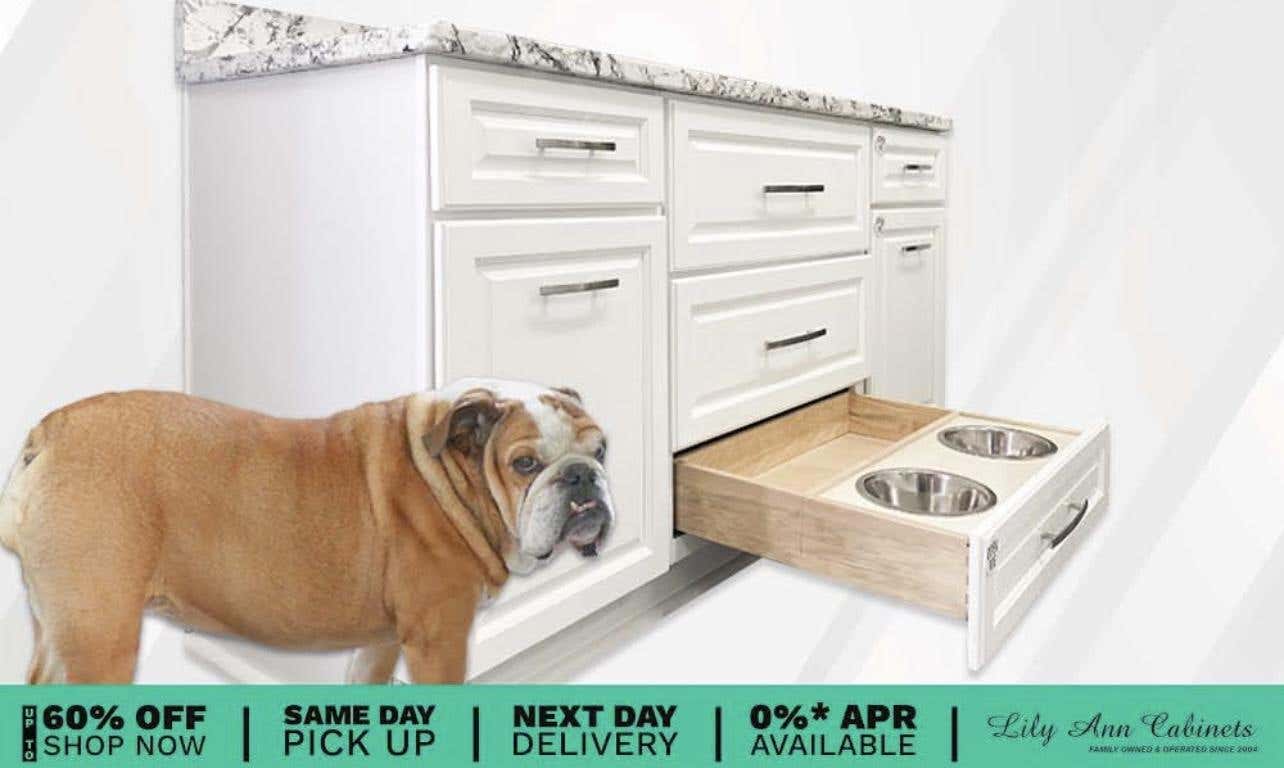 Homes built before 1970 in America usually need customizations for cabinets to fit inside the space. Many people go to a custom cabinet shop to get these customizations done which results in long wait times and a hefty price tag! However, at Lily Ann Cabinets our RTA cabinetry is semi custom. Whether you have a narrow wall, pipe lines, or other obstructions in your space we can make cabinetry that fits your space seamlessly. Our most common customizations are decreasing and increasing the depths of our cabinetry. We can also do more customizations such as adding cutouts to glass, painting inside your cabinetry, or even more in depth customizations such as adding a dog bowl station. Once you speak to one of our professional designers about your kitchen, they will be able to walk you through customizations that may make your space better. However, if you have any customizations you would like to add into your space, please let your designer know. We may be able to do it for you!
PRO-TIP : If you don't are lacking drawer space, add roll out shelves
FAQs
1. What is the ideal kitchen layout?
a. There are many different kitchen layouts, the most popular is the galley kitchen layout.
2. Where is the best place to put a refrigerator in the kitchen?
a. Refrigerators should be kept away from heat sources like ovens, and they should always be located by sinks.
3. How do you arrange a kitchen layout?
a. You can arrange your kitchen however you want, most homes come with a designated kitchen layout, however, depending on available space you can always add or remove a kitchen island.