Home improvement projects can be major investments, but if you approach them strategically, they're well worth the money you put into them. Major improvements like adding a new roof, fixing a leaky basement and new siding always bring in a good home improvement return on investment (ROI). Kitchen updates are high on the list as well. Let's go over a few ways to get the biggest kitchen remodel ROI from both big and small improvements.
Major Improvements
To get the greatest home improvement ROI, you need to make big changes. These don't need to be done all at once, but when combined, they can give a cumulative return that's great whether you're improving your home for yourself or because you're preparing to sell it.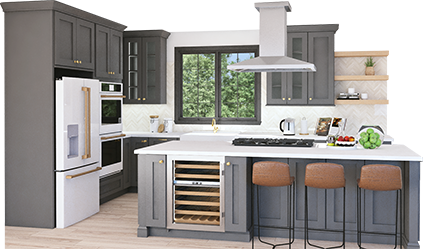 Get your FREE 3D kitchen design today!
Start Now
Wood-Look Flooring
A major selling point home buyers tend to look for in a house is hardwood floors. They're sturdy, beautiful and even if they get scratched over the years, they can simply be refinished to as look good as new. However, they can also be pricey to install. If real hardwood is out of your price range, you can find laminate flooring that looks like real wood for a lower price.
Solid Countertops
Laminate countertops are yesterday's news, and for good reason: they just aren't as sturdy as granite or quartz, which also happen to be the two most popular countertop choices on the market. Having tasteful, solid granite or quartz countertops can be a major selling point for buyers looking into your home, but they also make the space better for you, too. Granite and quartz are easy to clean, beautiful and are the stainless steel of countertops — a classic neutral that will age gracefully.
New Cabinets
Cabinets are the most prominent feature in your kitchen since they take up so much floor and wall space. Making sure that your cabinets are in great shape and look updated will go a long way toward creating a desirable space. But while replacing kitchen cabinets is a big job, it doesn't have to carry a hefty price tag. For example, if you choose RTA cabinets, you'll pay far less because you handle the construction and installation of the cabinets. While this might sound daunting, it's actually a fairly simple process that even a new DIY'er can handle, especially with an extra pair of hands helping out. And in the end, you get major renovation ROI for the least amount of money.
Minor Improvements
There are some lower-level improvements you can make to still get a good kitchen remodel ROI. Whether you're selling your home or just making it better for you, these small details will help get you more bang for your buck.
New Paint
Adding a fresh coat of paint to your walls is a relatively easy and cost-effective way to revitalize your kitchen. Choosing a neutral like white, gray or tan is always a good idea, but even if you go with an on-trend color like a deep green (Night Watch, anyone?) or a jewel tone, you can always paint back over it later.
New Sink Or Faucet
If your sink is an outdated color or just getting old, swapping it out for a newer model can bring a beautiful new shine to your kitchen. White ceramic is popular, especially if you choose an apron farmhouse sink. Stainless steel is probably the best option — it's a classic neutral that's strong enough to stand the test of time. Even simply switching out an old faucet for a new one with features like touch start technology and a spray hose attachment can make a big difference.
Hardware Swap
Sometimes outdated hardware can make a room feel old even when it isn't. While brass is popular at the current moment, choosing dark hardware, like oil-rubbed bronze or matte black, or lighter hardware like satin nickel, will help your kitchen stay fresh for longer.
Let Lily Ann Cabinets Help Boost Your Home Improvement ROI
If you're looking to replace your cabinets as part of your kitchen renovation, Lily Ann Cabinets can help. Our selection of RTA cabinets is one of the best online, and our amazing prices will help you get the best possible kitchen remodel ROI. Get started today!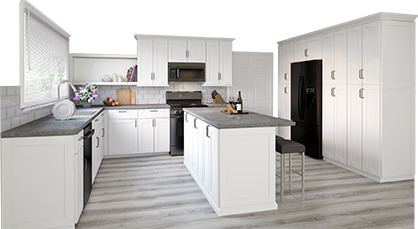 3D Kitchen Visualizer Tool
Bring your dream kitchen to life with our free kitchen visualizer!
Design Now