There is, despite its name, much more to a vanity than just its appearance. There are a number of factors that a homeowner or remodeler must consider when choosing the right piece for your bathroom, factors that may change depending on the nature of your home and on the role you want your vanity to play. Is storage a priority? Do you have only a small amount of space to work with? Will the plumbing of your home allow for your desired design? By answering these questions before you start shopping, you'll be much more likely to avoid the costly and frustrating headaches that can turn your remodeling dreams into a total nightmare.
Plumbing
Arguably the most important factor to consider is that of how your bathroom's plumbing will be integrated into the function of your vanity. This is especially true if you're remodeling on a budget, as even a simple rerouting of pipes and drains can quickly eat up the money you had set aside for the project. Before you do anything else, be sure to determine if your existing plumbing supports a wall-mounted or floor-mounted vanity - that knowledge (especially if you're unwilling to pay for rerouting) will likely inform every other decision you make regarding the placement, style, and installation of your vanity.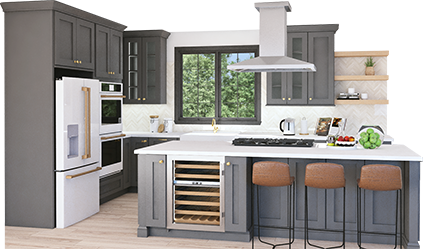 Get your FREE 3D kitchen design today!
Start Now
Size
Once you know whether you'll be pursuing a floor or wall-mounted bathroom vanity, the next step is to determine its ideal size. In doing so, be sure to consider more than whether you and your family will be able to move around inside the room - there's also questions of cleaning to consider and the matter of whether opening the vanity's doors means banging them against existing elements. Be sure to settle on a size that'll allow you access to all parts of the piece, as even the most elegant vanity will soon seem downright crummy if its inaccessible portions are allowed to accumulate the moisture-based filth so unfortunately common to bathrooms and other humid spaces. Likewise, make sure that the doors are of a length that'll allow them to be easily open and closed.

Doing so will limit the damage and wear they incur over the years, lowering your maintenance costs and preserving their brand-new look for much longer than doors that constantly bang against a bathtub or toilet. Size is also a primary consideration in terms of determining the number of sinks you want your vanity to hold. While a vanity with one sink needs only to be wide enough to hold the basin (with a bit of room on either side for toiletries and the like), a vanity with two sinks should generally be at least 48 inches wide. Though it's possible to design a slimmer two-sink vanity, doing so severely limits the countertop space of the piece and can lead to your bathroom taking on a cramped, cluttered look. It's also important to keep in mind that the 48-inch rule is based on a basic, undermount sink style. The ideal width for your vanity may vary if you decide to instead go with a sink made in the vessel, drop-in, or integrated style.
Storage
Now that you have a size for your vanity, the next step is to determine its capacity. In choosing the combination of drawers and doors for the piece, you're doing more than settling on its style - you're deciding how much it can hold and the ease with which its contents can be accessed, a decision that can lead to years of frustration if not done properly. As an exercise, try removing all the items from your current vanity to help you envision whether your new piece will be able to hold it all (you can also take this time to decide whether you really need those musty cotton balls or that decade-old bottle of skin cream). Generally speaking, it's a good idea to install a vanity with twenty percent more capacity than you think you'll need. Doing so will give you flexibility in determining its contents and help in keeping those contents uncluttered and easily accessible.
Materials
With its size and function settled, your last step is to decide just what your vanity is going to be made of. Though some designers shy away from wood because of the humidity typical to bathrooms, a quality veneer or laminate can work perfectly well within that space so long as time is taken to ensure that the material is properly shielded. Any wood installed in a bathroom should be thoroughly sealed and protected by two coats of a waterproof finish. Even then, be sure not to let water sit on its surface for any longer than necessary - while many waterproof finishes provide exceptional protection against moisture, they're not perfect and may fail to shield the wood against a prolonged soak.

The material used for the countertop, meanwhile, will likely be determined by the overall style of your bathroom. Granite and marble are popular choices, especially if the space makes use of a tile pattern that matches well with natural stone. No matter what you choose, try to stay away from tops that make use of grout. Not only can the gaps be exceptionally difficult and frustrating to clean, there's also the fact that they're a tremendous breeding ground for the mold and mildew common to ill-maintained bathrooms.
Conclusion
It feels as though the humble bathroom is often overlooked when it comes to home design. Remodelers that obsess over every detail of their kitchens like kitchen cabinets, as well as dens and bedrooms will sometimes just throw any old vanity into their bathroom and call it a day. By doing so, they fail to consider the fact that the bathroom is where we begin our morning, that it can set the tone for your day. A room designed with love and attention to detail can put you in a good mood that'll last the whole day through. At Lily Ann, we believe in the transformative power of exceptional design. We hope that this advice will help you create the best possible vanity for your bathroom, and we encourage you to get in touch if you have any further remodeling or home design questions.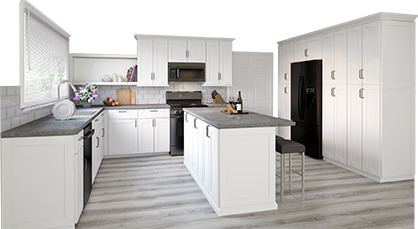 3D Kitchen Visualizer Tool
Bring your dream kitchen to life with our free kitchen visualizer!
Design Now