No matter how big your house is, there usually comes a point when you run out of closets. From then on, you have to come up with more creative ways to organize your home. The solution? Cabinets. Check out some of the beautiful and practical ways you can use cabinets for easy home organization.
Bedroom Storage
When the closet gets full, your natural next choice for storage would be a dresser or other chest of drawers. But sometimes dresser drawers are shallow, which doesn't give you much space to stack your clothes or other items. Instead, you could go with cabinets that have deep, built-in drawers that can slide easily in and out on tracks. You don't even have to worry about sacrificing style for practicality — cabinets come in a wide variety of wood finishes and paint colors, giving you the home organization and great style you want.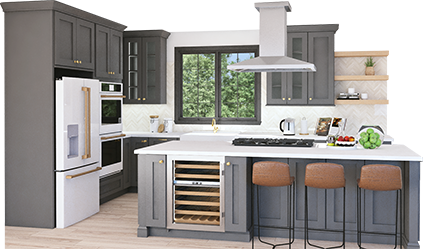 Get your FREE 3D kitchen design today!
Start Now
Laundry Room Storage
The laundry room is where cleaning supplies and dirty clothes collide, so it can quickly become a chaotic space. Adding cabinets can help remedy some of the madness. One of the most practical home design ideas to try as you remodel your home is to install floor and wall cabinets to your laundry room. They're the ideal place to store necessary but unsightly cleaning supplies, folded sheets and towels or the many other things that come and go in a laundry room.
Playroom Storage
Even though laundry rooms can get crazy, they probably don't get as wild as the kids' playroom. With a little help from cabinets, easy home organization is within your reach. You not only create a dedicated space for toys and games, but also the opportunity to teach your kids where everything needs to go when playtime is done. Because it never hurts to have a little help!
Living Room Storage
While you might think suggesting cabinets for a living room seems strange, it's actually one of the most versatile home organization ideas. You could use floor cabinets as an entertainment center to store away stereos, game systems and more, all while helping hide cords and power strips. You could even add cabinets near your front door (with or without doors) to easily store shoes or purses when you walk in. Anywhere you have extra room that could be used for storage, use a cabinet!
Home Office Storage
Looking for home remodeling ideas for an office space? Add some hanging cabinets above your desk to store away files without creating a jumbled mess. Hiding away other office or craft supplies will also help keep your workspace (and your mind) clearer and ready for work. You could even store your printer inside one to save desk space while it's not in use.
Home Organization Is Easy & Affordable With Lily Ann Cabinets
Whether you're remodeling your kitchen or just looking for creative home organization ideas, Lily Ann Cabinets has the wholesale RTA cabinets for the job. View our wide selection of cabinets today to find the perfect set for your style and needs, or contact us with any questions. A more organized life is just a click away!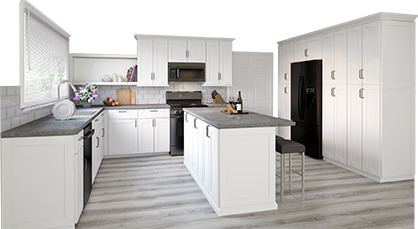 3D Kitchen Visualizer Tool
Bring your dream kitchen to life with our free kitchen visualizer!
Design Now