Whether you have a mountain home or simply want to bring some rustic warmth to your kitchen, the cabinets you choose will play a big part in tying your design ideas together. There are many kitchen cabinet styles that would fit well in a cabin kitchen, but today we'll get you started with a few of our favorites.
Carolina Hickory Kitchen Cabinets
The quickest way to create a log cabin kitchen is to incorporate warm wood tones with plenty of natural details. Our Carolina Hickory kitchen cabinets have a prominent grain pattern and rich coloring that give each cabinet their own personality. While hickory cabinets usually cost a pretty penny due to their unmatched sturdiness, Lily Ann Cabinets offers competitive prices that will help you stay within your reno budget. That way, your kitchen can stay irresistibly warm during chilly mountain winters!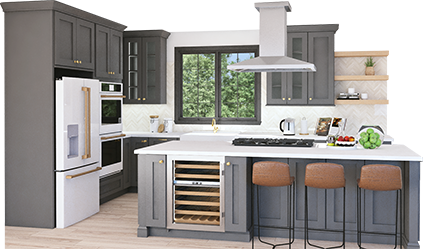 Get your FREE 3D kitchen design today!
Start Now
Grey Shaker Elite Kitchen Cabinets
Grey kitchen cabinets are taking kitchens throughout the country by storm, offering a modern look that still feels classic. When you pair these cabinets with warm hardwood floors and countertops with natural stone veining, you'll find yourself with a kitchen that would make most mountain homes jealous! Add gold or copper hardware to further increase these cabinets' rustic charm.
Colorado White Shaker Kitchen Cabinets
Prefer a more subdued backdrop to help emphasize other elements of your log cabin kitchen? Our Colorado White Shaker kitchen cabinets are the perfect canvas to for any cabin kitchen ideas! Their simple linework and clean white finish can help you create a contemporary spin on a log cabin kitchen or add country charm to your rustic in-home getaway.
Find Even More Cabin Kitchen Ideas With Lily Ann Cabinets
On top of our amazing selection of RTA kitchen cabinets, we can help you bring your cabin kitchen ideas to life with our free 3D design tool. Request free samples to see any of your favorite cabinet styles in person. Get started on your mountain home's fresh new look today!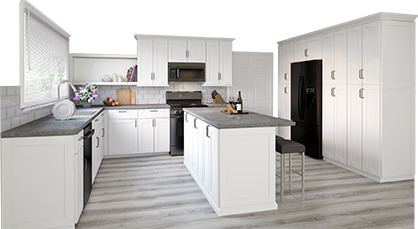 3D Kitchen Visualizer Tool
Bring your dream kitchen to life with our free kitchen visualizer!
Design Now