RTA cabinets have become increasingly popular in the last several years, offering many advantages over traditional cabinetry products. If you're at the early stages of a kitchen or bathroom remodel and you're in the market for new cabinets, you've probably wondered about the benefits of RTA cabinets and whether or not they are right for your project.
Key benefits of RTA cabinets include:
Affordability
Easy assembly without the need for special tools or skills.
Custom styles and modern design aesthetics without the associated costs of custom cabinetry.
Shorter lead time means RTA cabinets can be installed weeks or months sooner than a comparable custom cabinet solution.
Reduced shipping costs due to RTA cabinets taking up significantly less space throughout the warehousing and shipping processes.
Flexibility to later revamp, renovate or completely redesign without being tied down to more expensive custom cabinetry.
While there are plenty of reasons why more and more DIY enthusiasts and professional remodelers are catching on and opting for RTA cabinets in their kitchens and bathrooms, all of the advantages of RTA cabinets can be summed up in one word: Value.
RTA cabinets provide extraordinary value at a price point significantly lower than that of their pre-assembled or custom cabinet counterparts. Depending on the buyer, that value is perceived as any number of distinct benefits of Ready-To-Assemble cabinetry:
Affordability of RTA Cabinets
When compared to the cost of traditional cabinets that arrive already assembled, RTA cabinets are much more affordable. Custom built cabinets can be exorbitant. When you compare the prices of custom or pre-assembled cabinets with a high-quality RTA cabinet, the immediate savings can be irresistible, to say the least.
However, all RTA cabinets are not created equal, which is why it is so important to find a reputable supplier of RTA cabinetry that stands behind their product. You'll want to find a company that is completely transparent with the materials they use as well as their manufacturing processes. You should also choose an RTA cabinet maker that offers ample instructions and assembly documentation.
For example, at Lily Ann, we've developed a proprietary manufacturing process that involves 12 layers of finish, when most of the competition stops at 6 or 9 steps. This TLC and attention to detail that goes into all of our products results in cabinetry that can withstand the heat and grease of the kitchen as well as the steam and moisture of a bathroom. We also provide cabinet assembly instructions and videos of our products to make assembly as simple as possible.
Another way to save even more is to buy cabinets directly from the manufacturer. At Lily Ann Cabinets, we don't just sell these cabinets; we manufacture them. This gives us a distinct advantage over our competition, which translates into unbeatable prices and value for our customers.
Easy Assembly and Installation
RTA cabinets should be simple to assemble, or it defeats the purpose entirely. DIY enthusiasts love the potential of being involved in every aspect of a kitchen or bathroom remodel, making RTA cabinets a great option. Contractors can also save their customers time and money by opting for an RTA cabinet solution during a remodel.
Take a look at our RTA cabinet assembly videos, which in addition to serving as assembly guides for our cabinets also illustrate how much engineering and planning goes into making our products as "ready to assemble" as possible. All that is needed to assemble our Lily Ann RTA cabinets is some wood glue, a rubber mallet, and a drill. Those looking to save even more money can install their RTA cabinets by themselves with relative ease, while others may opt to hire a contractor to handle installation.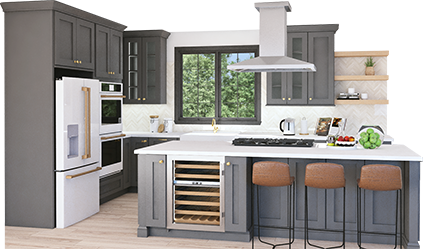 Get your FREE 3D kitchen design today!
Start Now
Aesthetics - Bridging the gap between custom and RTA cabinetry
It used to be true that you had to order custom cabinets to be satisfied with the look, style or aesthetic. Today, however, cabinet retailers offer a much wider variety of RTA cabinet styles to choose from. Whether you're after a timeless look or something modern or trendy, Lily Ann's selection of RTA cabinets will never force you to compromise on finding that perfect cabinet style, stain or design that you're after. Just check out our free cabinet samples to see for yourself!
Quality of RTA Cabinets vs. Custom Cabinetry
Remember, not all RTA cabinets are created equal. Many inferior RTA cabinets skimp out on wood quality by using cheap filler woods or particle boards, which results in a product that can't handle the daily wear and tear associated with a busy bathroom or kitchen.
At Lily Ann, all of our cabinets use real wood - either Maple, Birch, Oak, or Walnut for the face frame and doors. For paneling, we use only the highest quality furniture-grade plywood. The result is the timeless look and resilience of a custom wood cabinet for a fraction of the price.
Shorter Lead Times Means You'll Receive Your RTA Cabinets In No Time
Time saved is another benefit of RTA cabinets. With many of our products already in inventory, we offer turnaround times of 1-21 business days for the vast majority of our cabinets.
With our free professional design tool, simply upload some measurements and photos of the room in question, and our professional designers will provide you with all of your options. Once you place your order, your cabinets will arrive in less than 21 business days, often much sooner.
RTA Cabinets Offer Reduced Shipping Costs
Compared to pre-assembled and custom cabinets, RTA cabinets are packaged much more efficiently, taking up less space in the warehouse and on the delivery truck, and thus cost significantly less to ship. This is just one more advantage of buying RTA cabinets; you'll save money every step of the way, especially during shipping.
How Will Purchasing RTA Cabinets Benefit You?
As you can see, RTA cabinets offer many unique advantages. Still not convinced about the benefits of RTA cabinets? Request a free cabinet sample or get a free 3D kitchen design from Lily Ann to find out what RTA cabinets can do for your home!
Are RTA Cabinets good quality?
RTA cabinets are good quality, as long as you look for solid wood components and finishes and coating applied by brush rather than sprayed on.
How much do you save with RTA cabinets?
You have the potential to save 30% or more with RTA cabinets if you are assembling them.
Should you glue RTA cabinets?
Yes, you should glue RTA cabinets when assembling the cabinet faces. The all-purpose wood glue creates a stronghold between the connected cabinet surfaces and ensures durable construction. The Lily Ann Cabinets experts use Titebond ll Premium Wood Glue when assembling RTA cabinets.
Can you paint RTA cabinets?
Yes, but there are numerous RTA cabinets that you should not paint over, including warped or damaged cabinets, open-grained wood cabinets, hard maple & oak cabinets, and non-wood material cabinets.
How long does it take to assemble RTA cabinets?
Typical wall cabinets can be assembled in 7-10 minutes and base cabinets in 10-15 minutes. Assembling larger or more complex kitchen cabinets such as Lazy Susans, pantries, and oven cabinets can take longer than 15 minutes due to additional components and the overall complexity of the cabinet.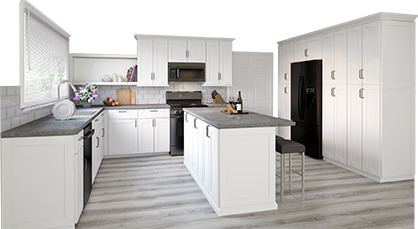 3D Kitchen Visualizer Tool
Bring your dream kitchen to life with our free kitchen visualizer!
Design Now