When building a new house or remodeling a kitchen, custom cabinetry can significantly exceed your budget. Costs can add up and suddenly reach the tens of thousands, especially when constructing or remodeling a large kitchen. There are many ways to save money when buying kitchen cabinets, even when faced with a tight budget and expensive products. The best solution, however, is to buy quality kitchen cabinets without the high retail price. Lily Ann Cabinets makes it possible by offering wholesale kitchen cabinets directly to consumers like you. Unlike most online kitchen cabinet stores, we manufacture the cabinetry that we sell directly to customers. Many cabinetry stores are retailers. They get the cabinet products they sell by working with wholesalers, distributors, and manufacturers. Dealing with these business entities costs retailers time and money. As a result, retail kitchen cabinetry businesses will sell their products at a higher price per unit to recover these extra expenses and make a profit. At Lily Ann Cabinets, we have the rare ability to bring you wholesale prices without sacrificing the quality craftsmanship and customization of our ready to assemble (RTA) cabinets. Here are the benefits of buying wholesale cabinets from Lily Ann:
The Guarantee of Quality Workmanship
A perk of manufacturing the wholesale kitchen cabinets we sell is having direct control over the development, construction, production, and quality workmanship of each product. Retail products are only as good as the manufacturers from which they come. Retailers can carefully choose their manufacturers, but they ultimately have no control or influence over the product's quality. Due to our ownership and involvement in the manufacturing process, we are confident in the quality, beauty, durability, and performance of all the wholesale cabinets we offer.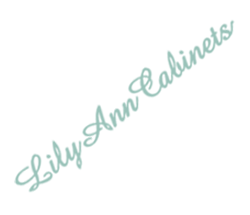 To ensure beautiful workmanship, we've developed a proprietary manufacturing process that involves a 12-step hand-applied finishing process. This process has allowed our RTA cabinets to last longer than the products sold by other online cabinet stores. Our RTA cabinets are more durable than the competition when it comes to daily use and fighting grease, moisture, and cooking residue in the kitchen. Best of all, our 12 layers of finish will leave you with a more professional-looking and functioning kitchen cabinet. Additionally, most RTA cabinets are held together using several large metal L-brackets or big plastic clips. These structural brackets and clips will often remain visible after your cabinets are installed in your kitchen. Visible brackets and clips often indicate cheaper cabinets, lower-quality construction, and substandard workmanship. The process of assembling our RTA kitchen cabinets is also unique and more in-line with expert craftsmanship. Our cabinets are designed to interlock like puzzle pieces. You can check out our helpful dovetail assembly videos and instructions to see this assembly process first-hand. To ensure the structural integrity of each RTA cabinet, you will only need to use two assembly clips. The locations of these two assembly clips are purposefully designed to be hidden from view when the assembly process is complete. Ultimately, manufacturing the wholesale kitchen cabinets we sell has a profound effect on the quality of our products and your satisfaction as a consumer.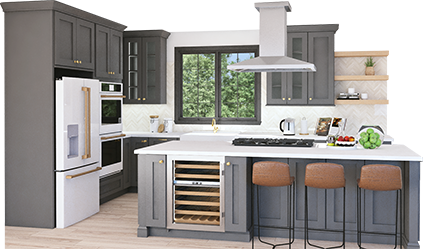 Get your FREE 3D kitchen design today!
Start Now
Wholesale Prices
Because we are responsible for manufacturing our products, Lily Ann can sell you the best wholesale cabinets at the best possible value. Unlike retailers and most online cabinet stores, we cut out the middleman. We do not have the extra time and expense of dealing with distributors and manufacturers. We sell directly to you! Without these additional worries and costs, we can sell our RTA cabinets at a discount below the average market price. You can get high-quality, custom kitchen cabinets at wholesale prices. With Lily Ann Cabinets, you can order 10-foot runs of RTA kitchen cabinets starting at just under $1,000. For full 10'X10' kitchens, you can buy wholesale kitchen cabinets for less than $2,000. Plus, all orders of RTA cabinets over $2,499 will ship free! A lot of online cabinet stores will make an extra profit or compensate for their own additional expenses by charging customers with steep shipping fees. We do everything we can to make our high-quality kitchen cabinets affordable at every step of the buying process. Our incredible prices, helpful services, and quality products are what separate us from big box competitors. To see real examples of these huge savings, let's do some comparative shopping. Key Largo White Cabinets Made from solid birch wood, a 10-foot run of these beautiful white RTA kitchen cabinets costs $3,167 from your average big box store. At Lily Ann, you can get these same high-quality cabinets for $965.95. You would be saving 69% on price! You can check out the rest of our wholesale kitchen cabinets to see the incredible savings that Lily Ann Cabinets can offer to you and other consumers. On top of our wholesale prices, we will periodically have big sales on select RTA cabinets. Keep an eye out for our fire sales and season offers.
Buying in Bulk for Even More Savings
We even provide wholesale cabinets to building superintendents, contractors, retailers, and remodelers who need to buy RTA cabinets in bulk. For wholesalers and bulk RTA cabinet purchasers, we have established categories based on the quantity and level of involvement. Our wholesale program and bulk discounts will help you save even more money when buying kitchen cabinets. For more information on our RTA wholesale kitchen cabinets program and bulk discount, please contact us using our convenient online form, or call 800-551-1438.
Expert Knowledge
Another benefit of being involved at every step of the manufacturing process is that we possess a deep understanding of our products and the cabinetry industry. We know the RTA cabinets we sell inside and out. We won't pass off questions because we are the manufacturer, the seller, and the distributor! Our team can give you expert knowledge and advice on kitchen layout design, the cabinet assembly process, troubleshooting problems, and any other concern or question. Don't hesitate to talk with our experts and stop by one of our public store locations in Florida, Georgia, Tennessee, and Michigan. We would love to talk with you and help you make the ideal kitchen cabinetry choice for your home.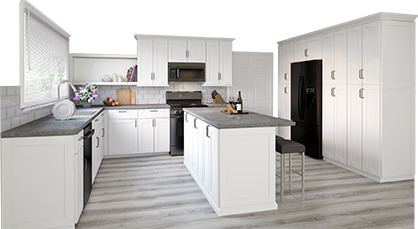 3D Kitchen Visualizer Tool
Bring your dream kitchen to life with our free kitchen visualizer!
Design Now