These days, it's not enough to just have an average bathroom and call it good. Modern farmhouse decor has taken over in most homes, and the bathroom is no exception. If you want to start remodeling your bathroom right now, you can still keep the look with these eight modern farmhouse bathroom decor ideas that are guaranteed to wow everyone who walks in!
1) Light and Bright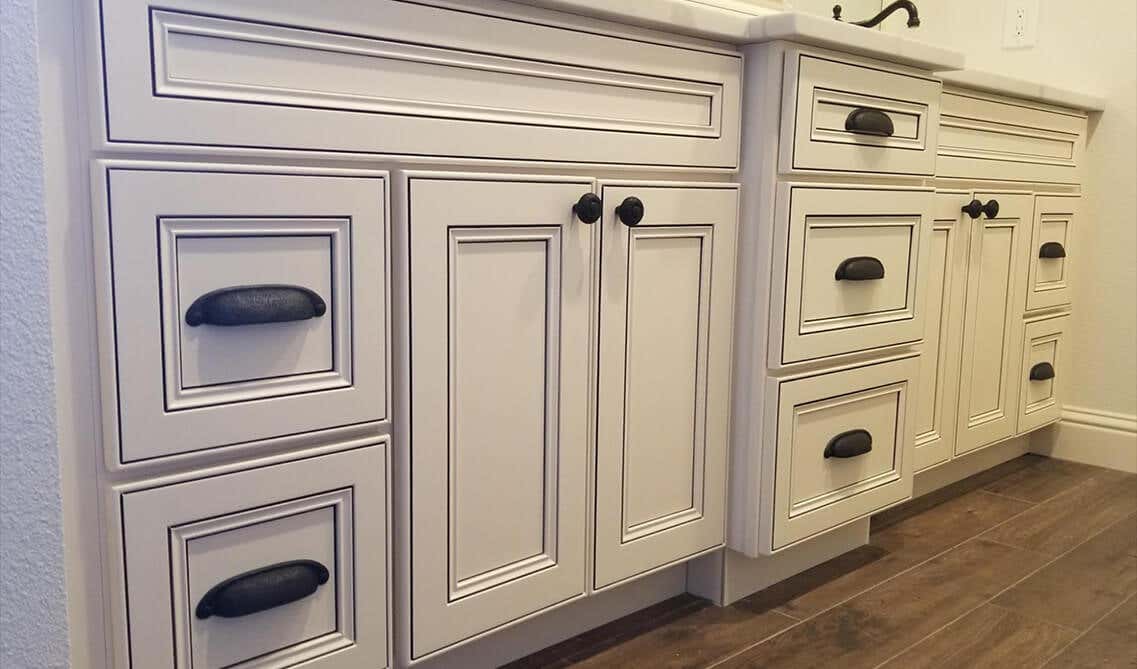 The mix of light and bright colors make this space feel welcoming. The marble tile backsplash and the desired countertop offers a beautiful surface for setting items such as toothbrushes, toothpaste, and brushes. A farmhouse bathroom decor style is clean with pops of color that are beautifully displayed in the fluffy towels, the patterned shower curtain, and the black and white decorations that really pull together the farmhouse vibe! 
2) Open Shelving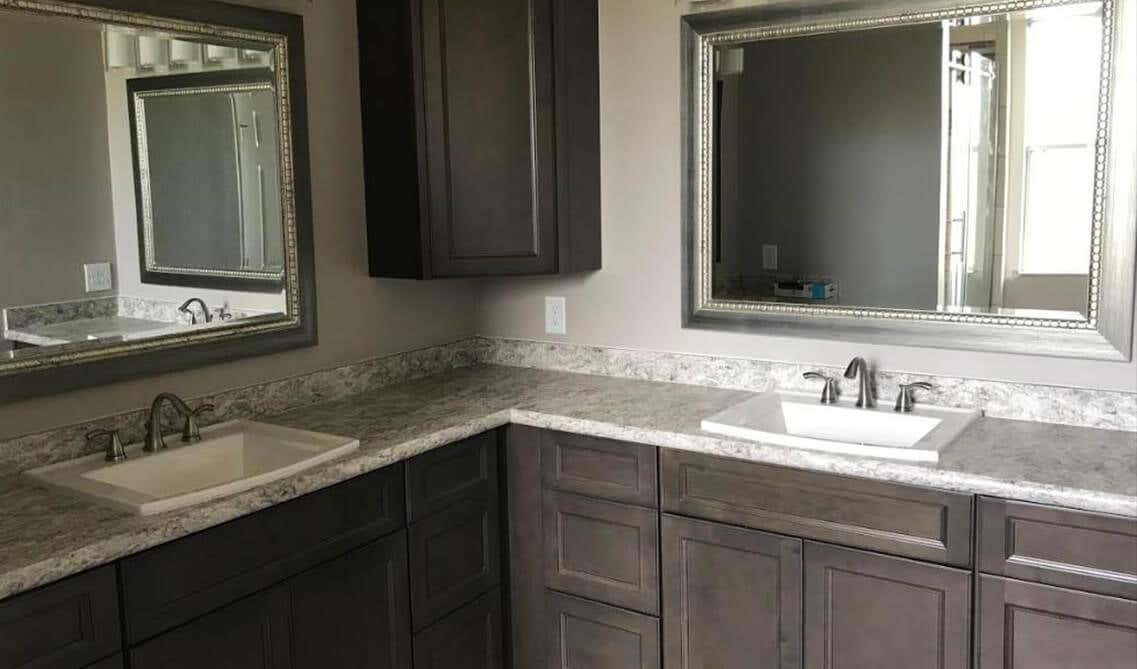 Open shelving is perfect for a farmhouse bathroom decor if you want to show off your favorite items, such as your decorative candles or stack of gorgeous towels. A mixture of metal, wood and marble will make your wall look unique and trendy. The open design is perfect for the DIYer that doesn't want to spend hours installing cabinets! Although, if you are ordering from Lily Ann Cabinets, assembly of our cabinets is extremely easy and isn't time consuming what-so-ever! 
3) Organize with Trays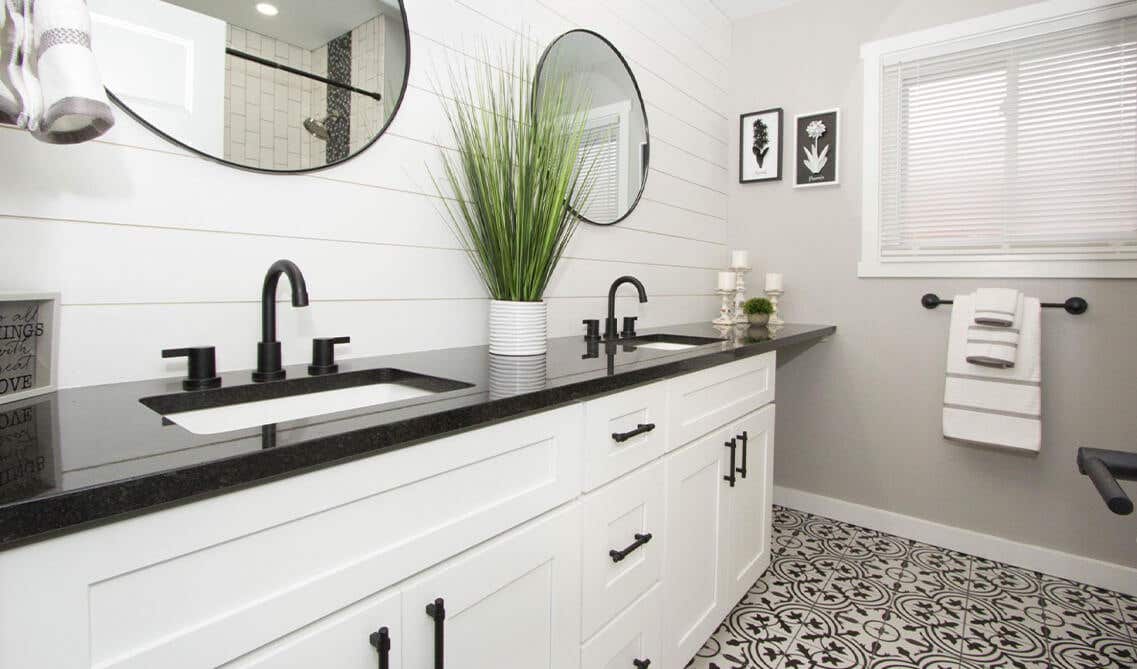 Farmhouse bathroom ideas are abundant, so choosing the right one can be overwhelming. To make your process more efficient, it is helpful to use trays on your windowsill or sink. This will allow you to keep things you need on hand at all times, like fresh flowers, soaps and bath towels. The inclusion of a farmhouse bathroom sink will make cleaning and bathing much easier, and matching toiletries will allow for clean lines between the sink and counters.
4) Mirror, Mirror on the Wall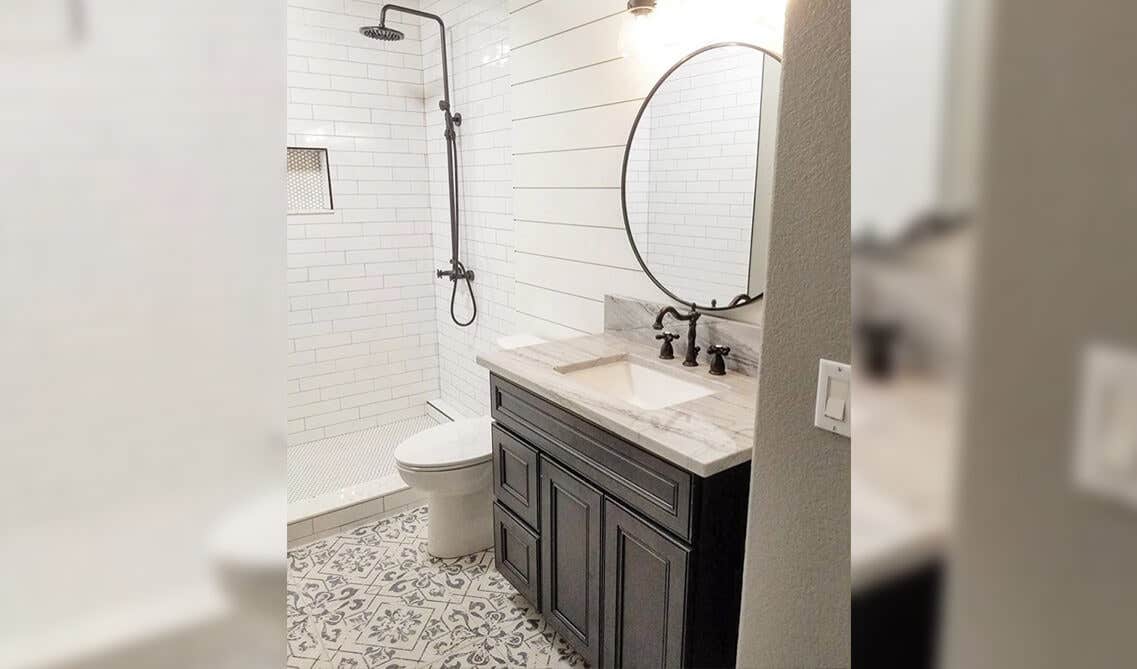 Mirrors are an essential element of a bathroom. Black mirrors have been popping up in bathrooms across the country and are the perfect modern farmhouse look. A dark, glossy black mirror reflects natural light throughout the bathroom while giving off a cozy feeling at the same time. A black mirror is also the perfect way to make any room seem bigger and more luxurious than it actually is. What more could you want?
5) A Little Bit of Pattern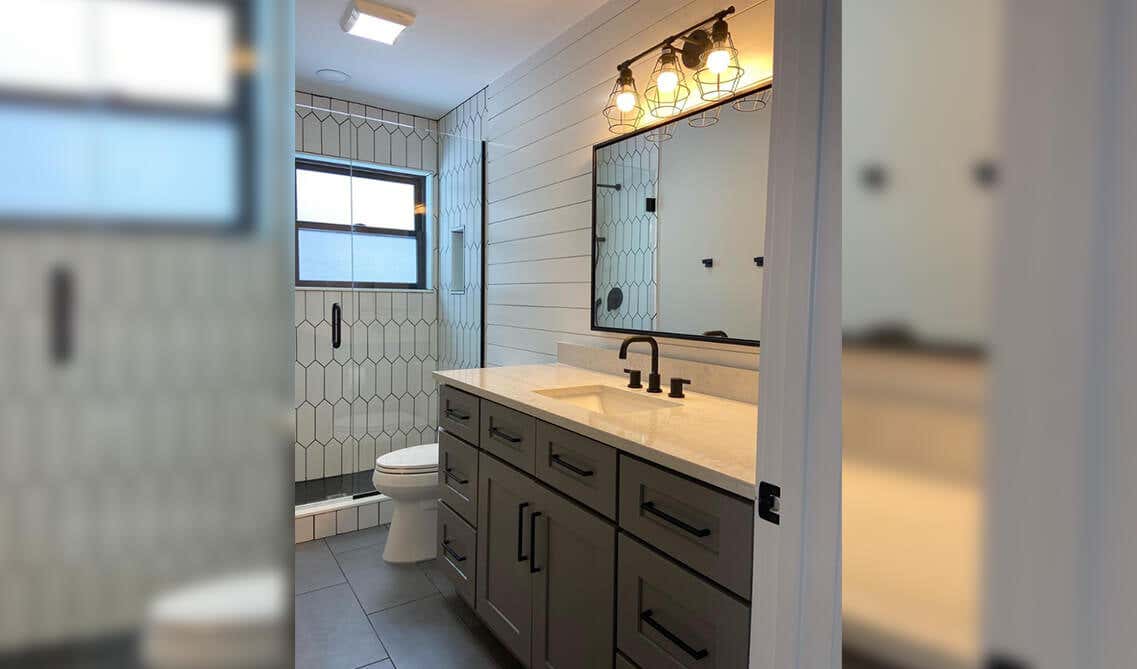 SEANBALLARDCONSTRUCTION
If you're all about the farmhouse style for your home, then you may also want to add some touches of the same design into your bathroom. Look for items like a rustic farmhouse bathroom vanity and traditional styled curtains, towels and fixtures. Most people opt for all white accessories with this theme, but we love an eclectic mix with some added texture or pattern in there too!
6) Copper Fixtures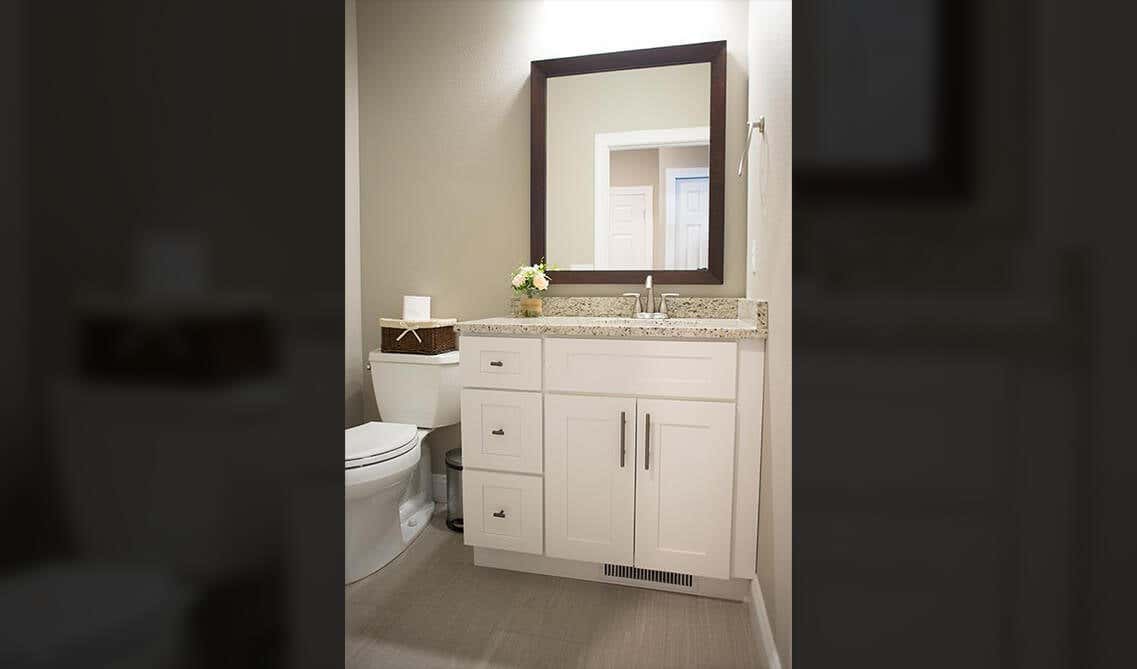 If you are looking for farmhouse bathroom decor, then you will want a beautiful new farmhouse bathroom vanity. This will set the tone of your entire bathroom, and gives it that rustic, country feel. Copper fixtures give off a natural beauty, and provide a layer of sophistication and elegance. The added versatility is worth mentioning: they work well with anything from modern glass or metal furniture to oak floors or light fixtures made of reclaimed wood.
7) Ceramic Tiles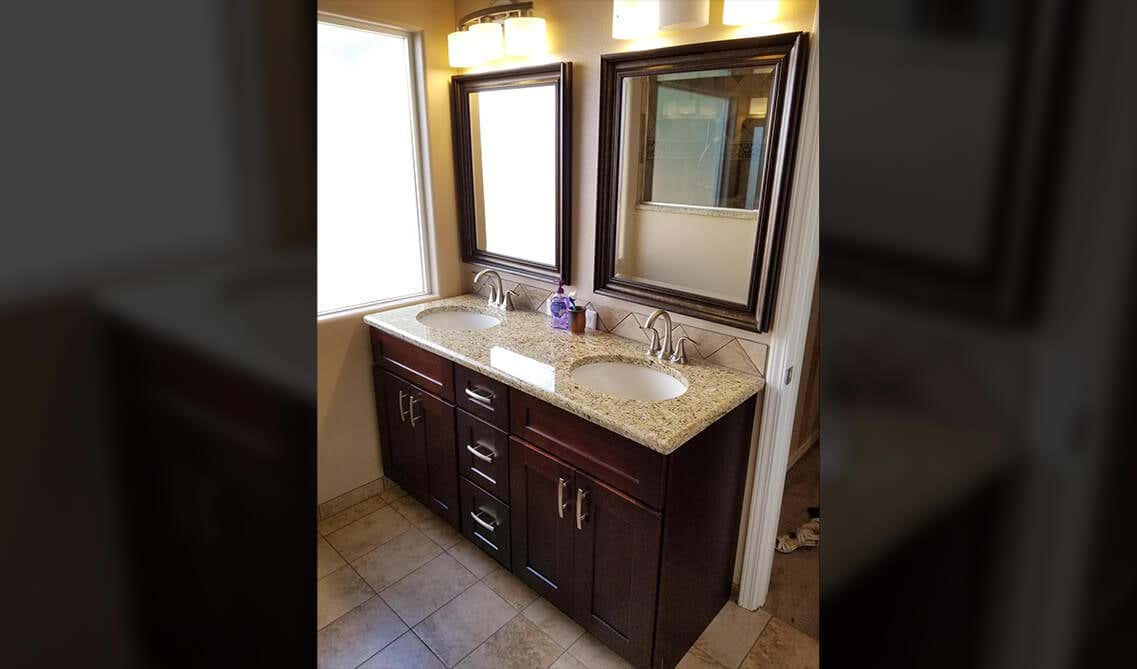 Ceramic tiles are typically a good idea for the farmhouse bathroom decor theme. Ceramic tiles may vary in color and you can find them to be anything from light, warm colors or neutral colors such as black and white. They can also be found in different shapes such as hexagon, square, or any other shape. The type of material the tile is made out of will be another feature that can make it stand out more in the room.
8) White Tile for Walls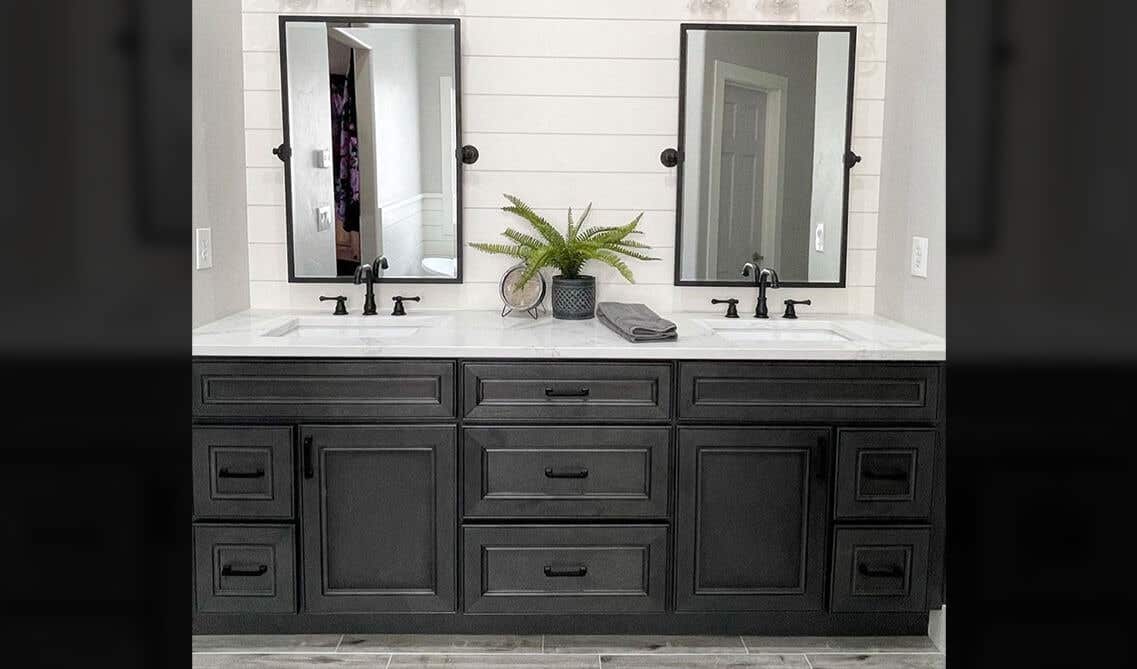 White tile on the walls is one of our favorite farmhouse bathroom decor ideas. It has a sense of calm and serenity that you will enjoy for years to come, plus it's easy and inexpensive to install yourself. I like white because it matches well with almost any color palette, and lets you get creative with decorating by choosing a variety of wall hangings, sconces, lighting, storage bins, etc.
FAQ 
How to build a farmhouse bathroom vanity?
You can either DIY your own farmhouse bathroom vanity or look for a cabinet line that gives a rustic farmhouse look such as Lily Ann Cabinets York Driftwood vanity cabinet. Which might be cheaper than custom creating your own vanity. 
How to decorate a bathroom farmhouse style?
When decorating a farmhouse style bathroom, you are going to want to add lots of decorations. Such as plants, black and white photos and sayings, and also a seat or bench of some sort if you have room. 
Can you install a farmhouse sink in a bathroom?
Yes! It's an amazing feature to include in your farmhouse bathroom. It will also give it more of a farmhouse vibe.