A common misconception about RTA cabinets is that you can't personalize them. However, there are several ways you can give your cabinets the special flair and functionality you're looking for. When you play with the little details of your new cabinets, inside and out, you'll be able to create the kitchen of your dreams with ease.
Flexible Organization
Make the most out of your drawer storage with creative shelving. Whether it's a lazy susan, a pull-out spice rack for your thin corner cabinet or even a drawer peg system to hold stacks of dishes in place, there's sure to be a clever organizational system that fits your needs. The drawer peg system can even be adjusted over time to accommodate your changing storage needs.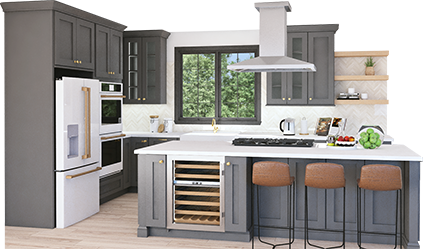 Get your FREE 3D kitchen design today!
Start Now
Change Your Range Hood
On top of swapping out your cabinets, consider updating the range hood over your cooktop. While classic stainless steel is a go-to, you can do anything you want with a range hood, including matching it to your RTA cabinets. This method is great if you would prefer to have your hood blend in seamlessly with your wall cabinets rather than act as a focal point, and it can help give your whole kitchen a custom-made, cohesive feel. That's why Lily Ann Cabinets offers matching range hoods for many of our cabinet lines.
Glazing
Glazing is an additional painting process applied to an RTA cabinet to help the grooves of its architectural details (like raised or recessed panels) stand out. This "pinstriping" method is generally done on white or other light cabinets, with dark grays and browns being the usual glazing colors. There is also an "all-over" glazing method to add an additional layer of color to your cabinets. When you choose these options from Lily Ann Cabinets, the glaze will be hand-applied as part of our proprietary 12-Step finishing process.
Wine Or Stemmed Glass Storage
If you're a wine connoisseur or simply need a place to store your fine crystal, consider adding a wine rack and/or mounting a stemmed glass holder underneath your wall cabinets. These specialized RTA cabinet types are available in styles to match many Lily Ann Cabinet lines. Options like this and more make it easy to customize your kitchen and create a practical and beautiful storage space.
Molding And Corbels
Crown molding is a beautiful detail to add to the top of your wall cabinets, especially if you want to create a more traditional or antique space. Corbels, which are support wedges that can be placed near the ceiling, under shelves or even under a breakfast bar, are another way to make your space more ornate. These types of thoughtful touches make RTA cabinets feel specially made for your kitchen.
Wall End Shelves
Rather than capping off a row of shelves with another closed cabinet, open up the space with wall end shelves. This gives you the option to display small appliances, nice dishes and bowls or even your collection of cookbooks. Having these items out and about gives you easy access and adds an extra level of texture to your kitchen. Plus, it's one more special nuance of your cabinets to make your space feel personalized.
Modified Cabinet Sizes
Worried that you won't be able to find cabinets for a tight nook or cranny? Or maybe you want to mix things up a bit? Lily Ann Cabinets' optional cabinet modifications give you the flexibility to adjust your RTA cabinets so they're a perfect fit for your space and your intended purpose. For example, you can have wall and base cabinets reduced in size or even cut a space for glass into your cabinet doors.
Browse Lily Ann Cabinets To Find Your Perfect Fit
Our extensive collection of RTA cabinets and cabinet accessories is sure to include the colors and styles you need. Be sure to also take advantage of our cabinet modifications so everything fits into place and looks amazing. Your dream kitchen is just a few clicks away!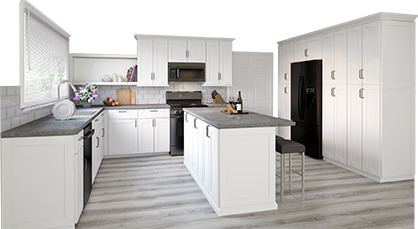 3D Kitchen Visualizer Tool
Bring your dream kitchen to life with our free kitchen visualizer!
Design Now