All great kitchens start with cabinets. When it comes to remodels or building a new home, kitchen cabinets are the biggest concern and typically account for over a third of a homeowner's budget. They are the focal point of every kitchen and the most used pieces of cabinetry in your home. In short, kitchen cabinets are important to homeowners. Whether you're looking to freshen things up or hoping to build the kitchen of your dreams, you want your cabinets to be beautiful, stylish, functional, trendy, unique, and personal. Each year reveals incredible new designs and ideas that you don't want to miss! Here are some of the hot kitchen cabinet trends of 2019:
1. Two-Tone Cabinetry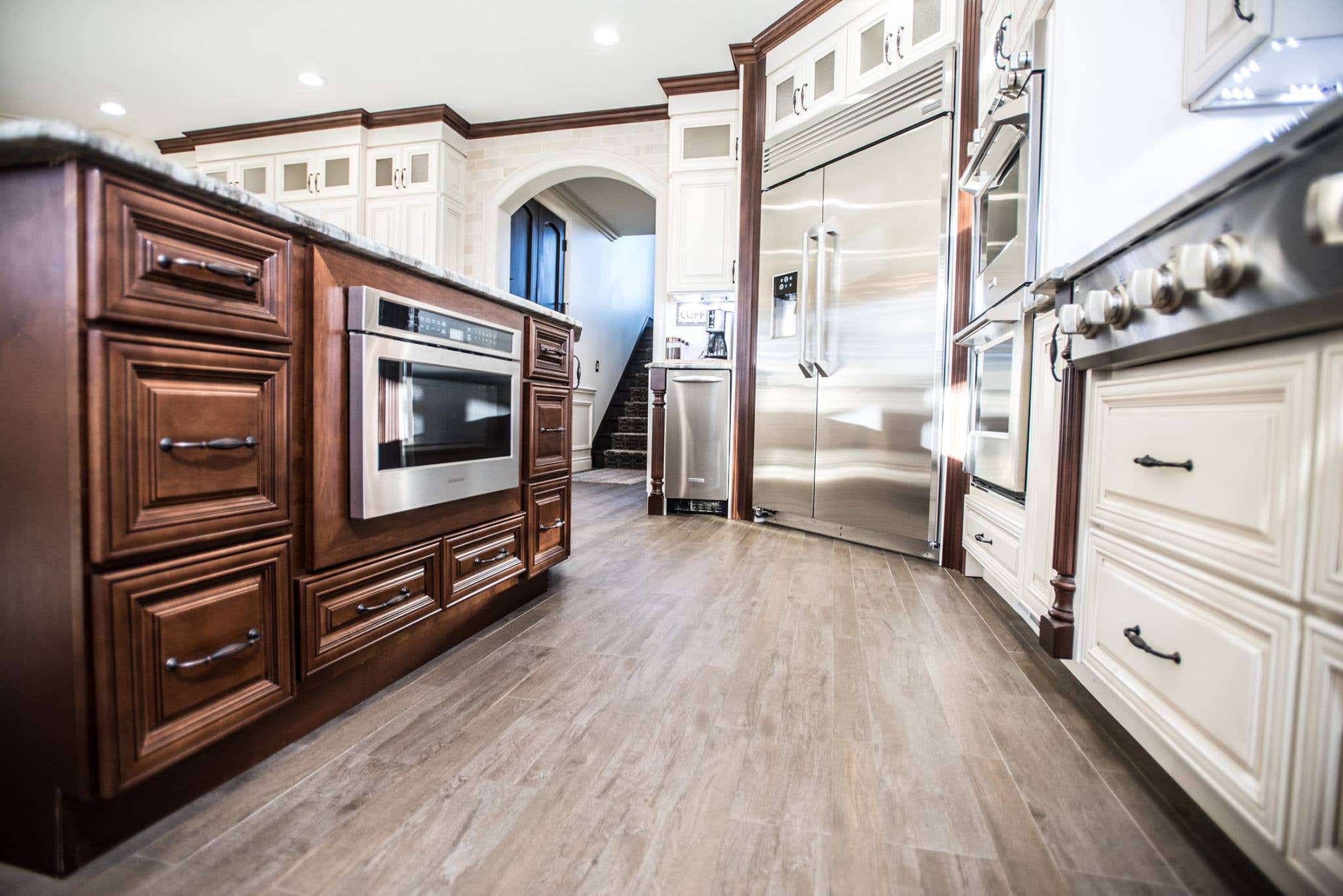 Mixing and matching two different kitchen cabinet colors and designs is a huge trend of 2019. A stand-out from traditional styles, two-tone cabinets allow you to give your kitchen depth and uniqueness. Two-tone cabinetry is typically done with the top cabinets in one color or design and the bottom in another. As you can probably imagine, there are endless combinations and possibilities. No two kitchens that utilize two-tone cabinetry will be alike. When it comes to mixing and matching, gray and white are a popular combination. In general, the darker hue is used on the bottom cabinets and the lighter on the top. White is frequently used on the top cabinets because it can be easily combined and contrasted with virtually any other darker color or design that is used on the bottom cabinets, including blue, black, green, brown, and even natural wood. Two-tone cabinets also give you the opportunity to pick two colors you love instead of just one, creating a unique kitchen that perfectly fits your personality.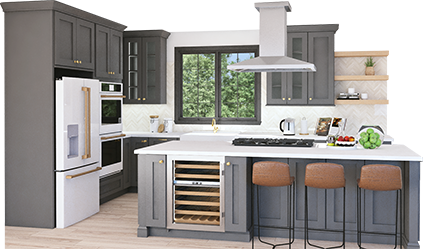 Get your FREE 3D kitchen design today!
Start Now
2. Glass Front Kitchen Cabinets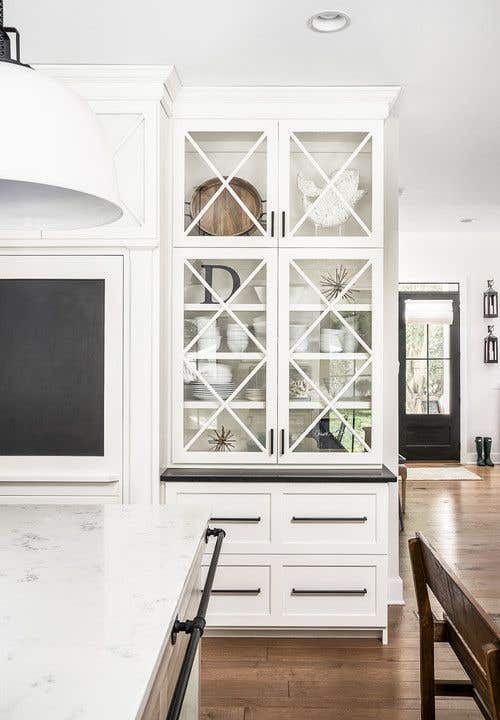 Photo by M House Development
Vintage is the new trend! Glass front cabinet doors are typically associated with older homes and traditional kitchen designs, but they are making a comeback. Modern homeowners are making their kitchens more open and visible. To achieve this end, many homeowners started using open shelving instead of full cabinets in 2019. If you want a more open and airy kitchen but don't want to commit to using open shelving, glass front kitchen cabinets are perfect for you. They produce the same openness and visibility that you would get by using open shelving but allow you to benefit from better functionality and significantly more storage. There are a wide variety of glass front door designs and types of glass for you to choose from. Six-panel glass kitchen cabinet doors are in line with the traditional, vintage designs while single panel doors provide a more sleek, modern style. When it comes to the glass itself, there are plenty of choices: clear, frosted, textured, colored, mirrored, mullion, diamond, and much more. Regardless of the design and style that you choose, glass front kitchen cabinets offer some unique advantages. Unlike natural wood, glass is very easy to clean. Using the wrong products and cleaning process on wood cabinets can harm the finish or paint. While stains and messes will be more visible on the glass, you can quickly clean grime and grease without having to worry about damaging the glass. You can also add more decor to your kitchen by displaying your favorite dishes, china, bakeware sets, and cookware in your glass front cabinets.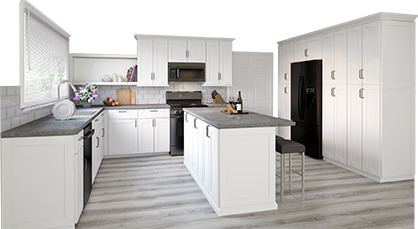 3D Kitchen Visualizer Tool
Bring your dream kitchen to life with our free kitchen visualizer!
Design Now
3. Cabinet Colors: White, Grey, Dark Jewel & Natural Earth Tones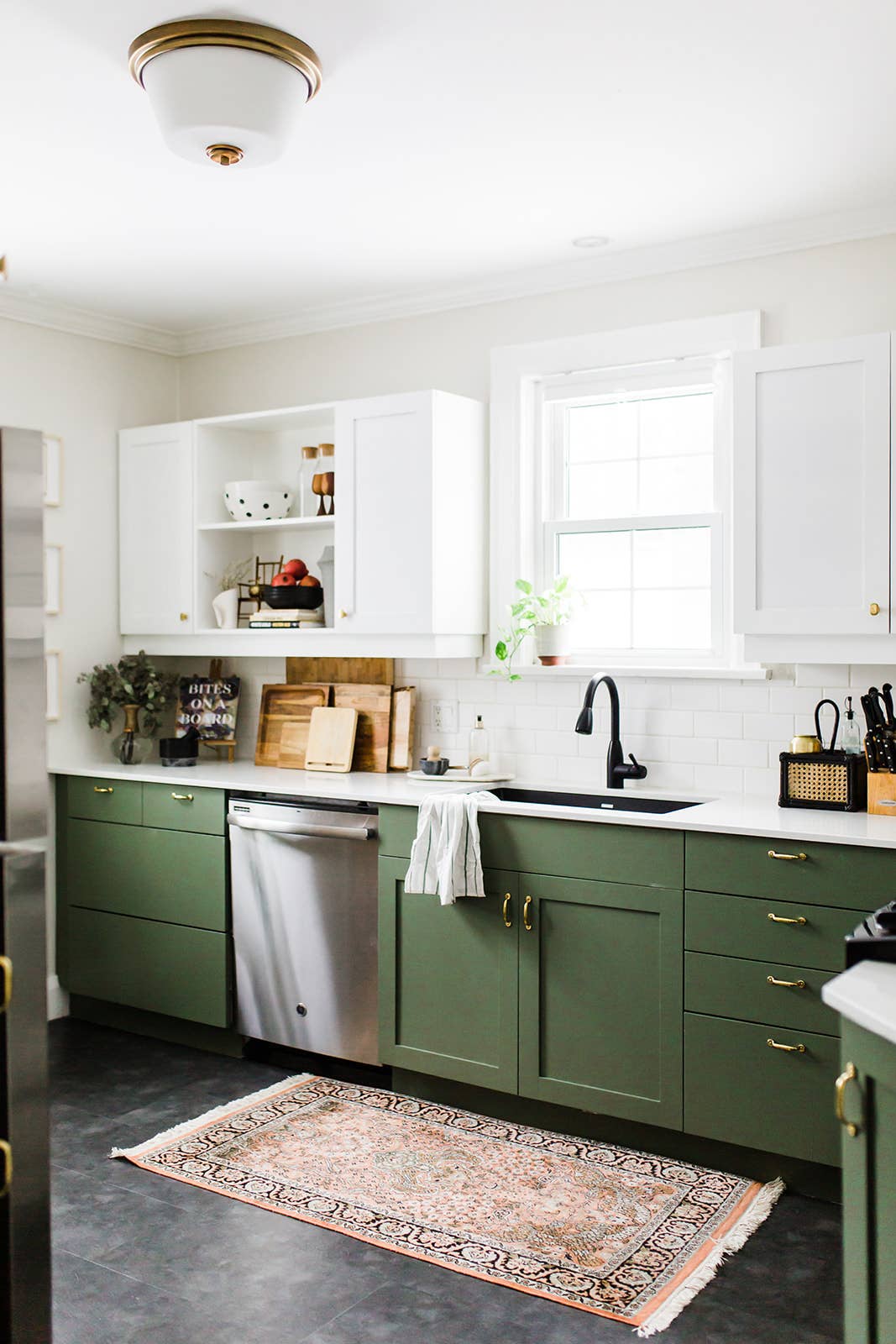 Photo by The Everygirl
Not sure what colors to pick for your kitchen cabinets in 2019? You can't go wrong with white cabinets. For years, white cabinets have been used in kitchens and are still popular today. They are timeless and can be used in practically any kitchen, regardless of design and style. Grey is another great choice. It is also popular among homeowners due to its ability to stand alone or be paired many other colors and designs. It also comes in a wide variety of shades for a few more possibilities than all-white cabinets. More recently, dark and jewel tones are being used on cabinets to create a rich, bold, dramatic, and luxurious atmosphere. Some trending dark tones include black, navy, emerald green, and plum. If you're interested in using dark colors or jewel tones in your kitchen, just make sure the tone(s) you choose don't overpower the room or make it feel too dark. This is a great example of when two-tone cabinets can be a smart choice; the lighter cabinets on top can help create a sense of balance.
4. No Upper Cabinets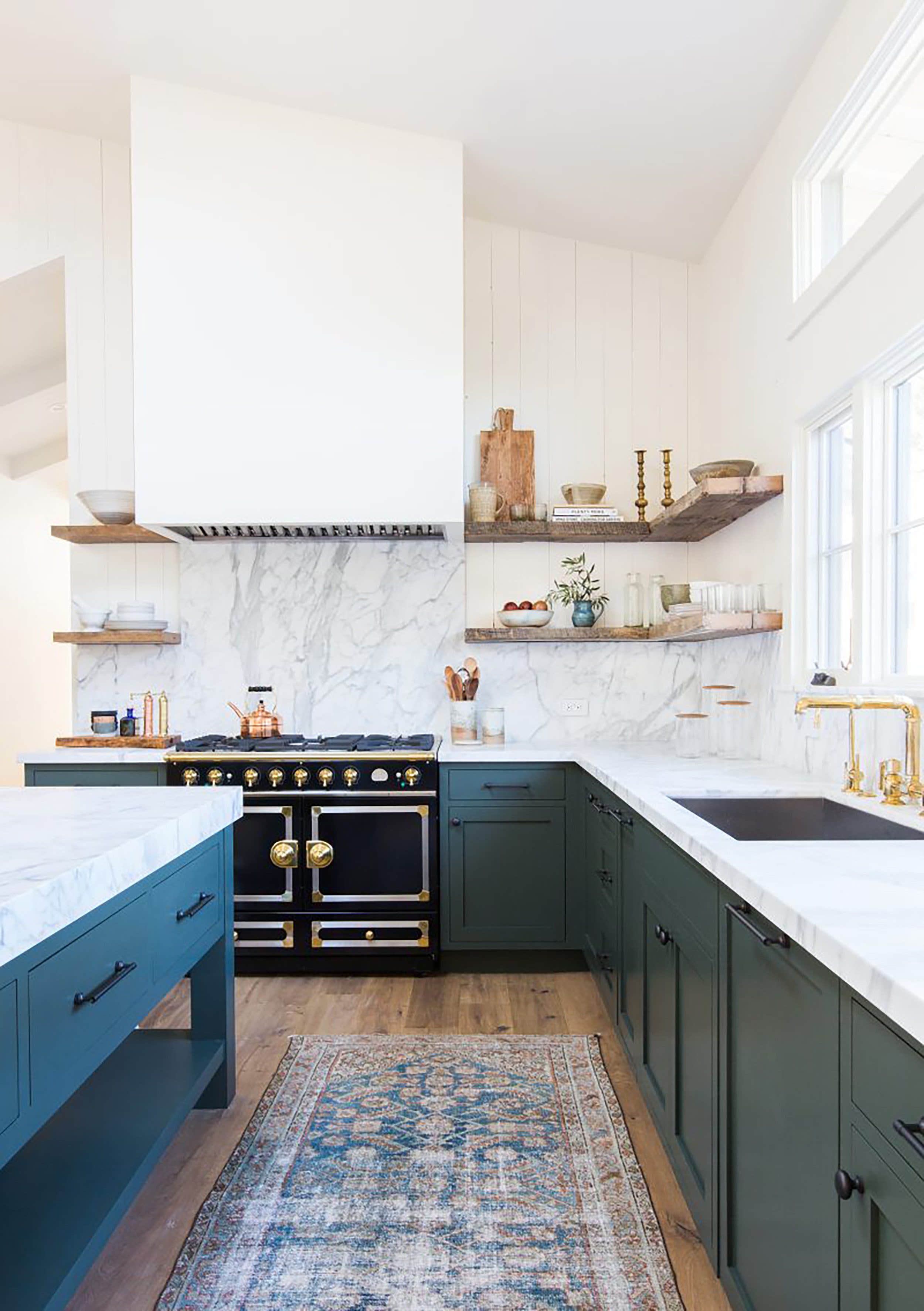 Photo by Amber Interiors
In line with the desire to create a kitchen that is more open visually, some homeowners have been eliminating upper cabinets. This goes even further than the open shelving trend of 2018. It is not an ideal style for every kitchen. By getting rid of upper cabinets, you sacrifice storage space for a more open, airy, and visible layout and design. However, if you have don't need the extra storage, eliminating upper cabinets will completely open up the look and feel of your kitchen and cut cabinet costs in half. If you don't want to use upper cabinets in your kitchen, make sure that you effectively utilize the open space you have created. Too much open space will just look like an incomplete kitchen rather than willful, stylistic decision. Incorporating windows,well-placed pieces of art, and decorations can help to fill the space.
5. Shaker Kitchen Cabinets Are Still Very Popular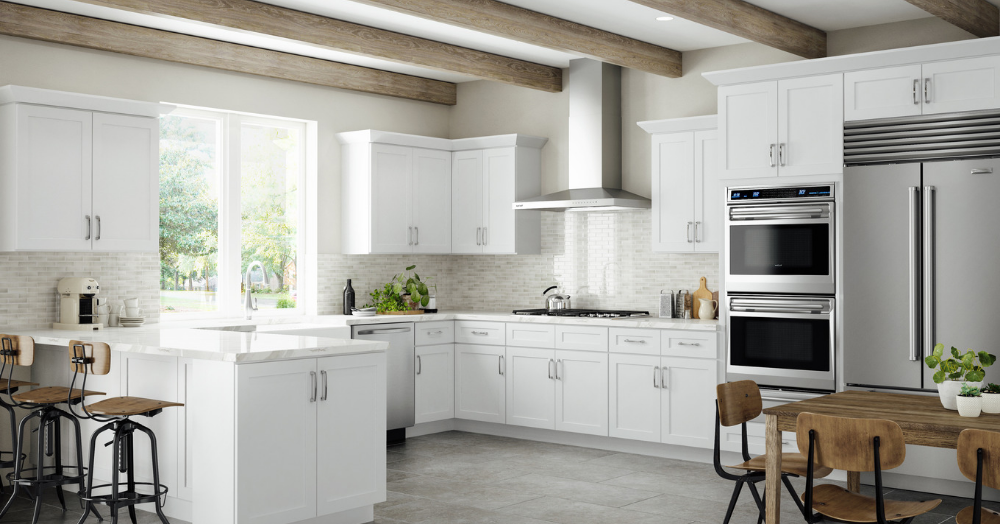 A large majority of homeowners continue to choose shaker-style kitchen cabinets. This cabinetry style has been used as far back as the 1700's and remains popular today. Shaker kitchen cabinets have a simple design that appeals to the minimalist but also complements a variety of style details, finishes, laminates, and materials. If you are looking to save some money on your renovation, you can get shaker kitchen cabinets that are ready-to-assemble (RTA). Completing the assembly yourself lets you get high-quality, real wood shaker cabinets at a more affordable price. Shaker RTA kitchen cabinets from Lily Ann Cabinets are easy to assemble and install. They also look better than other RTA kitchen cabinets because they leave no visible clip, and their unique dovetail assembly makes them especially durable. To learn more about the latest kitchen cabinet trends of 2019, call or contact Lily Ann Cabinets. Our experts can help you find the perfect cabinetry for your new or renovated kitchen at a competitive price.