"Contemporary" and "country" don't have to be mutually exclusive, especially when designing your kitchen. There are several kitchen cabinet styles that blend together traditional and modern design elements to sit comfortably between city chic and cozy country. Start with our suggestions to create your perfect modern farmhouse kitchen.
Grey Shaker Elite Kitchen Cabinets
When most people picture country kitchen cabinets, the first colors that come to mind are probably white or warm wood tones. If you want to put a truly contemporary spin on your kitchen, however, gray is the neutral to choose. Our Grey Shaker Elite cabinets complement virtually any decor or other design elements you add to your kitchen, giving you the ability to dress them up or down as much as you like. To really step up their country game, add brushed silver or copper hardware, like cabinet pulls or knobs with beaded detailing.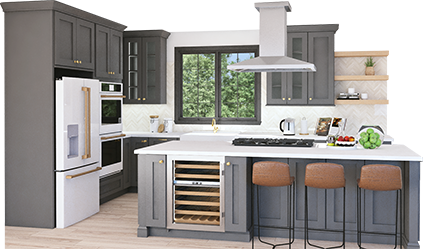 Get your FREE 3D kitchen design today!
Start Now
Colorado White Shaker Kitchen Cabinets
Our Colorado White Shaker cabinets are similar to the Grey Shaker Elite style — they feature minimal, smooth linework to help bring any space into the 21st century. But when coupled with country kitchen ideas like a farmhouse sink, hardwood floors, detailed hardware and other personal touches, they create the modern farmhouse kitchen of your dreams! If you're looking for versatility in your kitchen design, Shaker style cabinets deliver.
York Linen Kitchen Cabinets
Our York Linen style might be the perfect modern farmhouse kitchen cabinets; their smooth white finish offers an airy contemporary feel while their panel detailing aligns with traditional country elements. If you want to play up their country side even more, you can add glazing to draw attention to the finer aspects of their construction. Want them to have a more contemporary look? Add simple hardware like black drawer pulls.
Find More Contemporary & Country Kitchen Cabinets At Lily Ann Cabinets
Want even more country kitchen ideas? There are plenty of styles available at Lily Ann Cabinets that would work perfectly as farmhouse kitchen cabinets with a contemporary twist. See how they would look in your home with our free 3D kitchen design tool — and don't forget to request free samples to see them in person!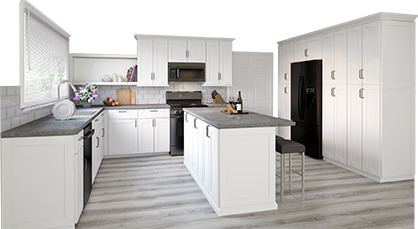 3D Kitchen Visualizer Tool
Bring your dream kitchen to life with our free kitchen visualizer!
Design Now