Prepare your kitchen for pumpkin carving, pie-baking, and Thanksgiving feasts with these clever fall decor ideas.
Pumpkins, cider, and bonfires, oh my! Fall is finally upon us, and we're dishing out our favorite kitchen decor ideas to get festive this season. From cozy tablescapes to DIY crafts, these unique decorations are sure to make your family and friends fall for your kitchen this season.
Remember, you don't have to spend a fortune to make your kitchen a pumpkin spice wonderland. Many of these ideas can be achieved with a low budget and a little creativity. So grab some tea, cuddle up in a flannel, and enjoy these 25+ fall kitchen decor ideas!
1. Elegant Fall Tablescape
This fall kitchen table decor by Joyfully Growing is a beautiful option for a modern Thanksgiving feast, or simply a relaxed autumn dinner with family and friends. The focal point was created with a plain table runner, pine cones, small pumpkins and a few candles. These affordable DIY decorations produce a sophisticated and elegant look.
To recreate this style, visit your local craft store—most of these decor items can be found for under $10. For example, you can purchase pine wood discs from Hobby Lobby for just $5!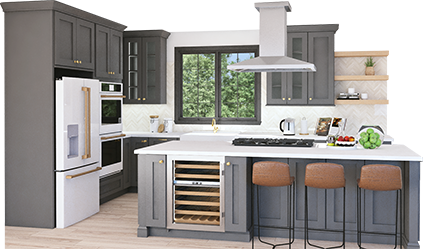 Get your FREE 3D kitchen design today!
Start Now
2. Autumn Orchard Tray
One of our favorite ideas for fall kitchen counter decor is this beautiful white tiered tray from Crisp Collective. Recently, tiered trays have exploded in popularity—they save space, don't break the bank, and are an easy style boost to any fall kitchen design.
You can add virtually anything to a tiered tray, but this example is particularly quaint. It creatively displays mini signs, faux plants, copper mule mugs, and fresh apples. And don't forget the jar of marshmallows, perfect for S'mores season!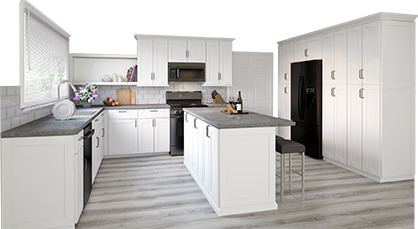 3D Kitchen Visualizer Tool
Bring your dream kitchen to life with our free kitchen visualizer!
Design Now
3. Cute Customizable Sign
What's the best fall decor item that can be used year-round? Customizable letter boards! From Halloween to Christmas, a high quality letter board can be reused hundreds of times to display all your favorite festive quotes.
Beauty For Ashes used this gorgeous wooden letter board to showcase a clever message for the apple-picking season. Letter boards are also a fun way for kids to use their imagination and see their own ideas displayed on the wall or countertop.
4. DIY Succulent Pumpkins
Another trending fall centerpiece idea is DIY succulent pumpkins. These gorgeous pumpkins are a fresh take on modern Halloween decor and will fit in flawlessly with any kitchen design. Not only are they adorable, they are inexpensive and don't require any glue! You can find the instructions for how to create these cute succulent pumpkins at Sand & Sisal.
5. Intimate Table Setting
@100_layercake \\ Instagram
Fall tablescapes for small tables don't need to be any less extravagant! In fact, this cozy dining space is anything but. Four burning candlesticks make the atmosphere feel intimate and inviting. Two arrangements of fresh foliage bring the beauty of nature inside, serving as the main focal point of the table. To tie everything together, simple white tablecloths and striped linen napkins give this rustic tablescape a relaxed boho style.
6. Lighted Fall Pumpkin Basket
Another inventive way to spruce up your kitchen for fall is to create DIY decor that can be moved to any room in the home. This adorable lighted fall pumpkin basket is the perfect example—if you get tired of it in your kitchen, just move it to the entryway or living room to refresh the look. You can even use this basket on your front porch for a warm welcome to your home during the fall season.
This idea only requires a few cheap materials and can be reused year after year. You can find the instruction guide at Clean & Scentsible.
7. Farmhouse Island Centerpiece
Continuing on the theme of money-saving fall decorations, this fall island centerpiece by Stone Gable is affordable yet striking. The large rustic lantern, placemat, and white vase are all pieces that can be used year-long in any room of the house. Simply add white pumpkins and warm-colored faux flowers to create a cheery autumn vibe. You can either purchase white pumpkins from your local craft store or save money by buying small pumpkins and painting them yourself.
8. Pumpkin Spice Latte Station
@thelongawaitedhome \\ Instagram
Do you wait all year for the return of the pumpkin spice latte? If so, then this creative fall-themed coffee station is for you. Complete with pumpkin mugs, warm fall colors, and festive mini signs, this home coffee bar is a charming way to welcome autumn into your kitchen. Get a caffeinated kickstart to the season with this creative coffee idea.
9. Finishing Touches for Above Cabinets
Choosing the right fall decor for the above kitchen cabinets can be tricky. Depending on how high your ceilings are, some pieces may not fit. Not to worry—Bless This Nest demonstrates exactly what to do with that tricky space.
First, look for a fall-themed sign (or multiple) that is the right size for the area in mind. Next, add some painted pumpkins of varying sizes and colors. Last, finish up the design with a few vintage or antique decor items like vases, jars, or metal tins.
To save money on fall cabinet decorations, try browsing your local thrift stores. You never know what gorgeous rustic dishware you might find!
10. DIY Kids Handprint Kitchen Towels
Creative Green Living
Fall is a great time for families to spend time together. Whether it's baking, pumpkin carving or crafting, there are plenty of opportunities to make memories with your loved ones that will last a lifetime.
That's why we love these DIY kitchen towels from Creative Green Living. Not only are these towels fun for kids to create, but they are a sentimental keepsake that you can continue using for a lifetime. All you'll need is a few plain white kitchen towels and some paint.
Get Your Kitchen Ready for Fall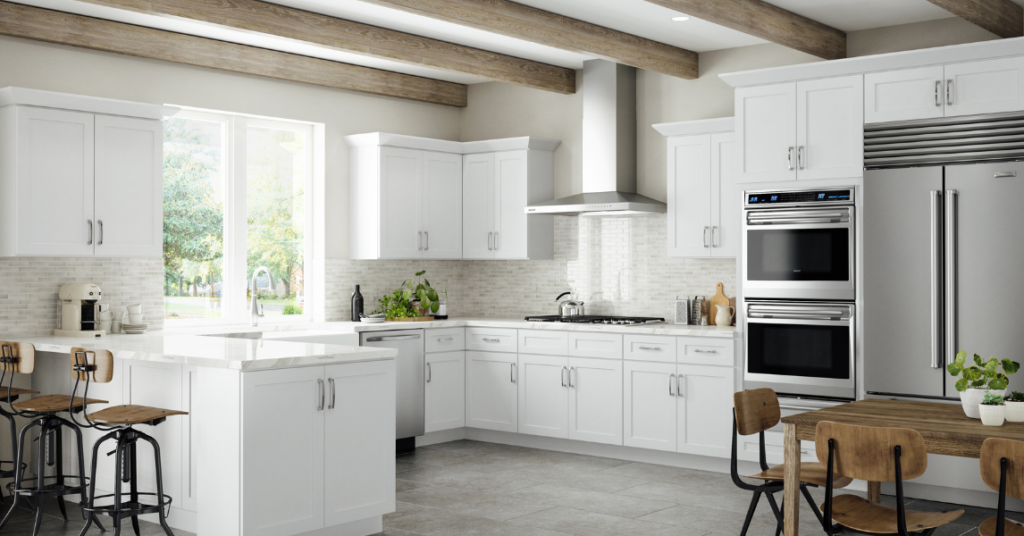 The kitchen is the heart of the home, and fall is the best time to decorate it with warm, festive decor. If you want to talk your fall kitchen revamp a step further this year, Lily Ann Cabinets is your cabinet remodel expert.
With family in town and more time spent inside, fall is a great time to give your kitchen a brand new look. We offer an extensive selection of premium cabinetry to choose from, including all the latest styles. Visit our free 3D design tool to get started on a new look for your kitchen today!
More Fall Decor Ideas | Photo Gallery
Not finished exploring fall kitchen decor ideas? We've included even more of our festive favorites below.
11. Lovely Tablescape with Floral Accents
2 Ladies and a Chair
12. White Pumpkin Pot
A Blissful Nest
13. Farmhouse Fall Centerpiece
Liz Marie
14. Fresh Apple Pie Station
Liz Marie
15. Sweet & Simple Kitchen Island Decor
Home Stories A To Z
16. A Pop Of Yellow
Sarah Joy Blog
17. Checkered Place Settings
Life On Summer Hill
18. Pastel Pumpkin Pots
The Latina Nextdoor
19. Wooden Pumpkin Decor
Pinterest
20. Rustic Wreath & Hutch Ideas
Pinterest
21. Farmhouse Thanksgiving Table
Life On Summer Hill
22. Beautiful Fall Textures
Itallstartedwithpaint.com
23. Neutral Pumpkins
Suchthespot.com
24. Metal Tiered Tray
Jedicraftgirl.com
25. Gorgeous Fall Dining Room
Akadesign.ca
26. Quaint Fall Kitchen Island Decor
Pinterest
27. A Fun Fall Twist on Window Curtains
Itsy Bits and Pieces