With RTA cabinets, it's common to hear that the insides are most important parts to compare. Having sturdy dovetail construction and quality wood materials is certainly necessary for your new kitchen cabinets to last. But, having durable coats of finish is just as essential for keeping your wood cabinets scratch- and dent-free throughout the years of opening, closing and, let's face it, spills ahead. Let's explore the importance of the finishing process and how wholesale cabinet stores like Lily Ann do it best.
Why Is Finish So Important?
The finishing process is crucial to the protection of your kitchen cabinets' outer faces. It helps prevent scratches and dents from years of opening and closing and can also reduce discoloration due to sun exposure. Not to mention, a good finish makes it easy to clean up spills without worrying about permanent stains.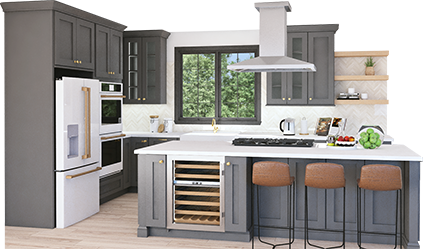 Get your FREE 3D kitchen design today!
Start Now
Comparing Finishing Processes
Many remodelers are tempted by big box stores and their cheap kitchen cabinet prices. The reason they can offer these prices is that they often cut corners: they use cheaper materials like "furniture board," use cam locks for joinery and spend little time on the finishing process. Most big box stores use only six to nine steps in their finishing processes, many of which are automated and can leave your cabinets with unsightly imperfections.
Lily Ann Cabinets, on the other hand, uses an extensive 12-Step Finishing Process for many of our stained RTA cabinets. Cabinets undergo three rounds of sanding and staining throughout the process, meaning any imperfections are smoothed out and the coloration of the wood is uniform. The process ends with several top coats of clear finish, giving your kitchen cabinets a beautiful shine that stays that way for years to come. And it's all done by hand, ensuring every cabinet is finished carefully and thoroughly.
What To Look For
Comparing finishes should be as simple as checking the cabinets' product specifications. Check to see how many steps the finishing process includes. Look for terms like "stain" or "glaze," as these might be used instead of "finish" because they're more specific. You may also want to ask whether the finishing work is done by hand or automated.
Buying new cabinets is a big investment for your kitchen space, so don't be afraid to ask these questions. You don't want to replace your kitchen cabinets only a few years after your big remodel!
Choose Lily Ann Cabinets For High Quality And Great Prices
Lily Ann's wholesale cabinets come out on top in terms of price, too. Our RTA cabinets are competitively priced, meaning you can find great prices that come with even greater benefits, like our hand-applied 12-Step Finishing Process. Our painstaking attention to detail can't be matched! Browse our full selection of RTA cabinets or request free design help from our experts today.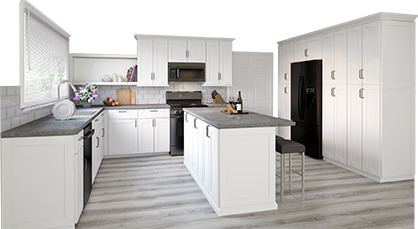 3D Kitchen Visualizer Tool
Bring your dream kitchen to life with our free kitchen visualizer!
Design Now