Driftwood Grey Bath Vanities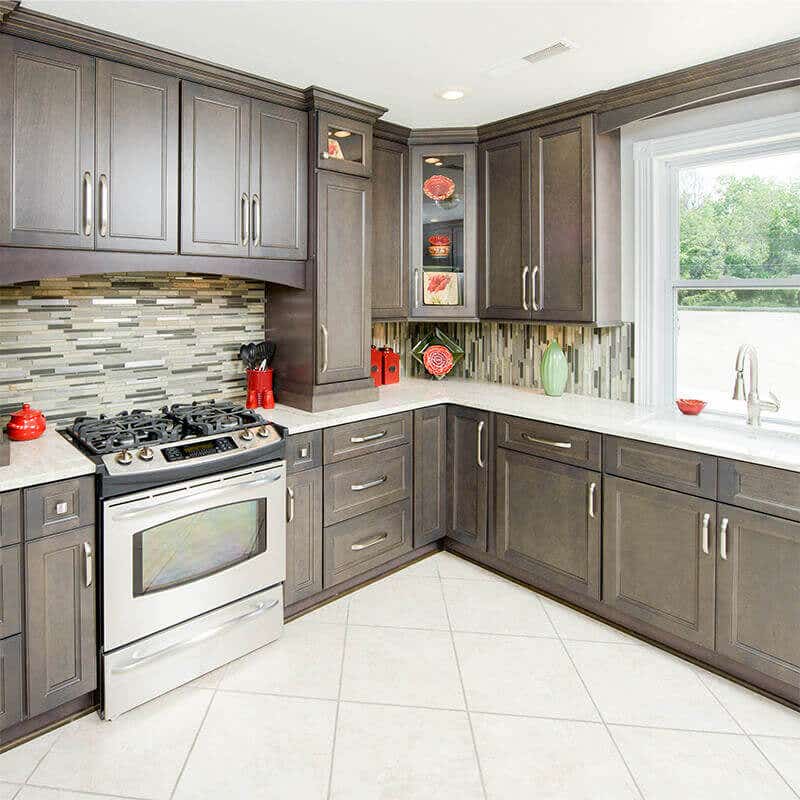 Wood Species:

Birch

Door Style:

Full Overlay, Raised Panel (Full Engineered Door)

Box Construction:

1/2" Solid Plywood (Birch/Poplar)

Drawer Glide:

Full Extension, Soft Close Under-Mount

Drawer:

5-Piece, Full Engineered Drawer Head (Matches Door)

Drawer Construction:

5/8" Solid Wood, Dovetail Construction

Hinge:

Soft Close Adjustable

Interior Finish:

Natural UV Coated

Cabinet Exterior:

Matching Door Finish

Assembly Method:

Metal Clip

Delivery:

7-21 Business Days
Driftwood Grey Bath Vanities
Bring the beauty of nature into your home with ready-to-assemble (RTA) bathroom vanities. The unique color and smooth texture of driftwood have long inspired artists and designers. Now you can create that same effect in your bathroom with RTA Driftwood Grey bathroom vanities.
Driftwood Bath Vanities That Look The Part!
The unique weathered-looking grey exterior is the identifying feature of Driftwood Grey RTA bathroom vanities. The natural appearance of Driftwood Grey vanities is achieved through a meticulous seven-step finishing process. Experienced artisans apply the characteristic grey stain – the latest color trend in home decor – along with a hand-rubbed chocolate glaze.
There is such a demand for this matchless style that our Driftwood Grey bathroom vanities sell as fast as we can make them. One reason they are so popular is because this simple look adapts to both ultramodern bathrooms as well as to traditional decor. The exclusive finish creates a persona of its own or works well as an accent color. With our wide range of designs, Driftwood Grey cabinetry is well-suited to areas throughout your home.
Aged look contemporary design.
The beauty of Driftwood Grey RTA bathroom vanities is not only the weathered-looking finish, but also that you still get the latest cabinetry with the fine workmanship and upscale accessories for which Lily Ann Cabinets is known. The ½-inch all-wood cabinet box features rails and stiles constructed of Grade A birch.
The full-overlay five-piece doors are set off by recessed center panels of environmentally friendly engineered wood. The doors are equipped with six-way adjustable concealed-cup hinges for the best fit and aesthetics. They also soft-closing.
The five-piece drawers with recessed center panels complement the doors. The 5/8-inch solid-wood drawer boxes attach to the drawer heads with dovetailed finger joints for sturdy construction that holds up to constant opening and closing. The drawers are fully extendable on under mount glides, and like the doors, they close softly. If you're still not sure if these cabinets are right for you, check out our bathroom vanity buying guide.
Our unsurpassed workmanship includes finishing the sides, an additional step for which other companies charge extra.
High-end quality RTA Cabinetry...at an affordable price.
Lily Ann Cabinets is a wholesaler selling directly to the public. As a result, we eliminate a step in the supply chain and pass the savings on to you. So you get a great quality at a great price. In fact, you can expect to pay about half of what you would in a "big box" store.
Driftwood Grey RTA discount cabinets are easily assembled using metal clips. If you have any questions about assembly, feel free to contact our friendly, helpful staff. We also offer FREE professional design assistance. We're here for you at 800-551-1438.