Shaker White Bathroom Vanities
Wood Species:

Birch

Door Style:

Full Overlay, Flat Panel (Full Engineered Door)

Box Construction:

1/2" Solid Plywood (Birch/Poplar)

Drawer Glide:

Full Extension, Soft Close Under-Mount

Drawer Head:

5-Piece, Full Engineered Drawer Head (Matches Door)

Drawer Construction:

5/8" Solid Wood, Dovetail Construction

Hinge:

Soft Close Adjustable

Cabinet Interior:

Natural UV Coated

Cabinet Exterior:

Matching Door Finish

Assembly Method:

Dovetail

Delivery:

1-14 Business Days
The Best Value in White Shaker Vanities
The Lily Ann Cabinets' line of Shaker White bathroom vanities are simple, elegant, and functional. The simple, sleek lines of the shaker bathroom cabinets combined with the classic and simple white paint make these RTA bathroom cabinets are a no-brainer when it comes to buying. The Shaker White vanities work with a wide range of designs such as contemporary, vintage, modern, and rustic.
At Lily Ann Cabinets, we make the bathroom vanities we sell, cutting out the middle man. This allows us to pass along substantial savings by selling our bathroom cabinets directly to you, our customers. Our Shaker white bath cabinets give you the biggest bang for your buck with style, functionality, and affordability. We save you even more money with free shipping over $2499.
Live in Luxury with Shaker White Bathroom Cabinets
Imagine waking up in the morning, getting out of bed, and walking into a bathroom that feels more like a spa than your home. With clean white lines, clutter hidden away, and the brightness and openness of our Shaker White vanities, you can turn your bathroom into a personal oasis. We use a 12-step finishing process to ensure a clean, crisp color, and unlike other RTA cabinet retailers, we even finish the sides. Because of this, our bathroom vanities are able to withstand the moisture that comes with use of bathrooms, compared to bathroom cabinets finished by most other companies using 6-9 layers. If you're still not sure if these cabinets are right for you, check out our bathroom vanity buying guide.
Compare Our Shaker White Vanities to the Rest
Compared to other RTA cabinet retailers, our Shaker White bathroom cabinets are more affordable, durable, and easier to install than the others. We construct our white bathroom cabinets using 1/2 inch solid wood. Our Shaker White bathroom vanities have stylish, quiet doors. The full-overlay, five-piece doors have concealed 6-way adjustable hinges and recessed panels for a clean, crisp look. No more clunky, unprofessional hinges.
You can choose from a variety of different drawer configurations to fit the White Shaker vanity styles for your bathroom size. Just like the cabinet doors, the drawer heads are constructed in five pieces and feature a dovetail construction of 5/8-inch real wood. The drawers close as quietly as the doors and open and close effortlessly and smoothly.
Easy to Assemble White Shaker Bathroom Vanities
We pride ourselves on the unique RTA bathroom vanity assembly design we created to let you easily fit the cabinets together making them stronger and more durable. Additionally, this assembly improves the aesthetics of the Shaker White bath cabinets as it eliminates the need for clips. If assembling your new cabinets isn't your thing, let us know and we can assemble them for you. Need help or have questions? Give us a call at 800-551-1438.
Watch & Learn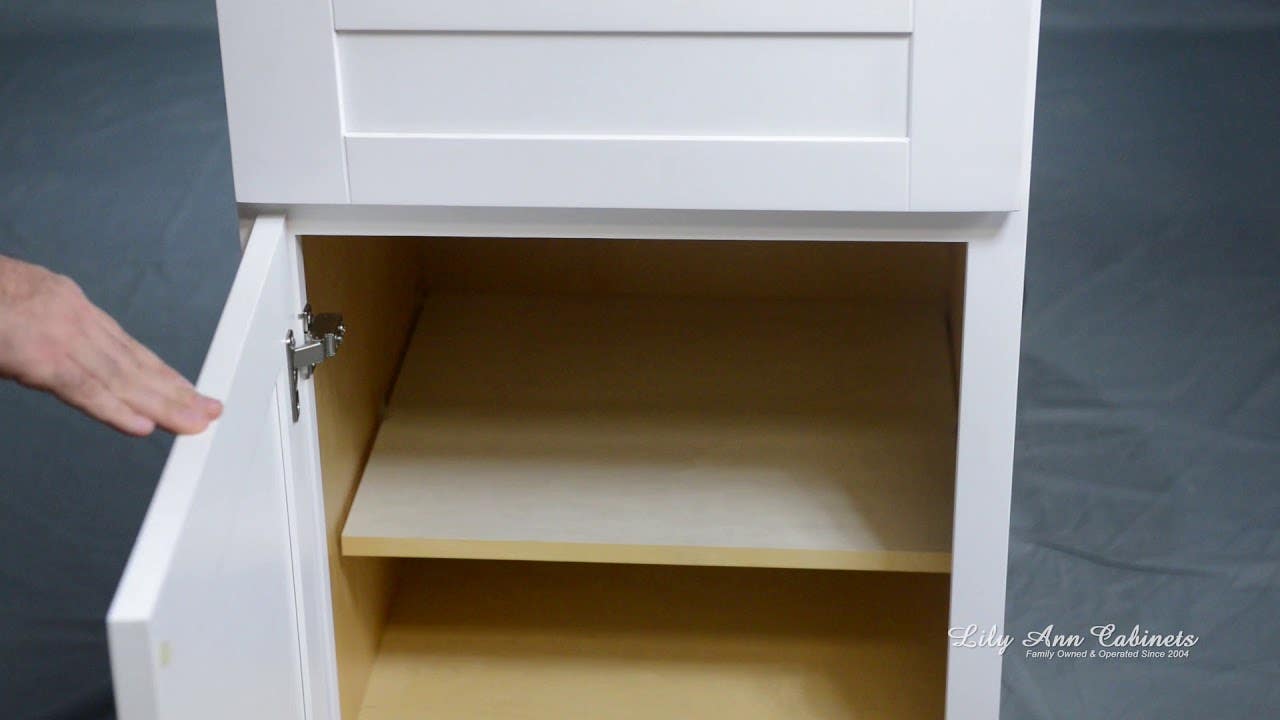 Shaker White Cabinet Features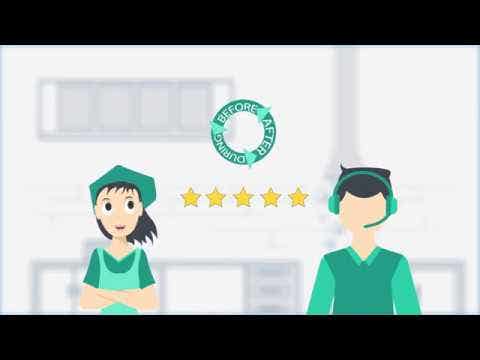 How It Works
FREE Sample - Shaker White
$0.00
$9.71
You save:
$9.71 (100% off)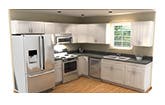 10 Foot Run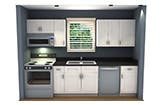 10X10 Kitchen

Factory Direct

Lorem ipsum dolor sit amet, consectetur adipiscing elit

Soft Closing Hardware

In venenatis, nulla ut fermentum viverra, lorem libero fringilla dolor

High-end Finishes

Cras vitae purus felis. Vestibulum ut commodo justo
Shaker White Vanities Collection
1 products found
Final Sale

Vanity Drawer Base Cabinet (18"W X 34 1/2"H X 21"D)
3 drawers

$265.85

$781.92

You save:

$648.99

(83% off)

Clearance items not eligible for refunds or replacements