RTA Cabinets Buying Guide

You may, in recent years, have seen an explosion in the variety of ready-to-assemble (RTA) cabinets to choose from. That's because the word has gotten out - thanks in part to quality craftsmanship from companies like Lily Ann - that RTA cabinets are no longer the bargain-basement products they were once considered. If you shop wisely, you can find RTA cabinets that offer all the style and durability of traditional cabinetry at a fraction of the price. The trick is knowing where to look and what to look for.
RTA Cabinet Styles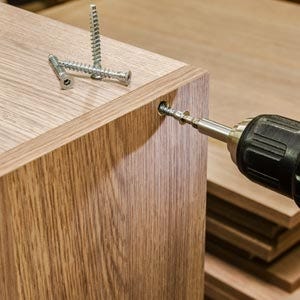 One of the assumptions many homeowners still possess regarding RTA kitchen cabinets is that they're very "base;" that is, their low cost comes at the price of only having a few stale styles from which to choose, styles that offer no degree of customization. The reality, however, is almost the exact opposite. The rapid growth in the number of RTA cabinet manufacturers on the market has also meant a rapid expansion of the styles that their products can be ordered in. Modern kitchens look great with white shaker RTA cabinets, or create a contemporary design with RTA grey cabinets. There are unlimited style and design opportunities with RTA cabinets.
Style, however, consists of more than just the shape or color of your cabinets. There's also the matter of whether the cabinetry offered comes with the accessories and hardware necessary to bring the most important details of your design to life. Be sure to go with an RTA cabinet store that complements its cabinetry offerings with an equally-wide selection of handles, pulls, knobs, panels, fillers, trim, and other accessories. Look at it this way - a steak is great, but imagine if you ordered one at a restaurant and were presented with nothing more than a grilled hunk of meat. No spices, no sides, no garnish...they didn't even bother putting it on a plate. You ask the waiter where the rest of your dinner is, and they suggest going to the restaurant down the street for the items necessary to complete the meal. Getting the cabinets you want is also great, but they'll look mighty dull if the company you buy them from doesn't have the accessories needed to complete the style.
Manufacturers of RTA Cabinetry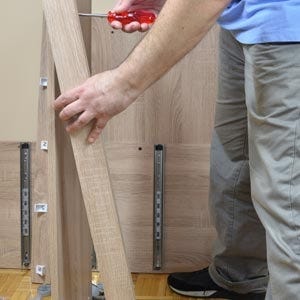 As mentioned, there are now a ton of companies that offer RTA cabinets as part of their product line. If this is your first time shopping for RTA cabinets online, you may be asked to trust a company with whom you've never done business; a frightening prospect when dealing with an investment of this level. When you arrive at the site of an RTA cabinet store, the first thing you should do is look for their "About Us" page. Doing so will give you insight into how they do business, how long they've been in operation and the level of craftsmanship present in their products. That same page may also offer information on their return policy and other factors that speak to the steps they take to ensure that their customers are cared for through every step of the process.
If that information isn't readily available, best to take your business elsewhere. Even if they offer the lowest prices, there's no way to tell what you'll really be getting; to say nothing of how they'll respond if you want to put in a return. Generally speaking, the manufacturer you decide to go with should be able to speak to an established history of creating affordable and durable RTA cabinets and be able to point to a long track record of satisfied customers. Though ratings can be of use in determining just how happy their customers are, be sure to do more than just look at the number. A lot of companies pay for fake reviews to boost their satisfaction scores, even though the spammy and nonsensical language used in those reviews immediately gives them away. If the business doesn't even respect you enough to be truthful about their customer satisfaction, what are the odds that they'll give you the time of day once they've got your money?
Finally, try to find a manufacturer that wants to be a partner in your design process. That level of commitment to their customers suggests that they're interested in more than just making a sale; they want to help you with every step of your remodeling so that you'll call on them again when it's time to take on another project. Offering free cabinet samples is a good sign that the company is interested in matching you with a cabinet that perfectly meets your needs. If they offer a service like the free 3D kitchen design tool, that's even better. A service like that - in which you're paired with a professional designer who'll help you see what your kitchen will look like once you've installed the cabinets you're interested in - speaks to a level of commitment that few RTA cabinet manufacturers can match. It's important when making these considerations, to remember that you're not just making a singular cabinetry purchase. What you're doing in taking these steps is finding a trusted business that you know you can turn to with any future design needs; what you're doing is preventing yourself from going through this rigmarole all over again.
Conclusion
Finding RTA cabinets online can often feel like a confusing and exhausting process. So many stores these days offer them, and so many seem to be offering the same thing. As a smart consumer, though, you know that there are ways to cut through the bluster and see what they're really offering. If you make use of the above tips, you'll be sure to make a purchase that you can be proud of; a purchase that'll help brighten and revitalize your kitchen or bathroom for years to come.