Sonoma White Kitchen Cabinets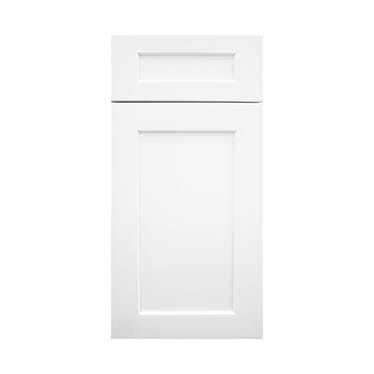 Wood Species:

Birch

Door Style:

Full Overlay, Flat Panel (Full Engineered Door)

Box Construction:

1/2" Solid Plywood

Drawer Glide:

Full Extension, Undermount Epoxy

Drawer Head:

5-Piece, Full Engineered Drawer Head (Matches Door)

Drawer Construction:

5/8" Solid Wood, Dovetail Construction

Hinge:

6-way Adjustable, Concealed Cup Hinge

Cabinet Interior:

Natural UV Coated

Cabinet Exterior:

Matching Door Finish

Assembly Method:

Metal Clip or Glue and Staple

Delivery:

1-21 Business Days
Sonoma White Kitchen Cabinets to Complement Any Home
Sonoma White Kitchen Cabinets feature the style and flexibility to complement any home. Whether your kitchen features a rustic design, farmhouse or anything in between, this cabinet is sure to those elements together efficiently. These white cabinets feature full overlay doors and five-piece drawer heads that provide a beautiful depth which illustrates the simplistic and clean style of the Sonoma White cabinets. Take your kitchen to the next level with these cabinets you can't afford to pass up.
High-End Cabinets at Half the Price
Lily Ann Cabinets does not have the overhead costs of the big box stores and brick and mortar locations. Our online cabinets distribution model takes these cost savings and passes it directly onto our customers. For this reason, we can offer high-end products like the Sonoma White Kitchen Cabinets for fractions of the price you will find anywhere else. Save on these discount cabinets today and begin to build the kitchen you've always dreamed you'd have.
Simple to Assemble Sonoma White Kitchen Cabinets
Our Sonoma White Kitchen Cabinets ship ready to assemble in a few simple steps. These RTA cabinets do not require an expert carpenter to construct. They don't even need L-brackets or metal clips like the competition. Our ready to assemble Sonoma cabinets use clips that fit together like a simple puzzle. The clips are not visible once the assembly is complete, and instructions are included to walk through the process. You'll have your cabinets assembled in no time and ready to install in just a few hours.
Free Sonoma White Kitchen Cabinet Samples and 3D Designs
Find out how our RTA Sonoma White Kitchen Cabinets will complement your kitchen specifically. Request free cabinet samples today and don't hesitate to include any questions you might have for our cabinet experts. Our design team is also standing by to offer a complimentary 3D color rendering of your kitchen space. Reach out today to learn more to begin your project with the information you need to succeed.
FREE Sample - Sonoma White
$0.00
$8.99
You save:
$8.99 (100% off)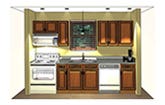 10 Foot Run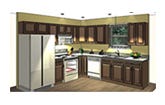 10X10 Kitchen

Factory Direct

Lorem ipsum dolor sit amet, consectetur adipiscing elit

Soft Closing Hardware

In venenatis, nulla ut fermentum viverra, lorem libero fringilla dolor

High-end Finishes

Cras vitae purus felis. Vestibulum ut commodo justo
Sonoma White Cabinets Collection