Dove White Shaker Kitchen Cabinets
Wood Species:

Solid Maple/Birch

Door Style:

Full Overlay, Shaker Style (Engineered HDF Construction)

Box Construction:

1/2" Solid Plywood

Drawer Glide:

Full Extension, Soft Close Under-Mount

Drawer Head:

5-Piece, Drawer Head (Matches Door)

Drawer Construction:

5/8" Solid Wood, Dovetail Construction

Hinge:

Soft Close 6 Way Adjustable Concealed Hinge

Cabinet Interior:

Matching Door Finish

Cabinet Exterior:

Matching Door Finish

Assembly Method:

Dovetail

Delivery:

1-21 Business Days
Shaker Dove Cabinets for an Affordable Price
Our Dove Shaker cabinet is a stylish and versatile choice for any home. Its off-white color gives a clean and bright appearance, adding a touch of elegance to any space. The Shaker-style design features a sleek and minimalist look, with clean lines and a timeless appeal that can fit any interior decor. This cabinet's solid construction ensures durability and long-lasting performance, making it a practical and functional addition to your home. Whether you're renovating your kitchen, bathroom, or any other space, the Dove Shaker cabinet is an excellent choice that can enhance your home's overall aesthetic.
Features and Benefits of Shaker Dove Cabinets Line
The Dove Shaker cabinet line boasts an impressive array of features that make it an excellent choice for any home renovation project. Constructed from solid maple and birch, the cabinet features a full-overlay, shaker-style door design that is sure to last the test of time. The 1/2" solid plywood box construction ensures durability, while the full-extension, soft-close under-mount drawer glide system and 5/8" solid wood dovetail drawer construction provide reliable and smooth operation. The cabinet's soft-close, six-way adjustable concealed hinges and matching door finish both enhance the overall aesthetic appeal of the cabinet, while the dovetail assembly method ensures a secure and long-lasting fit. With delivery available within 1-21 business days, the Dove Shaker cabinet is a practical and stylish choice for any home.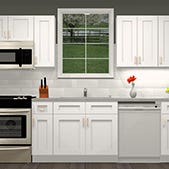 10X10 Kitchen

You Save:
$1,553.18
(30 %)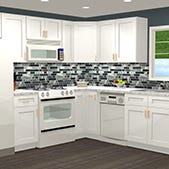 10 Foot Run

Watch & Learn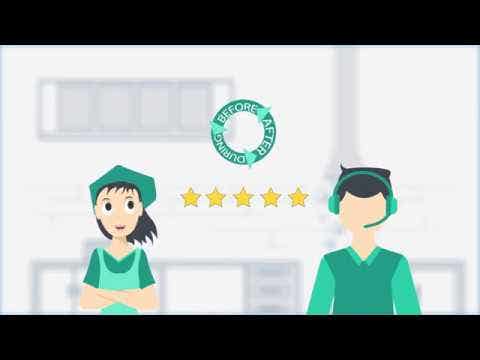 How It Works
FREE Sample - Dove White Shaker
$0.00
$9.99
You save:
$9.99 (100% off)
Dove White Shaker Kitchen Cabinets Collection