What Are RTA Cabinets?

If you're in the process of renovating your kitchen or bathroom, you've likely come across the term RTA cabinets during your research. If you're unsure exactly what this term means, you're overthinking it! The acronym RTA simply stands for ready-to-assemble.
The term "RTA" has its origins in the furniture industry and began popping up when manufacturers began offering desks, bookcases and other home furniture that had to be assembled by the user upon delivery. Delivering furniture that required some assembly by the consumer saved on both manufacturing and shipping costs, which meant a more affordable product.
What Does Ready to Assemble Cabinets Mean?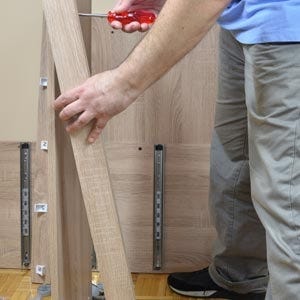 RTA cabinets are new cabinets that have been individually packaged for easy assembly on site. With RTA cabinets, each cabinet door is typically pre-installed to the face frame. RTA cabinet assembly times will vary significantly based on the manufacturer and size of the cabinet. At Lily Ann, we manufacture every cabinet we sell. This gives us a distinct advantage by affording us the ability to place a priority on manufacturing RTA cabinets that are both durable and painless to assemble.
Our wall cabinets can be assembled in under 10 minutes while larger base cabinets may require a few more minutes. More "complicated" cabinets like lazy susans or pantries can take a bit longer because of the added pieces but still assemble relatively quickly with ease.
RTA Cabinet Types
At the end of the day, there are only two types of cabinets: Assembled or Ready-to-Assemble. Whereas assembled cabinets are pre-assembled at the factory and ready for installation upon delivery, RTA cabinets require some basic assembly. An important distinction to make - RTA cabinets should actually be "ready to assemble". This means that a quality RTA cabinet will be designed, manufactured and delivered with ease of assembly in mind. After all, they're not called "pain in the neck to assemble" cabinets!
RTA Cabinet Assembly Types
Ready to assemble cabinets are also classified by the type of assembly required for assembly:
Metal Clip Assembly - Metal clips are a tried and true assembly system, but can leave visible metal clips on the final product. This is partly why we developed our own dovetail assembly method!
Dovetail Assembly - We developed a user-friendly dovetail assembly for our cabinets, which is unique to the marketplace. This process is faster, stronger, and hides unsightly metal clips from view.
Other RTA Cabinet Assembly Types - All of Lily Ann's RTA cabinets use either our metal clip or dovetail assembly, but there are other assembly types on the market. We feel our offering of metal clip and dovetail assembled RTA cabinets covers all our customers' bases, so we simply don't feel the need to incorporate any additional assembly methods. One type you may encounter from other retailers is a cam-lock assembly, which is simply a type of hooked fastening mechanism that incorporates a tab, or "cam".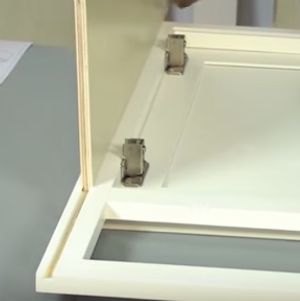 Pros of Choosing RTA Cabinets
Affordability
Availability - short lead times with many RTA cabinets ready to ship
Quality - RTA cabinet designs and manufacturing techniques have come along way since Lily Ann entered the scene in 2004. We'd like to think Lily Ann is a driving force!
Endless styles to choose from
Avoid the headache of the big box store's limited offering of overpriced particle board cabinetry
Assembly is fun for DIY enthusiasts
Order RTA cabinets from the comfort of your home
Cons of RTA Cabinets
Requires assembly. Our RTA cabinets are very easy to assemble, and require minimal tools. RTA cabinets are a great option for most, but, some people would rather pay a premium for assembled cabinets.
3 RTA Cabinet Myths Debunked
RTA cabinets are of poor quality.
False! RTA furniture started out being known as "knock down" furniture because it was cheap and a lot of the products were not built to be durable. As a result, the term RTA was initially associated with lesser quality products. However, the industry as a whole has shifted much more towards quality as consumers have shifted their preferences and are now willing to pay a little more for quality and longevity. We noticed this demand for better quality RTA cabinets when we began in 2004, and we are proud to be a part of this shift towards better cabinetry products.
RTA cabinets won't add value to my home
False! You get what you pay for, whether that is custom cabinetry or RTA cabinets. If you skimp out and buy the cheapest RTA cabinets you can find, from a retailer removed from the design and manufacturing process, you likely won't add much,if any value to your home. However, if you add quality RTA cabinets like the ones you'll find at Lily Ann, you will certainly add value to your home.
Why Bother With RTA Cabinets? I still need to hire an architect to design my space
FALSE. Lily Ann offers FREE kitchen design consultations with professional designers. We provide 3D computer rendered images based on your actual kitchen that enables you to properly visualize and plan your kitchen layout.
Quality Built, Competitively Priced RTA Cabinets from Lily Ann Cabinets
Family owned and operated since 2004, Lily Ann Cabinets proudly manufactures all of our cabinets in the USA. Designing and manufacturing our own cabinets and selling direct-to-consumer enables us to offer RTA cabinets that are simply unrivaled in quality and affordability.Shop our entire selection of RTA cabinets today and start planning your future kitchen, bathroom, or other remodel project!