Dispelling the Top 7 RTA Cabinet Myths

There are many widely held beliefs about ready to assemble cabinets that are just not accurate. If you are unfamiliar with RTA cabinets, you might assume, for example, that the quality of craftsmanship is inferior to that of name brand cabinets. You also might believe that ready to assemble cabinets look cheap, or require expert carpenters to install. Those suggestions couldn't be further from the truth, however, and this article serves to disprove these myths and others once and for all.
Myth: RTA cabinets are inferior in craftsmanship
This myth dates back to the 1990s and references a building practice that is no longer employed. Particle board was once used to build RTA cabinets over 20 years ago. Today, RTA cabinets are constructed of solid wood or plywood. These are the same materials used in name brand cabinets. These premium building materials help RTA cabinets measure up to the highest standards in quality and construction in the industry.
Myth: RTA cabinets look cheap
You can purchase a wide variety of RTA cabinets with high-quality offerings in many different styles. The suggestion that RTA cabinets look cheap is not correct. RTA cabinets are available in many cases with much better facings than the name brand companies offer. It's often challenging to discern the difference between RTA kitchens and a custom kitchen because the looks are very similar.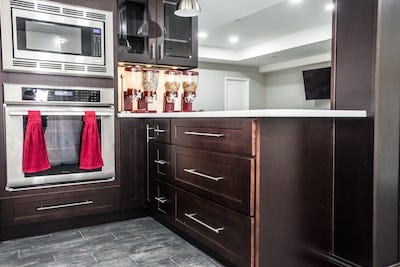 Myth: Expert carpenters are required to install RTA cabinets
Anyone can assemble and install RTA cabinets right out of the box. The instructions that arrive with the cabinets highlight the step-by-step assembly process, along with which tools are needed to complete the job. Expert carpenters are not required to install RTA cabinets in the same way they would be needed to build a custom kitchen. RTA cabinets are designed to help you avoid those labor charges along with providing the opportunity to update your kitchen yourself.
Myth: I cannot afford to pay for new RTA cabinets
There is no question that installing new cabinets in your kitchen or bathroom can require a significant investment. But while custom cabinets may cost tens of thousands of dollars, RTA cabinets can be purchased for much less. These substantial savings can extend even further when you're buying RTA cabinets online as opposed to from the big box stores. The discounted cost makes cabinet installs in your new home more possible than ever. It also allows you to have the kitchen you always dreamed of at a price you can afford.
Myth: RTA cabinets will not increase your home's value
RTA cabinets will increase the value of your home while saving you money on your purchase. As compared to brand-name cabinets offered from the big box stores or showrooms, RTA cabinets add even more value than the competitor. RTA cabinets cost less than the name-brand cabinets. With the many styles and looks available, your kitchen or bathroom can be significantly upgraded without breaking the bank.
Myth: I will still need an architect to design my kitchen
Many people believe that even when purchasing RTA cabinets, you will still need an architect to layout your kitchen cabinets--but this is not the case. Many online distributors offer a kitchen design tool or 3D rendering service that will lay your kitchen cabinets out for you. This design program is provided free to online consumers and eliminates the need for an architect to design your kitchen.
Myth: RTA cabinets include extended shipping times
Shipping times depend on where you are purchasing your cabinets. But while some distributors may require several months, it is possible to buy cabinets that ship much sooner than that. Lily Ann Cabinets ships on most products in 1-14 days after purchase. The cabinets arrive at your home ready to assemble and in no time.
Order Your Cabinets from Lily Ann Cabinets
Order your cabinets from Lily Ann Cabinets today and save on a wide variety of colors and styles. Lily Ann Cabinets offers RTA cabinet options in Colorado White Shaker, Driftwood Grey Kitchen Cabinets, Shaker Kitchen Cabinets, York Chocolate Kitchen Cabinets and more.