Sonoma Spice Kitchen Cabinets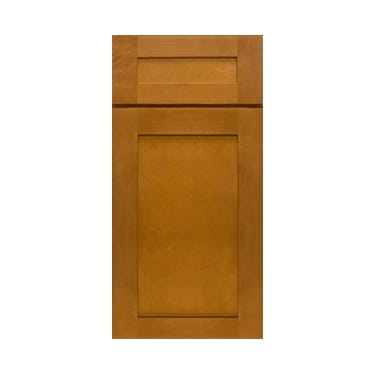 Wood Species:

Birch

Door Style:

Full Overlay, Flat Panel (Engineered Center Panel)

Box Construction:

1/2" Solid Plywood

Drawer Glide:

Full Extension, Undermount Epoxy

Drawer Head:

5-Piece, Engineered Center Panel (Matches Door)

Drawer Construction:

5/8" Solid Wood, Dovetail Construction

Hinge:

6-way Adjustable, Concealed Cup Hinge

Cabinet Interior:

Natural UV Coated

Cabinet Exterior:

Matching Door Finish

Assembly Method:

Metal Clip or Glue and Staple

Delivery:

1-21 Business Days
Sonoma Spice Kitchen Cabinets at a Price You Can Afford
Sonoma Spice Kitchen Cabinets feature full overlay doors and five-piece drawer heads that provide a beautiful depth and simplistic style. These upscale cabinets are also affordable, discounted significantly compared to the "big box" stores. These RTA kitchen cabinets will add value to your home without emptying your bank account with industry-leading prices our competitors cannot beat.
Stunning Cabinets Ready to Assemble
Sonoma Spice Kitchen Cabinets feature a breathtaking finish that will take your home to the next level. They also shipped directly to your door ready to assemble without the need for an expert carpenter. While the cabinet boxes employ a simple metal clip assembly that requires no additional tools, the cabinet drawers utilize our dovetail assembly which results in exceptional craftsmanship and durability. These RTA cabinets feature undermount glides and also adjustable European style concealed cup hinges.
Tradition of Unparalleled Excellence
When you buy from Lily Ann Cabinets, you're buying from a family-owned company with a long tradition of excellence in the cabinet industry. We stand behind not only our brand but also every product we sell. Every cabinet we ship is thoroughly inspected and made to meet our increasingly high standards for quality and craftsmanship. When you purchase your Sonoma Spice Kitchen Cabinets, rest assured that it is a product you can be proud to bring into your home.
Sonoma Spice Kitchen Cabinets Built to Last
The Sonoma Spice Kitchen Cabinet boxes are built using ½ inch plywood with a crisp paint finish on each side. The drawers are equipped with fully extendable mount glides. Inside, a three-quarter-depth shelf maximizes cabinet storage space, and the drawer boxes feature 5/8-inch solid wood with a plywood bottom. These ready to assemble kitchen cabinets rival any of the competition in quality and durability, able to withstand the rigors of any kitchen.