Coffee Bar Cabinets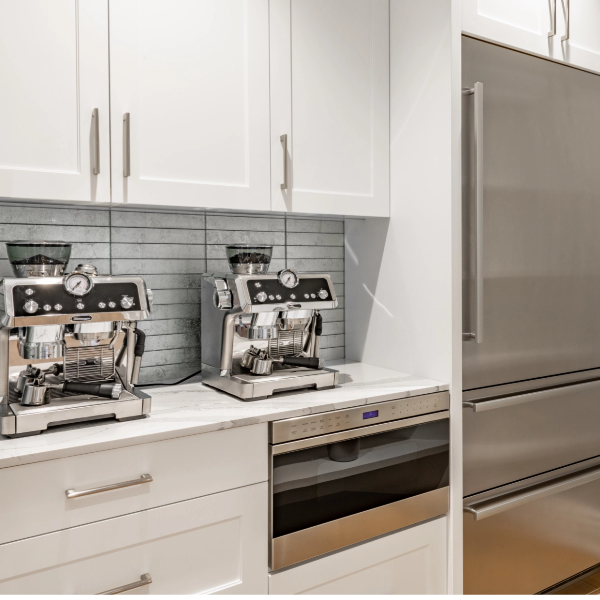 Kitchen Coffee Bar Cabinets
Is your morning routine just not complete without at least one scalding hot cup of coffee, or a flavored iced coffee topped with delicious whipped cream? Are you tired of spending so much of your paycheck on beverages at your local coffee shop? No matter how you take your coffee, Lily Ann Cabinets is the one-stop-shop to create the coffee bar of your dreams in the heart of your home, your very own kitchen!
Regardless of what style and aesthetic you are looking to achieve, we've got the cabinets for you. From rustic farmhouse to a sleek and modern coffee bar cabinet, Lily Ann Cabinets has a great selection for you to choose from.
Reasons to Purchase Coffee Bar Cabinets
If you are a self-proclaimed coffee connoisseur, having an at-home coffee bar is an incredibly smart investment. While you have to pay out of pocket in advance to make your vision a reality, once your personal in-home coffee bar is built, you will save both time and money day-to-day. Instead of running to your local Starbucks or Dunkin Donuts and potentially being late to work, you can save the money you'd spend on a latte from the drive-thru and make an even better-tasting coffee from the comfort of your own home!
Another perk of investing in coffee bar cabinets is the level of personalization that is available. From a design perspective, the options are practically endless, the only real limitations are your imagination and your budget. For instance, you could choose a clean, minimalistic white coffee bar cabinet, complete with storage for ceramic coffee mugs, ground coffee, coffee pods, a coffee maker, an electric tea kettle, milk frother, and whatever else is needed to make that perfect cup!
Or you could go the complete opposite end of the spectrum, and choose a bold, vibrant color, like an emerald green, a navy blue, or go super bold with black! Then, you could have your coffee supplies displayed on the counter with gold accents in the form of stirring spoons, storage containers, cabinet hardware, etc. The beauty of designing an in-home coffee bar is the flexibility and creative freedom you have, as well as the convenience it'll offer once it is completed! You can truly design the station to have a space for everything you need, and nothing you don't, it's really all up to you and your personal preferences.
Shop Now
Get Free Sample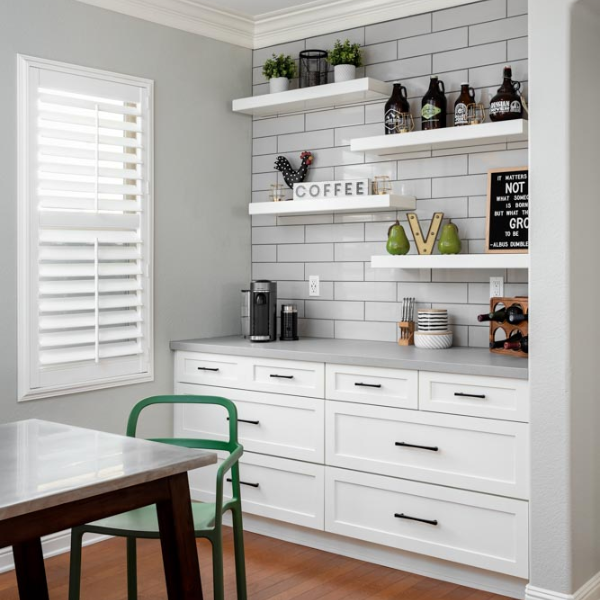 ---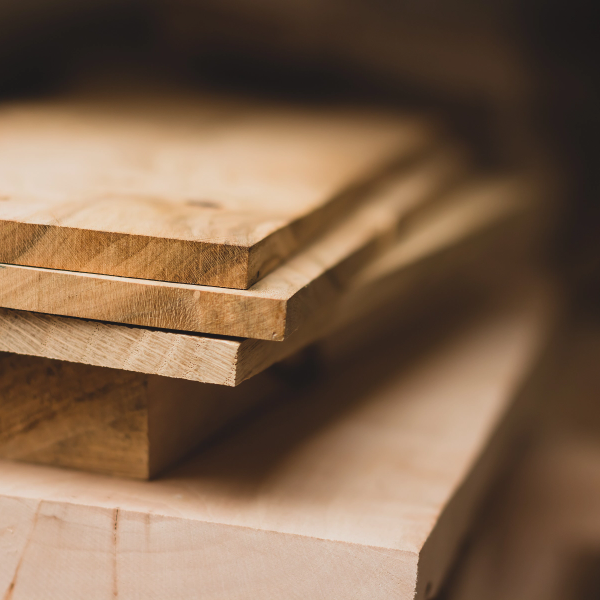 Quality Materials for DIY Coffee Bar Cabinets
Whichever direction you choose to go design-wise, it is crucial that you use high-quality materials in the construction of your coffee bar. This is where Lily Ann Cabinets comes in! Our kitchen cabinets are made with the highest quality materials and are built to last. When you shop with us, you can rest assured that your coffee bar will be an asset to you and your guests for years to come!
---
Cabinet Organizers to Optimize Space
Besides the coffee bar cabinets themselves, Lily Ann Cabinets also has a range of organizational pieces to ensure that your kitchen cabinets are perfectly organized and the space is being used as efficiently as possible. If you use a lot of coffee pods, or even grounds, in your coffee machine, you may want to have a trash can in your coffee bar for easy access. In this case, a pull-out trash can insert would be ideal to save space and add functionality to your coffee station. Not only does this contraption eliminate the trash can from you and your guests' line of sight, but it also keeps unpleasant odors from seeping into the rest of your kitchen, and allows you to get rid of that coffee waste in the blink of an eye!
Another fabulous option is a roll-out shelf from Lily Ann Cabinets. This is the perfect cabinet insert for you to place your coffee maker on and simply pull out when you would like to make a cup, especially if you would prefer to keep your kitchen free of clutter and your countertops clear. You can have up to 3 shelves installed in one cabinet, so you could store not only your coffee maker itself, but also your milk frothers, coffee mugs, and any other coffee accessories you may own and use on a daily basis. Also, if you change your mind or get a different coffee maker, you can adjust the heights and placements of the shelves to fit your needs as they grow and change.
Alternatively, a lazy susan may be more up your alley when it comes to organizing your DIY coffee bar cabinets. A lazy susan is a great storage solution for a coffee bar, as it adds additional accessibility to things like ceramic mugs, to-go mugs, sugar, coffee creamer, stirrers, whatever it is that you use to make delicious coffee every morning! There are a variety of shapes and sizes to choose from (including 1 or 2-tiered lazy susans), depending on how much storage space you need and how much cabinet space you have to work with. Also, there are several options when it comes to finish, including polymer, steel, and wood. With this many options, there is sure to be one that fits your storage needs, as well as your style preferences.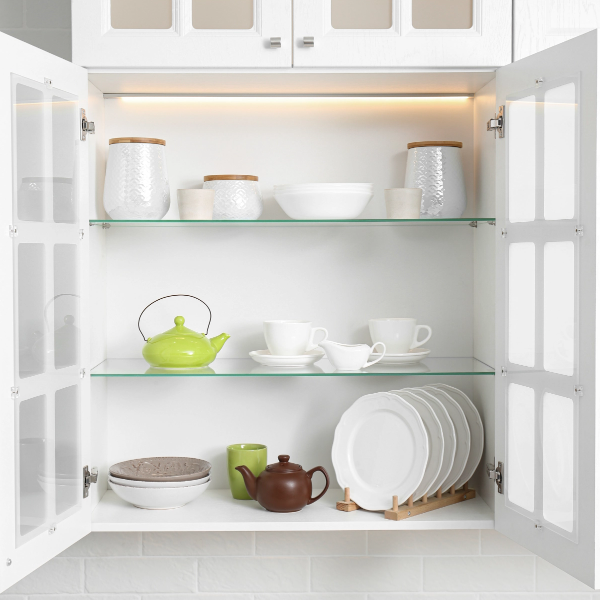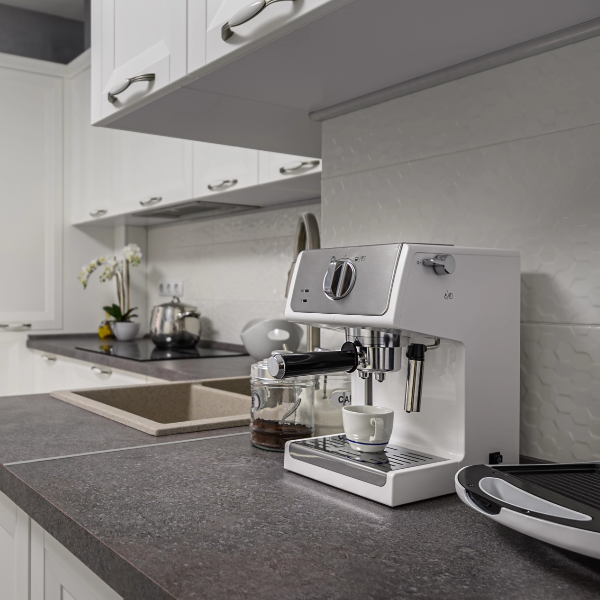 Finishing Touches to Tie In Design
As important as storage is when it comes to an in-home coffee bar, design cannot be overlooked. While it needs to be functional of course, it also needs to be pleasing to the eye, unless you are planning on keeping it hidden behind beautiful kitchen cabinetry. Kitchen cabinet hardware is a key element in kitchen design, and choosing the right knobs and handles can help elevate your coffee bar cabinet to an entirely new level of sophistication.
Lily Ann Cabinets has an array of varying cabinet hardware to fit your style and desired finish. If you are going for a modern look, something like the Contemporary Metal Pull with a brushed satin nickel finish is a great choice. On the other hand, if you have more of an antique style, the Traditional Metal and Ceramic Pull with an antique English white finish would be right up your alley! No matter what style and color cabinet you have, there is certainly a knob or handle that will act as a beautiful, eye-catching accent.
If you are planning on having your coffee bar out and visible, you'll need to pick out decor and containers for storage that coincide with the style of your kitchen, so that everything goes together seamlessly. Items like decorative signs and trendy, clear containers are a great way to store your coffee bar items and add a bit of stylistic flair simultaneously!
No matter what direction you decide to go with your coffee bar, Lily Ann Cabinets has the resources you need to get the job done right!
Ready to Get Started?
If you need help deciding on the right cabinets for your project, contact us to learn more about our affordable Coffee Bar Cabinets today!
Contact Us