Wholesale Cabinets Vs. Big Box Store

When shopping for cabinets online, it can be confusing sorting through all of the different options available. Big box stores, with their hundreds of retail locations, often gain business from consumers and contractors who are lured into discussions with "design experts" and purchase based on impulse. Avoid making an impulse purchase on kitchen cabinets by reading this guide comparing wholesale cabinets vs. big box store cabinets!
Price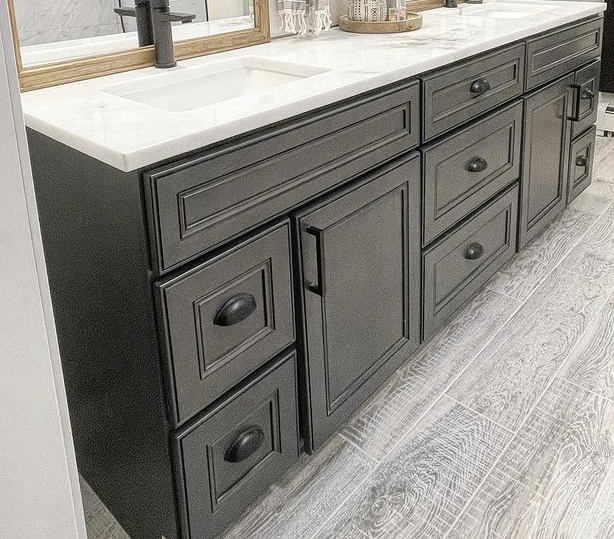 When it comes to getting the best value for your money, there is no better choice than wholesale kitchen cabinets from a cabinet wholesaler. Lily Ann Cabinets offers top-notch cabinets that feature soft-close drawers and doors and plenty of storage space starting at just under $1,000 for 10-foot runs. Additionally, they offer full 10' x 10' kitchens for under $2,000 – a much better deal than any big box store can provide. So if you're looking for the best place to buy kitchen cabinets, then you should check out the wholesale kitchen cabinets offered by Lily Ann Cabinets.
Quality
When it comes to buying cabinets, quality should always be your first priority. Lily Ann Cabinets is the go-to choice for cabinet wholesalers looking for superior-quality kitchen and storage cabinets. With Lily Ann's wholesale kitchen cabinets, you can rest assured knowing that you're getting durable, long-lasting cabinets that are built to last.
Unlike a big box store cabinet, Lily Ann's cabinets feature mortise-and-tenon joinery (dovetails) on all of their drawers, providing superior stability and longevity. Additionally, our 12-step finishing process is unparalleled in the industry and ensures that your cabinets arrive free from any imperfections. We also provide easy access to the thickness and dimensions of our RTA cabinets, so you know exactly what you're getting. Big box stores often make it difficult or impossible to find out this information.
Materials
When it comes to choosing materials for your kitchen cabinets, wholesale cabinets can offer a big advantage over store cabinets. Store cabinets often use furniture board, an engineered material consisting of chipboard with a thin laminate veneer applied to the surface, while Lily Ann cabinets are constructed from birch or maple plywood. Plywood construction is more durable and can take a greater weight than furniture board. Furthermore, the edges of the plywood used in Lily Ann cabinets are thicker, providing additional strength and making them last longer. This means that our wholesale cabinets are more reliable and will stand the test of time.
What is Furniture Board?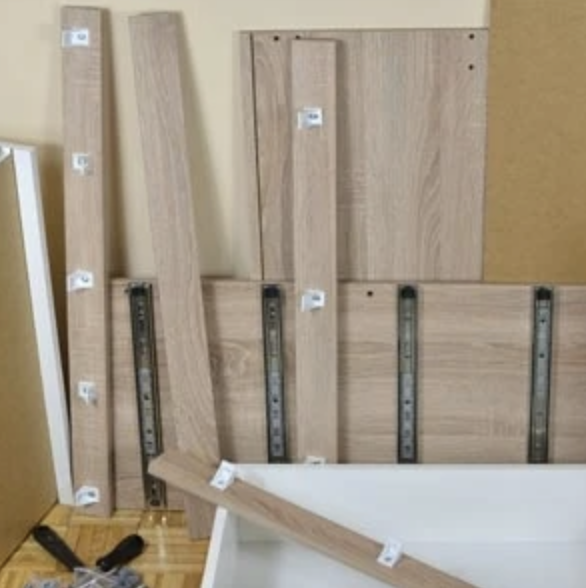 When shopping for kitchen cabinets, you may come across the term "furniture board." This is a misleading marketing term used by some big box stores to hide the fact that their cabinets are made of low-grade materials, such as particle board or MDF (medium-density fiberboard).
To avoid inferior materials, we suggest looking for cabinet wholesalers near me or searching online for wholesale kitchen cabinets. Wholesalers typically source their cabinets from higher-quality manufacturers and therefore offer a better value than big box stores. Lily Ann Cabinets offers Worldwide shipping and most sales are done 99% virtually.
Designers
When it comes to designing your kitchen, it's important to make sure you choose a designer with experience. While you may be able to find an inexperienced designer at a big box store, they may not be aware of the potential issues that can arise during assembly or installation. With wholesale kitchen cabinets, you can choose from experienced designers who understand the intricacies of kitchen design.
If unsightly assembly hardware is something you want to avoid, look for cabinets with dovetail construction. Lily Ann RTA cabinets are offered in one of two assembly methods:
Dovetail Assembly
: The cabinets will assemble using a popular woodworking joint known as the dovetail. Minimal tools are required and assembly is straightforward. Our dovetail assembly results in a much more durable product, while simultaneously ridding the cabinet of unsightly metal hardware.
Metal Clip Assembly
: Instead of dovetail, these cabinets are assembled using a metal clip assembly. These cabinets may not be as durable as our dovetail assembled cabinets, and some of the metal clip assembly will be visible when using the cabinets.
Whether you are looking for a simple, basic design or something more complex, our team of expert designers can create a layout that is tailored to your exact needs and preferences. Our FREE 3D designs with our professional designers are available to anybody and will get back to you within a few days!
Conclusion
Superior materials and price advantage are two of the main reasons that people turn to wholesale cabinetry as the best option for their kitchens and bathrooms. But our experience in designing kitchens allows us to avoid the pitfalls that newer, less experienced designers can fall victim. Ultimately, educating yourself by reading reviews and comparison shopping can guide you to making the correct choice when buying new cabinets. As with all things in the kitchen and bath remodeling industry, it's best to follow the wisdom of the Latin phrase "caveat emptor."