If you're considering remodeling your kitchen, you should know the term "shaker cabinetry". What are shaker cabinets? Shaker cabinet style is a staple in kitchen design and is why shaker cabinets are so popular. For decades, home remodelers have opted for wood shaker kitchen cabinets due to their classic simplicity, durability, and low price point. From traditional to modern kitchens, shaker cabinets blend seamlessly into any design style. Sound tempting? Read on to learn more.
What Are Shaker Kitchen Cabinets?
The origins of what are shaker cabinets date back to the Shaker furniture created by the Shakers in the 18th century. The Shakers emphasized a simple and minimalistic lifestyle, which translated into the classic and simple design of shaker style cabinets. Fast forward to the 21st century, and it's clear to see why shaker cabinets are so popular.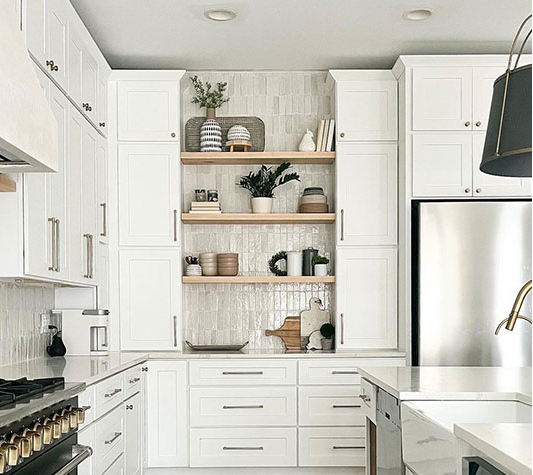 Colorado White Shaker cabinet door
Shaker cabinets are characterized by their durable all-wood construction, visual simplicity, and affordability. Shaker style kitchen cabinets use rail frames and panel construction with recessed panel doors. This is what gives shaker cabinet doors their classic clean lines. The hinges are usually hidden, so the eye is naturally drawn to other details like paint and finish. If you're looking for a simple yet high quality cabinet on a budget, shaker cabinets are the option for you!
Versatility Of Style
Shaker cabinetry fits into any kitchen style, with dozens of paint colors and stains to perfectly match the look of your home. Plus, it's easy to switch up the cabinet hardware to suit your individual style. Keep reading to view some of our favorite shaker cabinets kitchen designs.
Gray Shaker Kitchen Cabinets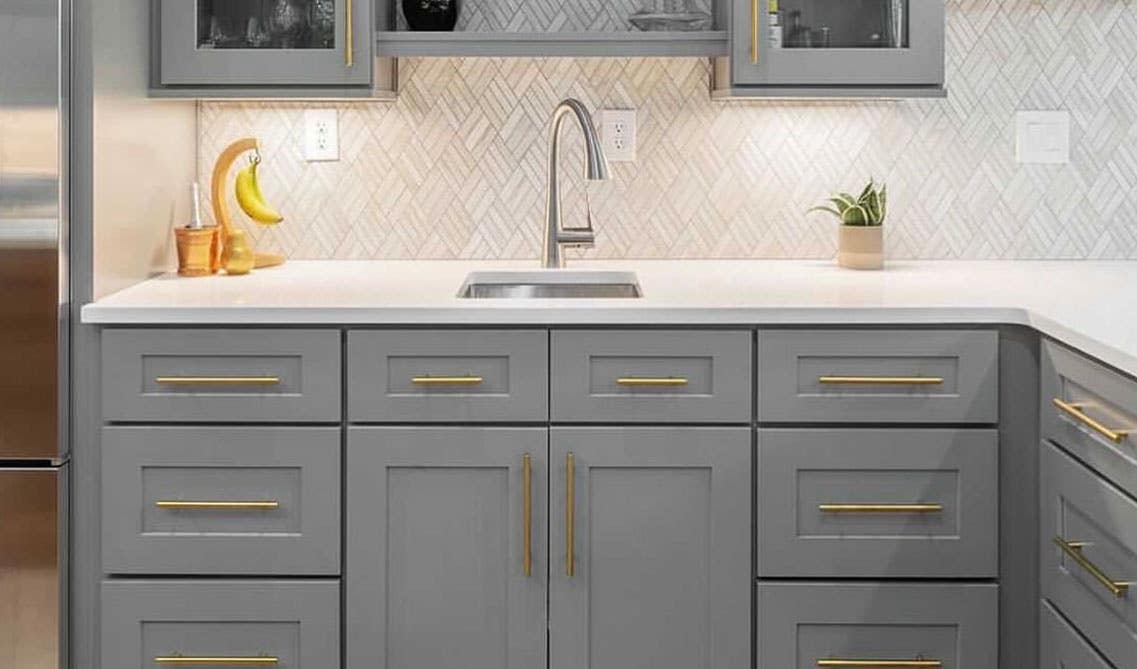 Grey shaker kitchen cabinets look great in all contemporary homes. The simplicity of their frame and panel construction combined with the understated color make grey shaker kitchen cabinets a popular choice for neutral kitchens.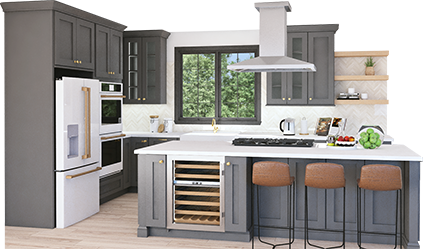 Get your FREE 3D kitchen design today!
Start Now
White Shaker Kitchen Cabinets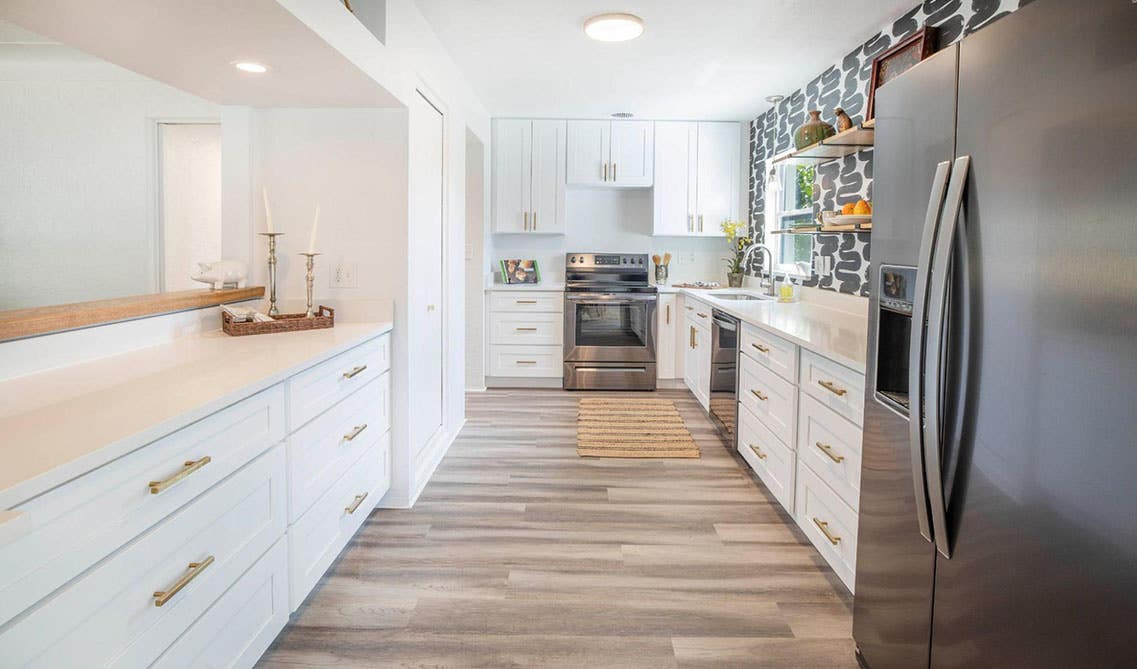 Sleek white shaker kitchen cabinets compliment a chic modern kitchen. Complete with gold cabinet hardware and matching metallic pendant lighting, white shaker cabinets give this elegant space a bright and beautiful feel.
Checkout: 3 White Shaker Cabinets That Can Bring Contemporary Flair To Your Kitchen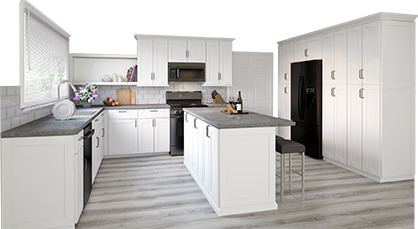 3D Kitchen Visualizer Tool
Bring your dream kitchen to life with our free kitchen visualizer!
Design Now
White and Grey Shaker Kitchen
Can't choose between white and grey? Choose both! White and grey shaker kitchens have a timeless look that is perfect for any kitchen design from farmhouse to modern. We recommend choosing one color for the island and one for the wall cabinets. Or, try using grey shakers as base cabinets and white shakers as uppers.
Brown Shaker Kitchen Cabinets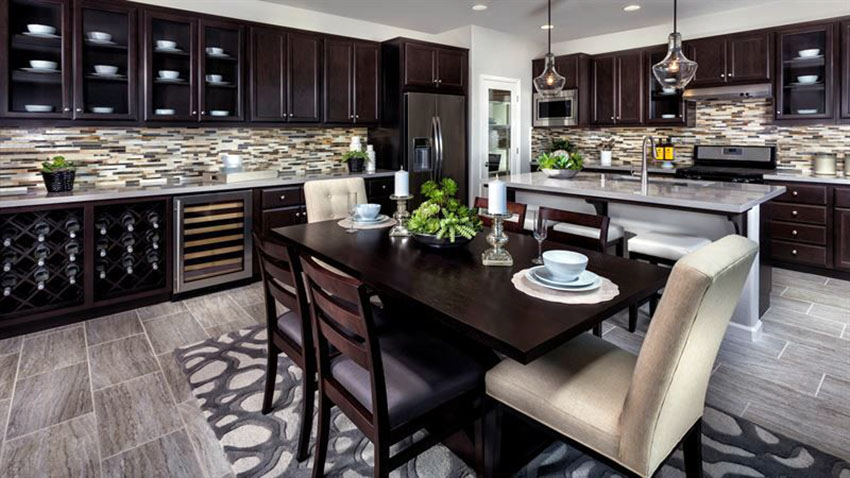 Rich brown shaker cabinets are another popular choice for kitchen remodels. This kitchen uses espresso shaker cabinets to add a rustic touch to a modern style drink station. Espresso is a striking color for modern shaker kitchens because the dark tones contrast nicely with white finishes.
Stained Shaker Cabinets
Prefer stained cabinets to paint? No problem! With wood shaker cabinets, you can find a wide variety of light, medium, and dark color options to suit the needs of your home.
Also Read: 23 Inspiring Shaker Cabinets Pictures & Design Ideas
Modern Shaker Kitchen Cabinets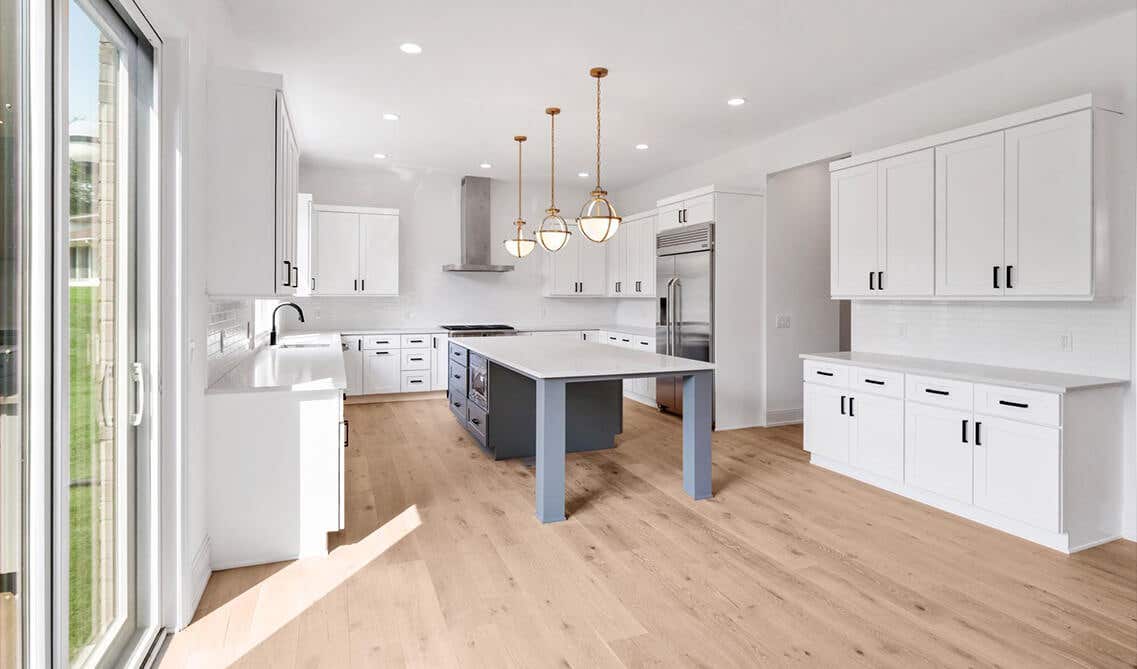 Combine white shaker cabinets with marble countertops and tubular bar pulls for a match made in modern heaven. This kitchen uses open shelving on top to keep things airy and bright. Dark shaker cabinet colors like deep grey and black also look striking in modern kitchens.
Read More: Modern Kitchen Cabinets for a Posh and Sleek Finish

Blue Shaker Kitchen Cabinets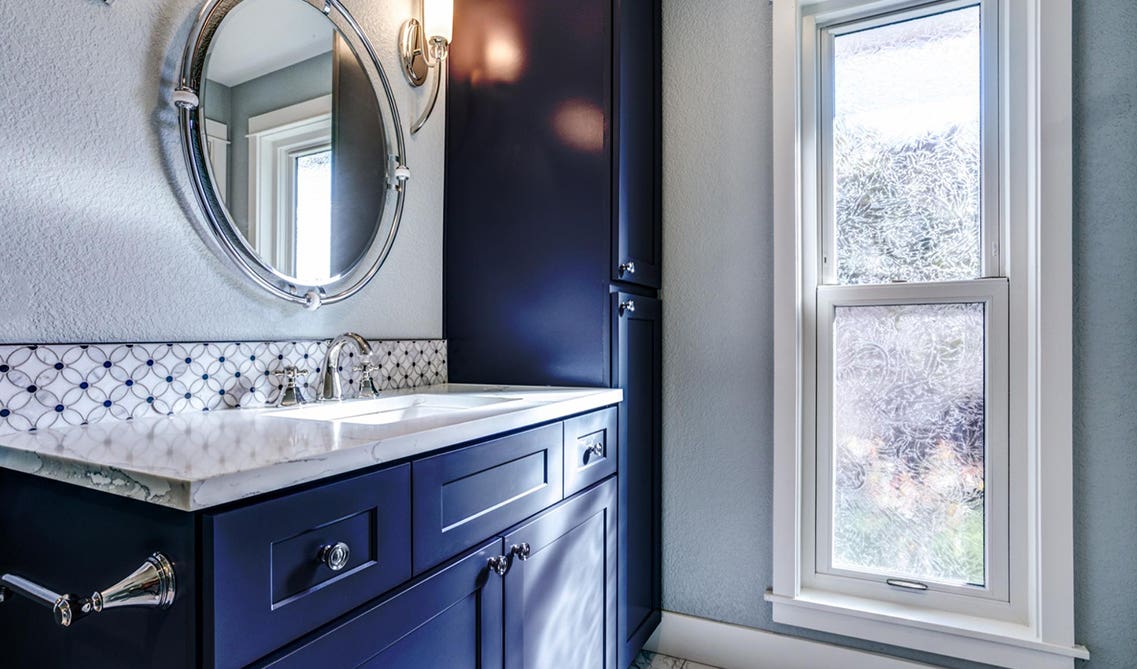 Looking for something different? Go bold with blue shaker kitchen cabinets. The best part about opting for shaker kitchen cabinets is the sheer amount of color options available to you! This deep blue is perfect for coastal kitchens. Other popular shaker cabinet colors include pale yellow, deep red and jade green.
Farmhouse Kitchen Shaker Cabinets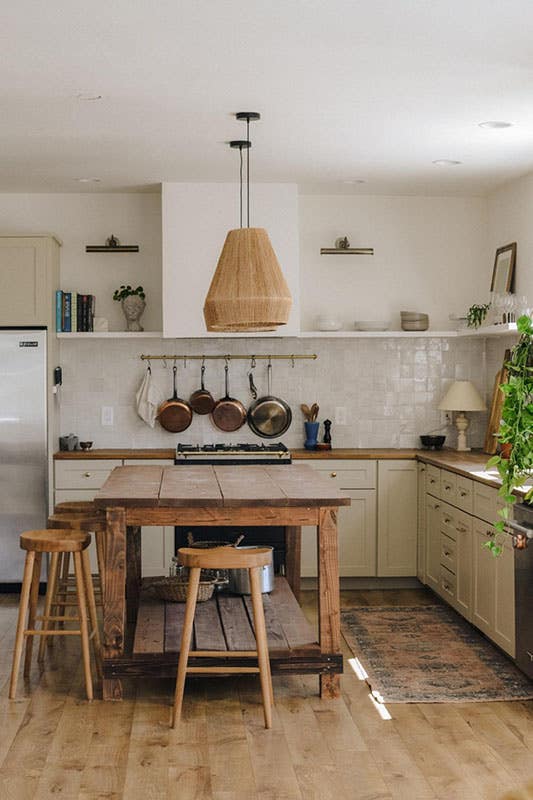 When it comes to farmhouse design, white wood shaker kitchen cabinets are the go-to. Not only are white shaker cabinets the traditional look for original country kitchens, they offer the simplicity and no-fuss design that is common to farmhouse kitchen designs.
Hardware Bliss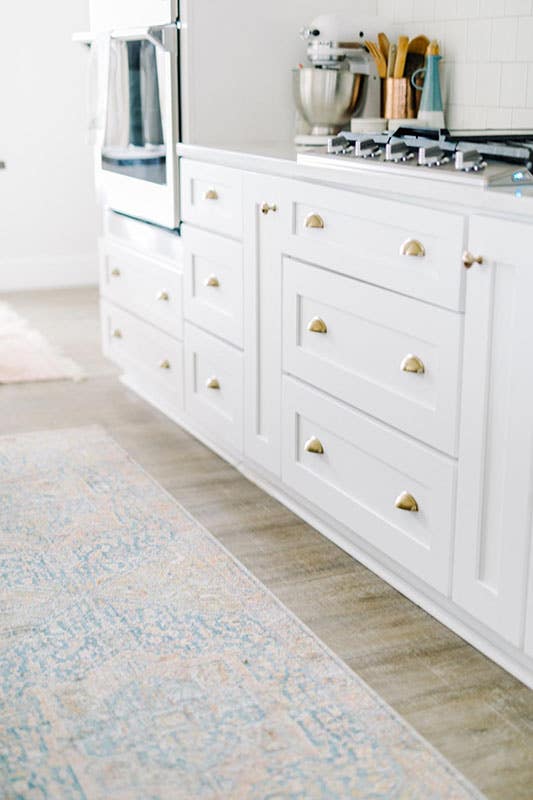 One reason why shaker cabinets are so popular is their adaptability to various hardware types. With other cabinet styles, finding the right cabinet knobs and pulls can be a challenge. Shaker cabinets are easier to find hardware for because their clean, simple look pairs well with almost anything. Going for a modern look? Try choosing white or black shaker cabinets with long and sleek metal pulls. We also love brown cabinets paired with golden hardware for a warmer look. With shaker kitchen cabinet doors, the combinations are endless!
Checkout: 12 Popular Hardware Ideas for Shaker Cabinets
Highest Quality, Lowest Price
The biggest benefit of choosing wood shaker cabinets is knowing that they'll last many years without emptying your wallet. At Lily Ann Cabinets, we understand that the kitchen is the heart of your home, meaning it sees a lot of activity. You want your cabinets to last, even if you're the busiest of chefs!
At Lily Ann Cabinets, we offer the highest quality cabinet construction for wholesale prices. While it's tempting to opt for particle board cabinets, you get what you pay for. We construct our RTA shaker cabinets with real hardwood like birch and poplar to ensure your kitchen withstands the wear and tear of everyday life. That's right! Our DIY shaker cabinets are not only constructed with integrity, they can save you thousands on your kitchen remodel.
Explore Premium Shaker Cabinetry At Lily Ann Cabinets
Ready to see how shaker cabinetry will complement your kitchen? Browse our large selection of premium quality RTA shaker cabinets. From modern to traditional cabinetry, we have everything you need to create the kitchen of your dreams. Plus, don't forget to schedule your FREE 3D kitchen design with our professional design team!
Related Blogs: