Are you ready to update your kitchen with white? Creating a stunning white kitchen is all about embracing the timeless elegance and versatility of this classic color.  Using white as a base color for your kitchen makes it easy to add more colorful decor or use different textures, ultimately making it possible to give your space a touch of personality.
From crisp white cabinetry to luxurious marble accents and creative pops of color, the possibilities are endless. In this guide, we'll explore a variety of decor ideas to help you design a breathtaking white kitchen that's both inviting and functional. Whether you prefer a traditional, modern, or eclectic style, you'll find inspiration to transform your kitchen into a stunning white oasis.
1. Natural Lighting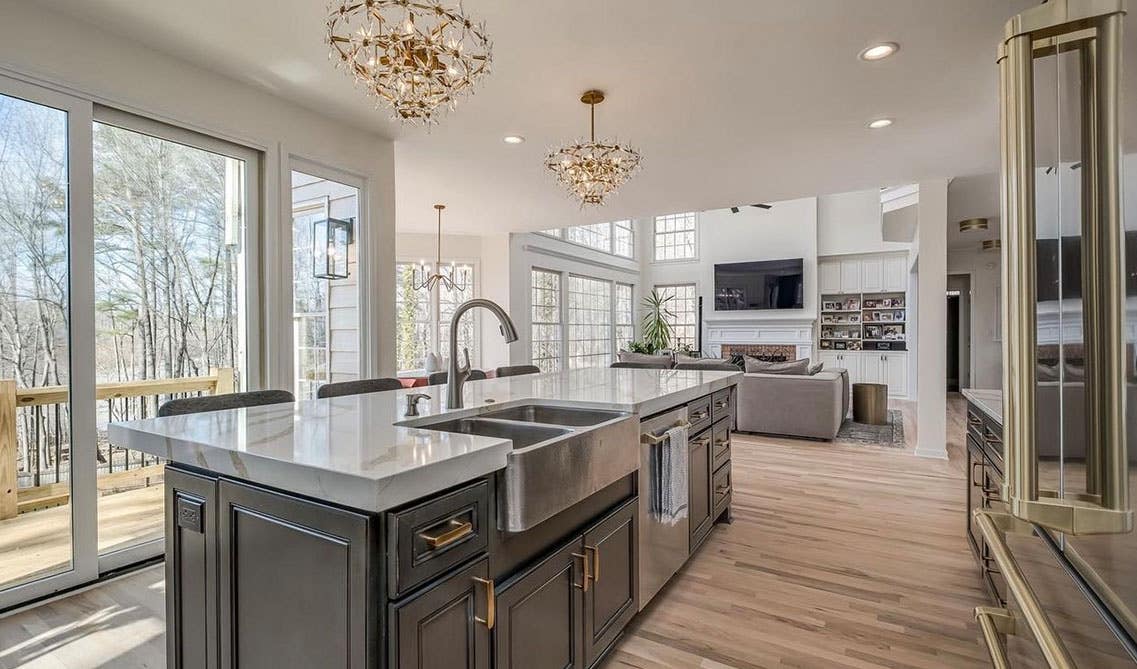 One of the best ways to brighten up your kitchen is with natural lighting. This can easily be a factor in your kitchen with the addition of plenty of windows or slider doors throughout the room.
2. Brass Hardware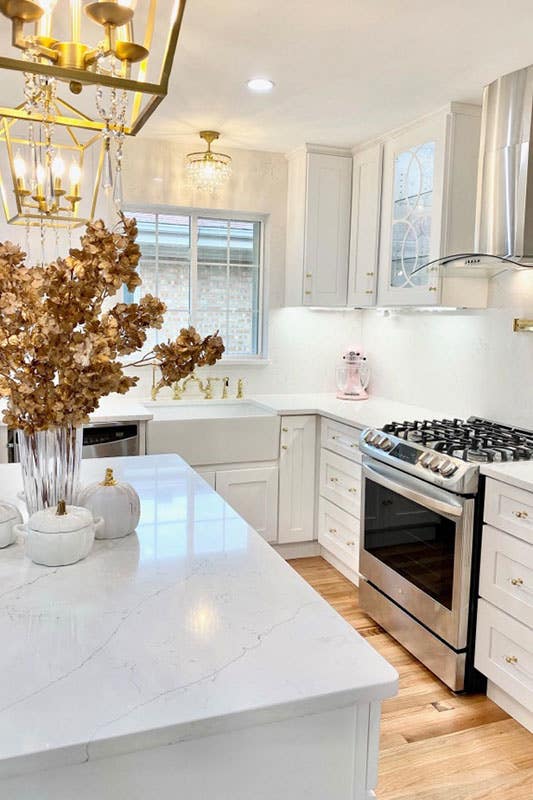 While stainless steel and black cabinet hardware help to keep your kitchen looking updated and clean, brass makes the space pop out as it is more eye-catching. Try using brass material for knobs, cabinet pulls, sinks, lighting, etc. This is also a great way to make your kitchen stand out and bring some color in.
3. A Touch of Wood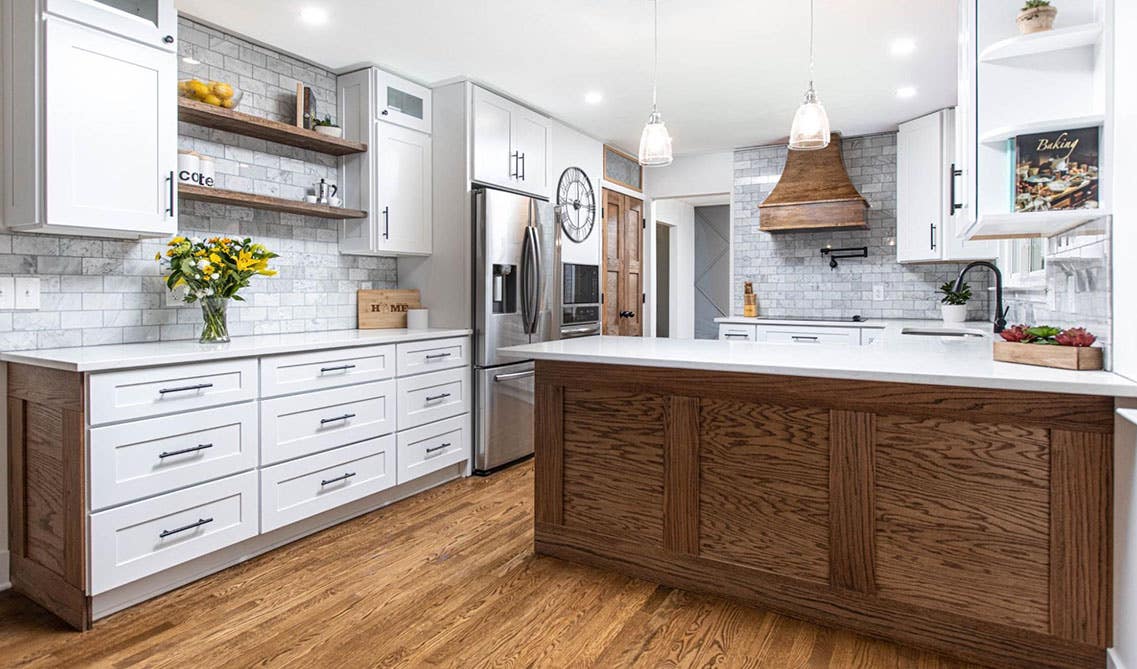 Lily Ann Cabinets: White Shaker Elite
Designing a white kitchen with a touch of wood is a recipe for creating a harmonious and inviting living space. The purity of white serves as the perfect canvas for infusing the natural warmth and texture of wood, resulting in a design that's both contemporary and timeless. Whether it's through wooden cabinetry, a rustic kitchen island, or carefully selected wooden accents, this combination strikes the ideal balance between modern elegance and organic charm.
The subtle integration of wood adds a tactile and visual richness, turning your kitchen into a welcoming space for both culinary creations and family gatherings. With a white kitchen graced by the presence of wood, you can enjoy the best of both worlds - a fresh, clean aesthetic with a hint of earthy character.
4. Black Contrast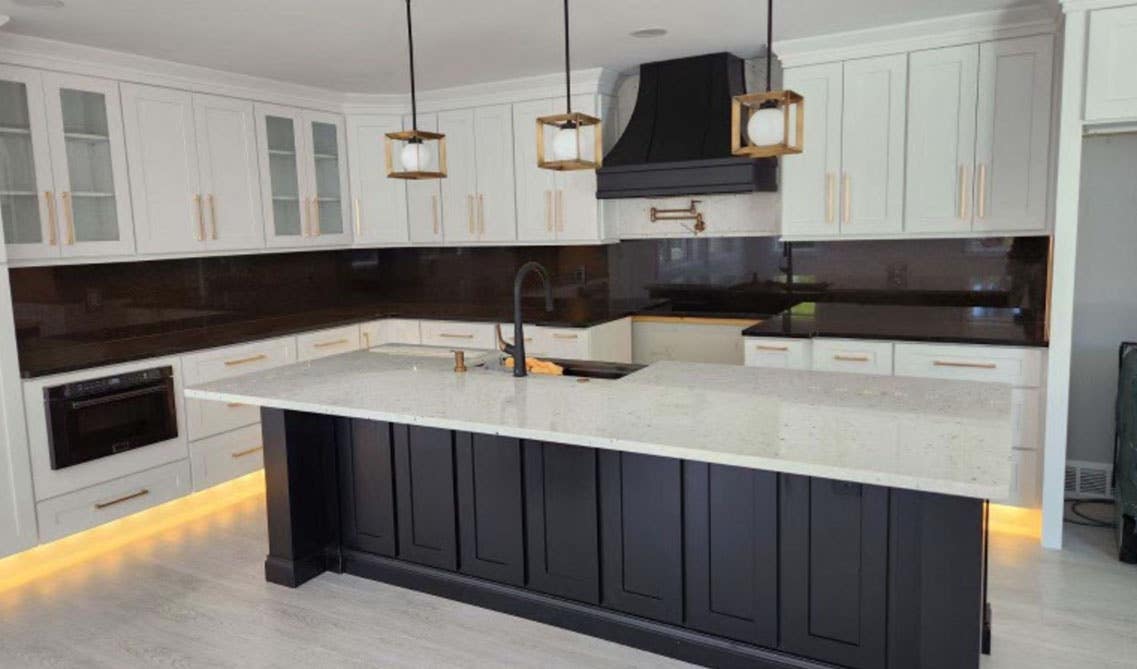 White cabinets and surfaces provide a clean, timeless foundation, while the strategic infusion of black elements adds a dramatic edge. Whether it's sleek black countertops, a black island, matte black fixtures, or a black backsplash, this contrasting duo plays off each other harmoniously.
The dark accents create a striking visual impact, defining key focal points within the kitchen, perfect for anyone looking to make a statement in their kitchen. Don't forget to add lower cabinet lighting to keep your space well lit!
5. Unique Lighting Fixtures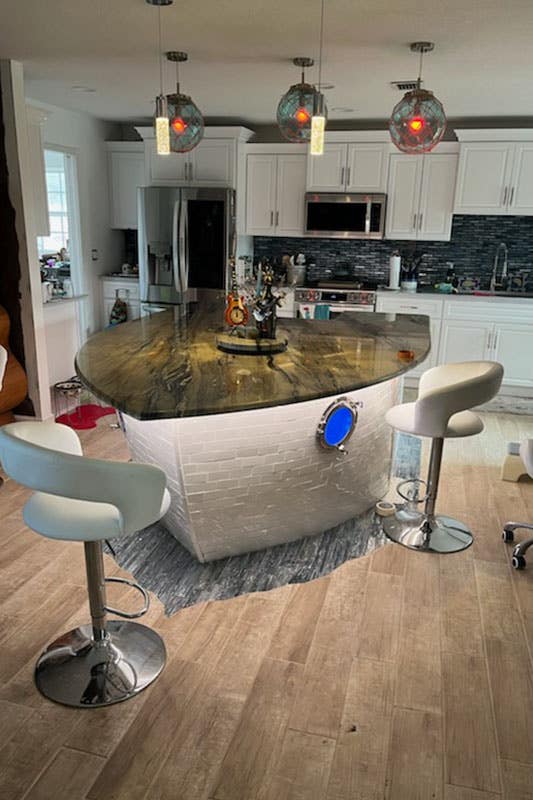 Lily Ann Cabinets: Key Largo
Unique lighting figures have the power to redefine your kitchen. These fixtures infuse character, charm, and even a touch of luxury into your kitchen, enhancing its overall ambiance. ​​Whether it's oversized, sculptural pendant lights, a vintage chandelier, or modern industrial fixtures, these pieces not only illuminate the space but also become eye-catching focal points.
6. Shiplap Paneling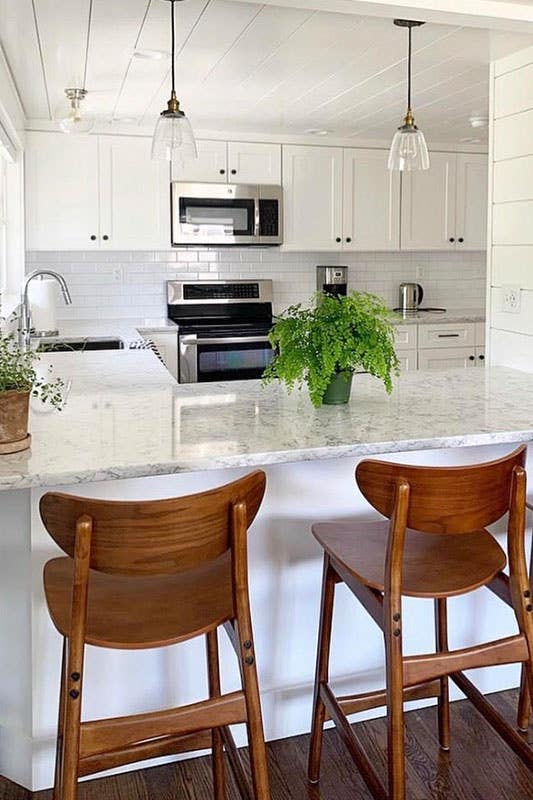 Lily Ann Cabinets: Summit White Shaker
This style brings coastal cottages and rustic farmhouses to mind, infusing a sense of coziness into the heart of your home. The result is a space that feels inviting and comforting, yet still maintains a modern and timeless appeal.
7. Patterned Backsplash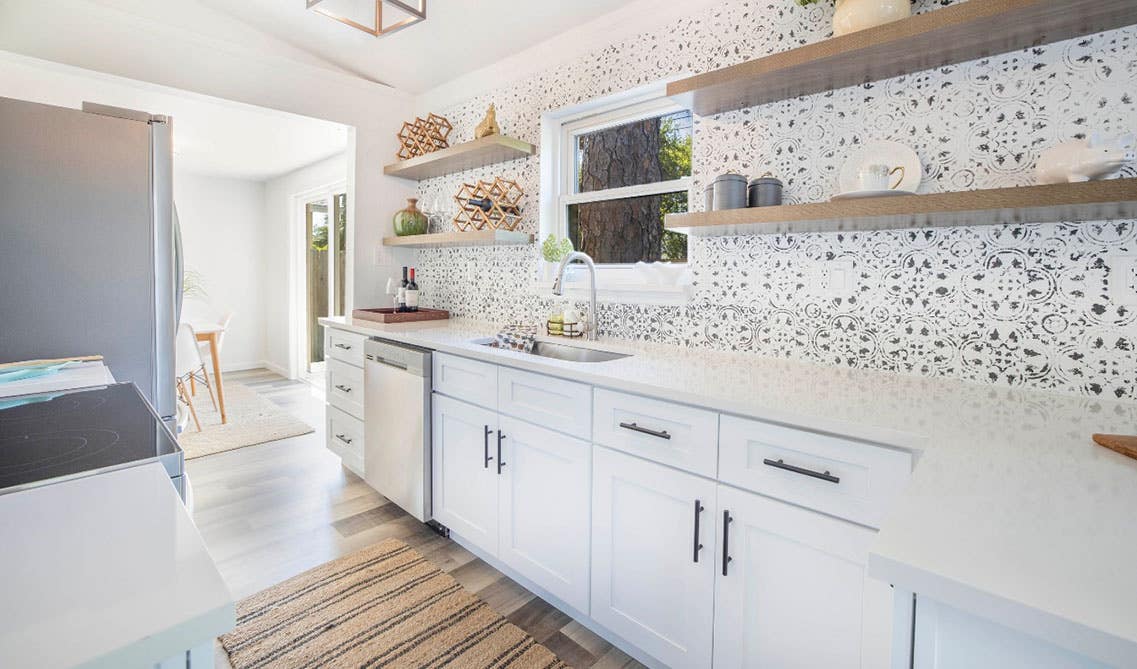 Lily Ann Cabinets: Colorado White Shaker
A patterned backsplash is a great way to add texture to your kitchen and create an eye catching focal point. Adding a patterned backsplash to a white kitchen is a creative design choice that can inject personality and character into this pristine, classic space.
While white kitchens are renowned for their timeless elegance and versatility, a patterned backsplash can be a game-changer, introducing a visual focal point and a sense of individuality.
8. Add a Touch of Color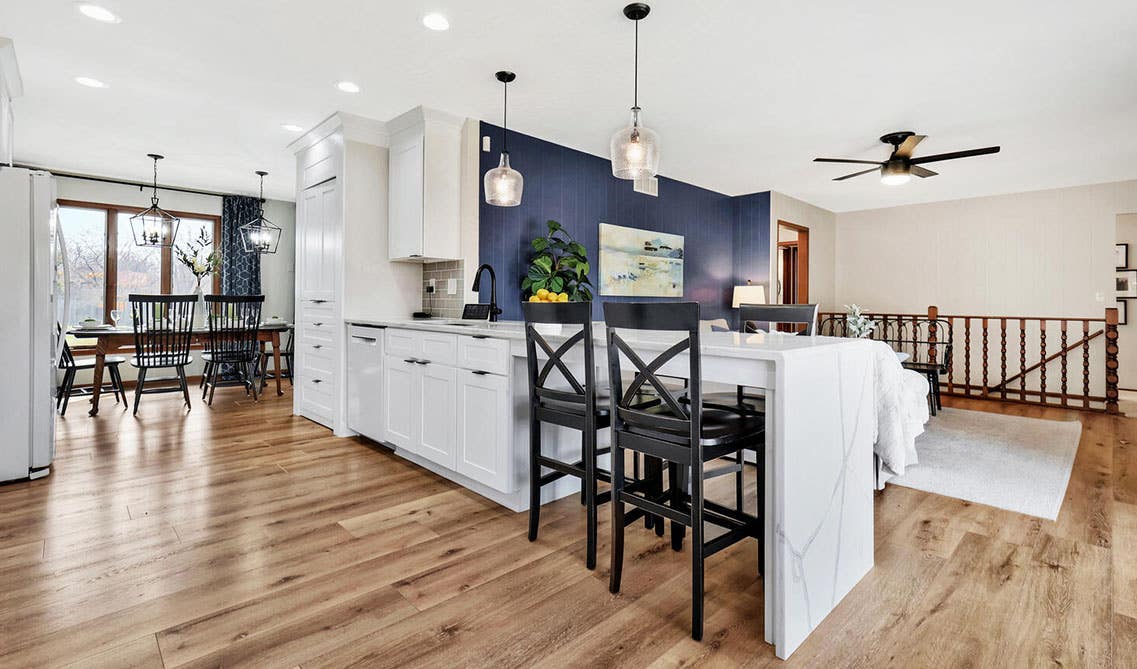 Too much of the same color can overwhelm the space, painting one wall a different color from the rest of your kitchen is a great way to introduce color and add contrast to your white kitchen. Consider an accent wall or a backsplash with a striking pattern or a bold color that complements the rest of the space. 
9. Creating a Warm Atmosphere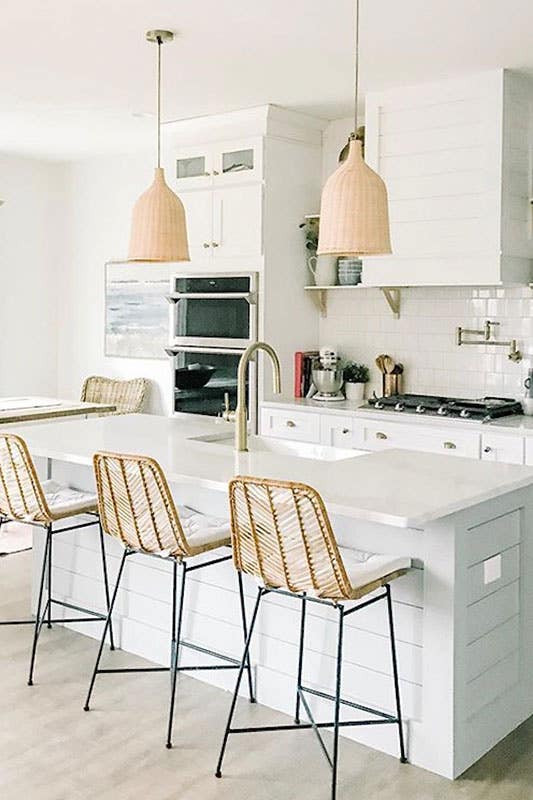 Lily Ann Cabinets: White Shaker Elite
With the use of natural wooden materials, creamy tones, or greenery, you can create a cozy and inviting warm kitchen. 
10. Open Shelving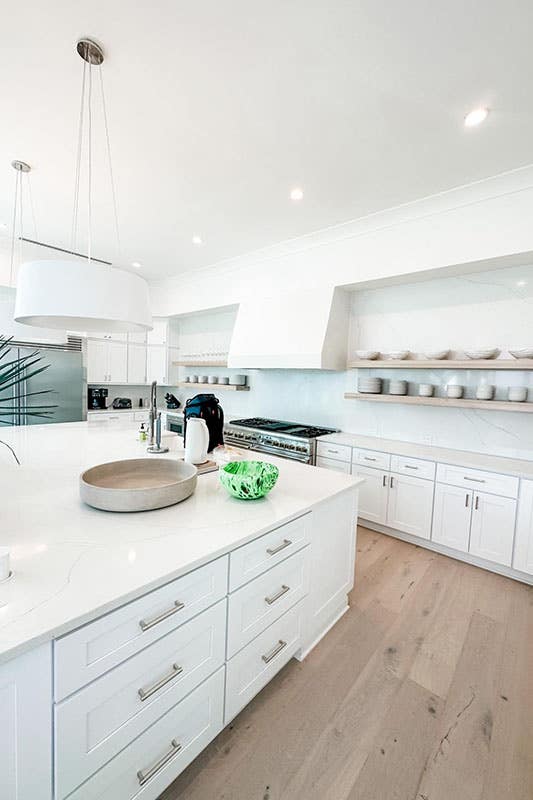 Lily Ann Cabinets: Colorado White Shaker
Make your kitchen feel more open with the use of open shelving. This can serve as a functional purpose such as containing your matching plates and bowls, or be used to show off your decor! At Lily Ann Cabinets, we offer a variety of different toned floating shelves if you want to add contrast or keep the look uniform with a white shelf.
11. Mix and Match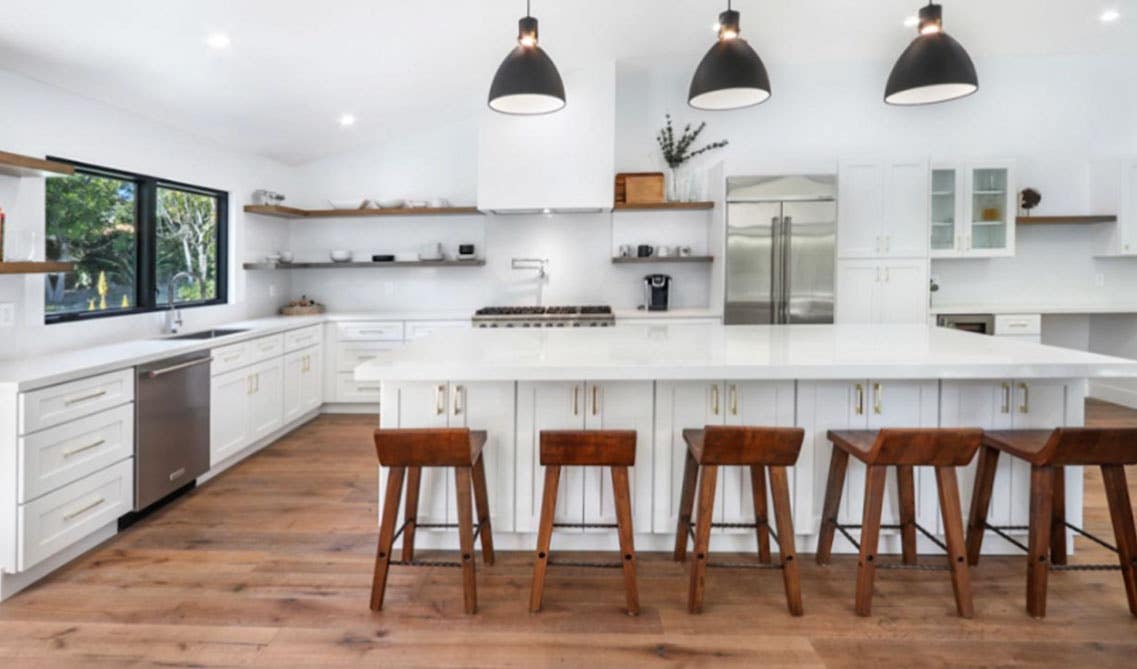 Don't feel like you need to stick to just one idea or overall look, try mixing your white kitchen design with different materials such as wooden shelves and chairs, brass cabinet handles, stainless steel appliances, etc. Not only does it look visually appealing, it allows you to customize your kitchen from others!
12. Keep it Symmetric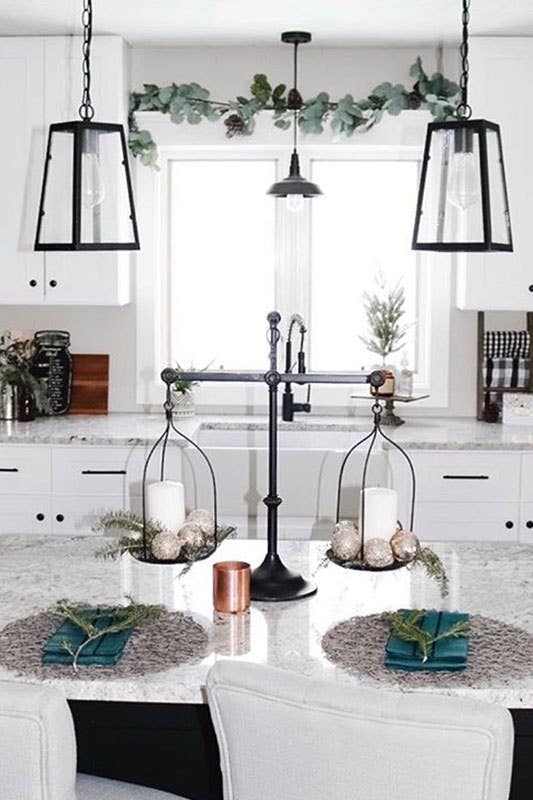 In this inviting space, every detail exudes a sense of balance and order, creating an environment that's both visually pleasing and highly functional. Symmetry in design is the guiding principle, ensuring that every element in your kitchen complements and mirrors its counterpart, giving a sense of equilibrium. From perfectly aligned cabinet handles to symmetrical light fixtures, every aspect has been thoughtfully curated to bring a sense of unity to the space.
In Conclusion…
In conclusion, when it comes to white kitchen decor ideas, the possibilities are endless. Whether you prefer a classic, timeless look or a more modern and sleek design, white can serve as the perfect canvas for your creativity. From white cabinetry and countertops to white backsplashes and sleek appliances, this versatile color can make your kitchen feel fresh, bright, and inviting.
Don't forget to add your personal touch with accessories, such as colorful dishes, plants, or artwork, to infuse character into your white kitchen. With the right combination of elements, you can create a kitchen that's not only stylish but also functional and welcoming. Be sure to transform your kitchen into a space that reflects your unique style and taste while enjoying the timeless elegance of white decor.