White kitchen cabinets are one of the most popular cabinets types for modern-day kitchens as they can match whatever style you have. Whether you are a fan of a traditional kitchen with simple touches or a modern kitchen with sleek hardware, there are endless possibilities on how to match your flooring, countertops, appliances, furniture, hardware, and more. White doesn't have to be boring if your dress it up the right way.
Rustic Kitchen with White Cabinets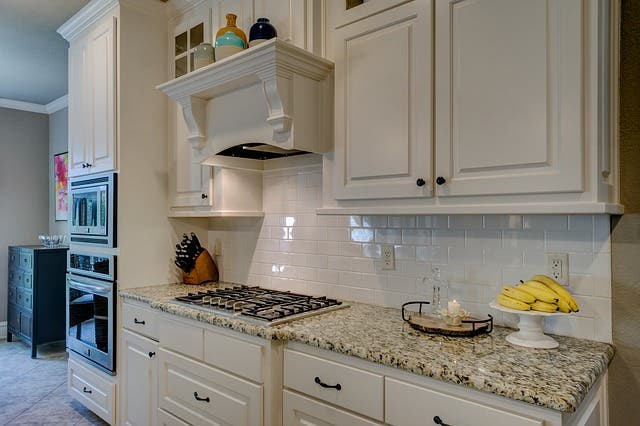 Rustic style kitchens, often referred to as farmhouse style kitchens are one of the most popular kitchen styles today, much in part due to the popularity of home and garden shows like Fixer Upper and Texas Flip N Move. Both of these shows are based in Texas where these styles are more common, but the need for rustic kitchen cabinets and decor has transcended across the nation. Here are some ways to pair decor and finishes with your white cabinets for an authentic rustic kitchen feel: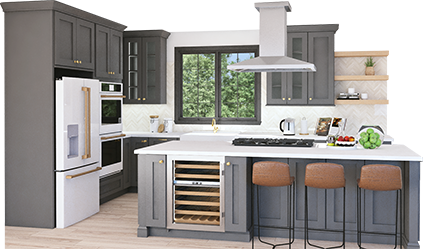 Get your FREE 3D kitchen design today!
Start Now
Appliances: Most rustic kitchens feature white or stainless steel appliances for their simple look. White appliances can be risky depending on if you have kids in your home and how often you plan on cleaning your appliances. Stainless steel is more popular as it is easy to clean and hide dirt. If you decide to change the design of your kitchen, stainless steel appliances will make for a seamless transition from one style to the next.
Backsplash: Subway tiles are popular in farmhouse style kitchens due to their old-school look and simple, clean lines. White subway tiles always look good paired with white shaker cabinets.
Countertops: The countertops in a rustic kitchen really depend on the overall color scheme and how well they complement the flooring. Many people who choose hardwood floors, also use butcher blocks or reclaimed wood for a kitchen island and even the main countertops. White laminate, concrete, and ceramic tile are also popular rustic kitchen countertops.
Flooring: Real hardwood floors are the most popular type of flooring to pair with white kitchen cabinets because they bring out the original beauty of a home, even if they are new hardwood floors. Finished concrete floors and large ceramic tiles are also popular for farmhouse kitchens.
Furniture: Don't be afraid to go bold with the furniture. Rustic kitchens typically have a warm feel with white kitchen cabinetry and lot of reclaimed wood, so complementing the warm tones with wood bar stools and chairs are popular. Some people match their furniture to their white countertops with white furniture, or furniture with white accents. If you choose upholstered furniture, opt for a bold piece whether it is a cowhide print or a bright yellow accent color.
Hardware: The hardware that your pair with your white cabinetry is also subject to your individual style. Many rustic kitchens feature large wood hardware to complement the other wood featured in the kitchen. If you don't want to call attention to the hardware and want the focus to be on your countertops or the farmhouse cabinets, opt for sleek, simple lines your drawer handles, knobs, and pulls.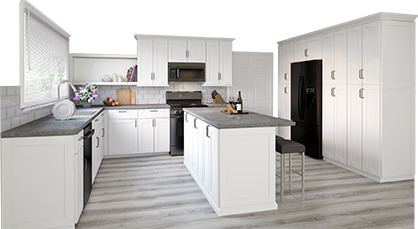 3D Kitchen Visualizer Tool
Bring your dream kitchen to life with our free kitchen visualizer!
Design Now
Modern Kitchen Design with White Cabinets
Modern kitchen designs are quite the opposite of a country farmhouse kitchen, where wood is often left behind for smooth, shiny materials and monochromatic color palettes. Modern kitchen designs are staples on home improvement shows such as Flip or Flop. Whites and greys are the most common colors in a modern kitchen, often accompanied by a bright, bold color such as red or lime green. Below are ways to create the modern kitchen of your dreams by designing around your RTA white cabinets:
Appliances: Like with a farmhouse style kitchen, stainless steel appliances are very popular. The grey color of the steel seamlessly fits in the typical monochromatic color schemes of modern kitchens. Built in appliances are a hot trend in modern kitchens as well.
Backsplash: Sometimes subway tiles are used in modern kitchen designs, but typically you'll find metal wall tiles, countertop extension that is a single piece of quartz or marble. Textured porcelain and backsplashes with dimensions are often found in modern kitchens as well.
Countertops: Modern kitchens often feature bold countertops. By using white kitchen cabinetry with poured concrete, soapstone, quartz, or marble, the colors and textures of the natural materials will shine through. Countertops are the focal point in many modern kitchens, and most materials are fair game as long as they stand out.
Flooring: No matter the kitchen style or type of kitchen cabinetry used, hard wood floors are always popular. In modern kitchen designs, either dark wood or painted wood floors and laminates are used. Because of the monochromatic color scheme, flooring also stays with the dark, grey, or white theme. If you aren't a hardwood or laminate fan, materials such as concrete, stone, and tile are used. If you have a bold countertop, ensure the texture and color of your floor aren't too busy.
Furniture: Modern kitchens are known for their clean lines so pair your white cabinets with simple pieces with sharp lines. Squares and rectangles are optimal shapes when choose barstools, tables, lighting, and more.
Hardware: Going with the same theme of strong lines and simple finishes, hardware used in modern kitchens are sleek and linear. Traditional circle knobs are often left behind for long, thin horizontal and vertical handles and pulls. Sometimes with shaker kitchen cabinets in a modern kitchen, hardware is not used at all.
White cabinets are one of the easier styles of kitchen cabinetry to design a room around. With white kitchen cabinets, you can create a rustic, farmhouse, or modern kitchen, just by changing the hardware, finishes, and other decor.
If you need help designing your new kitchen with white cabinetry, get in touch with us for a free 3D kitchen design and rendering.