Cabinet door styles are one of the most important elements of the kitchen and one of the largest stylistic elements for the space. But finding the right cabinet door style doesn't have to be a daunting task!
We're going over all the most popular kitchen cabinet door styles to bring your dream kitchen to life.
1. Shaker Kitchen Cabinet Doors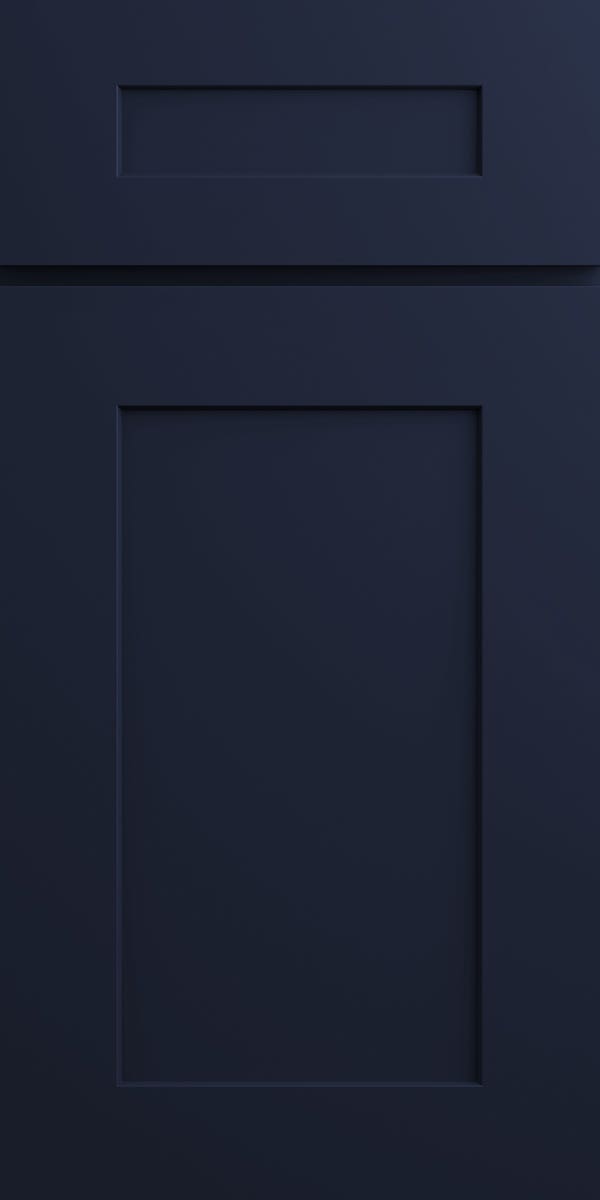 Lily Ann Cabinets - Navy Blue Shaker Cabinet
Shaker cabinet doors are by far one of the most popular kitchen cabinet door styles, and for good reason. With their simplistic lines, shaker style cabinet doors will match any kitchen design, whether it's traditional or one of the modern kitchen cabinet door styles.
If you have eccentric elements within the kitchen, such as patterned backsplash or busy decor, shaker style cabinets are the perfect choice due to their simplicity. Shaker cabinets present the opportunity for your kitchen space to appear cleaner and less cluttered, while also adding to the overall design of the space.
Recommended: What is a shaker style cabinet?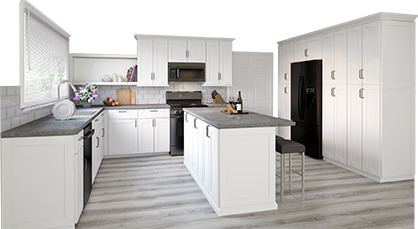 3D Kitchen Visualizer Tool
Bring your dream kitchen to life with our free kitchen visualizer!
Design Now
2. Traditional Raised Kitchen Cabinet Doors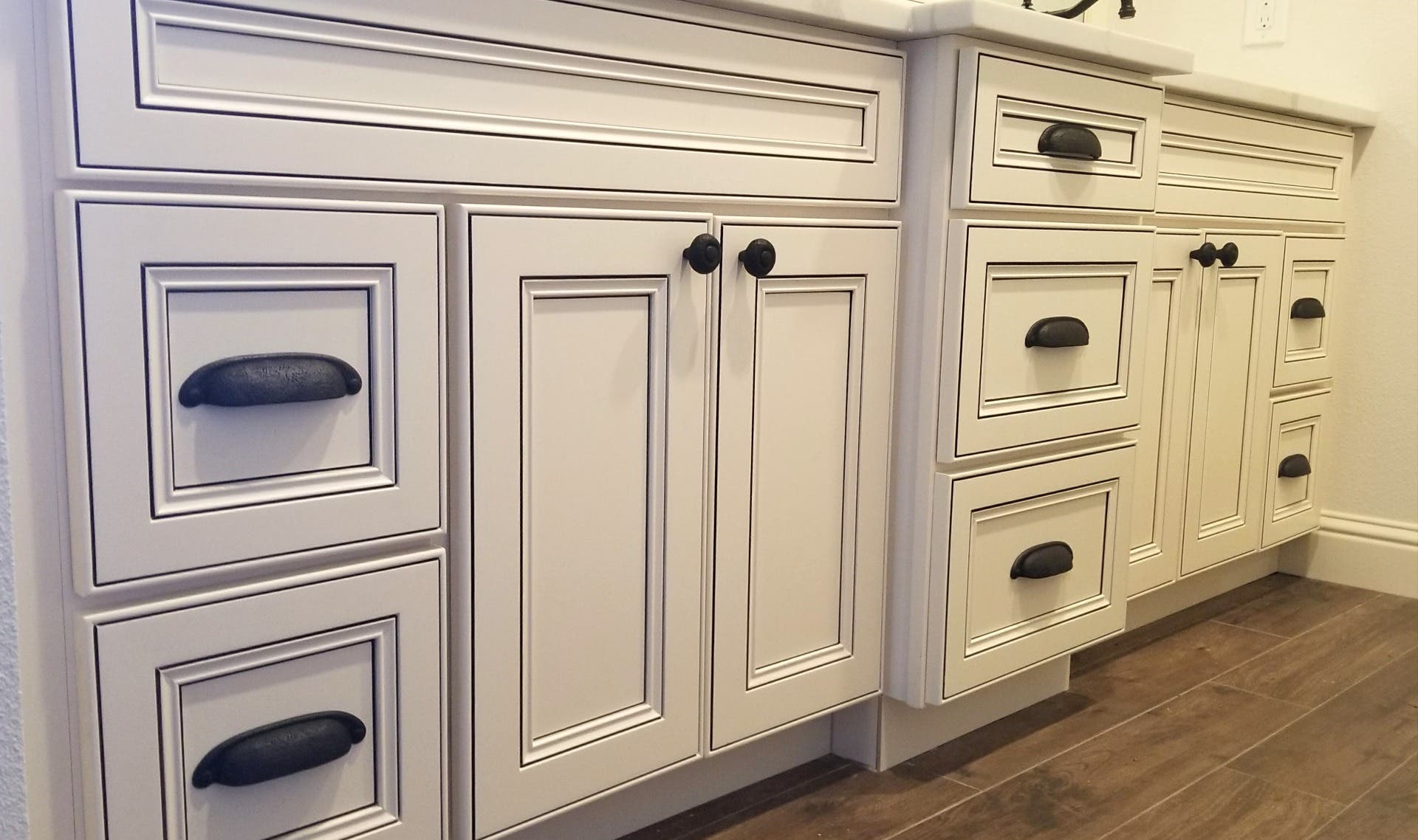 Lily Ann Cabinets - York Linen Cabinet
Traditional raised cabinets feature raised panels on the doors. The raised panel creates an elegant look that works with almost any style of kitchen design. With Lily Ann's york linen, bristol linen, key largo white, and Charleston linen cabinet lines, there are also multiple cabinet door glazes to choose from. Opting for glaze can add a custom look to your raised panel cabinets, or you can choose to forego glaze for more of a simplistic look.
Recommended: 18 High Quality Cabinet Options For Any Kitchen
3. Slab Kitchen Cabinet Doors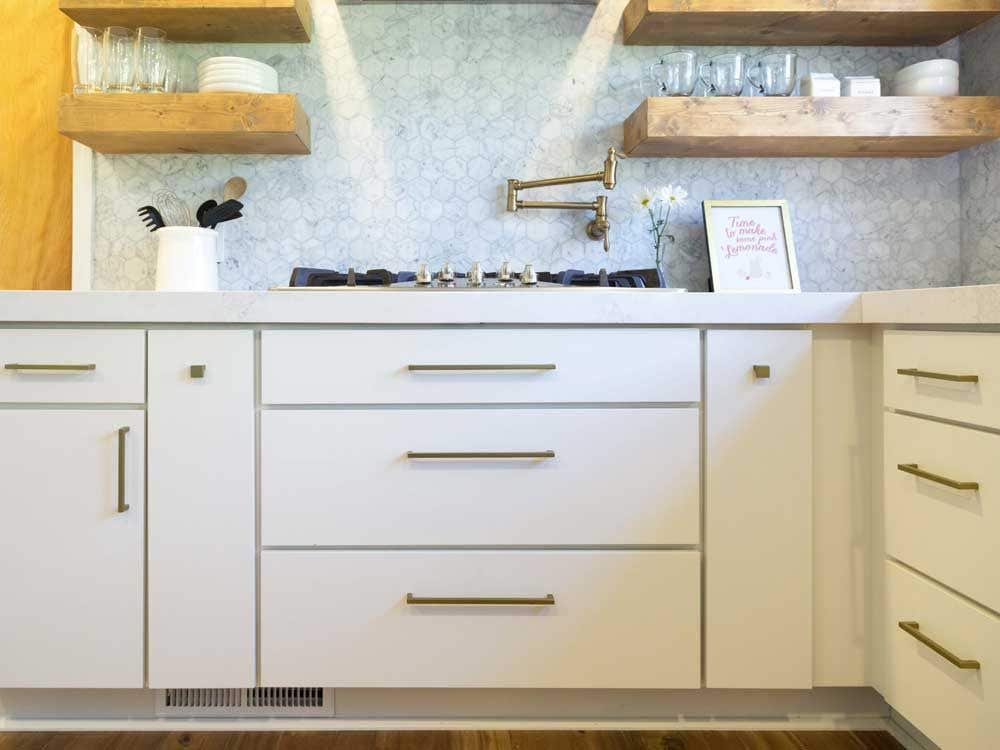 Slab style kitchen doors are flat with no added lines or extravagant details. This makes slab kitchen cabinets a great choice if you are looking to modernize your kitchen space or create more simplified lines. Because they have such minimal detail and straight lines, a modern pull for hardware does just the trick in order to stick to the theme of clean lines.
With slab kitchen cabinet doors, there are many more options for the rest of the design of the kitchen space. Eccentric backsplashes, decor, and hardware work amazingly well alongside these simplistic cabinet doors.
In need of hardware for your kitchen cabinets? Check out thousands of high-quality options here!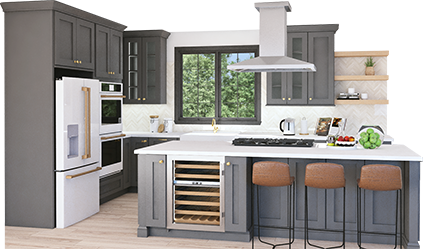 Get your FREE 3D kitchen design today!
Start Now
4. Cathedral Kitchen Cabinet Doors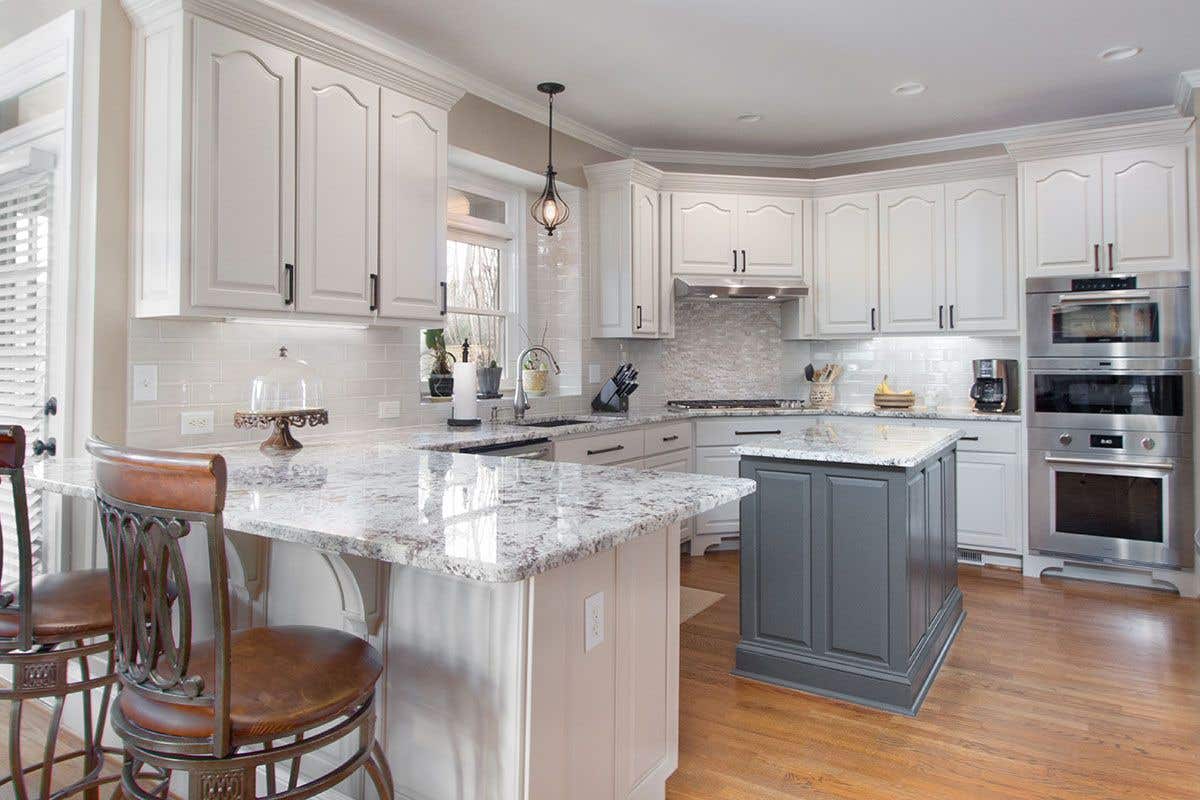 If you are looking to add artistic flair to your kitchen, cathedral style kitchen cabinet doors might be a good choice for you. With their arched panel details, this will add an element to your kitchen space that had been previously missing.
With this arch detail originating back to medieval times, this look will elevate the elegance of the whole space. Nearly all hardware works well with this style of cabinetry as well, making it a perfect choice for either traditional or modern kitchen spaces. Simplistic pulls work amazing for more of a modern appearance, while a knob or more ornate pull works for a traditional kitchen look.
5. Arch Panel Kitchen Cabinet Doors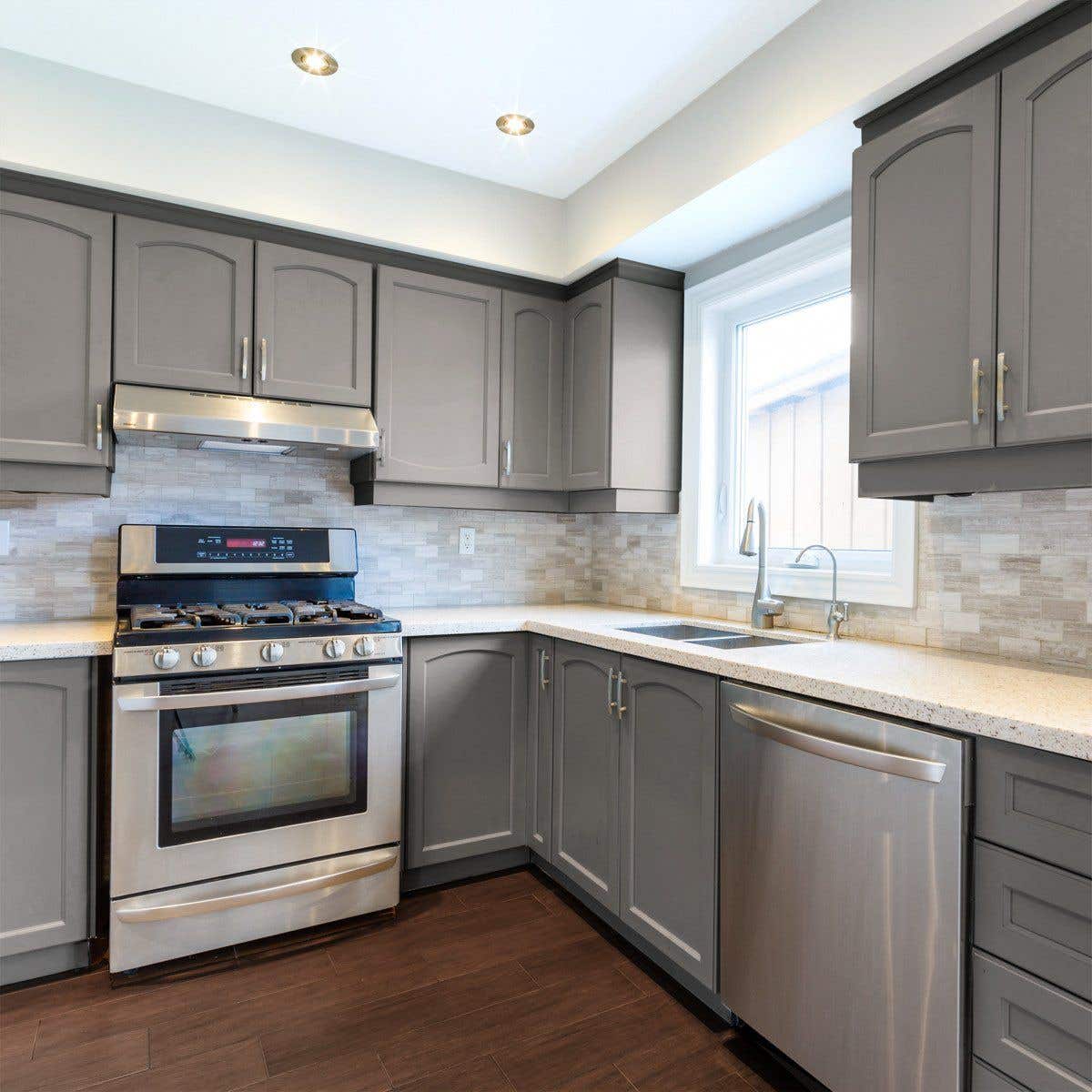 Arch panel kitchen cabinet doors are a great option for any style of kitchen. With their deep grooves that form an arch at the top, they add an extra stylistic element to your kitchen space. Arch panel cabinet doors allow you to put some more detail into the space without taking away from other elements in the kitchen, such as the backsplash or countertops.
Recommended: grey shaker RTA cabinets to modernize your entire kitchen space (up to 50% off box store pricing!)
6. Beadboard Kitchen Cabinet Doors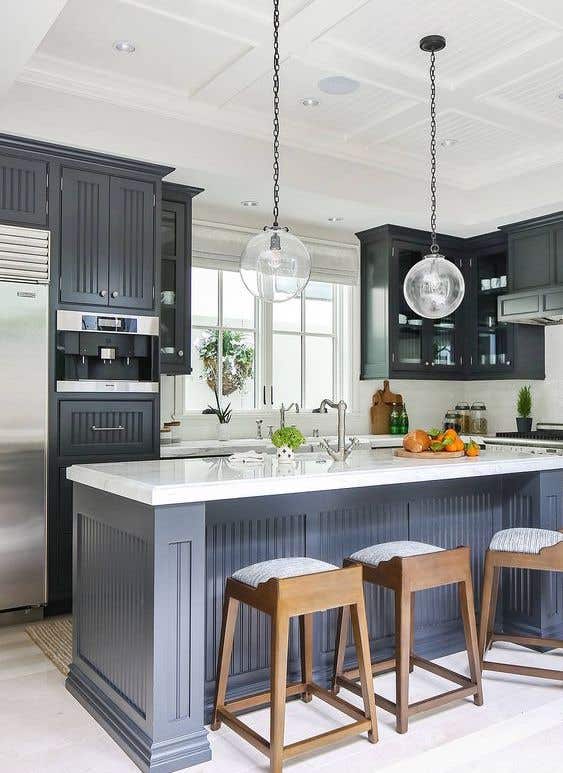 Beadboard kitchen cabinet doors present the opportunity to give more of a rustic feel to the kitchen space. Not only that, but they also add texture and more design that the space was missing beforehand. These types of cabinet doors don't have to be used throughout the entire kitchen and can instead be used more as a focal point. This look works amazingly alongside shaker cabinets, which will only continue the look of the straight and dramatic lines.
7. Mullion Kitchen Cabinet Doors
Adding mullion kitchen cabinet doors to any kitchen space will immediately enhance the style and look. Coming in all shapes, sizes, and designs, there is sure to be a mullion cabinet door that will add even more design to your kitchen. These types of cabinet doors are mostly used in pairs of two and can be used to display items inside. These items can be decorative, champagne flutes, decorative glassware, or anything you wish to put on display in the kitchen space.
Order a free sample of high-quality RTA cabinets today! With the selection of traditional, contemporary, and modern shaker cabinets, pick your free sample out here.
8. Open Frame Kitchen Cabinet Doors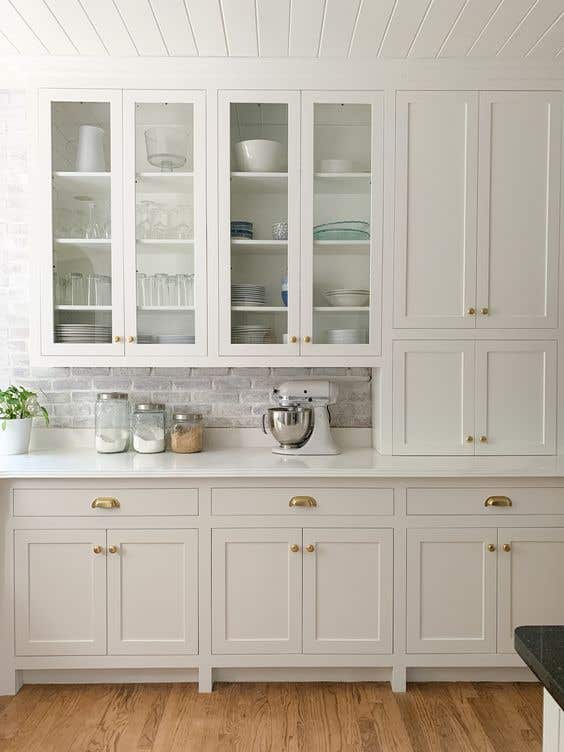 Just like mullion cabinet doors, open frame kitchen cabinet doors have glass panels that present the opportunity for you to display decor or decorative glassware. Just like in the picture above, open frame glass doors allow you to add even more beautiful design to the kitchen space.
Open frame kitchen cabinet doors look amazing alongside any style of cabinetry, whether traditional or modern, with any style of hardware. Overall, glass pane cabinet doors are a great addition to any kitchen design!
Contact us to learn more about adding glass doors to your cabinetry design!
9. Louvered Kitchen Cabinet Doors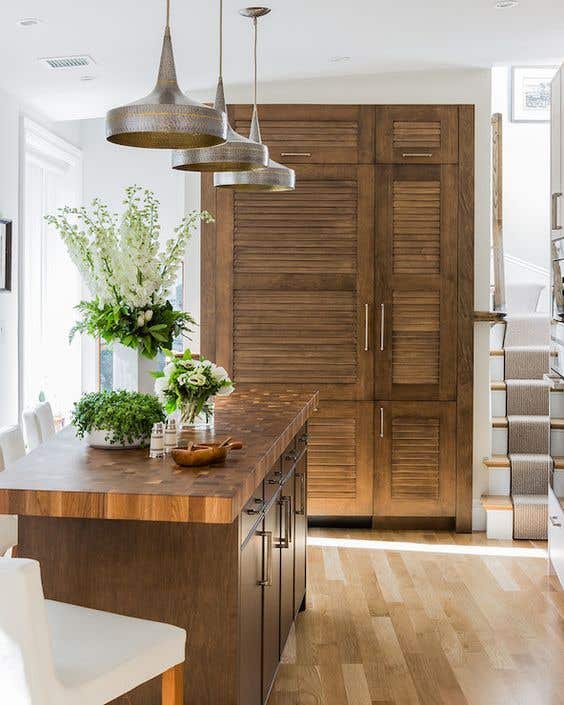 Louvered kitchen cabinet doors have small slats throughout the door that allow for increased ventilation to the inside of the cabinet. This type of cabinet door is regularly used for windows or closets, yet they present the opportunity to add more style in a space like a kitchen. Not only do they provide ventilation, but they also provide added design that can serve as a focal point for the kitchen.

Create Your Dream Kitchen With Lily Ann Cabinets
We offer a wide selection of premium cabinetry, hardware, shelving, and more to help you create a room that stands the test of time. Pick from our large array of kitchen and bathroom cabinetry, including navy blue shaker cabinets and white shaker cabinets. Our professional designers are on standby to work with you — we offer FREE samples and FREE design and quote. Visit our FREE 3D design tool to get started today!
Related Blogs: 
FAQs:
1. What is a shaker style cabinet door?
A shaker style cabinet door is one of the most simplistic, modern styles of cabinets you can put in a kitchen. They have a flat center panel with square edges and minimal lines, making shaker style doors perfect for spaces with busy decor or an eccentric backsplash. Shaker cabinets come in all colors, making them a great choice for any kitchen.
2. What are different kitchen cabinet door options?
There are 9 popular kitchen cabinet door options, all presenting different styles. There are shaker, slab, mullion, louvered, open frame, beadboard, arch panel, cathedral, and traditional styles. Read through this article to find pictures and descriptions of all 9 kitchen cabinet door options.
3. What are modern kitchen cabinet door styles?
The most modern kitchen cabinet door styles are slab style and shaker style. Slab cabinet doors are plain, single paneled doors that offer a clean, minimalist look that would look great in any modern space. Shaker cabinet doors are similar, except they have a small, square inset on the door that presents depth and modern lines.
4. What are traditional kitchen cabinet door styles?
Traditional kitchen cabinet door styles are usually ornate, have curves, and come in deep, rich colors. This type of cabinet has intriguing details, making them the opposite of a slab or shaker style cabinet door. If your style of home also has intricate details, traditional style cabinets will fit in perfectly.
5. Where do I find high-quality kitchen cabinets that I can assemble myself?
High-quality cabinetry can be found many places, but when looking for cabinets that are easy to assemble AND high quality can be a feat. Luckily enough, Lily Ann Cabinets sells top of the line RTA (Ready To Assemble) cabinets at up to 50% off box store pricing. With free samples and skilled workers ready to help online with any questions you may have, Lily Ann is the best option when it comes to kitchen cabinets that you can assemble yourself.