Kitchen cabinets that don't reach the ceiling create a special kind of challenge. The open space at the top is too small for most decor yet too big to leave empty. Which brings us to the age-old question: What the heck do I use for decor above cabinets? These 8 simple kitchen design ideas will help you fill that awkward space in a way that perfectly complements the style of your home.
1. Go Bold with Brick
One of our favorite ideas for kitchen cabinet decorating is using brick to bring an industrial feel to the space. Whether your kitchen is ultra modern or rustic, brick will add a cool and natural vibe to the decor. The best part? If you don't have the room in your budget (or can't commit to the brick life forever) you can use brick wallpaper instead!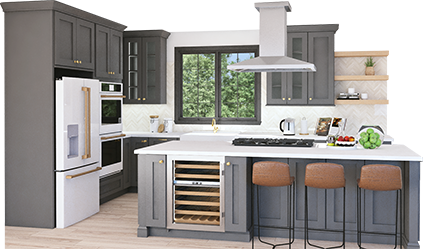 Get your FREE 3D kitchen design today!
Start Now
2. Save it For Storage
Let's be honest, there's no such thing as too much storage, especially in the kitchen. A cute (and practical) idea for decor above cabinets is to keep your miscellaneous home products there. The trick to making it chic is finding cute matching baskets to store it all in. Wicker, metal and even wooden baskets look great above kitchen cabinets. With baskets, you can store paper towels, dish soap, bulk food and more in style!
3. Paint it!
Another simple but effective kitchen cabinet decorating idea is to paint the empty upper space. The easiest option is to choose a neutral color that fits seamlessly with your kitchen cabinets and ceiling. Or, you can go bold and use a contrasting color. For example, if your kitchen utilizes a white color scheme, you could choose a muted lavender or warm red to mix it up and add some variation to the room.
4. Wake Up Your Walls
If paint isn't your ideal option, try out wallpaper. There are millions of options, so you have a huge variety to choose from. Go bold with a quirky pattern or keep it simple with a more understated look.
5. Get Earthy
A less common idea for kitchen cabinet decorating is to use plants. If you've got a green thumb, potted plants make great decor and even improve the air quality of your home. Just make sure they're low light! Or, if you're too lazy to be a plant parent, go faux. Fake plants are an affordable way to bring some green into your kitchen. You can use potted plants or weave a garland over your cabinets for an extra earthy feel.
6. Fancy with Frames
Framed family photos or art pieces are another great way to spruce up your upper kitchen cabinet space. Pull the look together by matching the frame colors with the palette of your kitchen. Not only does this help you out with kitchen cabinet decorating, it allows you to display more of your favorite pictures!
7. See the Sign
Everybody loves a cute, relatable quote. Especially when it's displayed on an aesthetic sign. Sign decor is everywhere these days, so finding a sign that fits your kitchen will be easy! Go distressed for a chic farmhouse feel, or choose engraved metal for a more rustic modern look. Signs make great decor above cabinets because they come in a variety of sizes. You could also order a custom sign to perfectly fit your upper cabinet space.
8. Light it Up
String lights are a simple and affordable way to cozy up your kitchen. You can line them along the top of your cabinets, securing them every few inches with a piece of clear tape. To make things easier, opt for string lights with a timer so you can effortlessly achieve those cozy, twinkly vibes every evening.
...But First, Cabinets!
In order to try out these kitchen design ideas, you're going to need cabinets first. Lily Ann Cabinets has you covered! We understand the importance of creating a space that suits your home's needs. Our premium quality RTA cabinets come in a wide variety of paints and finishes to perfectly match your kitchen's style. If you're ready to achieve your dream kitchen, visit our site today to get a FREE 3D kitchen design and quote from our professional design team.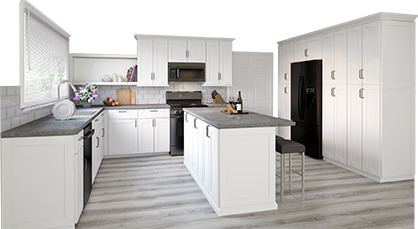 3D Kitchen Visualizer Tool
Bring your dream kitchen to life with our free kitchen visualizer!
Design Now