With so many kitchen cabinet options out there, you can find styles in many different hues and tones. From Key Largo White to York Driftwood Grey, Lily Ann Cabinets definitely has a cabinet style and color that speaks to your creative spirit. Browsing our selection of wood kitchen cabinets is never a dull task. You'll discover plenty of choices that allow your personality to shine through.
Have you ever thought about why you were drawn to specific kitchen cabinet colors? Sure, you might think that it has everything to do with your design plan, but it could also have something to do with our emotional responses. So, we decided to take a look at a few popular shades and decipher what those colors could possibly be saying about you.
White Kitchen Cabinets
They can definitely brighten up any kitchen, but what do white kitchen cabinets reveal about their owners? White has been said to signify new beginnings or wiping the slate clean. Pure white also stimulates the creation of anything the mind can conceive. Interesting, isn't it? So, if you're drawn to our white kitchen cabinet styles, it might mean that you're more than ready to make your dream kitchen design a reality!
People who love the color white tend to have a positive and optimistic nature. They're also known for being sensible and wise. If white is your favorite kitchen cabinet color, you just might be cautious, practical and careful with money. If this is true, you're in luck because you can find great deals on RTA kitchen cabinets right here at Lily Ann!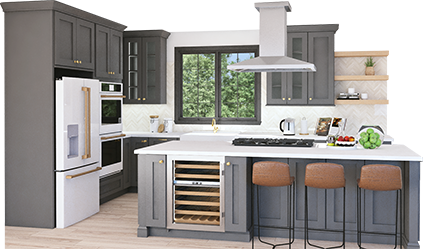 Get your FREE 3D kitchen design today!
Start Now
Brown Kitchen Cabinets
Brown is a warm, earthy and rich color. It often represents security, stability and support. That says a lot if you're eying some of our brown kitchen cabinet options right now. Brown represents quality in everything—from the comfort level of your home to the best friends, food and drink in your life.
If you're drawn to brown kitchen cabinets, it could mean that you're a warm and supportive person. You're hard-working, reliable and you put your friends and family first. People who favor brown don't like to waste money or time on unnecessary things. But, when they do spend money, they make sure whatever they're buying is top quality. So, if you've been contemplating some of our brown kitchen cabinet options, you now know why—you were drawn to the great quality that Lily Ann's cabinets are known for.
Grey Kitchen Cabinets
Grey kitchen cabinets can bring a modern touch to any redesign. But what does a love for the color say about a person? Grey can mean that a person prefers a safe, secure and balanced life. If you find yourself more partial to grey, you might have a tendency to be practical and calm. Despite the drama of the color, you're not an attention seeker. In fact, the only thing you're seeking is a content existence.
People who gravitate towards grey are hard workers. They're committed and loyal to every task they take on. That might be why you're attracted to our grey kitchen cabinets. You know they look great and they're exactly what you need to complete your kitchen renovation project.
Find the Perfect Wood Kitchen Cabinets at Lily Ann
Regardless if you're drawn to white, grey, brown or a totally different hue, Lily Ann has the quality RTA kitchen cabinets you need to bring your dream kitchen to life. Our cabinets are made with furniture/cabinet grade A plywood and real maple or birch. So, you won't get particleboard or cheap fillers when you buy cabinets from us. If you have questions about our products, contact us today. Or if you're looking for inspiration, give our free kitchen design tool a try.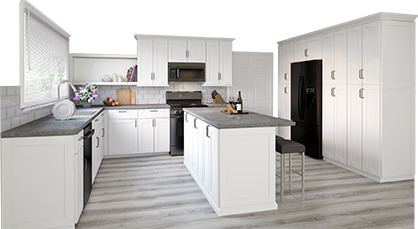 3D Kitchen Visualizer Tool
Bring your dream kitchen to life with our free kitchen visualizer!
Design Now