If you are building a new home or remodeling, you will soon discover that kitchen cabinets can be very expensive. According to the National Kitchen & Bath Association, cabinetry and hardware typically take up 30 percent of an entire kitchen remodel budget. Homeowners can spend between $10,000 to $60,000 on new, custom kitchen cabinets alone!

This can all sounds overwhelming, especially when you are working with a tight budget. There is good news. Finding ways to save money on kitchen cabinets is a lot easier than you might think. You can get quality kitchen cabinets without having to pay the high sticker price. Here are three ways to get affordable kitchen cabinets:
1. Ready-To-Assemble (RTA) Kitchen Cabinets
Custom kitchen cabinets are an enormous expense. Cabinetry that is designed, built, and installed to fit your unique space can cost tens of thousands of dollars. If you want to replace your kitchen cabinets and avoid the high cost of custom cabinetry, consider ready-to-assemble (RTA) or semi-custom cabinets.

Around $100 to $650 per linear foot, RTA cabinets are prefabricated off-site based on available sizes, styles, materials, and finishes that you select at a local store or online. Once you purchase the RTA kitchen cabinets that you want, you or a professional will have to assemble the cabinets onsite. You won't find RTA cabinets made with extravagant designs and exotic materials, but you could save up to 50% compared to purchasing new, custom kitchen cabinets. With a little assembly work, RTA cabinets will save you thousands of dollars and provide the quality, utility, and appearance that you expect from the new cabinets in your kitchen.

The RTA kitchen cabinets from Lily Ann are unrivaled when it comes to cost and quality. If you need help assembling your RTA cabinets, we have detailed instructional videos and guides to help you along the way.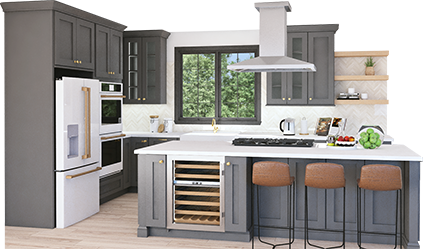 Get your FREE 3D kitchen design today!
Start Now
2. Refinish or Reface Your Existing Kitchen Cabinets
If your budget doesn't allow for replacing your cabinets, you can more than cut costs in half by choosing to refinish or reface the cabinets that already exist in your kitchen. The refinishing process removes that old paint or stain on your wood cabinets, sands and repairs the surface, and applies new paint, stain, or varnish to the bare wood. On the other hand, cabinet refacing will replace the all doors and drawer fronts in your kitchen and update the veneer on the cabinet boxes to match the new style you have chosen.

Before you get too excited, understand that refinishing and refacing your cabinets is not always the right choice. Refinishing or refacing your cabinets does not change the layout or structure of the existing cupboards in your kitchen. If the goal of your remodel is to improve the design of your kitchen cabinetry, refinishing or refacing the existing cabinets is not going to solve your problem. Moreover, you should not refinish or resurface if your kitchen cabinets are falling apart and suffering from structural issues. When extensive damage or distortion has occurred, it is time to bite the bullet and replace your kitchen cabinets.

However, if you are happy with the layout of your cupboards and the cabinets are structurally in good condition, refinishing or refacing is a great way to save money on kitchen cabinets.

According to a HomeAdvisor study, the national average cost to refinish kitchen cabinets is $2,646. Depending on the number of cabinets you have in your kitchen, the design complexity of each cabinet surface, and the quality level of refinishing materials you choose, a refinishing project has the highest cost of between $3,740 and $5,645. Even for a low-end kitchen cabinet replacement of $10,000, you have already cut your cost in half by going with a high-end cabinet refinishing job. In general, you will probably save well over 50% by refinishing your kitchen cabinets.

If you have a bigger budget, refacing your kitchen cabinets is a more dramatic remodel and still much more affordable than total replacement. On average, HomeAdvisor estimates that homeowners spent $6,674 to reface their kitchen cabinets. The cost fluctuates depending on how many cabinets you need to reface and the materials used to cover the door and drawer fronts.

Homeowners looking to save money on a refacing project will want to choose materials like thermofoil and laminate. You will spend roughly $1,000-$4,000 for these refacing materials. If you prefer the traditional look and quality of wood, a cost-effective alternative to solid wood is wood veneer. Wood veneer resurfacing material costs $2,500-$6,000. For $5,000 and up, you can get solid wood materials and receive a more high-end resurfacing remodel.

You can save even more money if you have a small kitchen or are skilled enough to tackle either of these projects yourself. Regardless of whether you choose to refinish or reface your kitchen cabinets, you will cut your costs in half compared to a complete cabinet replacement.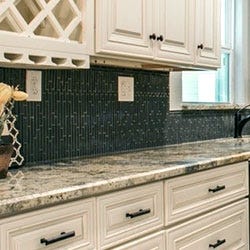 3. Open Shelving Instead of Fitted Cabinets
While lacking many of the benefits of fitted kitchen cabinets, open shelving is one way to save a massive amount of money on cabinetry. Open shelving will do wonders for those on a tight kitchen remodel budget. They are more limited in storage space and typically require more maintenance, but you will not be complaining after knowing you have a few extra thousand dollars in the bank.

Plus, open shelving can be very visually appealing and create interest in any kitchen space. You can pretty much use any material you want for your shelves. Establish a rugged, natural look with some salvaged wood or get creative by painting planks of wood from the local hardware store.

If you have a small kitchen, you may want to decide against open shelving or do a mixture of both shelving and fitted cabinets. In a limited space, you will need all the storage you can get. Fitted kitchen cabinets provide much more storage room compared to open shelving. Consider the square footage of your kitchen and decide what works best for you needs.

For kitchen cabinet products and more money-saving remodel tips, call or contact Lily Ann Cabinets.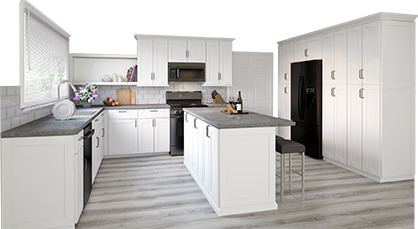 3D Kitchen Visualizer Tool
Bring your dream kitchen to life with our free kitchen visualizer!
Design Now