Many remodelers want to capture the spirit of Italy in their new kitchen, aiming to make it warm and inviting to anyone ready to cook and share a delicious meal. Of the different Italian styles, Tuscan and Mediterranean kitchen designs are the two most popular. But if they're both from Italy, what sets them apart?
Mediterranean Kitchen Design Characteristics
The beauty of Mediterranean kitchen design is that it draws inspiration from many different countries and regions along the inland sea. You might see hints of Spanish, French and Moroccan style all mixed into a Mediterranean kitchen. Also, since Tuscany is a region along the Mediterranean coast, Tuscan elements could be found in a Mediterranean kitchen!
Colors in Mediterranean kitchen design are reflective of the sea, sun and sky. Vivid blues and greens along with warm terra-cotta, earthy tones and bright jewel colors can all be used throughout your kitchen. If you choose a neutral color for your cabinets, you can use Mediterranean home decor, like antique pieces and patterned drapes, to bring the colors of the sea into your kitchen.
As for shapes and textures, Mediterranean kitchens often feature soft or rounded edges as opposed to the sharp, sleek lines found in many modern kitchen designs. Many kinds of textures come together, from painted tiles to stucco walls to unfinished wood. Overall, Mediterranean kitchen design is meant to feel warm, vibrant and lived-in.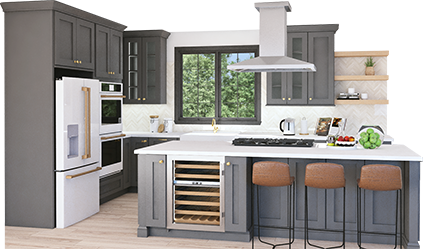 Get your FREE 3D kitchen design today!
Start Now
Tuscan Style Kitchen Characteristics
While not as varied as Mediterranean design, Tuscan style decor has a beauty all its own. It's all about warm, earthy colors, mainly oranges, browns, reds and terra-cotta tones.
If you want rustic elements without defaulting to the farmhouse look, a Tuscan style kitchen is what you're looking for. It's not uncommon to find wrought-iron light fixtures, exposed wood beams, rough plaster walls and distressed cabinetry in a Tuscan kitchen. Natural textures give the space an easygoing elegance that any chef would be eager to cook in.
Kitchen Cabinets to Make it Happen
Whether you choose the diverse colors of a Mediterranean kitchen or the earthy antiquity of a Tuscan style, wood kitchen cabinets will help tie the design together. The warm brown stains used on most wood cabinets can imbue the space with the traditional feeling of both styles.
Additionally, when looking for cabinets, choose more traditional styles with lots of panel detailing, such as our Charleston Saddle kitchen cabinets. Woodwork is important to Mediterranean kitchen design, but especially in a Tuscan style kitchen, so finding kitchen cabinets that exude quality craftsmanship will go a long way toward achieving your dream Italian kitchen.
Find Design Tips, Cabinets & More at Lily Ann Cabinets
On top of our amazing selection of RTA kitchen cabinets, Lily Ann can help you throughout each stage of the kitchen renovation journey. Start by using our free 3D kitchen design tool to see your vision come to life. Then, once your cabinets have arrived at your home, use our assembly videos to go step-by-step through the process. Get started today!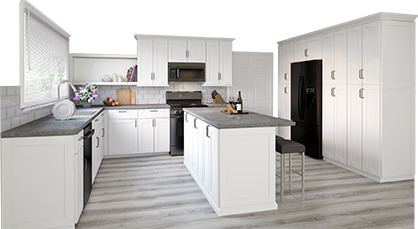 3D Kitchen Visualizer Tool
Bring your dream kitchen to life with our free kitchen visualizer!
Design Now