Your kitchen has the potential to be the cornerstone of your home. It's where magic happens and memories are made. You should feel confident and proud of your kitchen. Is it a place you enjoy? If you're looking to make a change, here are Lily Ann Cabinets' top kitchen designs.
Colorado White Shaker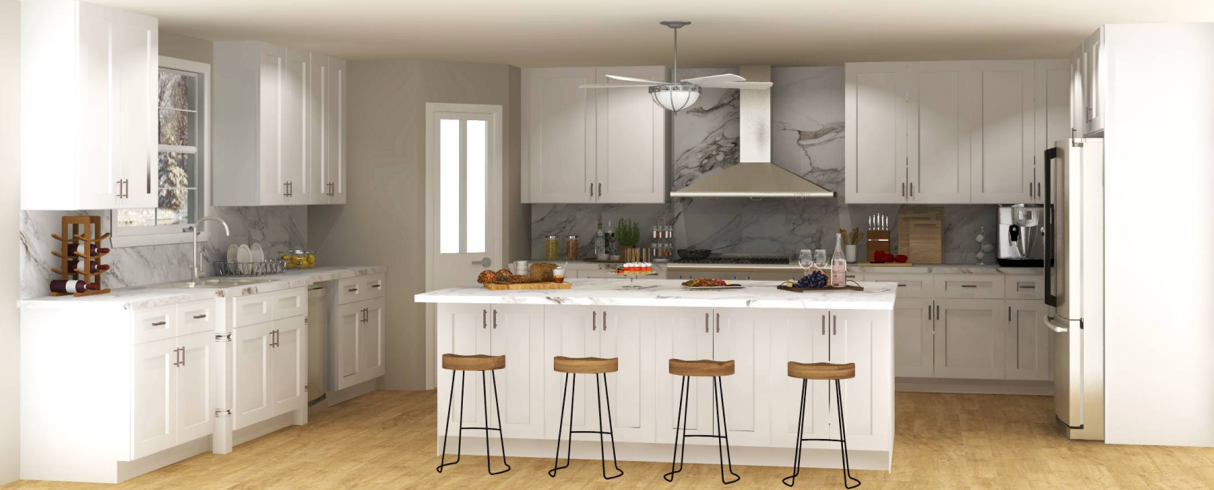 If you're looking for an open concept kitchen with plenty of counter space, this plan is for you. Island space and countertops will provide you with a perfect setting for any dish you create or gathering you host. Additionally, seating allows for a homestyle kitchen atmosphere. This is the perfect kitchen for quick breakfasts, midnight snacks, family gatherings, or anything else.
This is the perfect kitchen to fulfill your elegant kitchen dreams. Bright white cabinets create a spacious appearance, in addition to an abundance of opportunity for accent pieces in your kitchen. Accent your kitchen with seating, countertop pieces, lighting, hardware, and more.
See an interactive, panoramic view here!
Grey Shaker Elite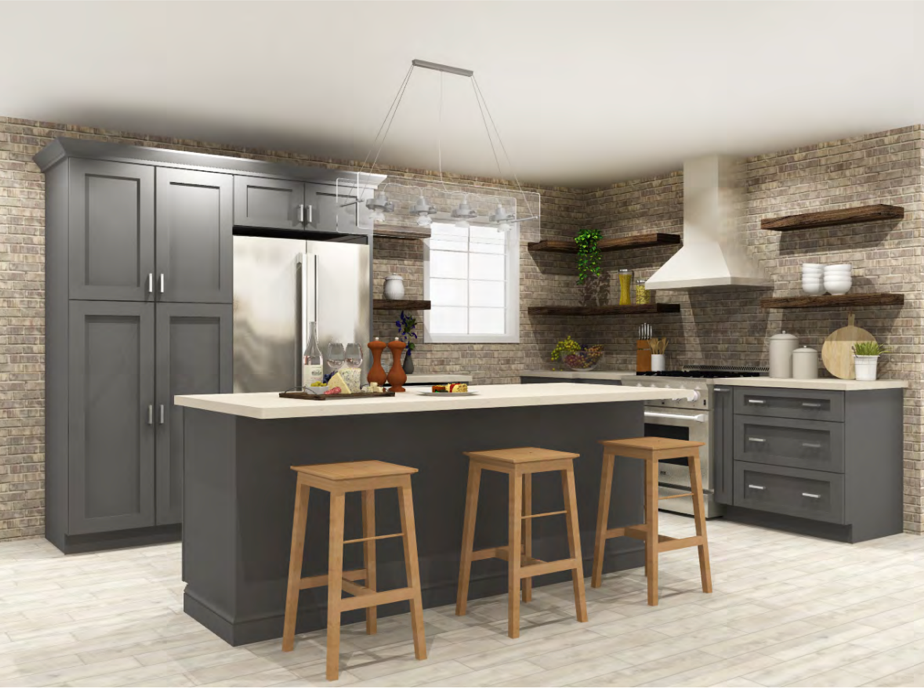 A more urban feeling kitchen, this design offers both a spacious kitchen and plenty of shelving. If you're working with a somewhat smaller space, this plan may accommodate it. The shelving provides a more open atmosphere and opportunities for decorating your kitchen or displaying items. Still, the island space allows for a great surface area to prepare food or gather with friends, not to mention the opportunity for seating.
Dark cabinets are a great way to break up spaces in your home, and perfect to accent your kitchenware. They also easily emphasize appliances and hardware in your kitchen. Shelving and seating options to pair with dark cabinets are endless, and this plan is a great setting for creating a kitchen of your own.
See an interactive, panoramic view here!
York Driftwood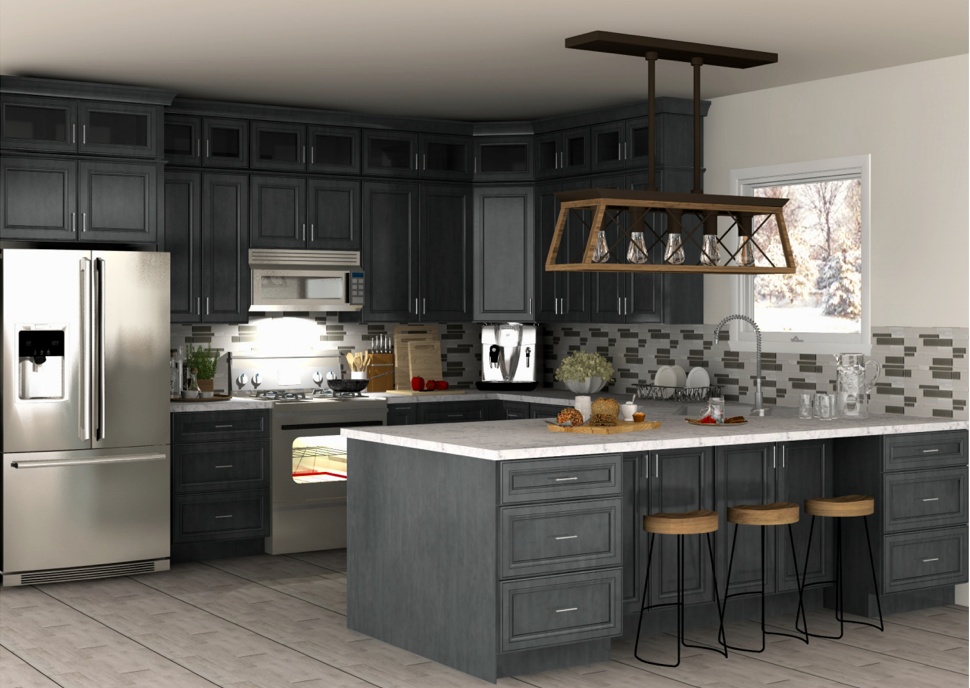 With a wraparound counter, this plan allows accommodation for smaller spaces. Still, the abundance of cabinetry is an oasis for storage. Nothing is too far out of reach in this kitchen, allowing for a perfect space for those who love a cozy kitchen space. Though not as urban, this space feels both modern and nostalgic - perhaps a perfect compromise.
Again, dark cabinetry allows for an array of accent opportunities. Seating, lighting, hardware, and more are all great ways to achieve this. This space is easily customizable to suit both your preferences and your needs.
See an interactive, panoramic view here!
You deserve a kitchen that feels like home. Whether this means a total makeover or small changes, there is no shortage of options when it comes to upgrading your space. Use trim, lighting, organizational products, hardware, etc. to tailor this space exactly to your liking. Regardless of your budget, there are endless ways to spruce up your space.
Start your kitchen's revitalization journey today by using Lily Ann Cabinets' free virtualizer, or apply for a free design and quote!
FAQ:
1. What style of kitchen cabinets is the most popular in Lily Ann Cabinets?
Our York Driftwood and Colorado White Shakers are our most popular cabinet styles at Lily Ann Cabinets.
2. How do I choose cabinets for a modern kitchen?
Check out our blog on 10 Ways to Create a Modern kitchen with wood cabinets!
3. How to get a free kitchen design layout with cabinet dimensions?
Lily Ann Cabinets offers free 3D designs for our customers so you can visualize what our cabinets will look like in your home.
4. How can I buy Kitchen cabinets online at Lily Ann Cabinets?
All you have to do is pick the cabinet style you want and place your order on our website! Start shopping today!