Coffee bars have been popular with the public since they first started appearing in the 1950s, and this trend has continued to the present day. Whether you are a seasoned barista or someone who relishes a good morning brew, a well-designed coffee bar can elevate your experience. Considering that, it's essential to think of the best coffee bar cabinet design for your space. In this article, we'll list ten of the most popular kitchen cabinet coffee bar ideas based on market research from 2022.
Modern Design Coffee Bar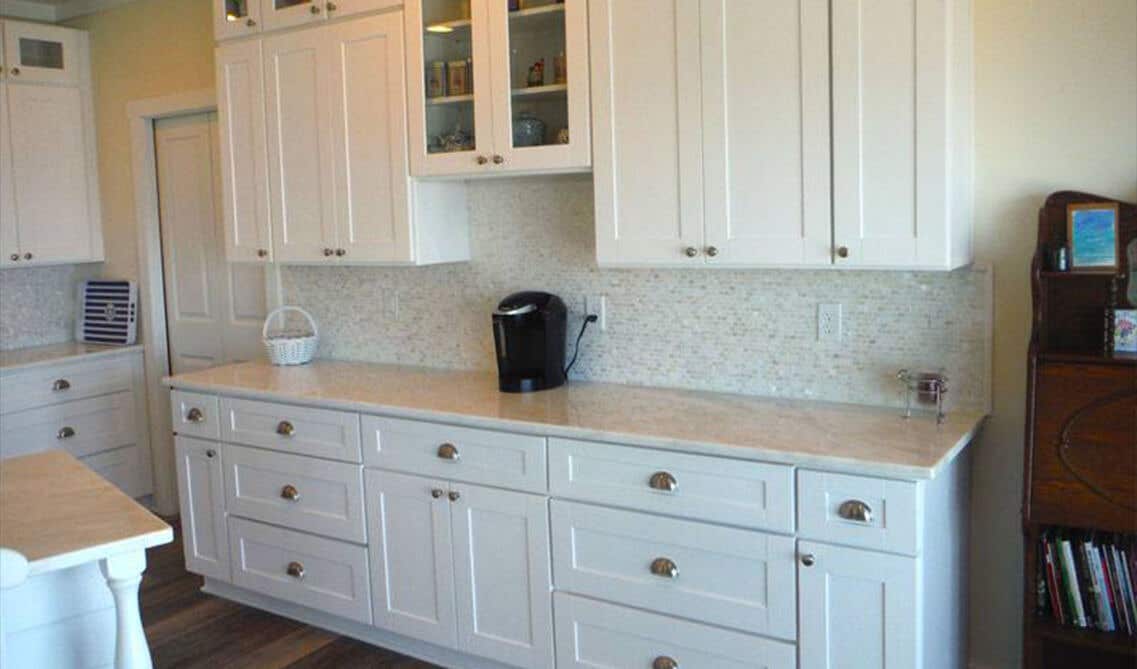 Lily Ann Cabinets offers an extensive range of modern cabinets ideal for crafting a kitchen cabinet coffee bar. Our white cabinets are especially popular for this type of design. If you're looking for something a little different, we also have small coffee bar cabinets and kitchen coffee bar cabinets. You can even DIY your own white coffee bar cabinet with Lily Ann Cabinets White Shaker Elite.
Colorful Thrifted Coffee Bar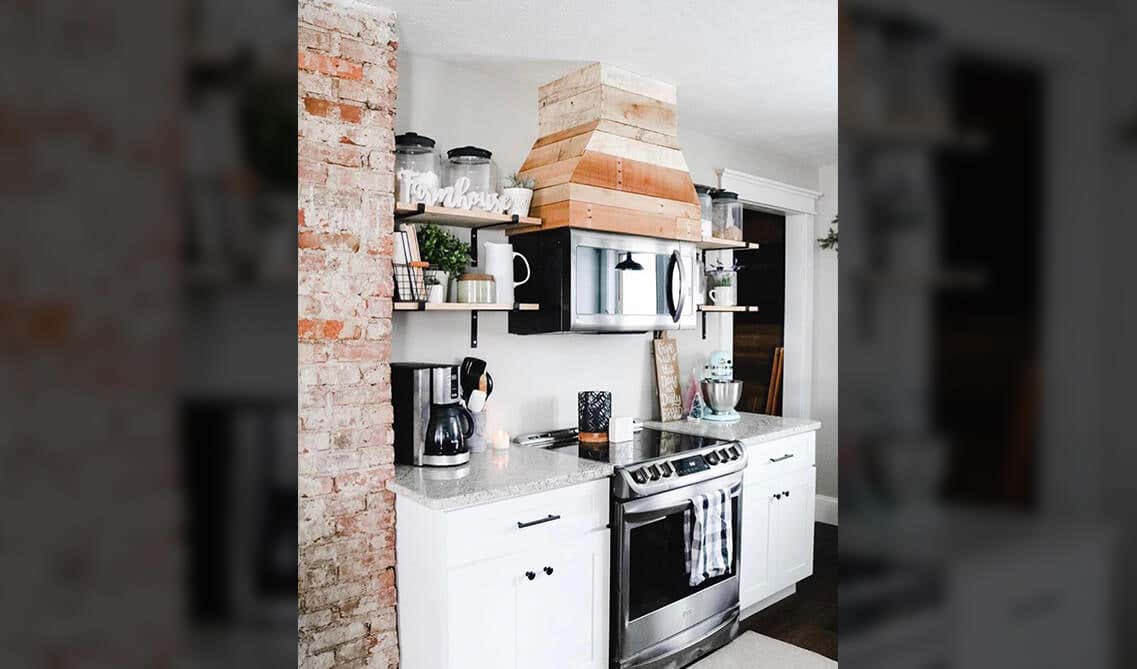 Look for a coffee bar cabinet or a table at your local thrift store. You can begin your project by painting it a bright color, like blue or green, and adding some fun knick-knacks to the shelves as decoration. Also, hanging an inviting sign above your coffee bar can also add a pop of color instead of painting your coffee bar cabinet. Fill the cabinet with your favorite coffee mugs and beans. Lastly, placing a small table and chairs in front of the kitchen coffee bar cabinets will invite guests to your bar!
Minimalist Coffee Bar Design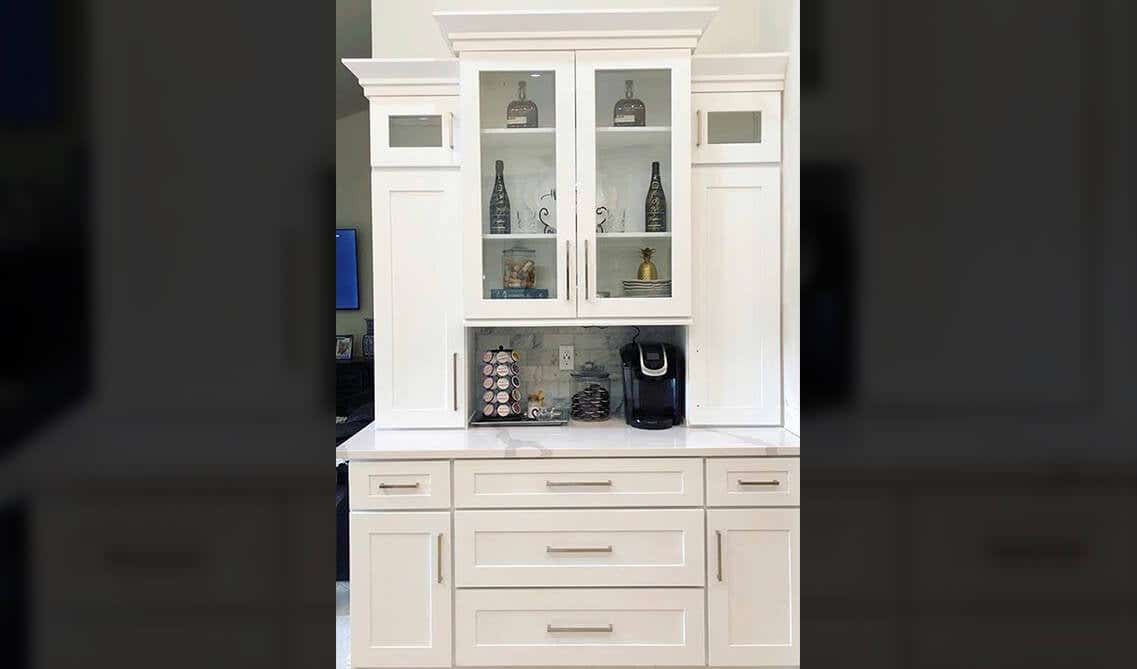 daniellecmattson
For those swaying towards a minimalist coffee bar cabinet design, a pristine white coffee bar cabinet could be your pick. White cabinets can give your coffee bar a very sleek and modern look. Plus, they're easy to keep clean! If you want to add a bit of color to your coffee bar, consider adding some accents in a contrasting color. Black and white coffee bars are very popular right now. You can also use other wood finishes to create a warm and inviting space. If you're feeling creative, you can even DIY your own coffee bar cabinet! There are plenty of great ideas out there.
Coastal Style Coffee Bar Cabinet Design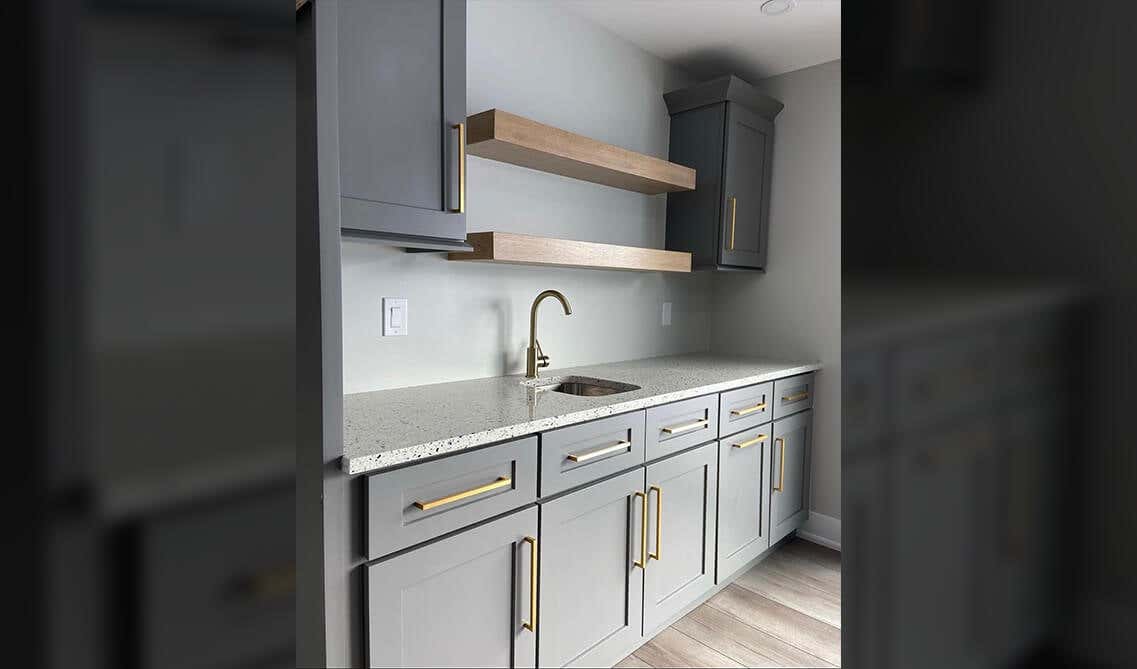 If you live on the beach, you'll want to go with a coastal style coffee bar cabinet. Stay on theme by choosing a blue color such as Lily Ann Cabinets Navy Blue Shaker. This will help keep your small coffee bar cabinet feeling cohesive. Plus, it's a great way to show off your personal style. Adding coastal themed decorations such as starfish, sand dollars, or shells to your kitchen coffee bar cabinets can keep your bar in style as well!
Vintage Style Coffee Bar Cabinet Design
One of the most popular trends in home design is the vintage style. This is especially true when it comes to coffee bar cabinets. There are many diy coffee bar cabinet kits available that can help you create a one-of-a-kind look for your home. Here are some of the top vintage coffee bar cabinet ideas for 2022:
Go for a classic look with wood cabinets and glass doors.
Add some flair with metal accents and colorful tile backsplashes.
Get creative with upcycled materials like pallets or antique dressers.
Keep it simple with clean lines and minimalist hardware.
Incorporate fun details like chalkboard paint or patterned wallpaper.
Two-Toned Coffee Bar Design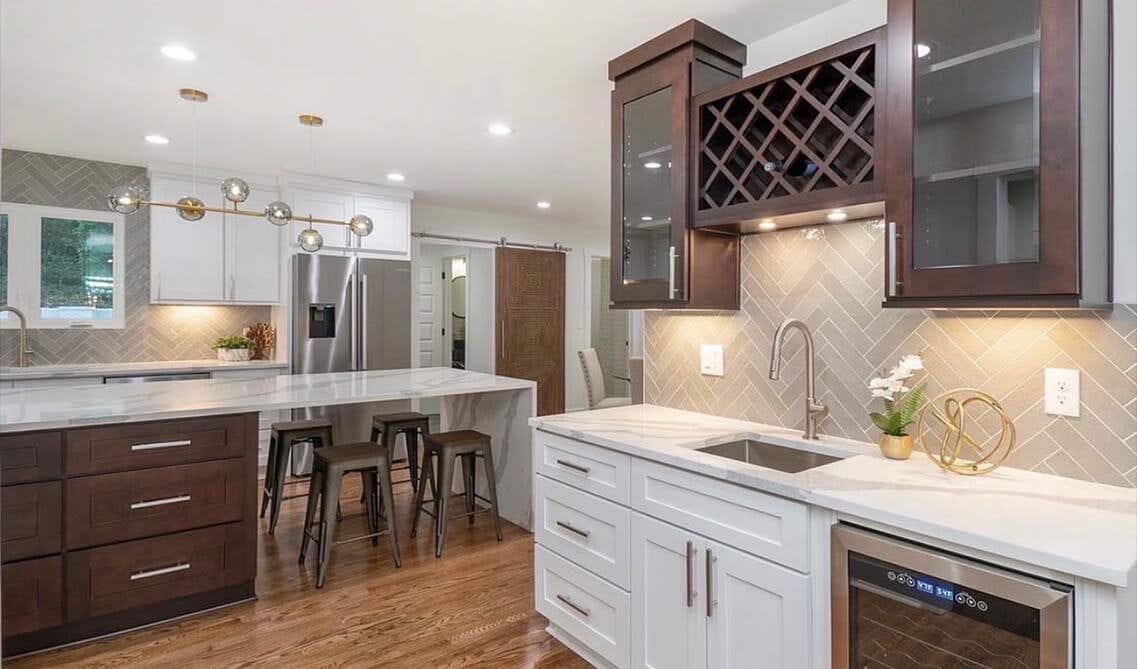 KKDDESIGNCO
If you're looking for a coffee bar cabinet design that is both stylish and functional, look no further than a two-toned option. This type of coffee bar is perfect for those who want to have their caffeine fix in style. A two-toned coffee bar can be achieved by using different colors for the upper and lower cabinets. For a chic and modern look, go with a York Driftwood upper and Colorado White Shaker lower for your coffee bar cabinet. If you want something a little more traditional, opt for a Shaker Espresso finish instead. No matter what your style, there's sure to be a two-toned coffee bar cabinet design that's perfect for you.
Rustic Coffee Bar Cabinet Design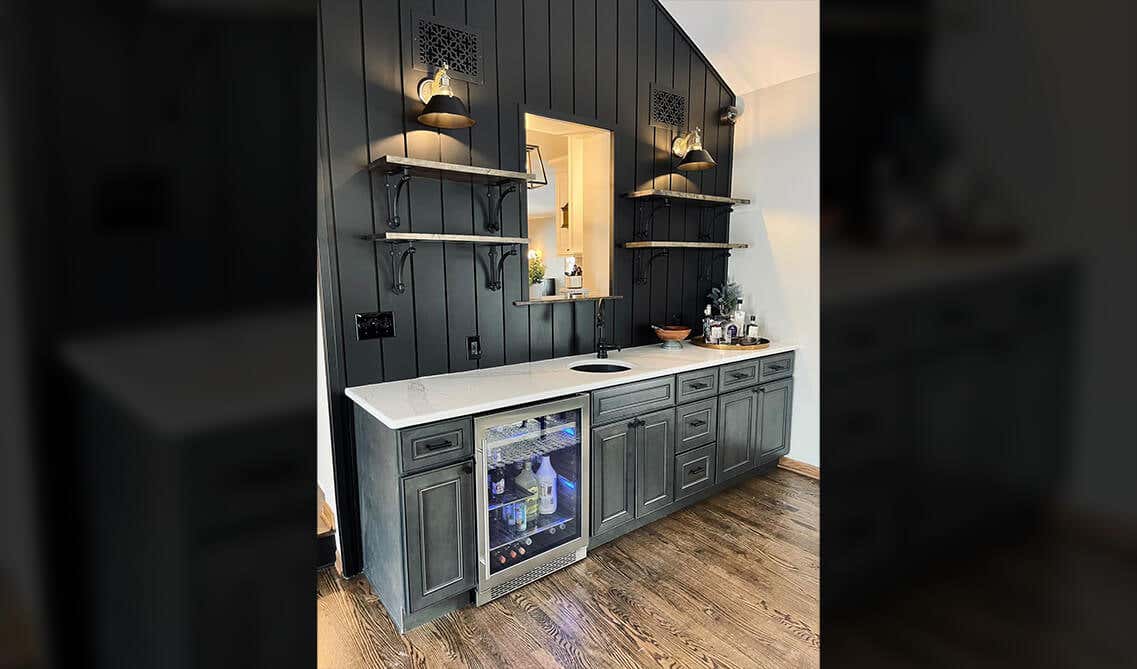 Lily Ann Cabinets York Driftwood - This rustic coffee bar cabinet is perfect for those who want a rustic vibe in their home. Rustic Coffee Bar Cabinet Design - This rustic coffee bar cabinet is perfect for those who want a rustic vibe in their home. The cabinets are made of birch, which gives them a unique look. Cabinets For Coffee Bar - These cabinets are perfect for those who want to have a coffee bar in their home.
Coffee Cart Bar Design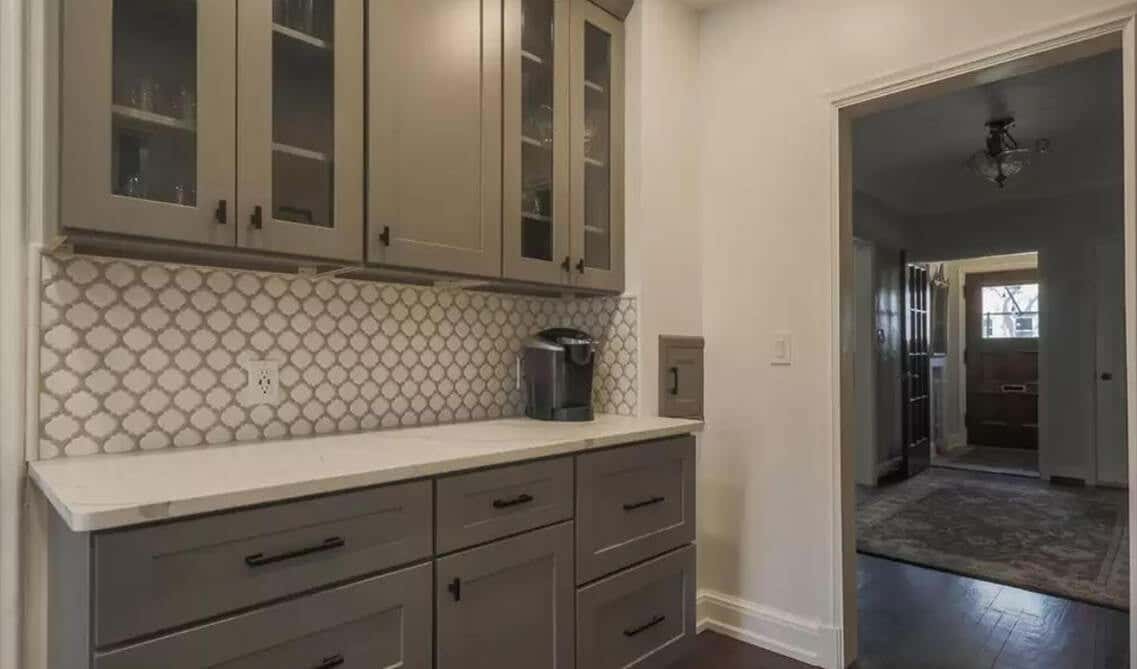 When it comes to coffee bar cabinet ideas, those who are short on space can opt for a coffee cart bar. This is a great way to have all the necessary items for making coffee without taking up too much space. Plus, you can design it any way you want to match your décor.
Black and White Coffee Bar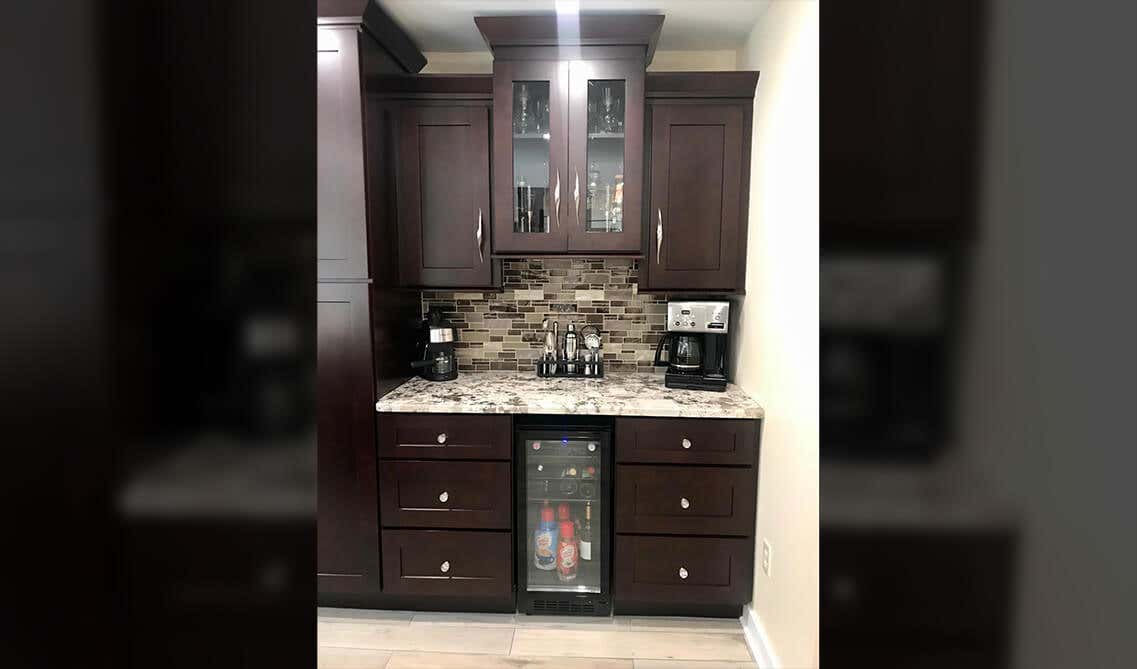 A black and white coffee bar is very popular. The Summit Shaker with black decor is a sleek and modern design that will look great in any home. If you are looking for a more traditional look, the White Shaker upper cabinets with Shaker Espresso lower cabinets is a beautiful option. For a bolder look, try the Black Shaker with gold hardware. If you want something unique, the Navy Blue Shaker with silver hardware is also a stunning choice.
Farmhouse Coffee Bar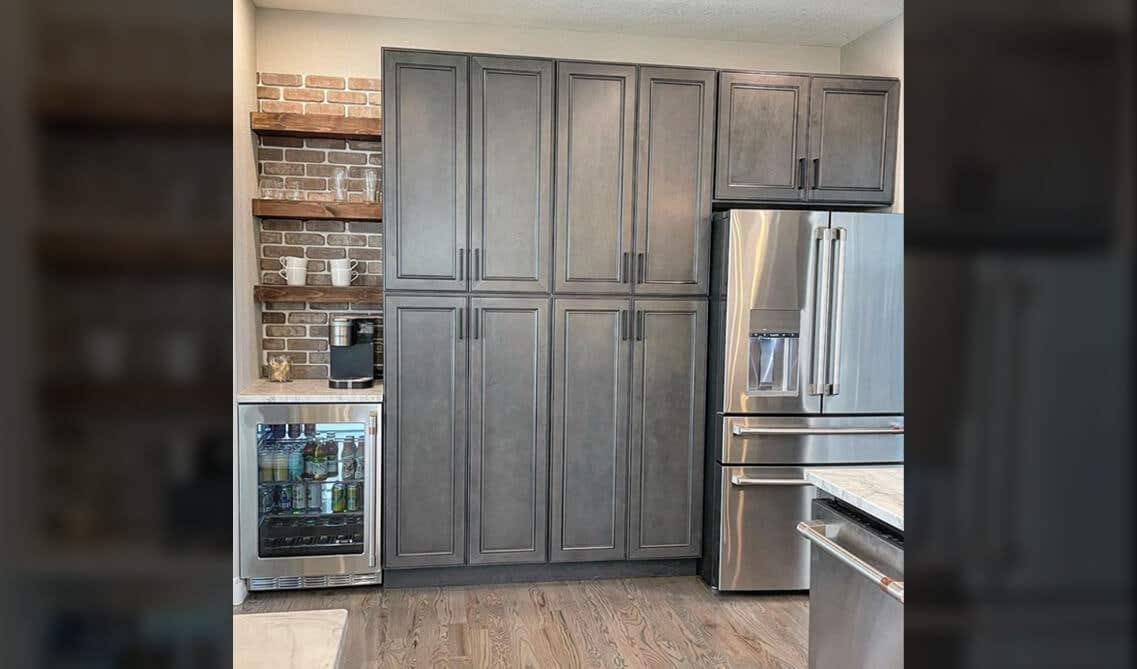 RUSTIC BUTTERFLY DESIGNS
Farmhouse style is very popular for coffee bars. This style can include two-toned cabinets, which are often black and white. This style is perfect for those who want a rustic look for their coffee bar. Farmhouse style coffee bars often include open shelving, which is perfect for displaying mugs and other decorations. If you want a farmhouse style coffee bar but don't want two-toned cabinets, you can always go for all white cabinets. All white cabinets will give your coffee bar a clean and fresh look.
If you're looking for something a little different, you can always try out a rustic wood finish for your cabinets.
FAQ
How to build a coffee bar cabinet?

Begin by framing the area you want to place your coffee bar. Then begin adding your identical shelves with the table top. Lastly, you can stain or paint your coffee bar your desired color!

How to remodel kitchen cabinets into a coffee bar?

If you have an empty lower cabinet with no upper, you may want to add floating shelves or an upper cabinet with a glass front. You can also add cabinets to the lower to expand your bar or even a small cart to hold coffee cups, coffee beans, and other necessities for your bar.

What kind of furniture is used for coffee bars?

The furniture used for coffee bars are usually lower cabinets with floating shelves that hold decor. Depending on your style or theme in your kitchen, you can add greenery or colored mugs that fit your aesthetic. You may also want to include a small table and chairs near the bar which invites guests to your coffee bar!