The shower is one of the most important elements in any bathroom remodel. From backsplash to flooring to fixtures, there are many components to consider when installing a shower. These modern bathroom shower design ideas will help you find the right shower materials and layout for your bathroom.
Replace Tub with Walk-In Shower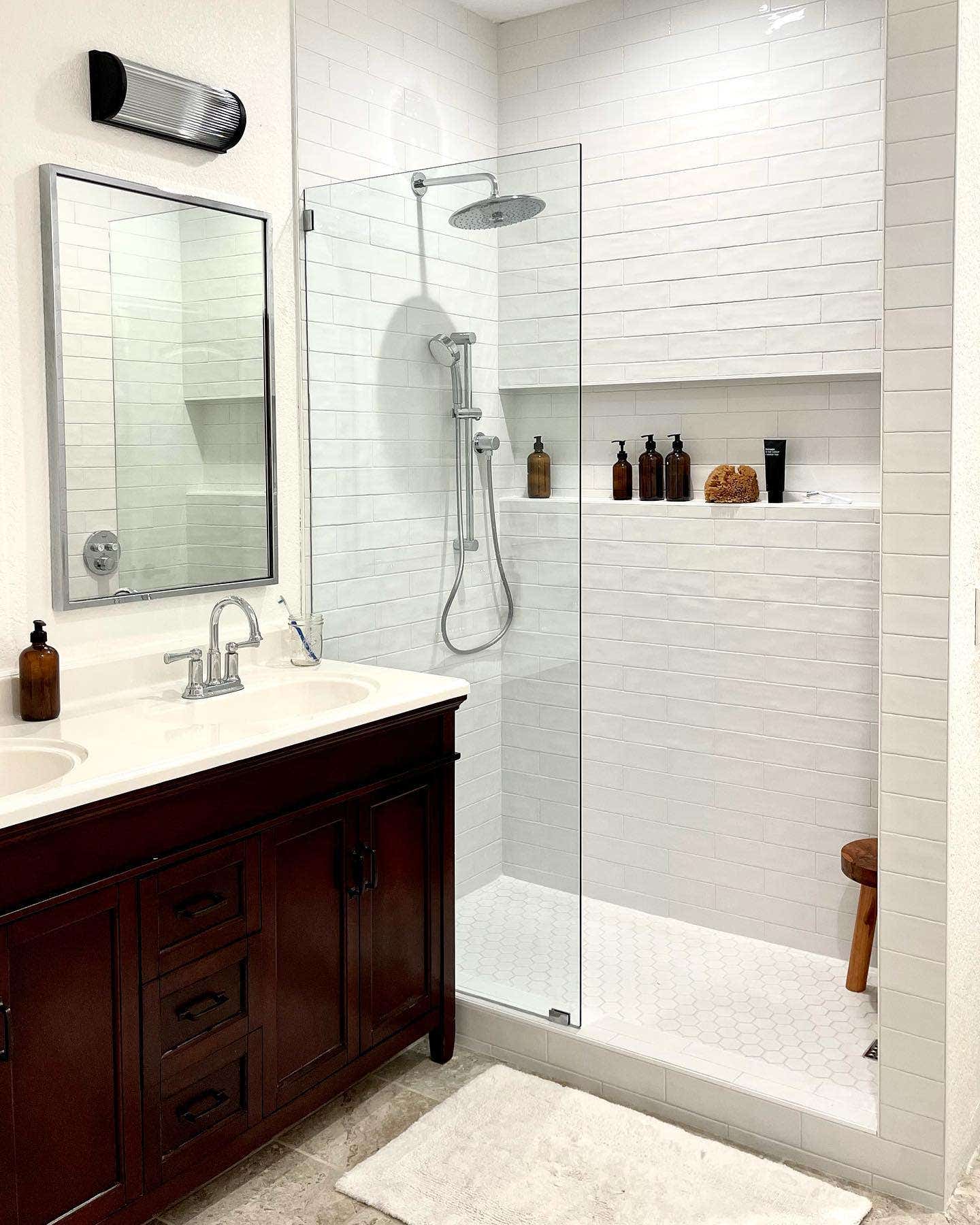 If you have an existing bathtub, consider replacing it with a walk-in shower. A tub-to-shower conversion can be done quickly and easily, will save you money on your water bill each month, and may even help improve your home's resale value in certain areas. On average, walk-in showers use 30 to 50 percent less water than a traditional bathtub, making them more eco-friendly.
Looking for the perfect brown bathroom cabinets? Check out Lily Ann Cabinets York Saddle cabinet line!
Add Glass Partitions to Your Existing Shower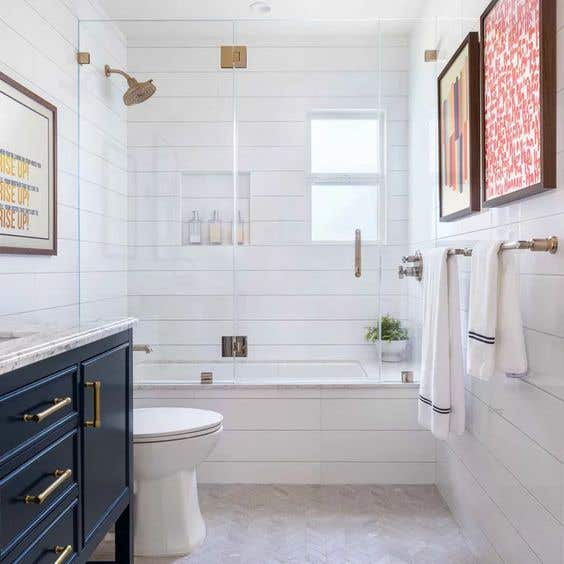 If you're looking to make a statement, consider adding glass partitions. Glass is also a great choice if you want your bathroom space to be illuminated by a window, similar to the picture above. Just be sure to have it tempered and not just regular glass; there are a few things more dangerous than broken bathroom glass on your floor. If you choose glass partitions, make sure they're sturdy enough so they don't easily fall on someone in your household.
Recommended for you: 8 Budget-Friendly Powder Room Ideas
Finish With Subway Tiles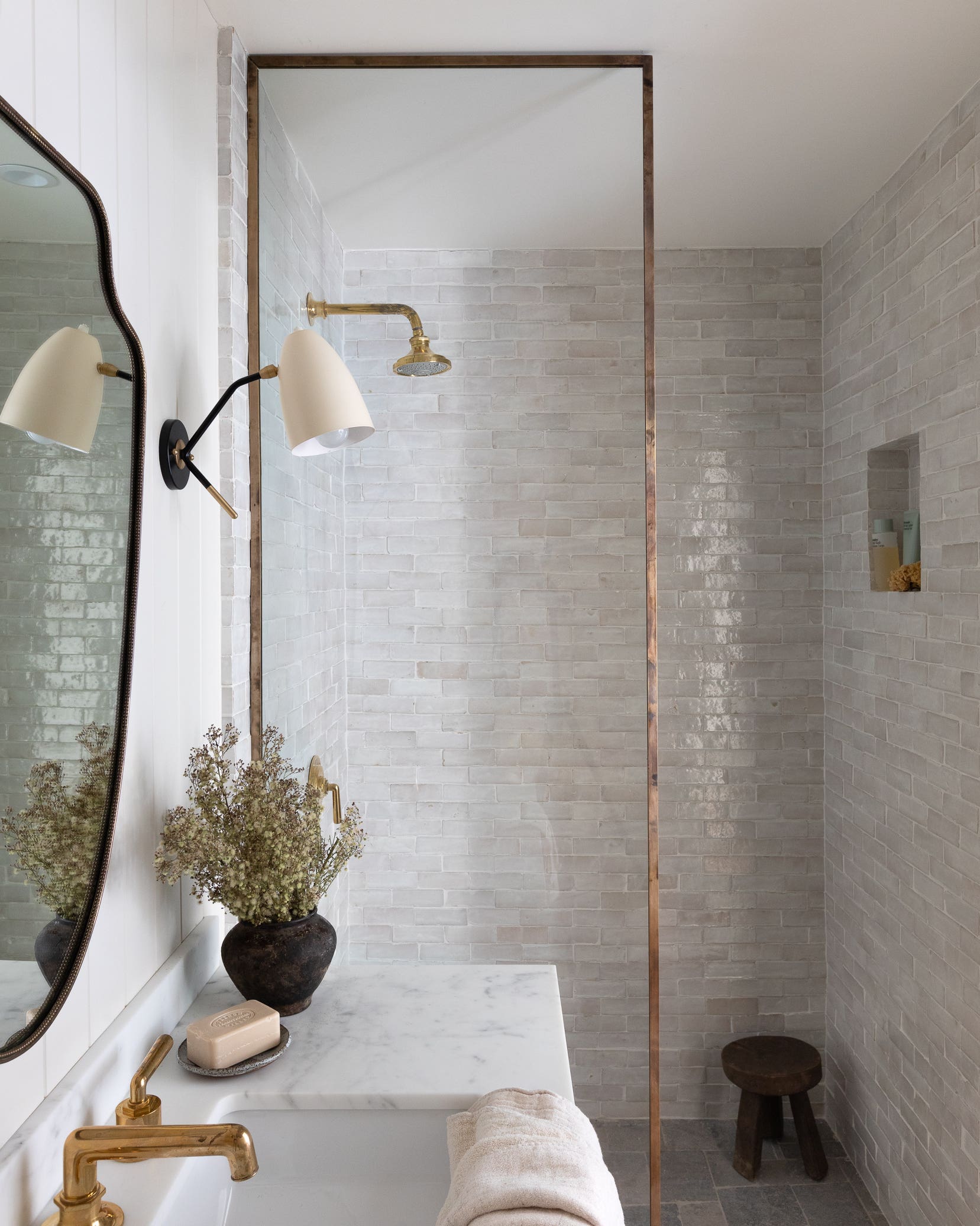 There's a reason why subway tiles are so popular in bathroom showers: they're durable, high-quality, and easy to clean. They also come in an amazing variety of styles and shapes. While it may seem like a no-brainer to go with subway tiles for your shower walls, you should consider all of your options before making a decision. (Read on for more shower tiling ideas!)
Add different textures for a variety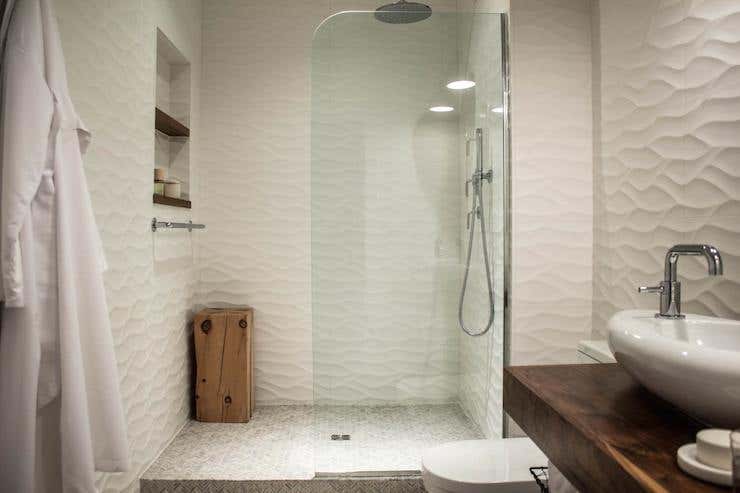 The texture is a small addition you can add to your bathroom to make it seem like a whole new space. If you're looking for a cheap and easy update, changing out your shower curtain or adding some interesting tiles to your floor is a simple DIY project that will have your bathroom looking new again in no time. Think about using wallpaper or paint on one wall and then going with different kinds of tile on another. If you want all-out bold, choose one dominant pattern or style and use it as an accent around one element (like adding tiles around your bathtub). In any case, adding texture to your bathroom or shower is a great way to add visual interest to the space.
Find stylish mosaic tiles for your bathroom remodel at Lily Ann Cabinets!
Create a Modern Look With Framed Shower Doors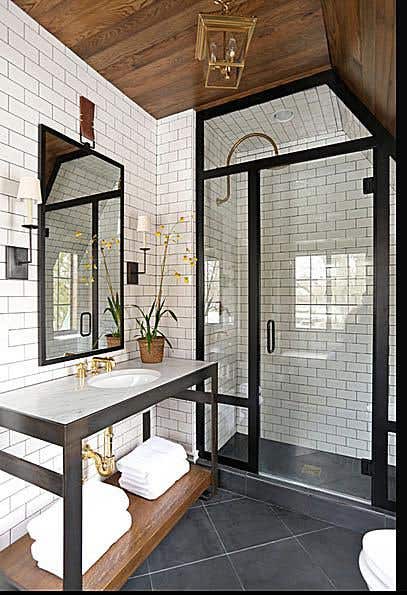 One of our favorite bathroom shower ideas is to create a modern look with framed shower doors. These modern shower doors are not only a great focal point in your bathroom, but they can add a unique charm to your overall design. By installing these heavy-duty doors on either side of your tub or shower area, you can maximize space as well as create an aesthetic that feels both modern and stylish.
Recommended for you: Find Your Zen: 19 Modern Spa Bathroom Ideas
Go Bold With Color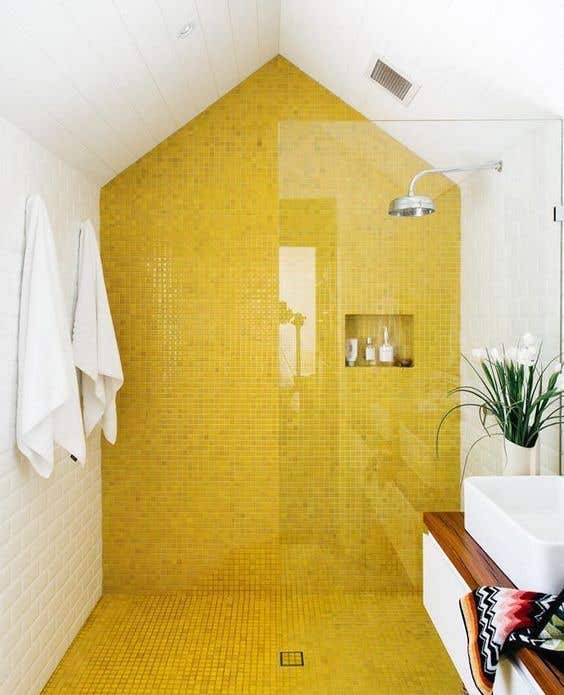 Picking a bold color for your shower can make it stand out, but only if you have a limited number of colors in your bathroom. If your space is busy with lots of colors, limit yourself to one bold color and use it on an accent wall. It will add visual interest without overwhelming your space. Tile is also a great way to liven up a boring bathroom.
Recommended for you: 9 Refreshing White Bathroom Makeover Ideas
Use Curved Walls to Give Illusion of Space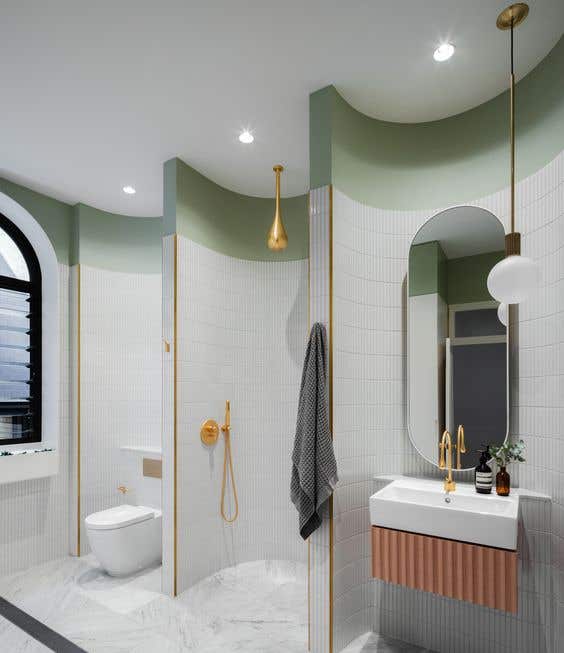 Bathrooms are typically small, but there are certain illusionary tricks you can use to make them appear larger. One trick is to use curved walls in a bathroom design. Even having curved walls for just the shower will give off the illusion of more space, and also add another element of style to the bathroom overall.
Looking for new bathroom cabinets? Lily Ann Cabinets sells durable, stylish cabinetry at up to 50% off box store pricing!
Eye-catching Shower Tiling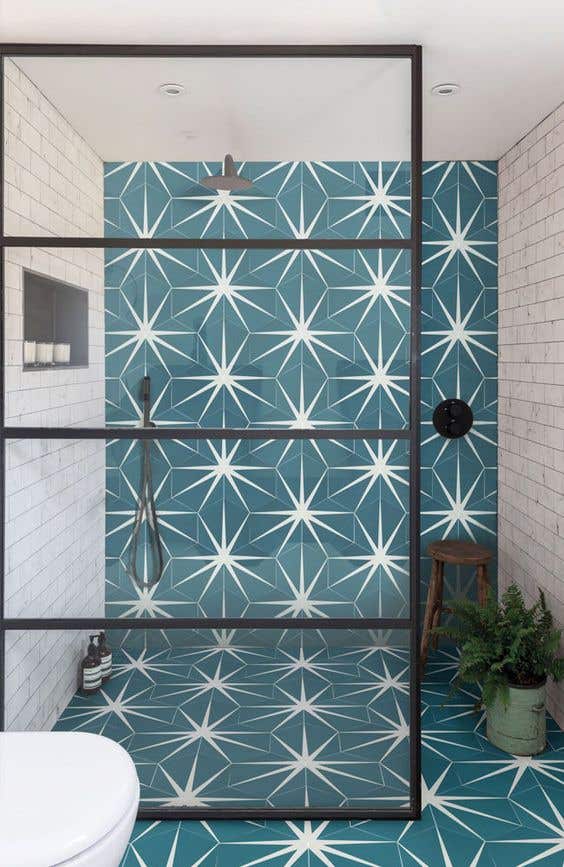 The tile in your shower can have a dramatic effect on your bathroom space, and you might be surprised by what you can accomplish with a little creativity. Consider intricate patterns, bold or contrasting colors, and odd shapes. Keep in mind, however, that highly textured surfaces may require extensive maintenance down the road. Use cool colors such as white and blue for small showers—you'll get more bang for your buck!
Tile Options – what's hot right now?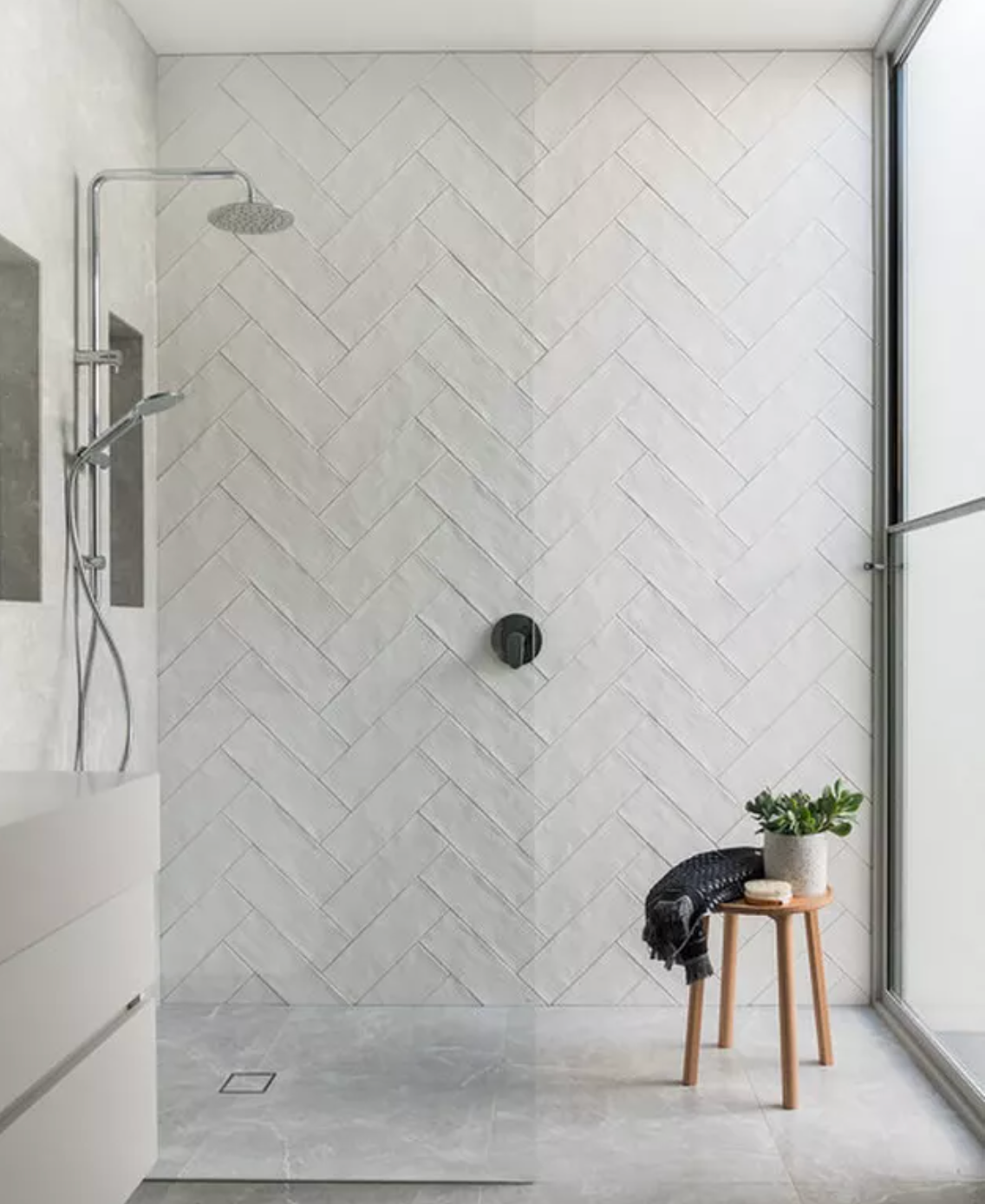 Tile options are a huge decision for any bathroom remodel. There's more to it than just picking out a favorite color or pattern. There are quite a few factors to consider, such as how moisture-resistant your new tiles need to be if they're easy to clean, and what kind of grout will work best with your tile installation (if you choose that route). You'll also have different choices depending on whether you want tile on your walls or flooring. In addition, there are now several different types of shower tiles – that is, they all vary in both cost and look. If you ask ten professionals which one is best, you may get ten different answers!
Looking for stylish and durable bathroom tiles? Lily Ann Cabinets can help with a selection of trendy bathroom backsplash!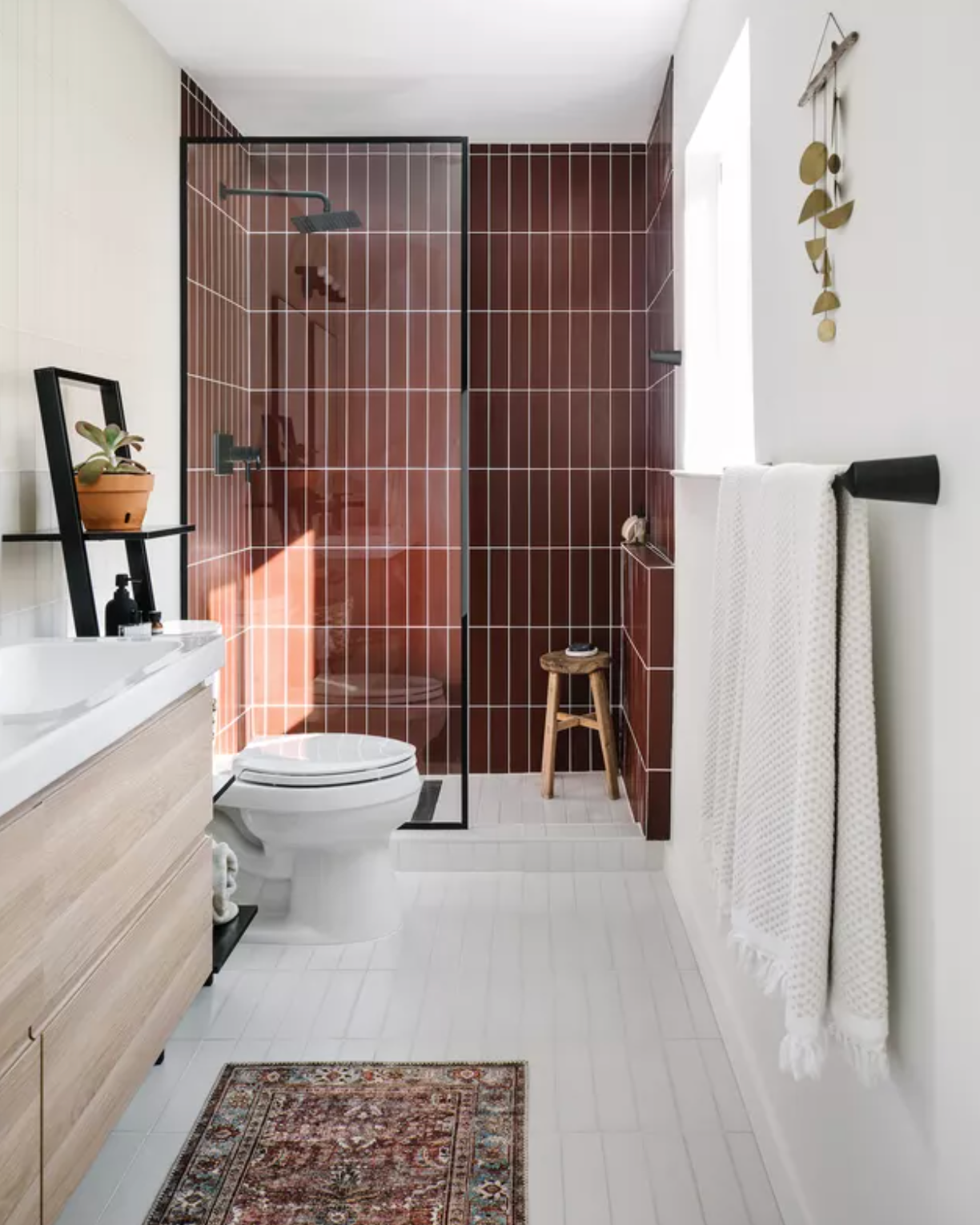 If you are looking for the traditional style of subway tiles, but don't want the usual white color, look no further. Subway tiles come in a huge array of colors and sizes, allowing you to keep the simplicity of the style but also potentially adding some color to your bathroom shower space. The shower pictured above shows off its beautiful, brown subway tiles that will stand the test of time with their durability and style.
Get the sleek, modern look of white shaker cabinets for your bathroom at Lily Ann Cabinets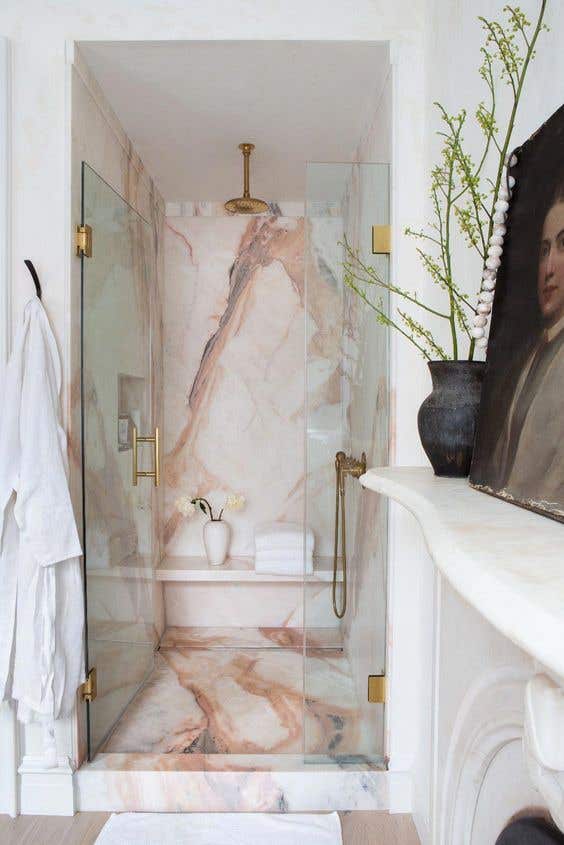 Want a shower that stands out, but in a subtle way? Encasing your entire shower space in a marble slab will do just the trick. Although this surely is not the cheapest way to make your shower stylish, it will last a lifetime and longer!
Stylish Shower Fixtures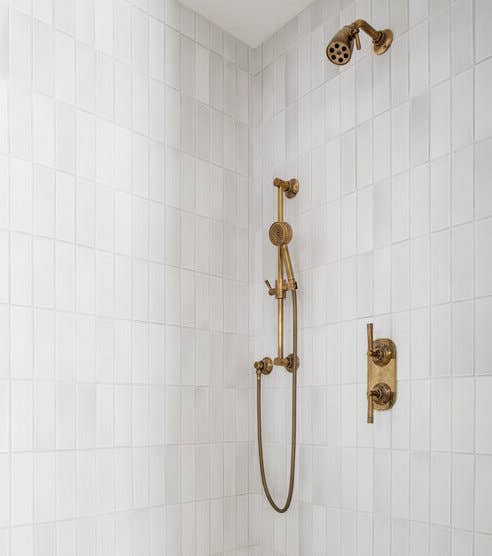 Kate Marker Interiors
When it comes to shower fixtures, there's a lot to think about. You have to pick between single- and multiple-head models, determine what type of material you want your shower fixtures made from (stainless steel, acrylic, or plastic), then narrow down all those various body types—or enclosure styles—to find one that fits your bathroom layout. Here are some considerations when shopping for bathroom shower fixtures.
Check out Lily Ann Cabinets' stylish selection of shower faucets!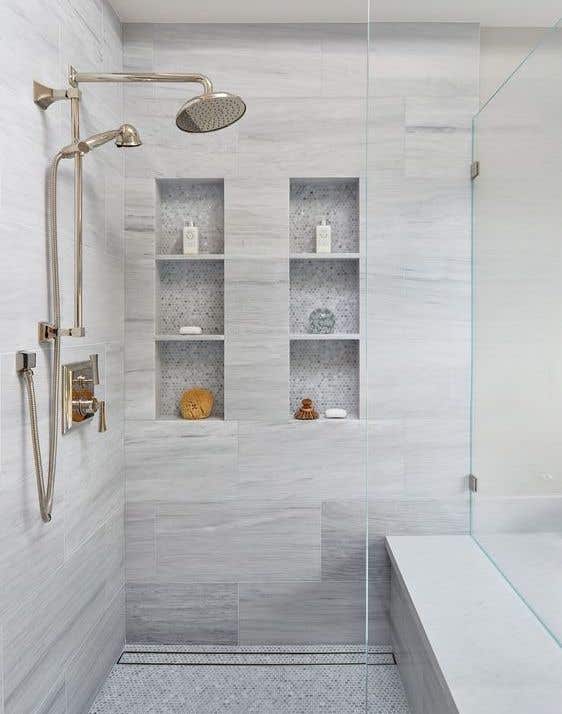 For a dramatic look, go for a shower fixture that has both the rain-shower effect, as well as the handheld showerhead. This chrome, combination shower fixture pictured above not only looks stylish but is multifunctional.
Shaker, traditional, modern, rustic, classic– Lily Ann Cabinets has every style of cabinetry, perfect for your bathroom remodel!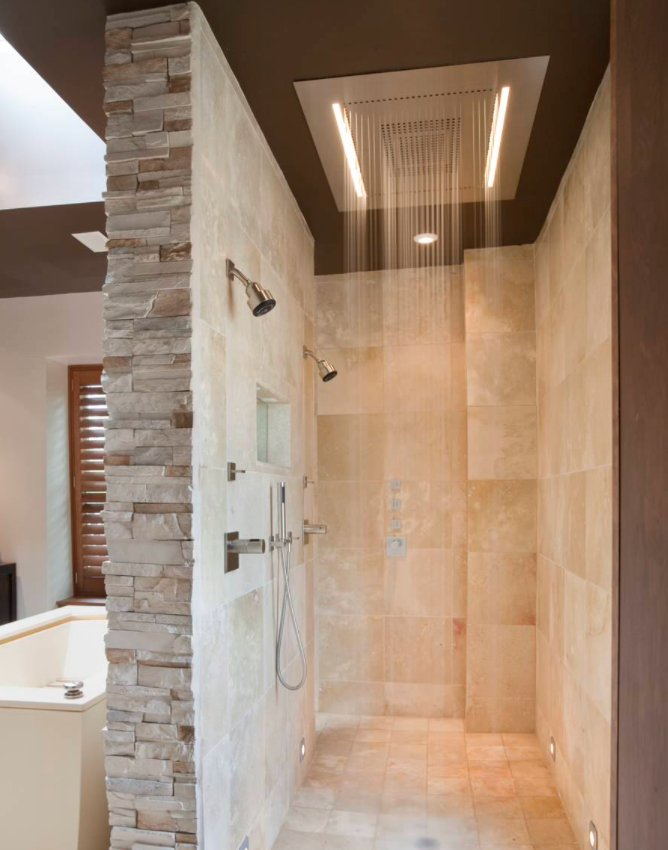 Looking for the ultimate spa-like or rain forest experience? Adding a rainfall shower fixture to the ceiling of your shower will add the dramatic effect you might be looking for. Paired with two traditional showerheads, you have multiple options while also keeping your shower space trendy.
Create Your Dream Kitchen With Lily Ann Cabinets
We offer a wide selection of premium cabinetry, hardware, shelving, and more to help you create a room that stands the test of time. Pick from our large array of kitchen and bathroom cabinetry, including white shaker cabinets that come with soft-close hinges. Our professional designers are on standby to work with you — we offer FREE samples and FREE designs and quotes. Visit our FREE 3D design tool to get started today!
Related Blog: 
FAQs
How do I make my bathroom shower look bigger?
Making your bathroom shower appear larger without doing any real construction doesn't have to be a feat. Playing with colors is the easiest and also cheapest way to make it look bigger. Bright and cool colors form this illusion the best– blues, white, and grey seem to do the job best.
How do I make my bathroom shower trendy?
Recent bathroom shower trends include glass doors instead of a curtain, replacing bathtubs with walk-in showers, mosaic tiling, bold colors, and adding different textures.
What are the best tile options for a bathroom shower?
The cheapest and easiest way to tile a shower is to use subway tiles. They come in an array of colors and sizes, are durable, and will fit in with any style of bathroom.
Where can I get stylish bathroom shower faucets?
It can be difficult to find shower faucets that are durable, stylish, and not going to break the bank. Lily Ann Cabinets sells an assortment of durable and stylish shower faucets at inexpensive prices.
How do I make my bathroom shower stand out?
You can make your bathroom shower stand out by adding bold colored tiles (similar to a feature wall but for a shower), mosaic tiling, and/or stylish shower faucets.