Kitchen cabinets are the most essential element of the kitchen. It's best to carefully select what's ideal for you before making a purchase. By browsing kitchen pictures and helpful design ideas, you should not have much difficulty deciding on the style that's right for your home. Do you need some guidance on what type of style you want? We want to help out by suggesting a few good kitchen cabinet design choices.
Do you want to reflect the overall design of your kitchen with the rest of your home? Homeowners usually adhere to the current design aesthetic of the house, but it's also not surprising to see kitchen design that sets it apart from the rest of the home. If you've already decided to create something entirely separate from the rest, or stick with the overall home design, it's time to weigh in on the scope of your kitchen cabinet ideas. The following unique kitchen cabinetry styles and features will add personality to your space.
Rustic Kitchen Ideas
Create the country kitchen you've always dreamed of with rustic kitchen cabinets. You can start off by transforming your kitchens storage spots with finishes and stunning colors. Whether you prefer something modern or a traditional look, your rustic kitchen ideas will go beyond old cupboards. When it comes to rustic kitchen cabinets, a fine place to start is what cabinet colors you want to use. Punctuate your kitchen with earthy tones with contemporary rustic cabinets. Rustic styles easily incorporate into metropolitan and rural homes alike. Traditionally, white and grey are trendy choices for a more rustic kitchen look. Rustic kitchen cabinets with beiges, whites, and neutral earth tones look great on kitchen cabinets with pale or bold wallpapers and painted walls. White kitchen cabinets and grey kitchen cabinets are one of the top choices when livening up your storage space.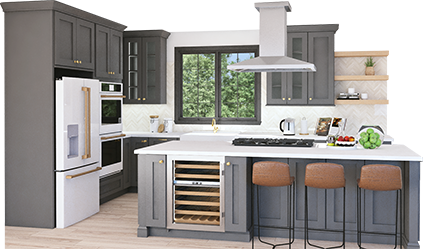 Get your FREE 3D kitchen design today!
Start Now
Modern Kitchen Designs
Are you looking into creating a stylish modern kitchen? You'll likely want to start your search by reviewing our range of modern kitchen cabinets available online. Your kitchen will feel fresh and modern with materials and colors that can take center stage. You could add kitchen cabinets such as cherry kitchen cabinets or espresso kitchen cabinets to transition your place into a modern kitchen design. There are individual styles of door handles, knobs or pulls that look great with modern designs, so you should have no issues with finding the perfect balance to your modern kitchen cabinets.
At Lily Ann Cabinets, you can pick from a wide variety of attractive kitchen cabinet options when remodeling your kitchen. While you're here, check out our kitchen design tool and learn more about how to install kitchen cabinets. Contact Lily Ann Cabinets today for a kitchen cabinet samples and let us help you start kicking off your remodeling project.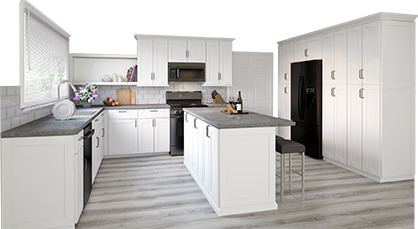 3D Kitchen Visualizer Tool
Bring your dream kitchen to life with our free kitchen visualizer!
Design Now