While it's fun to browse Pinterest and gawk at dreamy kitchen remodels, not everyone has the cash to do a revamp every time a new home trend arises. That's why it's important to purchase timeless kitchen cabinets that won't go out of style. Kitchen remodeling tends to be pricey, and cabinets are an important investment, so it's wise to choose cabinetry that will endure the everchanging house market. These 3 kitchen cabinet ideas will help you find a set that retains its style and value for a lifetime.
1. Classic Shaker Doors
When our customers ask us what kitchen cabinets are timeless, we usually recommend shaker kitchen cabinets. Their simple, classic frame-and-panel design makes them the perfect match for any kitchen style. They bring a clean look to a space without drawing too much attention, which is why they have remained a popular staple in American kitchens for decades. Because of their modest design, you can dress them up or down to suit your taste. Shaker cabinets come in a variety of stains and colors to complement all kitchen finishes, from sleek steel appliances to rustic wood accents! Their effortless simplicity and versatility make them our top choice for timeless kitchen cabinets.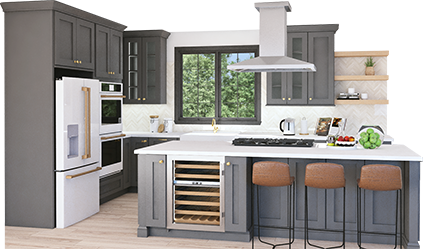 Get your FREE 3D kitchen design today!
Start Now
2. Lighten Up
You've heard it before, but we'll say it again for the people in the back: go with white! White kitchen cabinets will brighten up your kitchen and make it appear larger by reflecting any light in the room. Whether you opt for classic shaker or a raised panel style, your kitchen will always look great when it's dressed in white. Evoking feelings of cleanliness and purity, white continuously ranks as one of the most popular kitchen colors — meaning it will never be outdated. Plus, when you choose white cabinets, you have more freedom to play around with other kitchen accents, like wall color. It's much easier (and cheaper) to paint your walls than it is to purchase new cabinets, so opt for a splash of wall color! White kitchen cabinets can also be paired with just about any kind of appliance, hardware or decor.
3. Classy with Glass
Another of our favorite tips to achieve timeless kitchen cabinets is to opt for glass doors. At Lily Ann, you can choose kitchen cabinet modifications that allow for glass door inserts, making sleek, glossy cabinets a breeze! Glass cabinet doors are the perfect option to show off your dinnerware or wine collection without getting them dusty out in the open. Or, you can display your favorite antiques to give off a sense of rustic charm. The options are endless! Glass gives your cabinetry a pop of character that will endure every trend.
Create Your Timeless Kitchen with Lily Ann Cabinets
At Lily Ann Cabinets, we understand that finding the right timeless kitchen cabinets to suit your home can be confusing. We're here to help! Get started by browsing our premium selection of RTA kitchen cabinets, then visit our 3D design tool to receive a FREE 3D kitchen design and quote. If you have any questions, please do not hesitate to contact us!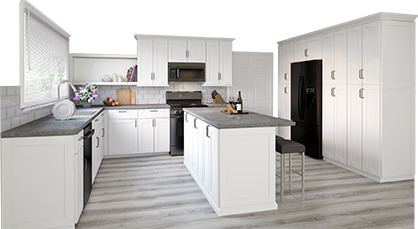 3D Kitchen Visualizer Tool
Bring your dream kitchen to life with our free kitchen visualizer!
Design Now