In order to find the best RTA cabinets for your kitchen, you'll have to be thorough in three key aspects of the buying process: planning, shopping, and execution.
When making an informed decision on a large purchase, you first need to spend adequate time planning for your new cabinets. You also need to be willing to put the time in for comparison shopping to truly understand the market and find the best prices with the highest quality. Making your purchase will effectively take both steps into consideration, while ultimately capitalizing on the best available cabinet offer.
Let's go through the step-by-step process of planning for and purchasing your new RTA kitchen cabinets.
Tips for Buying the Best RTA Cabinets
Prioritize Wants and Needs
Measure Everything
Set Your Budget
Generate a 3D Rendering
Check Options and Read Reviews
Get Samples of RTA Cabinets
Finalize Your Preferences
Order Your New RTA Kitchen Cabinets
A Closer Look At How To Buy RTA Cabinets
1. Prioritize
It's good to start off by prioritizing your must-haves for your new kitchen cabinets. What's the most important thing to you in your new kitchen? Is it having more organizational features? It is having shaker-style doors? Or maybe the most important thing you're looking for is a new, fresh color like white or grey. Decide on features you want to include in your new kitchen, like an island, Lazy Susan, or a corner cabinet.
After identifying both what you need and what you want, you can make a list for comparison shopping. Write down your top three wants and your top three needs, and it will make your shopping experience that much easier.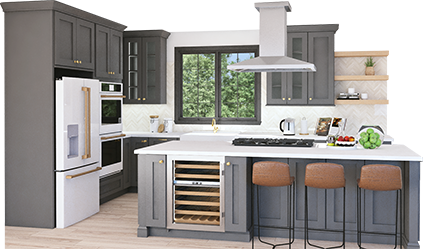 Get your FREE 3D kitchen design today!
Start Now
2. Measure
Before you begin shopping for your RTA kitchen cabinets, it's important to plan properly for your new purchase. This includes measuring your kitchen to identify the space you have for your new cabinets. Make sure to measure not only your kitchen cabinets but your appliances as well. Things to note in your measurements (always measured in inches) include:
All fixtures and utilities with dimensions
All electrical outlets and switches with dimensions
Windows and doors, with locations and dimensions
Size and locations of existing appliances
Directions doors swing and into what rooms
Breaks in walls and any obstructions
Ceiling height, transitions, soffits and/or vents
Need more help measuring your space? Check out this 2-minute measuring video and measuring guide which will walk you through the entire process.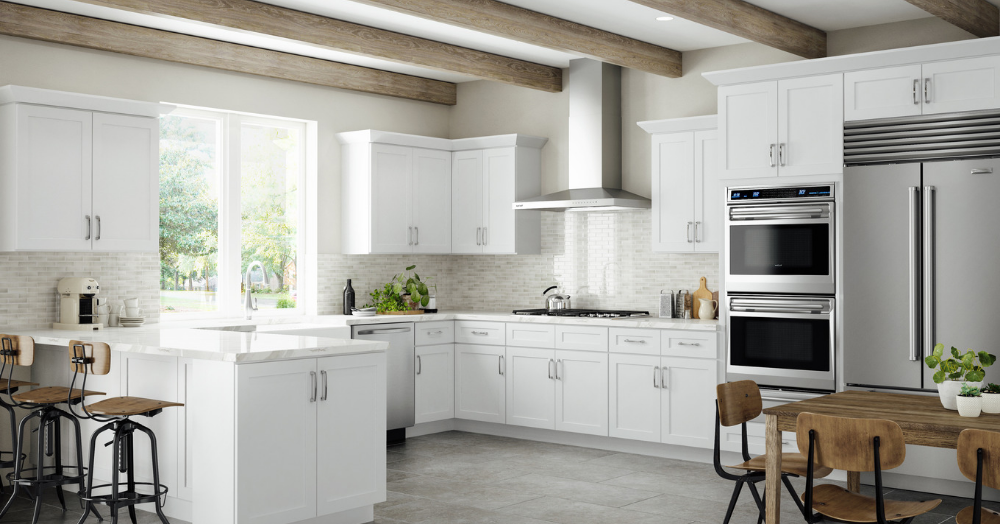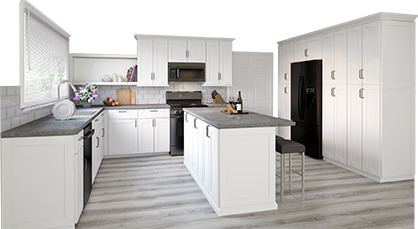 3D Kitchen Visualizer Tool
Bring your dream kitchen to life with our free kitchen visualizer!
Design Now
3. Budget
Planning out and determining what your budget is and what you're comfortable spending early in the process will help you in the long run. It allows you to go into the researching and comparison shopping phase with confidence. Having a budget can also help to narrow down your options so you're not overwhelmed with choices.
Review some cabinetry websites to get a better idea of cabinet costs. Then sit down and calculate what the estimated cost of your kitchen cabinets will be. Remember that you should always account for potential unexpected costs that may spring up; you never know what's lurking behind those cabinets.
4. Check Your Options and Read Reviews
After you have a general understanding of the cabinets you want to order, the next step in buying the best RTA cabinets involves comparison shopping. You should spend time identifying the cabinet prices offered at a big box store as well as online cabinet suppliers.
It's important to gain an understanding of not only the price of cabinets offered by different companies but also the quality of those cabinets. One way to determine this is by reading the reviews of the different companies you're researching. At Lily Ann Cabinets, we pride ourselves on offering the highest quality cabinet for the best price, and our reviews reflect that. Once you've narrowed down the price and quality that works best for you, the next step involves visualizing those RTA cabinets in your home.
5. Generate a 3D Rendering
A 3D rendering of your kitchen can help you see different styles of RTA cabinets in your own space. Lily Ann Cabinets even offers a free 3D rendering design service. After you supply dimensions of your kitchen along with some basic details about the project, our cabinet experts will generate a rendering of your kitchen, which will help you feel more sure of your cabinet purchase.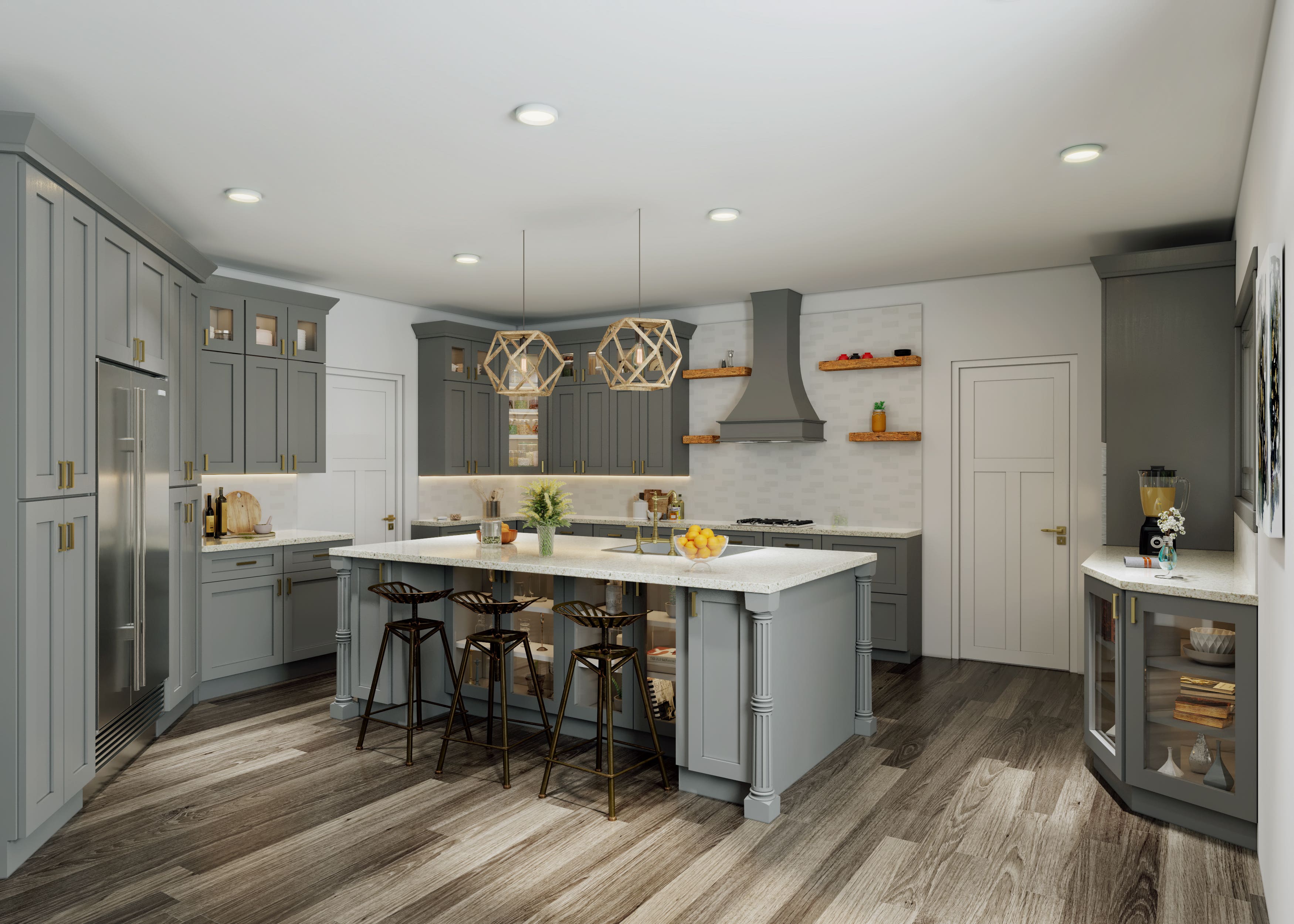 6. Visualize Your Kitchen
Having a picture of a cabinet door and being able to see it in person can create vastly different opinions of a kitchen cabinet style. Even seeing it in a store compared to seeing it in your own space can change your opinion. This is why it's so important to have a sample of your RTA cabinets that you can see in your kitchen. It allows you to see, feel and experience the product in your own home. Request your free sample from Lily Ann Cabinets today.
7. Finalize Preferences
Now's the fun part: It's time to finalize your preferences. This is where you will make the final decisions on your cabinetry style, finish, hardware and any special design features. Write it all down for reference and double and triple check that it's correct before moving on to the final step.
8. Place Your Order
Once you've identified the RTA kitchen cabinets you want to buy, where you'd like to purchase them and how much you're willing to pay, it is time to execute your cabinet purchase. Using the 3D rendering you generated in the planning phase, you can order your cabinets online or purchase from a retail store. After you order your RTA cabinets, all that's left to do is the install!
Let Lily Ann Cabinets help you purchase your dream kitchen cabinets. We offer not only the best RTA cabinets but also the best customer service in the industry. Reach out to our team of experts, who are standing by to help you with your cabinet project today.