Even the smallest kitchen can have a big impact if it has the right layout and design. Check out these small kitchen design tips and consider how the right mix could help you brighten and organize your space to make it look larger than life.
Light-Colored Kitchen Cabinets And Finishes
The quickest and easiest way to make a dramatic difference in your kitchen is to swap out your dark cabinets and appliances with white or light-colored options. White cabinets can brighten your space and even help it feel larger, while new appliances offer a cheerful shine. And since white cabinets are a classic neutral, they'll always be in style, which can help raise the value of your home down the line. This helps make light cabinets a great idea for any project, not just a small kitchen design specifically.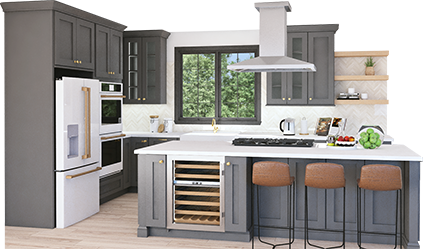 Get your FREE 3D kitchen design today!
Start Now
Natural Light
Embracing natural light is a game-changer in small kitchen design projects. Removing any heavy blinds or curtains from your windows will let the sunshine in and make your space inviting. Don't have windows in your kitchen? If you have the option, consider taking down part or all of a wall to open up the space and let in light from other parts of your home. If you can't or prefer not to remove a wall, adding plenty of artificial light is the next best thing. Add some lights to the underside of your hanging cabinets to illuminate your countertop, or install pendant fixtures to evenly distribute light while also elongating the space.
Clever Storage Solutions
Minimize countertop clutter by getting creative with your storage. Adding a Lazy Susan to a corner cabinet and adding utensil organizers to drawers or pull-out cabinets are always great ideas, but there are plenty of others to consider, too. For example, if you won't be in danger of hitting your head, you could install a hanging rack for your pots and pans.
Sometimes smart small kitchen design doesn't even have to stay in the kitchen. If you have a hutch or other cabinet space in your dining room, you could create an attractive storage space for your wine glasses and fine dishware. You could store wines and liquors there, too — no more bottles lining the top of the fridge!
Swap Out An Island For A Rolling Cart
No matter how much a kitchen island would improve your prep space, sometimes there just isn't enough room for one to fit comfortably. Adding one to an already small space will only make it seem more cramped. Instead of a permanent island, consider getting a rolling cart that you can move into the space during meal prep but store elsewhere. You get the extra surface area with the added bonus of a configurable space.
Let Lily Ann Cabinets Bring Your Ideas To Life
Having all those renovation ideas swirling around in your head can make it hard to envision how your end product will look. Let Lily Ann guide you. Our free, professional design service can help you organize your wishlist and transform it into a free 3D visualization of perfectly personalized small kitchen design ideas. Still have questions about our cabinets and other services? Contact us today.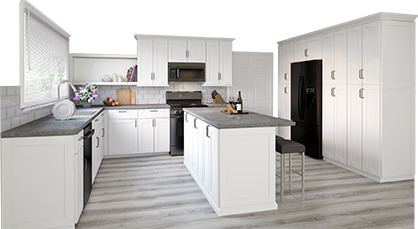 3D Kitchen Visualizer Tool
Bring your dream kitchen to life with our free kitchen visualizer!
Design Now