Whether your kitchen has reached the end of its lifespan or is simply outdated, you can usually tell when you're due for a change just by taking a good look at the space. At the same time, it can be tricky to identify which elements have become obsolete or out-of-fashion and to figure out how to make kitchen updates that will keep the center of your home fresh for as long as possible. To help you get started, we've identified some kitchen features and trends that can be replaced with more practical, current alternatives.
Appliance Garages
An appliance garage is a cabinet-like space that sits between your countertops and the bottom of your hanging cabinets. Their purpose was to help keep small appliances like blenders and mixers out of sight, and they were quite popular in the 1980s and '90s. However, they tend to be more of a hindrance than a help, since they needlessly take up real estate in your counter space. Instead, you could simply store those appliances in one of your base or hanging cabinets, or even leave them out on your counter if you use them often. You get the same easy access to your appliances while saving your countertops for meal prep.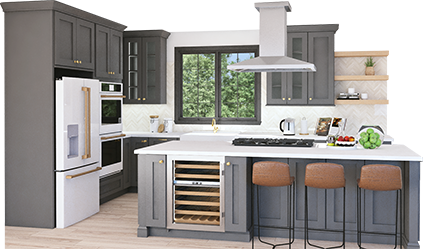 Get your FREE 3D kitchen design today!
Start Now
Open Shelving
While open shelving looks pretty in magazines, it doesn't have the same practicality as regular cabinets. Open shelving doesn't offer as much storage space as cabinets and is more meant for items that are decorative. But decorative or not, the shelves become one more thing for you to dust and maintain in your kitchen since your items are unprotected. Instead, keep your dishes, cups, mugs and other kitchenware comfortably stored in your cabinets where they're safe from dust and grime.
Pot Racks
Pot racks are another one of those kitchen features that seem like a pretty and practical way to store your cookware, but in the end, they just create hassles. Having your pots and pans suspended in the air means that, like items on open shelving, they will collect dust that could then fall and settle on your kitchen island. Storing your pots and pans in a deep sliding drawer or in a cabinet will keep them clean and ready for cooking, and help keep your kitchen island dust bunny-free.
Colorful Appliances
One popular trend has been to choose colorful appliances for a pop of fun amongst a kitchen's mostly neutral tones. However, for a kitchen update that's built to last, choosing classic neutrals for your appliances would be a better choice. Stainless steel is an obvious candidate, along with black or white. These neutral tones tend to age better than colorful ones and generally offer more flexibility for having fun with other elements of your kitchen.
Short Backsplashes
On top of being a nice focal point for your kitchen, backsplashes should protect your walls from the spills and splatters that will inevitably come from your cooking adventures. Therefore, a half or otherwise short backsplash isn't the best option in terms of practicality. Instead, opt for a backsplash that reaches from the countertops to the bottom of your hanging cabinets for easy cleanup and sanitation after food prep is done.
Kitchen Updates On A Budget Are Easy With Lily Ann Cabinets
Having great cabinet storage is a major part of keeping a kitchen organized and easy to use, but sometimes your cabinets could use an update, too. To avoid sticker shock while still having the best variety of options, check out Lily Ann's selection of RTA cabinets. We have painted and stained cabinets in a variety of neutral finishes sure to last and look beautiful for years to come. Want to see them up close? Request a free sample today.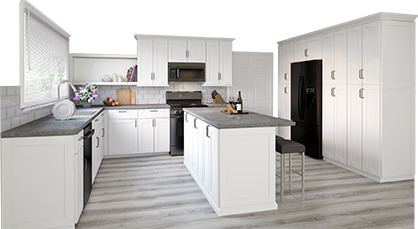 3D Kitchen Visualizer Tool
Bring your dream kitchen to life with our free kitchen visualizer!
Design Now